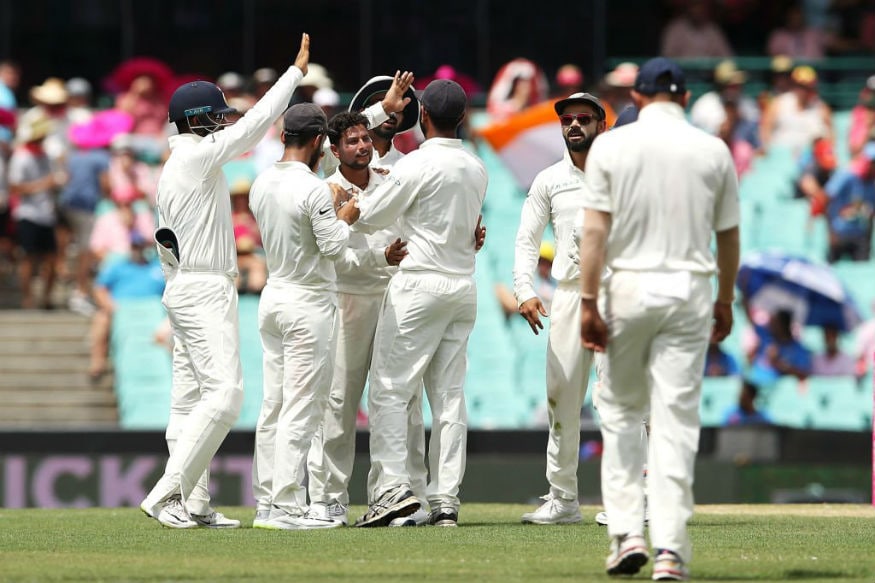 Day 3 of a Test match is usually said to be one of the best days to bat on most pitches but Australia squandered a good start and were in troubled waters at 236 for 6 before bad light forced early close of play in the fourth and final Test against India at the Sydney Cricket Ground (SCG).
Rain stymies India's bid for more wickets today. But with two days remaining, Australia will need the weather gods to be extraordinarily benevolent to save this Test.

— Cricketwallah (@cricketwallah) January 5, 2019
This isn't yet a threatening pitch. India have bowled very well and Australia's batsmen have helped with some ordinary batting.

— Harsha Bhogle (@bhogleharsha) January 5, 2019
It's still a pitch that's not producing wicket taking deliveries but then this Australian batting line up has the ability of making average deliveries into wicket taking.😔#AUSvIND #MatchDay

— Sanjay Manjrekar (@sanjaymanjrekar) January 5, 2019
Great 2nd session for india took 4 wickets.. game set for india.. I think we r winning the series 3-1 what do u say guys ? 🇮🇳💪🏏✅🔥🔥

— Harbhajan Turbanator (@harbhajan_singh) January 5, 2019
The hosts began the day positively with the openers bringing up their first 50-run stand but once Kuldeep Yadav came on, runs dried up and Usman Khawaja was the first one to run out of patience.
That is appalling from our best & most senior batsman ! Somehow we'll find a way to gift 20 wickets to India while batting on a road #AUSvIND

— Brett Graham (@worldofBG) January 5, 2019
Marcus Harris played an assured knock on a good batting surface but failed to convert his second Test fifty into anything substantial. He was bowled by Jadeja for 79 just after the Lunch interval.
Marcus Harris departs, but he has shown a lot of promise in this series. Only three players have attacked more often than him, and all of them have played more false shots than Harris. He has potential at this level, albeit with plenty of room for improvement. #AUSvIND pic.twitter.com/qmclAUKW7q

— The Cricket Prof. (@CricProf) January 5, 2019
Shaun Marsh has often been under the scanner and he was out early to a nothing shot to Jadeja for just 8 and the swords were rightfully out again.
End of Shaun Marsh?
So disappointing. So so disappointing. No sympathies left anymore for him. #AUSvsIND #AUSvIIND

— Sakshi Gupta (@sakshi2929) January 5, 2019
Those who have followed me for a while know how much of a Shaun Marsh fan I am but this has to be his last Test now. At his age & with his record over the past 12 months it's time to look to the future - Burns or preferably Kurtis Patterson for the next Test please #AUSvIND

— Brett Graham (@worldofBG) January 5, 2019
australia must be considering moving on from Shaun Marsh....so he can be recalled of course #AUSvsIND

— Gaurav Kalra (@gauravkalra75) January 5, 2019
As far as Test cricket is concerned, Shaun Marsh is Australia's Rohit Sharma. Talent, long rope and all that jazz. #AusvInd

— Chetan Narula (@chetannarula) January 5, 2019
MarshMallows ! Possibly the end of his career , unfortunately Aussie batting line up struggling with backups #AusvInd

— Vikram Sathaye (@vikramsathaye) January 5, 2019
It was a piece of brilliant captaincy, smart execution of a plan by Mohammed Shami who saw Marnus Labuschagne caught expertly at short midwicket.
Plan B after a break has worked. Another wicket claimed by Bharat Arun..

— Harisankar (@harish_staycalm) January 5, 2019
Tactically I like the way Kohli kept manoeuvring those leg side fielders. As a batter that's a nightmare to constantly have to change your angles when the ball is coming in like that! Eventuated in a wicket. Well played.

— Alyssa Healy (@ahealy77) January 5, 2019
That's a brilliant tactical field placement from Virat and execution from Ajinkya. #AUSvIND

— KASHISH (@crickashish217) January 5, 2019
Tim Paine and Travis Head were looking to build a stand but both were dismissed by Kuldeep Yadav at either ends of the Tea interval.
Kuldeep, final test, series win vs Australia. Written!

— a (@tinggoesskrrrah) January 5, 2019
It was Pat Cummins once again who was playing a gritty knock, in company of Peter Handscomb.
Pat Cummins is everything that Australia's current batch of top order batsmen would want to be. #AUSvIND

— Prasenjit Dey (@CricPrasen) January 5, 2019
The duo didn't budge and played through before bad light meant play was abandoned earlier than usual.
Done for the day. Lost only an hour which can be made up if needed on last two days.

— Saurabh Malhotra (@MalhotraSaurabh) January 5, 2019