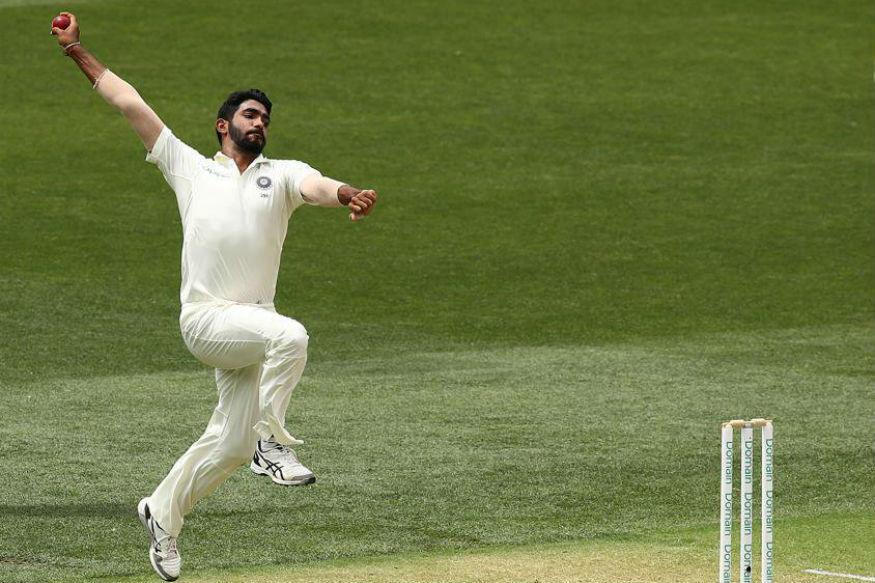 Australia realise runs are hard to come by when Jasprit Bumrah is bowling. In the first Test at Adelaide, they had smashed him for 24 in his first five overs but came back strong and bowled his next five overs for six runs and picked up a wicket. They are also aware of how deadly he is with the ball as he leads India's bowling charts with 11 wickets in the two Tests so far at an average of 18.81.
What they are perhaps not aware of is Bumrah's partnership breaking ability. Australia have managed to stitch together six stands of 50 or more in this series but thrice they were broken by Jasprit Bumrah who had been a relentless force for Virat Kohli in breaking budding partnerships this year.
Marcus Harris and Aaron Finch made a century stand and a half-century stand this series but both times their blossoming stand was cut short by a searing Bumrah spell. In fact the Mumbai Indians fast bowler, who made a seamless transition into the Test side for India, is their most prolific strike bowler this year in terms of breaking big partnerships (50 or more).
In away matches this year for India, Bumrah has broken eight partnerships of 50 or more. This is way higher than the next best Ishant Sharma who has five. None of them aside from Bumrah have been as effective in breaking century stands with Bumrah contributing to breaking three such partnerships - one each in South Africa, England and Australia.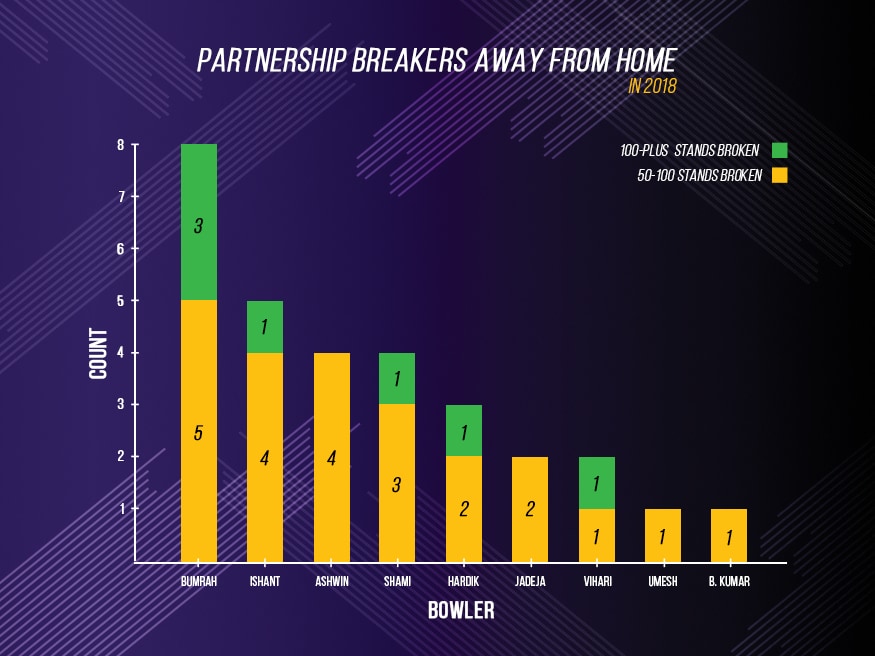 At Cape Town, Bumrah broke a fourth wicket partnership of 114 between school mates AB de Villiers and Faf du Plessis. In England, he was at it again when a dangerous Ben Stokes and Jos Buttler put on 169 for the fifth wicket at Nottingham. The partnership could have ended India's hopes of a win in the Test and Bumrah ensured the damage was trivialised.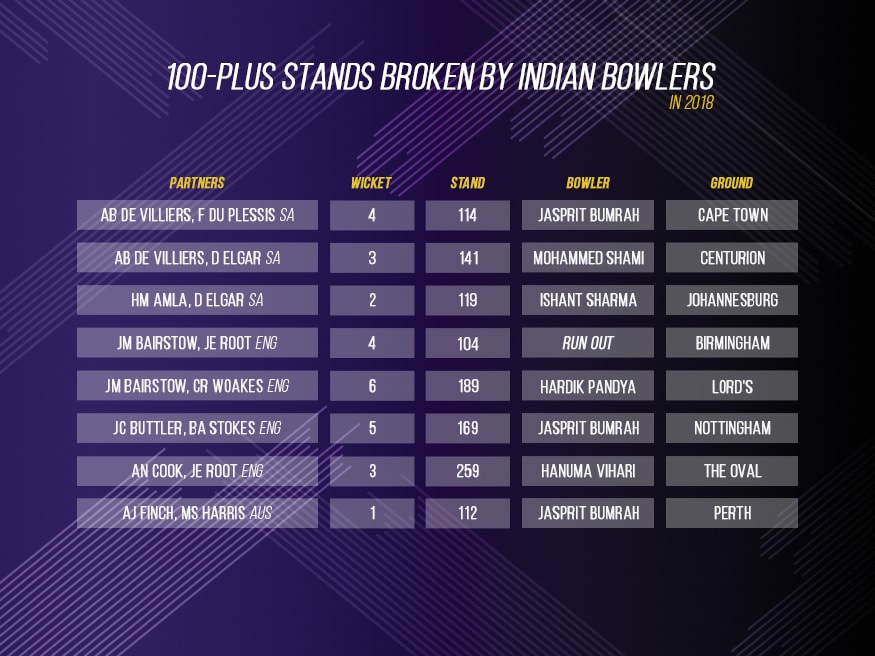 At Perth, the fast bowler was back at it when he pulled India back into the contest after a day one century stand by Australia's openers Marcus Harris and Aaron Finch. From 112/0, Australia succumbed to 326 all out as Bumrah drew first blood for the Indians and opened up the middle-order.
He has broken five stands between 50 and 100 and three after 100 away from home this year. Among other Indian bowlers, Ashwin and Ishant have broken four partnerships between 50 and 100 but have a combined tally of just one wicket after a century stand is brought up.
It is also vital to understand the kind of big partnerships that Bumrah has nipped before it broke through into a game-changing one. He disrupted the England tail, which wagged much to India's nuisance right through the series, by breaking two 50-plus stands for the ninth wicket aside from a massive 169-run partnership between Stokes and Buttler.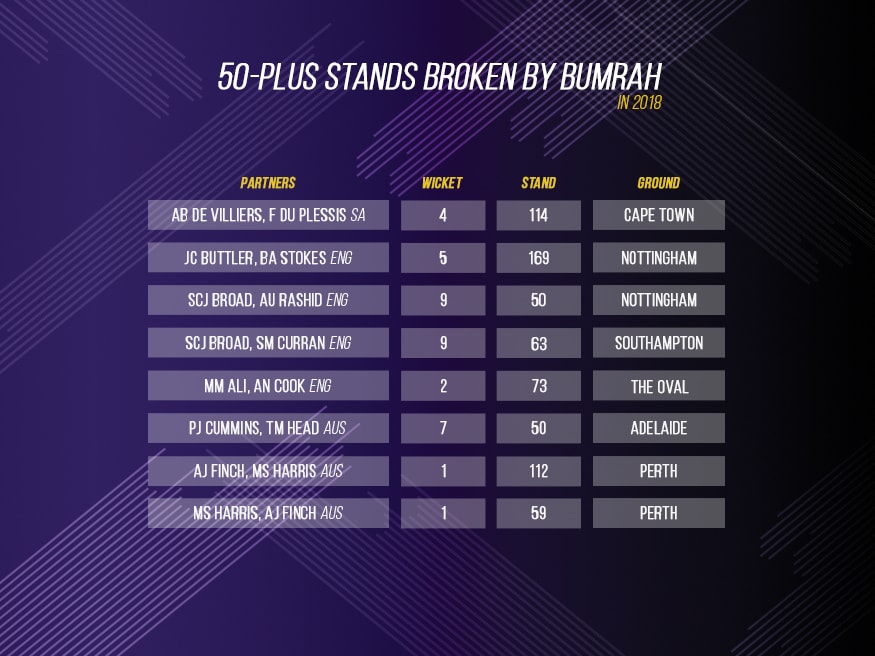 He has also broken three stands from the top of the order (first two wickets) this year with two of them against Australia's openers this series.
As the sides prepare for Boxing Day Test, Australia might want to do their homework against Bumrah and steer clear of him or play him out when a partnership is in full swing. He is Virat Kohli's strike bowler this year and is a thorn for Australia who are looking to put on consistently big partnerships to win the series.