Australia's top-order finally came into their own at Perth as they helped the hosts to their first win in five Tests since the David Warner - Steve Smith ban. In the absence of the two gun batsmen, Australia's top-order had faced severe criticism following losses against Pakistan in UAE and India at Adelaide. But at least temporarily, the hosts have managed to put water on fire after a promising display at Perth.
In all innings since the ban to the famed duo, Australia's top six have racked up more runs than in the first innings at Perth only once - on a good batting surface at Dubai earlier in the year. At Perth, on a tough batting wicket, Aaron Finch and Marcus Harris gave Australia a strong platform with a century stand and the top six combined scored 235 at an average of 39.16.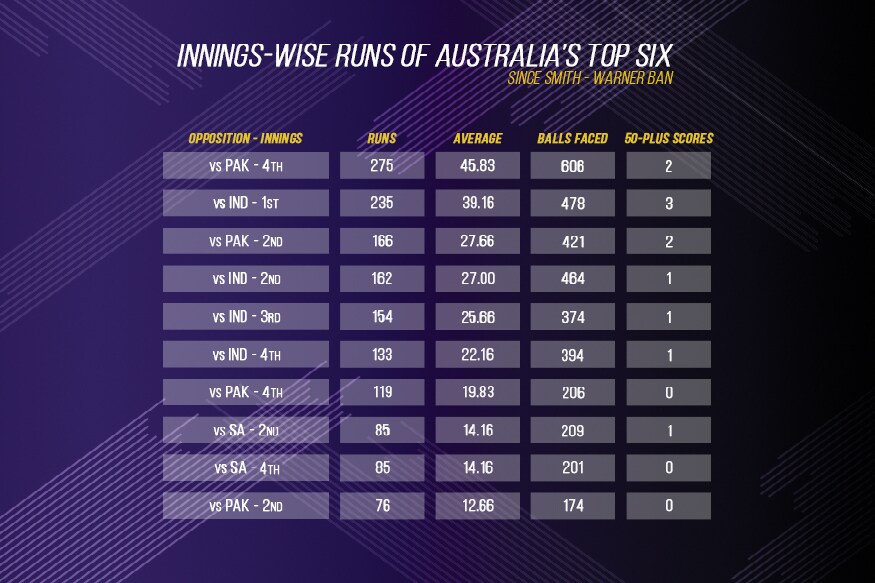 Even in the second innings, with the pitch deteriorating and batting getting tougher, Australia's top-order made 154, albeit at a much lesser average. However, what makes their feat at Perth promising is the fact that for the first time since Smith and Warner were banned, Australia's top six out-batted the opposition's.
In the whole Test - first and second innings combined - India's top six managed 319 runs which was eclipsed by Australia's top order, which racked up 70 runs more. In the four Tests prior to Perth, Australia's top six had come a cropper when compared to the opposition's.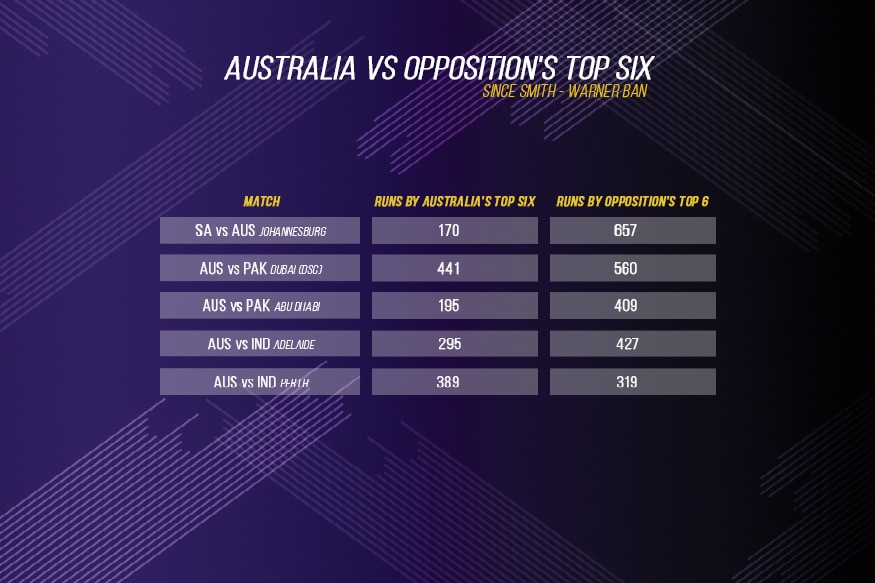 At Johannesburg, they made 170 combined while South Africa piled on 657. The deficit reduced in Pakistan at Dubai but was back to horrendous levels at Abu Dhabi where they made 195 against Pakistan's 409. Even at Adelaide, India's top six - which made 427 - eclipsed Australia's tally of 295. Perth was an exception and two critical partnerships - Harris and Finch at the top in the first innings (112 runs), and Usman Khawaja - Tim Paine (72 runs) in the second essay - played vital roles in their dominance.
These aren't ominous signs but Australia's top-order is sure adjusting to life after Warner and Smith. The global runs/innings for a top six batsman (except Australia's) in the time frame since the ban is 29.64 (runs/innings of all Test teams). Four Australian top order batsmen beat that margin - Usman Khawaja (44.66), Travis Head (35.625), Aaron Finch (33.375) and newbie Marcus Harris (35.5).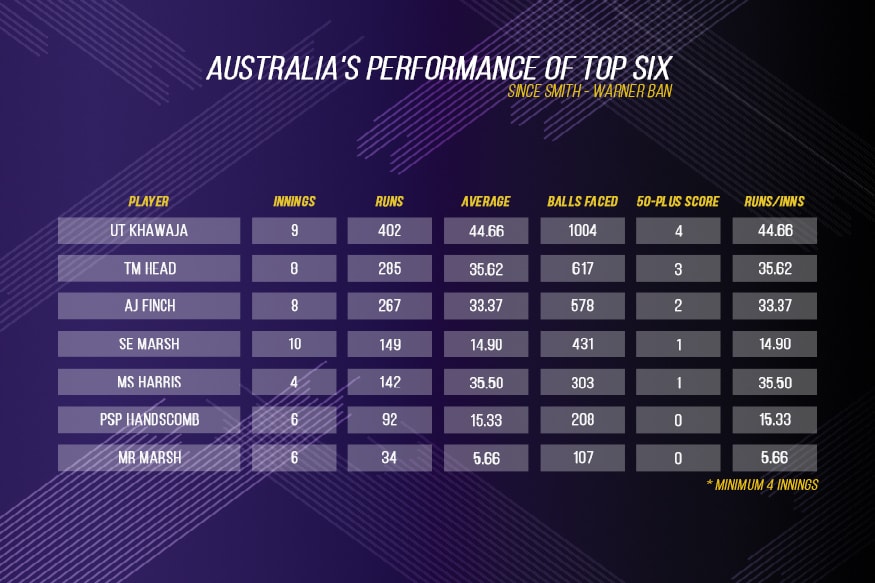 It is a fair indicator of where Australia have been faltering and who in the middle-order hasn't been up to the mark. As the series moves on to Melbourne Cricket Ground for the Boxing Day Test, Australia might want to look at a few of those misfiring names in the top-order. Shaun Marsh, for instance, is the most experienced in the batting line-up but has a runs/innings value of 14.9 while Peter Handscomb is surely in the firing line for his dodgy technique. His runs/innings index is also low at 15.33 but the man who could replace him - the other Marsh (Mitchell Marsh) - has an even worse runs/innings of 5.66 in this time frame.
The top-order is slowly lifting itself up from shambles and the hosts would hope the trend would continue.