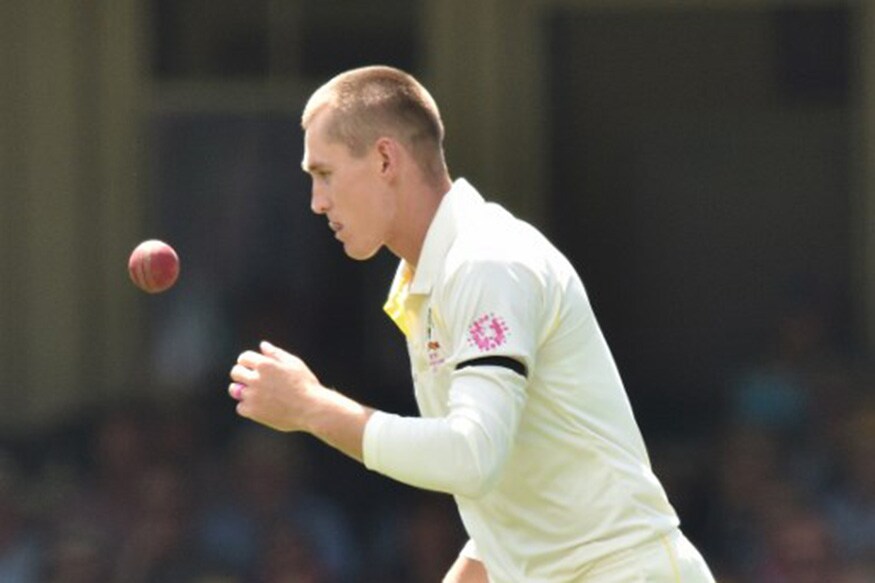 Sydney: He's Australia's new all-rounder – everybody told us so. But three half-trackers later, all given the treatment, Marnus Labuschagne was exposed. It was apt that Jim Maxwell was on the ABC radio commentary to call an over that won't be soon forgotten. In 1973, he was behind the mic Test for the first time, when Australia played Pakistan on this ground. That week, he was making an audition tape for the national broadcaster when Johnny Watkins came on to bowl wrist spin. Eight infamous overs later, he was done: finished by stage fright.
It was Watkins' debut, some 46 summers ago, that Maxwell thought of, and drew the comparison to, when Labuschagne's trio of long-hops went to the rope in the penultimate over before tea. With Cheteshwar Pujara on strike, cruising in his usual way, and Virat Kohli riding shotgun, the dice was loaded against the 23-year-old. Suddenly, this was a long way from Dubai or Abu Dhabi. This was not Kansas, and while he might be yappy at short leg, he is not Toto. He is the man who Australia have backed in this week. Big time.
In another commentary box down the hall, Mike Hussey explained how easily a shift in mindset could occur from a partnership breaker – which Labuschagne was to useful effect in the UAE - to an all-rounder, which was what Paine described him as on Test eve. "When you are coming in as a partnership breaker the mentality is a lot different to when you are the second spinner," he said. Harsha Bhogle added that this was why Sachin Tendulkar, a talented twirler with a knack of breaking partnerships, never went the whole hog as a spinner.
Before Labuschagne was selected, the myth that an SCG Test requires a second spinner had already been largely debunked, twirlers averaging 51.6 at the ground this decade - more expensive scalps than anywhere else in Australia. The last time a spinner took a five-wicket bag there was 2010. Yet, it was on the basis of his bowling, that the Queenslander overtook Mitch Marsh in the starting XI and got a look in ahead of, among others, Glenn Maxwell.
It probably wasn't a pointed piece of subversive social media when the Cricket Australia twitter account posted a video featuring the Victorian being brilliant ten minutes after Labuschagne's first over, but it did prompt a laugh. In the clip, Maxwell imitated the strokeplay of players (with great humour), as he had Justin Langer last year. Best of all was his imitation of Kevin Pietersen. To what extent will his career end the way that of the England batsman?
Maybe quicker again after he offered a pointed tweet not long after the lunch break, writing "Reckless" on top of a video where Langer had played a reverse sweep to bring up a Test ton in this corresponding fixture some 15 years ago. Earlier in the day, at a press conference, he expressed disappointment at the way his friend, Aaron Finch, had been dumped from the Test team without having had a chance to bat in the middle order. It's a brand of honesty that could well end up being a fraction too elite for decision makers who believe that Labuschagne is more likely to influence Test Matches.
"There was a little bit of pressure," Labuschagne acknowledged when fronting the cameras after play, which he did to his great credit. He's an impressive young man, of that there is no doubt. "The first ball came out alright but I bowled a few drag downs that over. But it was positive that I came back with those last three overs and put on a bit of pressure but I know my role tomorrow is to make sure I am keeping it tight at one that one end. It is a big stage you need to stay nice and calm and think about the outcome you are looking for where you want to be bowling the ball."
After the year that was, and the dispiriting loss at Melbourne last week, it shouldn't have been overly surprising that only 33,677 Sydneysiders showed up on the opening day. Normally, Cricket Australia try and spin a poor crowd total, citing that it is the highest attendance on that day of the week in a leap year or some such – it's all in good fun. On this opening day, they didn't need to go through the process as everybody knew this was a stinker. Notoriously, when it comes to sport, Sydney loves a winner, and this team isn't that.