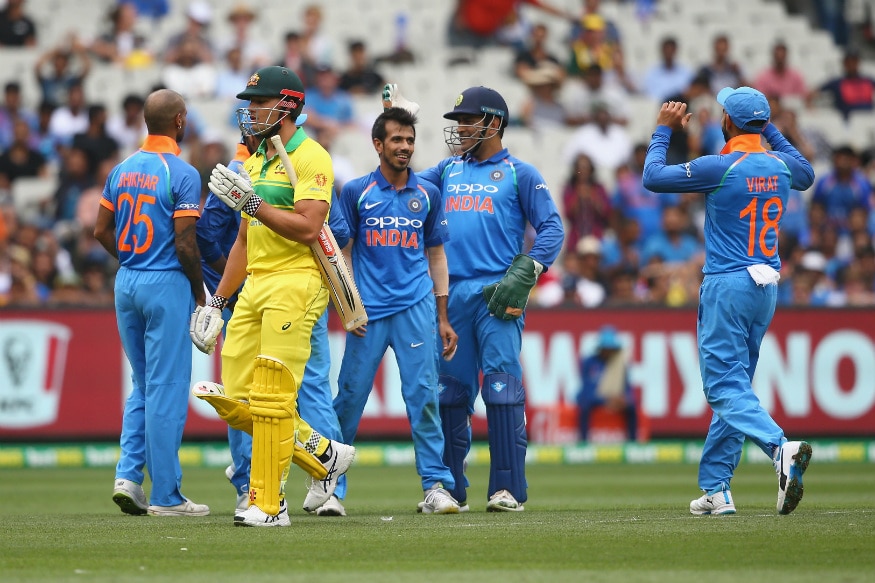 Nottingham 1983 and Cardiff 2005. Australian cricket fans don't need any more detail to know what that list represents: the first time they were defeated in a One-Day International by Zimbabwe and Bangladesh respectively. Both were infamous occasions, the former a World Cup opener, the latter the first ODI of the most famous Ashes summer.
Bristol 2019 might well be added to this list if Australia can't find a method to deal with the turning ball in this format before June. That's when they take on Afghanistan in the first game of their World Cup defence, an opponent boasting a pair of exhilarating young spinners in Rashid Khan and Mujeeb Ur Rahman, not to mention the experience of Mohammad Nabi.
On the available evidence, this is a very real possibility. Yuzvendra Chahal's six-wicket haul in Melbourne on Friday makes it one wicket lost to spin every 34 deliveries since Australia were bounced out of the Champions Trophy in 2017, according to CricViz.
That he did it with the least amount of drift this year, bowling slower than he has in recent times, makes it worse. This wasn't the aforementioned Rashid ripping down unplayables at the better part of 100kph on a dustbowl. This was, overwhelmingly, batsman error.
That Chahal wasn't used until the decider suggests he is India's third choice slow bowler, but as Virat Kohli explained at stumps, he sees one of his side's best attributes that they are so unpredictable – not least at the selection table. Ranking who fits where is pointless when the combinations are going to change game by game.
Kohli insists there is room for two wristspinners in his own World Cup planning. With Chahal going to sleep tonight with a beautiful set of numbers – an average of 23.75 across 34 ODIs, at 4.7 an over and a strike rate of 30 – it reinforces why. If he follows the pattern of most spinners, at 28 years old he is still just short of what should be the peak of his career.
The contrast with the Australian spinners is clear: neither Nathan Lyon in the first two matches nor Adam Zampa in the decider claimed a wicket. As Justin Langer said after play, he is thrilled that the South Australian demonstrated a capacity to turn the ball both ways across ten tidy overs, but what he is really searching for is a wicket-taker.
"We've identified that between the 10 and 40 over mark we have got to take wickets because otherwise it gets down to the end and that's what happened to us tonight," he said. "We didn't take the wickets in the middle overs. That said, what I was most impressed with him, we talk about the great legspinners beating the bat on both sides. Traditionally he bowls wrong'uns and toppies but he bowled some good legspinners. I know he is working hard on that and if he can spin the ball both ways he becomes a fantastic option."
What it boils down to for Australia in their planning for the only tournament that matters is they have 10 ODIs – five apiece in India and the UAE – to work out how they are going to tackle spin to win, and not be spun out themselves. "They are great opportunities for us," Langer continued. "We know that there will be a lot of spin in the World Cup so the more that we get to practice it, better it will be for us. We have identified it and practiced in training but we have to put it into a game scenario."
The coach also acknowledged, in an encouraging sign that they are attuned to the modern trend of deploying at least two front-line spin options even if that doesn't come naturally. "It certainly will give us an option," he said of the prospect of Zampa and Lyon in tandem. "We don't traditionally play two spinners in one-day cricket for Australia but it might come up in the World Cup. Certainly in India and the UAE there is a good chance."
When Australia were the best, how others caught up was by trying to be them. As much as it will sting missing out on the chance to win a series in this format for the first time in two years, if Australia can take from it the lesson that it is increasingly the case that spin is the key in modern 50-over cricket, they will be closer to where they want to be and a lot sooner too. But if they can't, June 1st in Bristol might just become famous for all the wrong reasons.