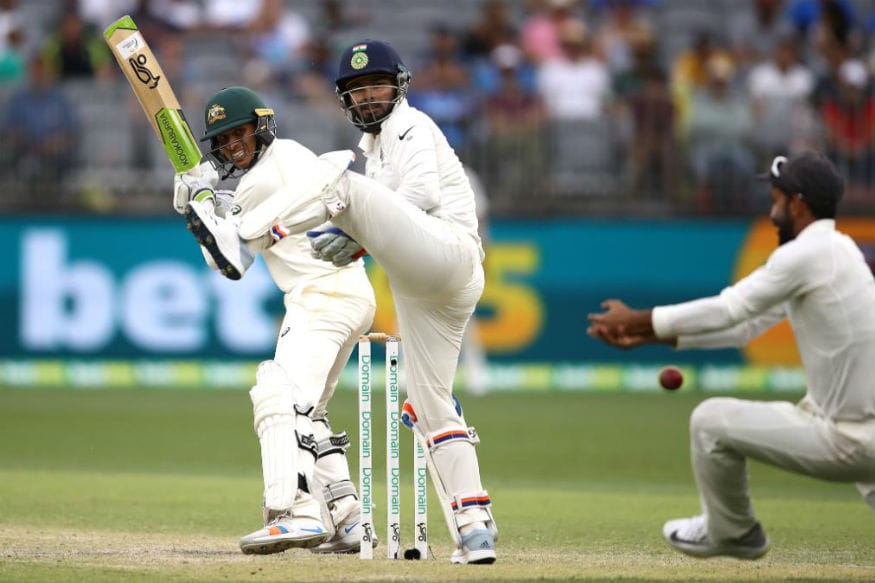 Before all the words about Nathan Lyon, and there should be many, how about some for Usman Khawaja? To begin, remember that the first couple of hours on the third and fourth days of Tests has proved a real bother for Australian teams over the last two years, starting across the bridge at the WACA in 2016. It was then, after South Africa's top order folded during the first hour of the Test, that on mornings three and four they successfully got through without giving up a wicket, Kagiso Rabada doing the rest. Fast forward to last week, it was Australia's inability to strike within 90 minutes on the fourth morning that made victory a distinct improbability.
Had Tim Paine's side folded upon arrival on Monday, it could have been the same again. In that watershed Perth fixture two years ago, Khawaja was out three runs short of a second innings ton when his top-order colleagues fell around him in an ill-fated and irrational pop at world record score, all guns blazing. Here, as the senior member of a far more contrite ensemble, Khawaja knew the job was to occupy for as long as it took, quelling all his stylistic urges.
Only three summers ago, Khawaja was all aesthetic pleasure. Then, in-form player on the planet crunched and caressed ton after ton, delivering on a promise going back to 2011. In the pick of that litter, played against New Zealand at Wellington, 100 of his 140 runs came in boundaries, the bulk slamming into the advertising boards at cover. There might be days into the future where he can afford to be that player again but this morning against India's powerful pace attack, was about as far from it as one could drum up.
Usmana Khawaja in action. (Getty Images)
As wondrous as Khawaja's match-saving hand was at Dubai in October, the pitch was never getting any worse to bat on. The opposite is true on a surface here that has changed complexion hour to hour. On evening three, witnessing three unflattering dismissals from the non-strikers' end, his job was holding off a collapse rather than risking making a contribution to it. To that end, it was instructive how quickly Khawaja changed gears. From the first 14 deliveries he faced, with Australia still none down with Aaron Finch retired hurt, he scored 13 runs as the lead built steadily. It was only after Marcus Harris was removed - then Shaun Marsh and Travis Head - that he shifted by necessity to a position of careful accumulation.
It made Khawaja's shouldered arms his most important posture of all, leaving 38 per cent of deliveries - the most he's ever recorded according to CricViz. India's discipline was equally impressive, pitching 65 per cent of their offerings to him in the channel outside the off-stump as Jasprit Bumrah beat the bat more than any bowler ever has in Australia since 2006. This was bowling of the highest quality that required patience, skill and discipline to match.
The denial was reminiscent of another of the Khawaja beachhead, his century at Adelaide against South Africa in the final match of that series in 2016. There, in complete contrast to Wellington nine months earlier, he lashed not a single cover drive. It was the first evidence at the top level that he had a range closer to David Bowie than Green Day. This is a reputation that has only enhanced since he suddenly became the senior batsman in this side.
"With Steve (Smith) and Dave (Warner) not here a bit more pressure falls on Usman," Josh Hazlewood explained at stumps. "He's the most capped batsman maybe with Shaun Marsh, so experience counts for a lot in these situations. There are a lot of young guys in the order in the top six so I think Usman felt that responsibility a bit more this season. He struggled a bit in the first couple of innings but to see him fight on today made everyone a bit more relaxed."
By the time that he and Paine were done, they had put on just 72 for the fifth wicket; the third slowest half-century partnership, according to master statistician Andrew Samson, for Australia this century. After lunch, it took a pair of nasty-to-unplayable snorters from Mohammed Shami to end both stays. But by then, the degree of difficulty on India had been ratcheted up as it had been on Australia in Adelaide by Cheteshwar Pujara and Ajinkya Rahane on the corresponding morning. Calm had well and truly replaced the earlier chaos.
In the absence of Smith and Warner, Khawaja has talked with comfort at being the senior man in this Australian side - it agrees with him. Yes, stepping up for that role may have meant meant stepping back his scoring rate but because of it, but he's never looked a more integral or stable batsman for Australia. That's leadership.