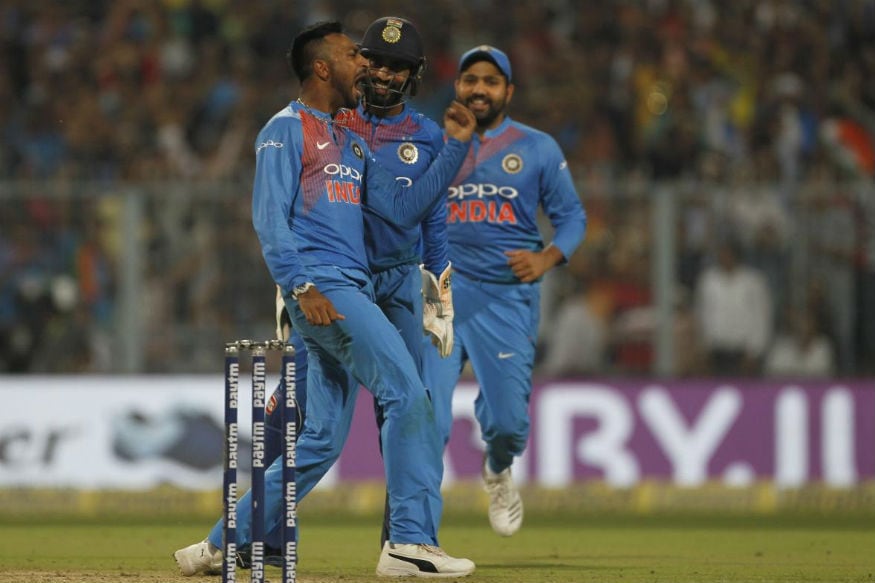 CricViz Match Impact Explained
CricViz Match Impact is a performance evaluation tool for T20 cricket. Match Impact is based on a model of T20 cricket that forecasts the expected total after every ball, taking into account the current score and the venue being played at. The model prescribes a positive or negative value after every ball - measured in runs - to the batsman, bowler and - when relevant - the fielder, according to whether that ball increased or decreased the expected total.
For example, a four hit off the first ball of the third over with the score 20 for 2 might increase the expected total by three runs, in this case the batsman will have scored +3 for that ball and the bowler -3.
Ball-by-ball scores can be aggregated across a match, tournament, year, career or any time frame to give an overall score which is reflective of performance and ability with a +5 player being worth five runs per match relative to an average player.
For a more accurate representation of true talent Match Impact outputs are then adjusted for recency and weighted by the standard of cricket the player has played—performances at international level are worth more than in the Syed Mushtaq Ali Trophy, for example.
Current Squad
At first glance India's current T20 squad appears very strong - only one of the sixteen players has a negative match impact. However, this kind of balance is to be expected in an international team—especially one with a player pool the size of India's. Simply being better than the average T20 player is not enough to qualify for international selection. More revealing will be comparison against the pool of available players.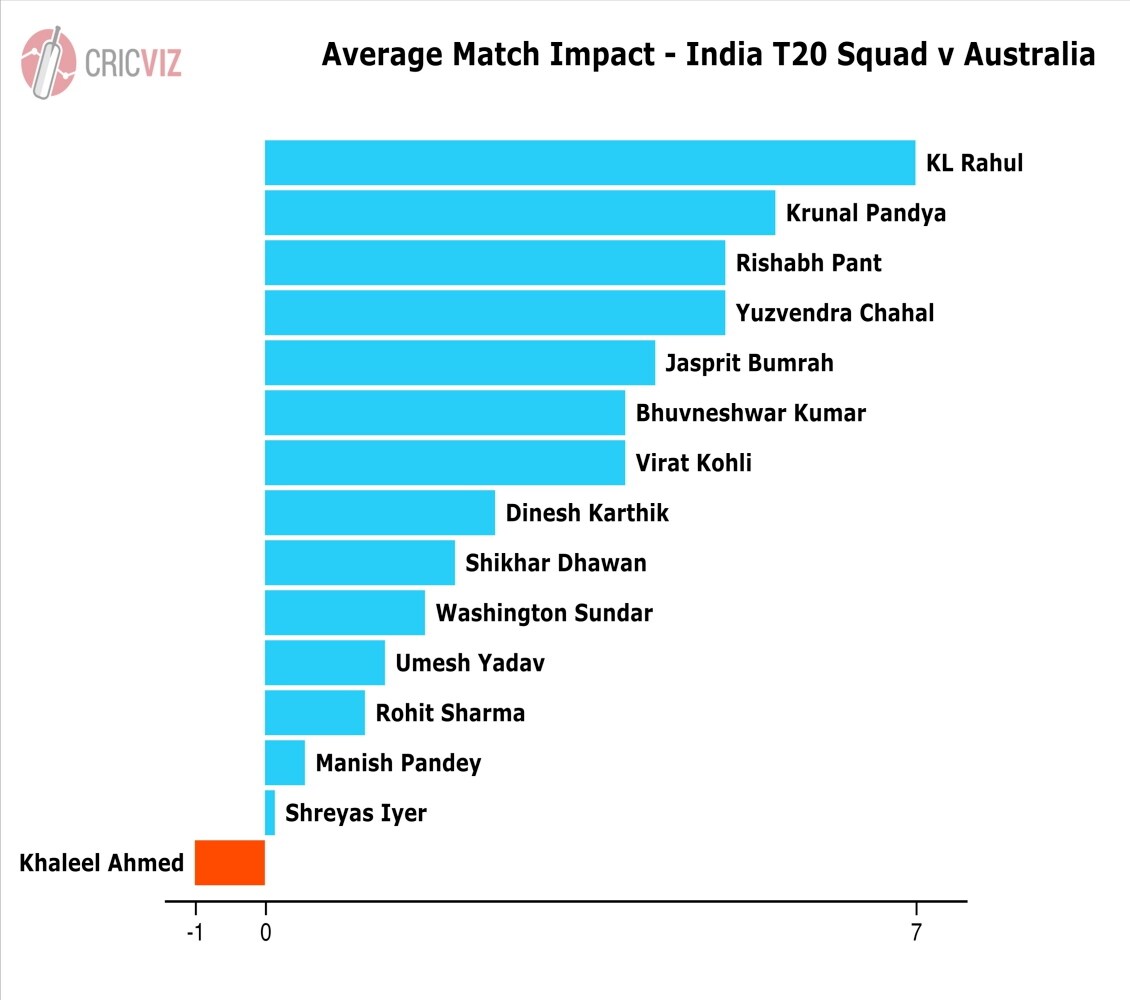 Batting
India's current T20 squad includes four of the top five ranked batsmen in the country: KL Rahul, Rishabh Pant, Virat Kohli and Dinesh Karthik, and with the addition of Shikhar Dhawan, five of the top seven. The other three batsmen in the squad are Rohit Sharma (batting rank: 11th), Manish Pandey (rank: 19th) and Shreyas Iyer (rank: 23rd).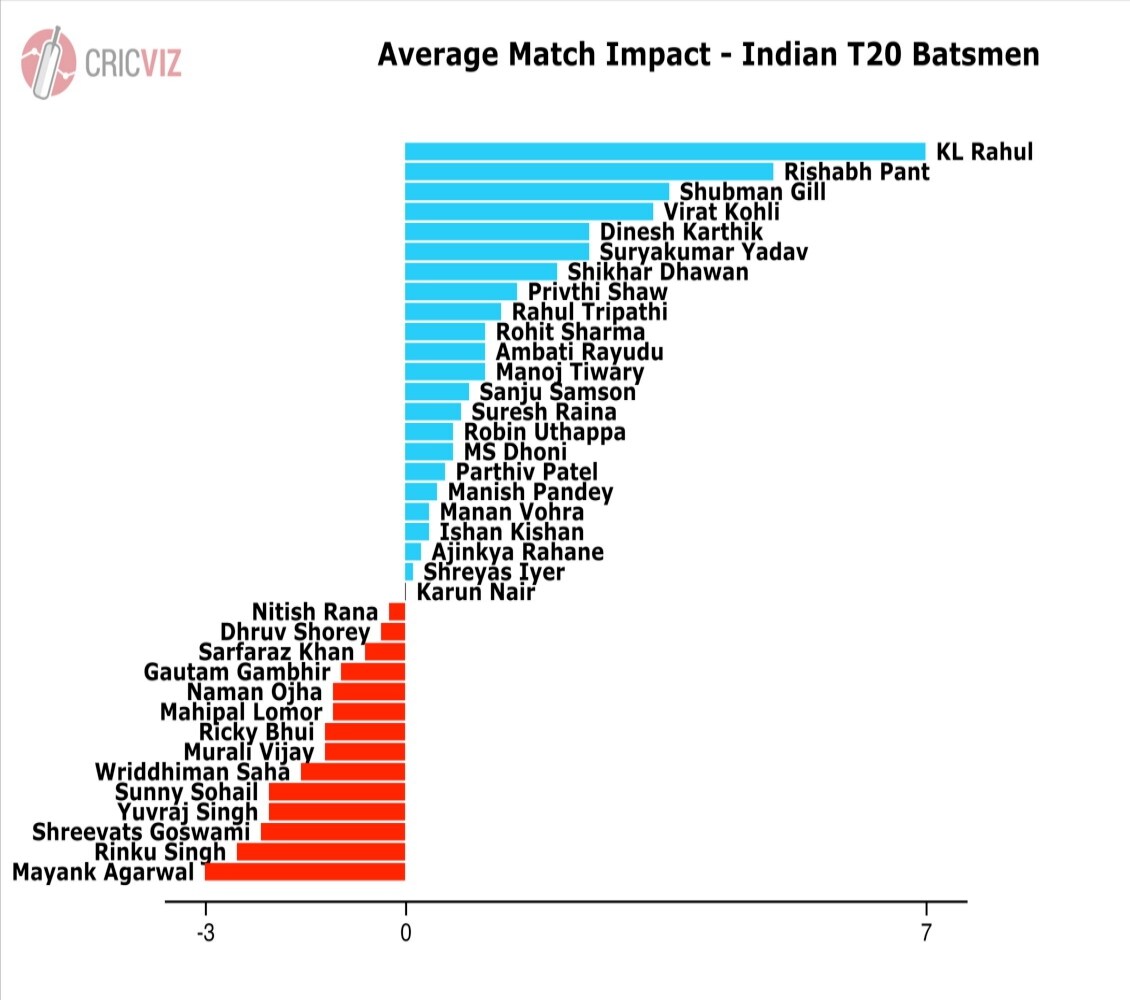 Rohit's low ranking appears surprising at first glance for a man who has dominated in international white ball cricket for half a decade now but it can be explained by two consecutive IPL seasons in which he has recorded negative match impacts. There is little doubt that he remains one of India's best batsmen but his relatively low recent Impact serves as a reminder of the importance of drawing a distinction between ODI and T20 form; Rohit is elite in the former but not in the latter.
For Pandey and Iyer their low rankings are more understandable and contextualise their ability as anchor batsmen with relatively low strike rates. At 23 years old, age is on Iyer's side and he has shown signs of increasing scoring rate in the 2018 IPL which should earn him more opportunities. In neither regard can the same be said of Pandey who is living on borrowed time after a poor IPL campaign.
Of the batsmen ranked above Pandey and Iyer it is the trio of Shubman Gill, Suryakumar Yadav and Prithvi Shaw who standout as the players most unfortunate not to be selected. Although Gill and Shaw are only at the start of their careers their ability is plain for all to see.
With Rahul, Pant and Kohli certain starters the pressure is on Dhawan and Rohit to see off competition not only from Shaw, Gill and Suryakumar but Rahul as well - who has had such success opening for Kings XI Punjab. Moving Rahul to open could also be accommodated by Rohit shifting down into the middle order where he has batted for Mumbai Indians and where his exceptional power-hitting ability could be better utilised.
In a changing game with an emphasis on maximising the fielding restrictions Dhawan may soon find pressure applied on his scoring rate by Shaw who is a very aggressive player. In the short term at least he is safe but with competition for places fierce he can't afford to be complacent.
India have a coterie of reliable batsmen who are above 30 years old but it would be a backward step to prefer them ahead of the likes of Shaw and Gill who have such enormous potential.
All Rounders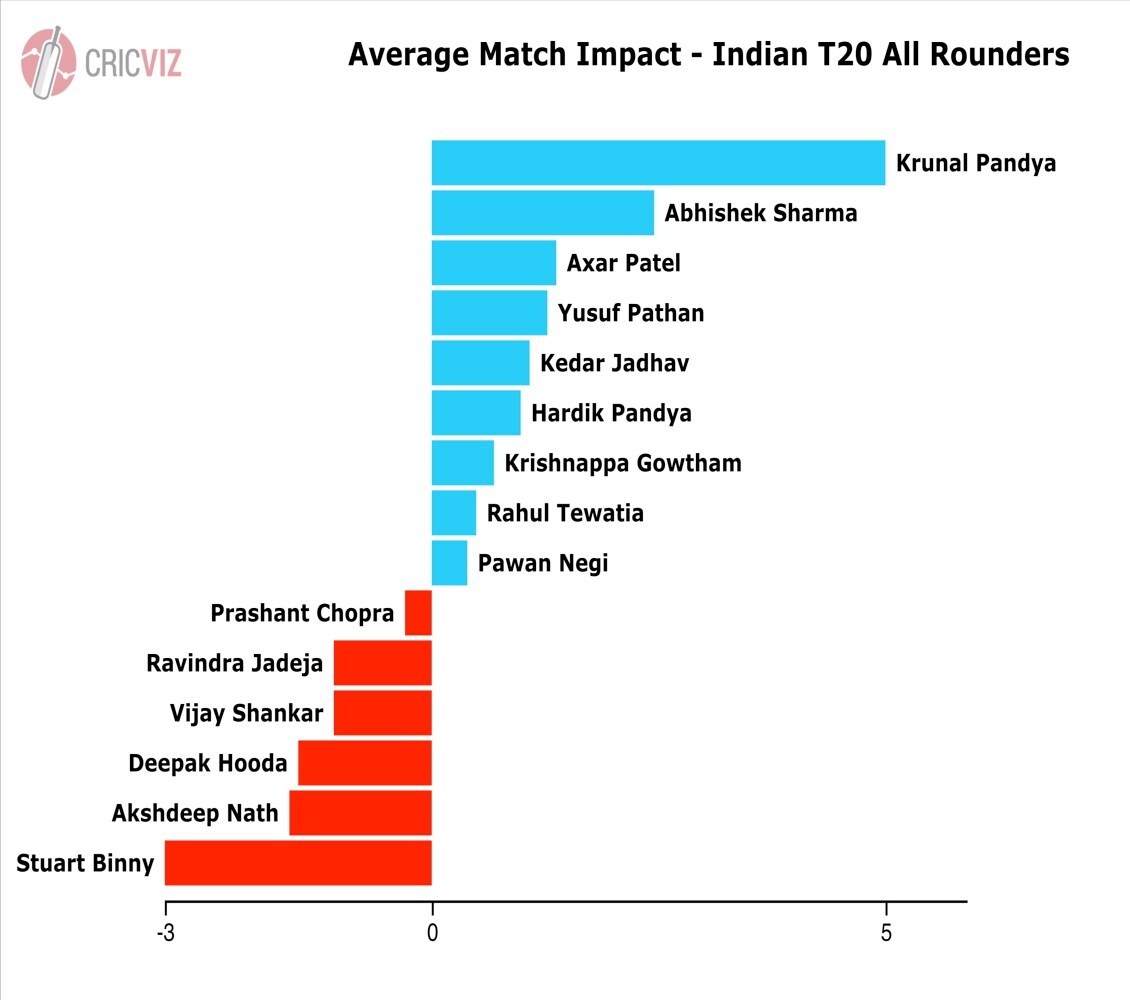 As with Rahul and Pant, Match Impact illustrates the folly of Krunal Pandya remaining out of India's plans for so long: he is clearly the best T20 all rounder in the country and must play. The ranking of his brother, Hardik - currently out of the squad with an injury, is intriguing. Hardik's status as a young, three dimensional and marketable cricketer appears to have led to him being slightly overrated. Of course, he remains a valuable player with very little to choose between him and other all rounders and a lot to choose between him and India's other two pace bowling all rounders. Krishnappa Gowtham is a notable name: his off spin could give India another bowling-type to consider. Abhishek Sharma's high impact is based on just three matches.
Wicket Keepers
The brilliance of Rahul and Pant with the bat (and Karthik) means India do not need to force a substandard batsman who can keep wicket into the team. Ranked behind Rahul, Pant, Karthik, Sanju Samson and Robin Uthappa, MS Dhoni's days in T20 international cricket appear to be over.
Pace Bowlers
Jasprit Bumrah and Bhuvneshwar Kumar are clearly the premier T20 pace bowlers in India and their selection is a certainty. There is not much to choose between Sandeep Sharma, Siddharth Kaul, Umesh Yadav and Deepak Chahar as back up options. Sandeep, Umesh and Chahar are Powerplay specialists who swing the ball and take early wickets while Kaul gives India's a reserve death over bowler.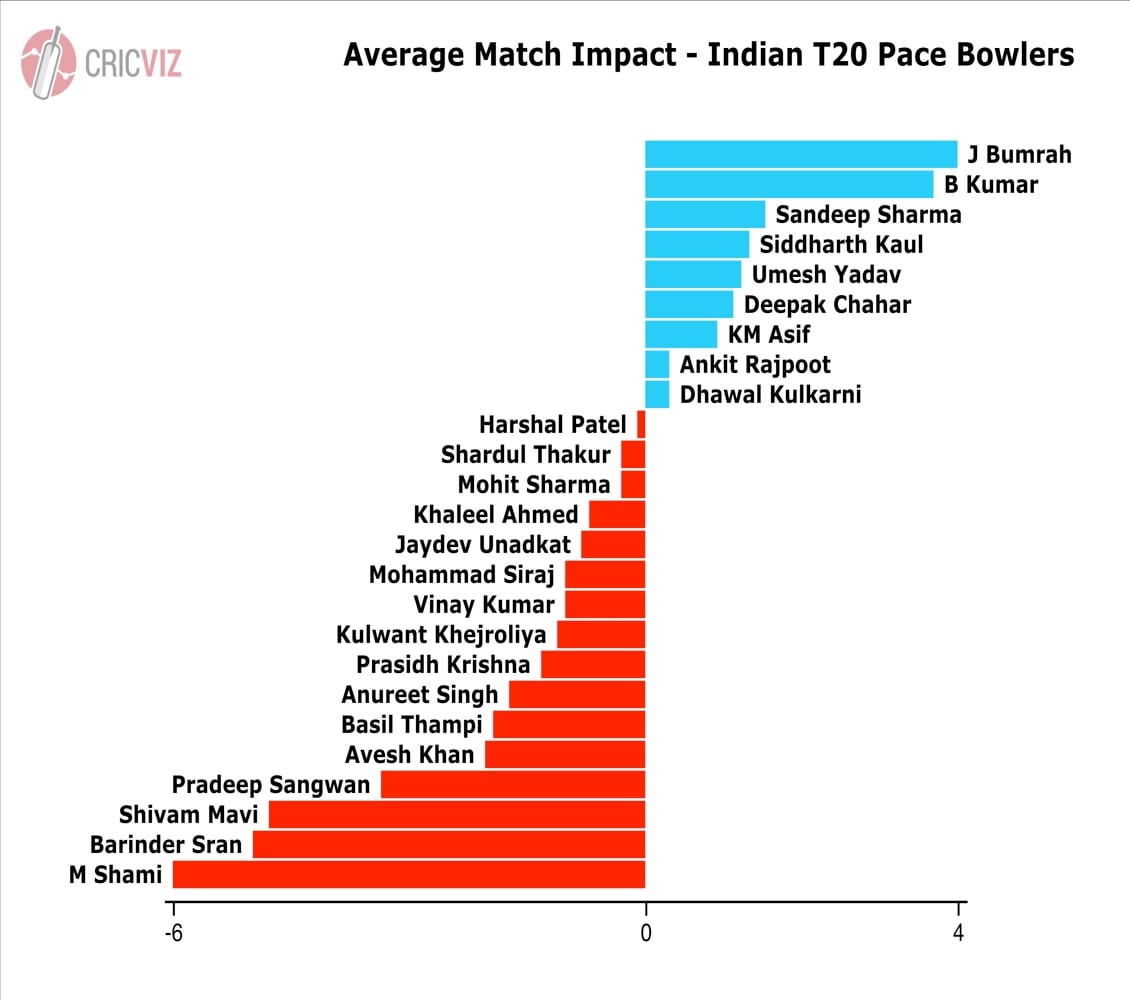 All four of these back-up bowlers are good but not exceptional options. Were Bumrah or Bhuvneshwar to get injured India's lack of pace bowling depth would be exposed.
The selection of Khaleel Ahmed appears to be one driven by a desire to have a left-arm pace option to exploit match-ups and provide variety. Forgoing 0.5 or perhaps even 1.0 runs for this variety would be understandable but currently there is a huge 2.2 runs difference between him and Sandeep. With plenty of time before the next T20 World Cup giving Khaleel a run in the team makes sense—he is the highest ranked left-arm pace bowler in the country—but India must remain wary of sacrificing quality for variation.
Spin Bowlers 
Yuzvendra Chahal and Kuldeep Yadav are joined by a surprising name as the three Indian spin bowlers way out in front of the rest of the options: Shreyas Gopal. The 25 year-old was not even a regular starter for Rajasthan Royals in the 2018 IPL but he appears to be one of the best spin options in the country. His overall Impact is boosted by healthy batting numbers but when taking bowling alone he comes as a close third to Chahal and Kuldeep. If Gopal is used more regularly by Rajasthan international honours may soon come his way. The selection of Washington Sundar as the third spinner in the squad is understandable: he is in the second group of spinners and at just 19 years of age offers great potential for the future.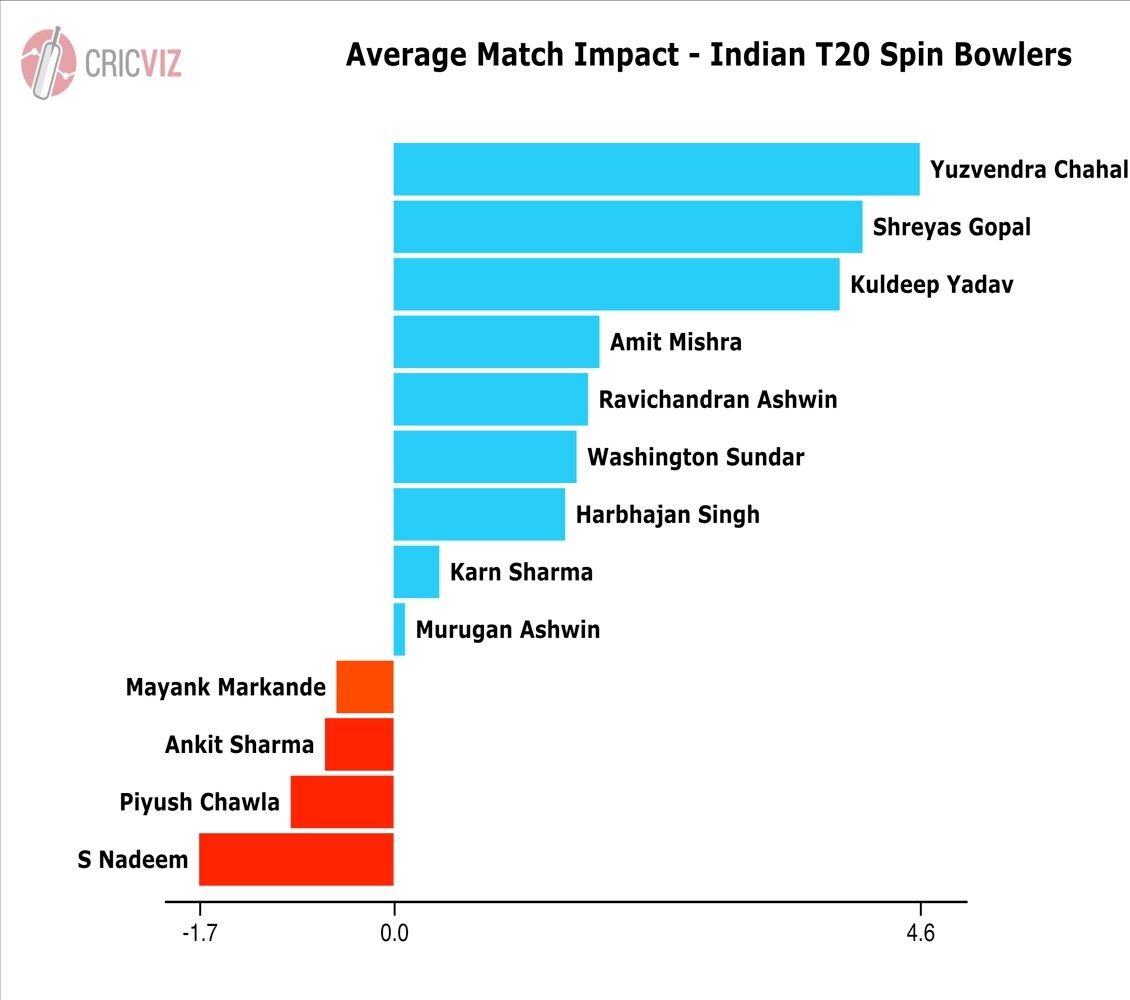 Conclusions
Until recently Pant, Krunal and Rahul were glaring omissions from India's T20 team. Their selections mean India are now very close to their optimal T20 team and it is a very strong one. However, the situation is fragile: Pandey's continued presence in the squad is a clear area for improvement while Gill and Shaw appear to be considerably better options than Iyer. The return of Hardik will also pose a threat to Krunal's place in the team - although it shouldn't Ideally they'd find a space for both of them to give optimal balance. The emergence of a clear back-up pace bowler would also be a welcome development.
CricViz's India T20 Team
Dhawan
Rahul
Kohli
Rohit
Pant (WK)
Krunal (SLA spin)
Hardik (RA Pace)
Kuldeep (LA Wrist Spin)
Bhuvneshwar (RA Pace)
Bumrah (RA Pace)
Chahal (Leg Spin)
(Freddie Wilde is an analyst at CricViz - world leaders in cricket analytics.)