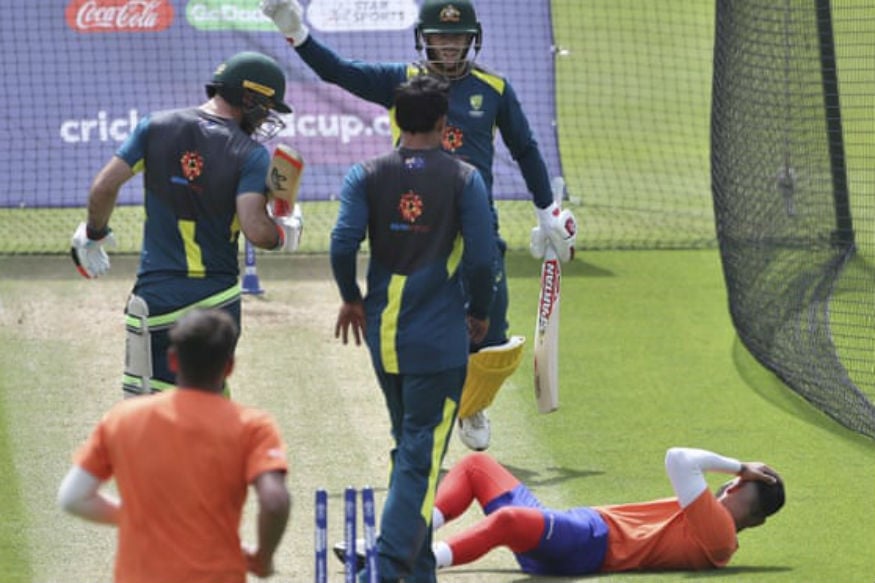 London: Safety of net bowlers was in focus once again after a rookie pacer of Indian origin, Jaykishan Plaha, was taken to hospital after suffering a blow off a David Warner straight hit in training on the eve of Australia's World Cup game against India at The Oval.
The medium pacer lay flat for a while and received immediate medical attention before being taken to hospital for further treatment. He was said to be conscious, and smiling, when taken to hospital.
Plaha, thankfully, has been cleared off any serious injury after scans at the hospital.
The incident halted Australia's training session briefly, with Warner visibly shaken.
International Cricket Council venue manager Michael Gibson told reporters, "The net bowler has been taken to hospital as a precautionary measure because it was a head injury."
"Dave was obviously pretty shaken up," said Australia captain Aaron Finch at the pre-match press conference. "It was a decent hit to the head. Hopefully everything keeps going well for the youngster and he's back up and running shortly. It was tough to watch."
Australia's session and normal proceedings resumed soon, but questions about safety of bowlers lingered on. Net bowlers, young and eager to bowl to international stars, are often ill equipped to handle the increase in level of the game putting them under risk. While Kishan was hit straight off the bat, there have also been instances of bowlers being hit off ricochets off metal rods that hold the nets together.
Many coaches wear baseball style helmets and have their own safety nets while giving throwdowns. With bats getting bigger and shots becoming harder, there have also been calls for face masks for bowlers, and even umpires. Umpire Bruce Oxenford even wears a protective shield on his arm to guard against straight hits.
Not too long ago, Indian bowlers R Ashwin and Jaydev Unadkat called for face masks for bowlers, after Ashok Dinda received a blow on his head in a domestic match.
Been saying it since 2011, these kind of incidences never used to happen in the pre T 20 Era. Something has surely changed , wonder what it is https://t.co/5xasN4IAbZ

— Ashwin Ravichandran (@ashwinravi99) February 14, 2019
Finch supported the idea, although he said he hasn't given the issue a serious thought before.
"That could be a decent idea," he said. "Again, it's a bit like everything; it's such a personal preference for net bowlers, and we're very lucky to have so many of them come in and want to bowl to us and help us prepare as best we can for the game. But I think it's going to be a personal preference, and like I said, it's lucky that there were so many good medical team on standby.
"It's quite rare that somebody gets hit, and it's obviously very unfortunate. The medical staff that were on hand, obviously our own medical staff, doctor and physio and also the medical staff, paramedics at the ground, did a great job in being there very quickly to assess and make sure that all the right protocols and right processes were put in place. It is a difficult one because you get some guys that are coming in and who probably aren't as well-equipped with their game to be able to deal with that."
This is not the first time a bowler has been hit in practise this World Cup. Hamid Hassan, the Afghanistan pacer, received a blow on his back before their game against Sri Lanka.