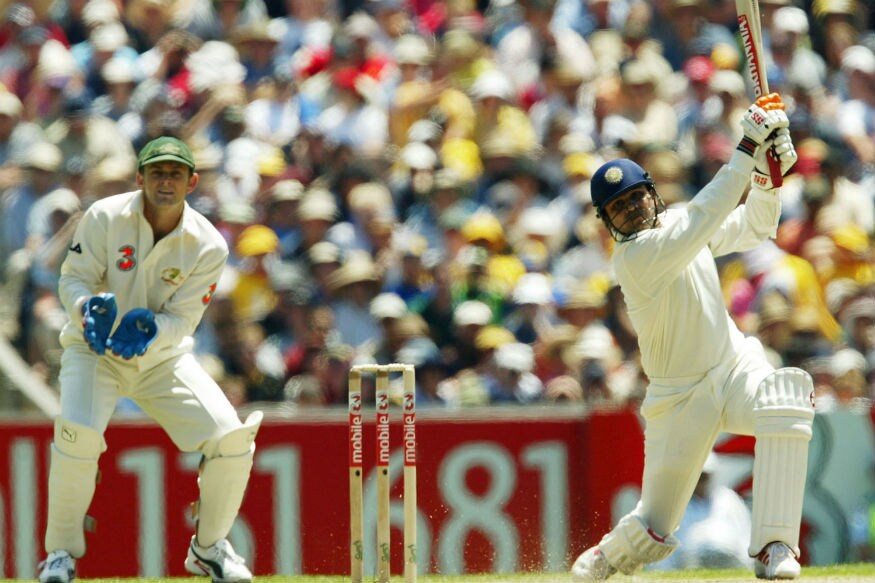 New Delhi: Fifteen summers back, a storm called Virender Sehwag hit the Melbourne Cricket Ground (MCG) in the Boxing Day Test. Rarely has a visiting batsman mesmerised the packed MCG crowd like Sehwag did on that day, clobbering 195 runs in little over 78 overs of mayhem in the middle.
Sehwag, who recently turned 40, was playing his 19th Test and although he had made some stunning hundreds already, he hadn't yet scored the big double and triple hundreds that would be remembered as the standout performances of his remarkable 104-Test long career. The innings at Melbourne though remains one of his most cherished to this day.
On that Friday morning in 2003, Sehwag along with opening partner Aakash Chopra got off to a sedate start, offering little clue about the entertainment in store for the rest of the day.
"I had scored 40s in all the innings ahead of the Boxing Day Test, A couple of 47 in Adelaide (Test win) as well. Ahead of the Boxing Day Test, I thought that if I get a start of 40 again, I'll convert it into a big hundred," Sehwag told CricketNext. "I wasn't expecting to score 195 at that time.
"My whole focus was to score a hundred and after I reached my century, I thought about 144 scored by (Sourav) Ganguly, (Rahul) Dravid's double hundred in the last Test and VVS Laxman's 160-odd in Sydney, so I wanted a big hundred."
It didn't come all easy to Sehwag and Chopra against the Australian new ball attack of Nathan Bracken, Brad Williams and Brett Lee.
"Preparation before the Test was that, I didn't want to waste a start," he recalls thinking. "Then after I got struck on the helmet twice in the first half hour, I knew that I have to make a big score otherwise I won't get the respect that I deserve. Back then the belief was there that if you score centuries in England, Australia and South Africa, you get more respect as an Asian player.
"In the first half hour after being struck on the helmet twice, me and Aakash (who also got struck on the helmet once) were having a laugh in the middle, saying, 'Kahan phas gaye? Khoon nikalega yahan to! (Where have we got stuck? We'll lose blood in the middle today)'. But we never gave up, put on 140-odd and Aakash I remember had a bad headache after the day's play."
(Getty Images)
However, once Sehwag got his eye in, he began to unleash the full range of his dazzling stroke-making ability, especially against leg-spinner Stuart MacGill.
"I had to keep a positive frame of mind," he remembers. "Once I was settled, the balls that I could hit, I went after them. There was help for the bowlers and we were beaten lot of times as well by Bracken, Williams and Lee. We thought that once we see off the pacemen, it will be easy for us as well as for the middle order.
"Macgill was the one we targeted. In the first over I hit him for six, in the next over couple of more boundaries and then boundaries kept flowing against him on that track. Macgill was the easiest to face, the pitch really eased out after lunch."
Sehwag had reached 195 off 233 balls with five sixes and 25 fours when his innings was terminated unexpectedly by the innocuous, part-time left-arm wrist spin of Simon Katich.
Asked what skipper Sourav Ganguly told him during an animated chat in the middle of the over in which he was dismissed by Katich, Sehwag recalled, "Dada was saying that I should be careful against Katich, a part-timer. He said, 'We have already got a couple of sixes for the over'. I said, 'Ok, Dada' but when I saw the second full-toss, I saw another six. But it hit a little high up on the bat and the bat turned in my hand and I just spooned it up."
So, are there any regrets looking back at his dismissal for 195?
"One reporter asked me in the press conference, 'Do you regret not scoring 200?'. I said, "No. At least I have scored 195," he chuckled.
"When I look back if I hadn't got out and if India had scored 500 or 600 instead of 360, we could have at least drawn or won the Test meaning we could have won the series. We were playing so well — Ganguly scored a ton in the first Test, Dravid scored a double century in Adelaide, then I scored 195 in MCG and Sachin (Tendulkar) scored another double ton in the last Test. If I scored 250 or 300, we could have drawn the MCG Test and won the series."
It may not have ensured India got the right result, but the Sehwag storm on Boxing Day in 2003 is among the most memorable performances ever witnessed at the iconic venue. And one that resonates to this day, a decade and a half later.