Home

»
Cricket Home

»
News

»
India vs Australia: EXCLUSIVE | Given Their History in Australia, Can't Call India Favourites: Gilchrist
India vs Australia: EXCLUSIVE | Given Their History in Australia, Can't Call India Favourites: Gilchrist
A lot of expert opinion doing the rounds may be suggesting that India are favourites going into the series against Australia, but legendary Australian wicketkeeper-batsman Adam Gilchrist isn't among them.
Updated: November 28, 2018, 2:55 PM IST
A lot of expert opinion doing the rounds may be suggesting that India are favourites going into the series against Australia, but legendary Australian wicketkeeper-batsman Adam Gilchrist isn't among them. Even as the once mighty Australians have struggled without the banned Steve Smith and David Warner, Gilchrist points to how "great Indian teams" have performed Down Under in the past.
"I don't think I can say that India will start as favourites because history will tell you that it (Australia) is a very tough place," Gilchrist told Cricketnext. "Some great Indian teams, some great teams from England have come here and they have had limited success.
"It's going to be a tough challenge for India but I think it will be an even contest. Both teams have an opportunity to create a legacy of their own. It's a new-look Australian team on the back of all that has happened last summer. They will look to stake their claim as the top Australian team and India will look to achieve something that no other teams from their country have been able to achieve."
India had their moments in South Africa and England, largely because of their bowlers and skipper Virat Kohli, but still fell short by a fair margin in both the tours. While India lost 1-2 in South Africa, they went down 1-4 against Joe Root's English side.
The last time India played a Test series in Australia, Kohli amassed tons of runs and took the home team to their limits, but India still suffered a 0-2 defeat in the four-match series. Both the games that India lost were pretty close. Meanwhile, a lot has happened since Australia hammered England 4-0 at home in the 2017-18 Ashes.
Australian cricket has been in a turmoil since their ill-fated tour of South Africa. Off-field problems highlighted by the Longstaff review haven't helped their cause either. Gilchrist, however, said Australia are always a dominant side on their backyard but India have a very well-balanced team and if they can adjust to the conditions quickly, they have a serious chance of creating a history.
"Australia have always been a dominating side in their own backyard and they will believe that they will do well again. India will have to find a way to start on a high," said the 47-year-old, who retired from the game in 2008 after scoring over 15,000 runs across formats.
"I think Virat is a captain and a character that will want to do that. I think he is an inspired young leader who likes to keep the team motivated and he does that by scoring heavily. He will try to forget the past, and they have new and young players who don't have the scars of the previous tour and they also have a very good pace attack. It has to be one of the best India have ever had.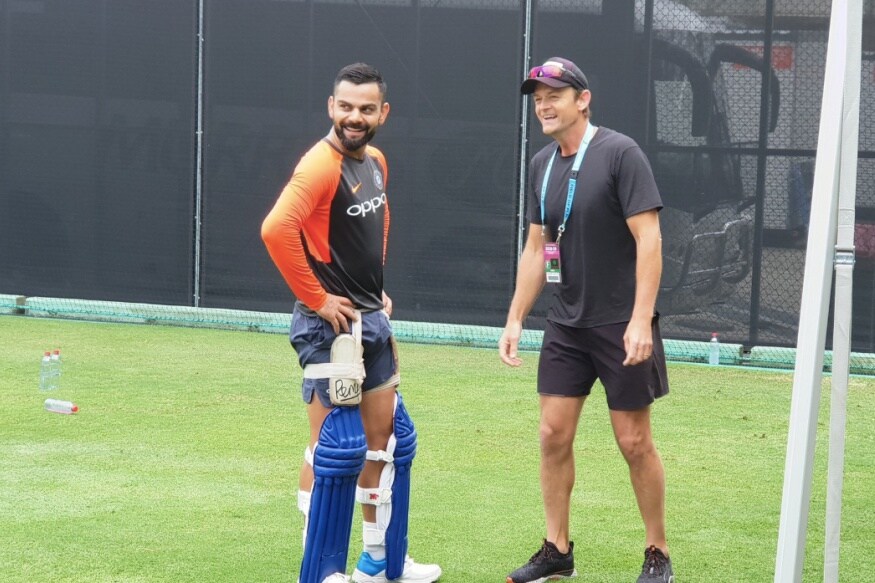 IMAGE: Twitter/BCCI
"India have had good individuals but the current attack as a group is very promising. If they manage to adjust well here, they have a serious chance to succeed. Australia too have a world-class bowling that will test Indian batsmen. If people would have seen that series against England closely, yes they won by a fair margin, but India had their moments.
"I don't know if this is their best ever chance to win in Australia because the teams that have come here early also had a good chance. India does have an opportunity against a slightly weakened Australian line-up. This Indian team have been progressing nicely under the leadership of Virat Kohli. It's a very well-balanced Indian team. This series will be exciting because no one is sure how exactly it's going to go."
The main reason India have been so successful and competitive in recent times is their bowlers. The likes of Jasprit Bumrah, Bhuvneshwar Kumar, Ishant Sharma, Mohammed Shami and Umesh Yadav form a formidable pace-attack, while R Ashwin, Ravindra Jadeja and Kuldeep Yadav offer variety as spin options.
India's bowling has clicked as a unit in recent times and has done the job for their team on most occasions. Gilchrist thinks Bumrah is someone who will enjoy bowling in the conditions on offer, given his ability to generate pace and bounce.
"I don't really want to pick one but Jasprit Bumrah is quite unorthodox and seems awkward to face," he noted. "You will have to take a bit of time to get used to him. He looks like a difficult guy to face because of his unorthodox approach and he has also been developing very well.
"But guys like Shami, or Bhuvi who is a wonderful exponent of swing bowling, so it won't be just about pace and bounce, you will need clever skills. Ishant Sharma has been around and is doing well, creating impact."
Likewise India, Australia too have a pretty solid bowling attack. In Mitchell Starc, Josh Hazlewood, Pat Cummins, Peter Siddle, Chris Tremain and Nathan Lyon, the home team have got bowlers who can wreak havoc on any day.
"Australia have a very formidable bowling line-up. It's quite balanced, they have got pace there, with a left-armer and a couple of right-armers," he said. "They really work well together and hunt in a pack. Obviously, you have Lyon who is consistent and has a great control. Then you have guys like Mitch Marsh who provides a decent support.
"The tracks over here are generally fast and bouncy and there's no secret to it. There will also be a bit of help for the spinners in the last couple of days of the Test match. I wouldn't focus too much on the pitches because India have bowlers who can generate pace and bounce to perform well in these wickets.
"Bowling has been Australia's strength but their batting will be challenged in the absence of Smith and Warner, and they will have to step up. Like India, Australia too have got a wonderful opportunity and they should enjoy the challenge."
Talking about two inexperienced yet exciting Indian prospects - wicketkeeper-batsman Rishabh Pant and opener Prithvi Shaw - Gilchrist believes the two will have to find their own way of succeeding at this level. Pant made his Test debut in England and smashed a swashbuckling century in the last match at the Oval before scoring a couple of 90s against Windies in the home series - where Shaw made his debut and hit a hundred in his very first game.
"Pant looks like a very exciting cricketer," he said. "He has clearly established himself in the team. I think he will be challenged here but if he finds a way to get in, he will enjoy batting on Australian wickets because he likes to play his shots and with the ball coming on to the bat, he can bat freely.
"He is an exciting prospect and so is Prithvi Shaw at the top. It will be a new experience for them and it will all be about how they settle in. Virat and Ravi (Shastri) will be working closely with the young players with the kind of expectations and pressure they will have on them. It's an opportunity for this young team to get in here, take a fresh start and create history. It will be important to not focus too much on what others are saying, just work out your own way and get going."
---
---
Team Rankings
Rank
Team
Points
Rating
1
Australia
3028
116
2
New Zealand
2406
115
3
India
3085
114
4
England
4326
106
5
Sri Lanka
2454
91
FULL Ranking
Rank
Team
Points
Rating
1
England
5405
123
2
India
6102
117
3
New Zealand
3716
116
4
Australia
4344
111
5
South Africa
3345
108
FULL Ranking
Rank
Team
Points
Rating
1
England
6877
275
2
Australia
6800
272
3
India
10186
268
4
Pakistan
7516
259
5
South Africa
5047
252
FULL Ranking