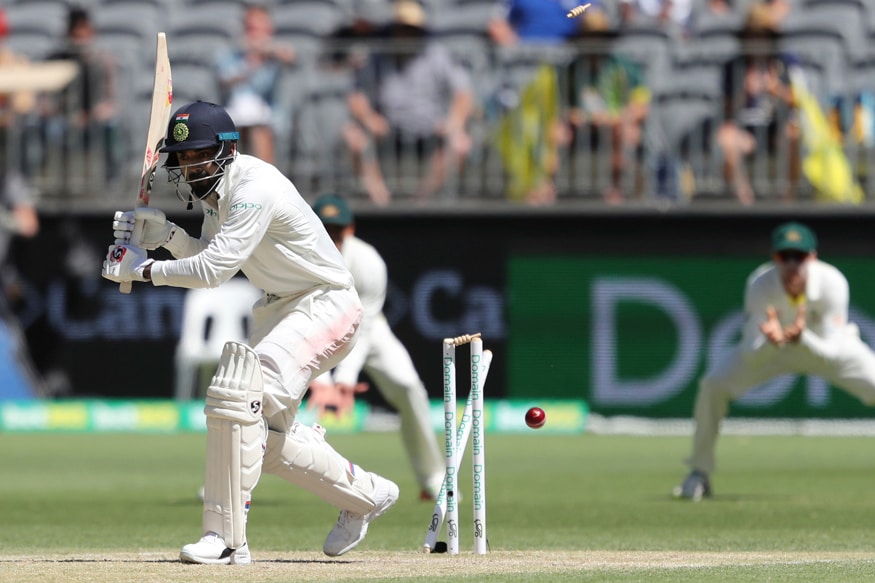 Another Test. Another opportunity. Another failure.
That has been the story of Lokesh Rahul of late. After yet another disastrous outing at Perth – where he was again dismissed for single digits in both innings – the writing seems to be on the wall for the Indian opener. At least in the immediate future.
Rahul now has 11 single-digit scores in his last 23 Test innings – ie, a single-digit score in almost 50% of his last 23 Test innings (from the second Test against Sri Lanka in Nagpur, 24th November, 2017).
Besides his sparkling hundred against England at The Oval in September, Rahul has registered just one fifty in this period – and that too against Afghanistan. Such has been his dismal form that Rahul has 16 scores of 'below-20' in his last 23 innings – i.e, in almost 70% of these innings, Rahul has scored below 20.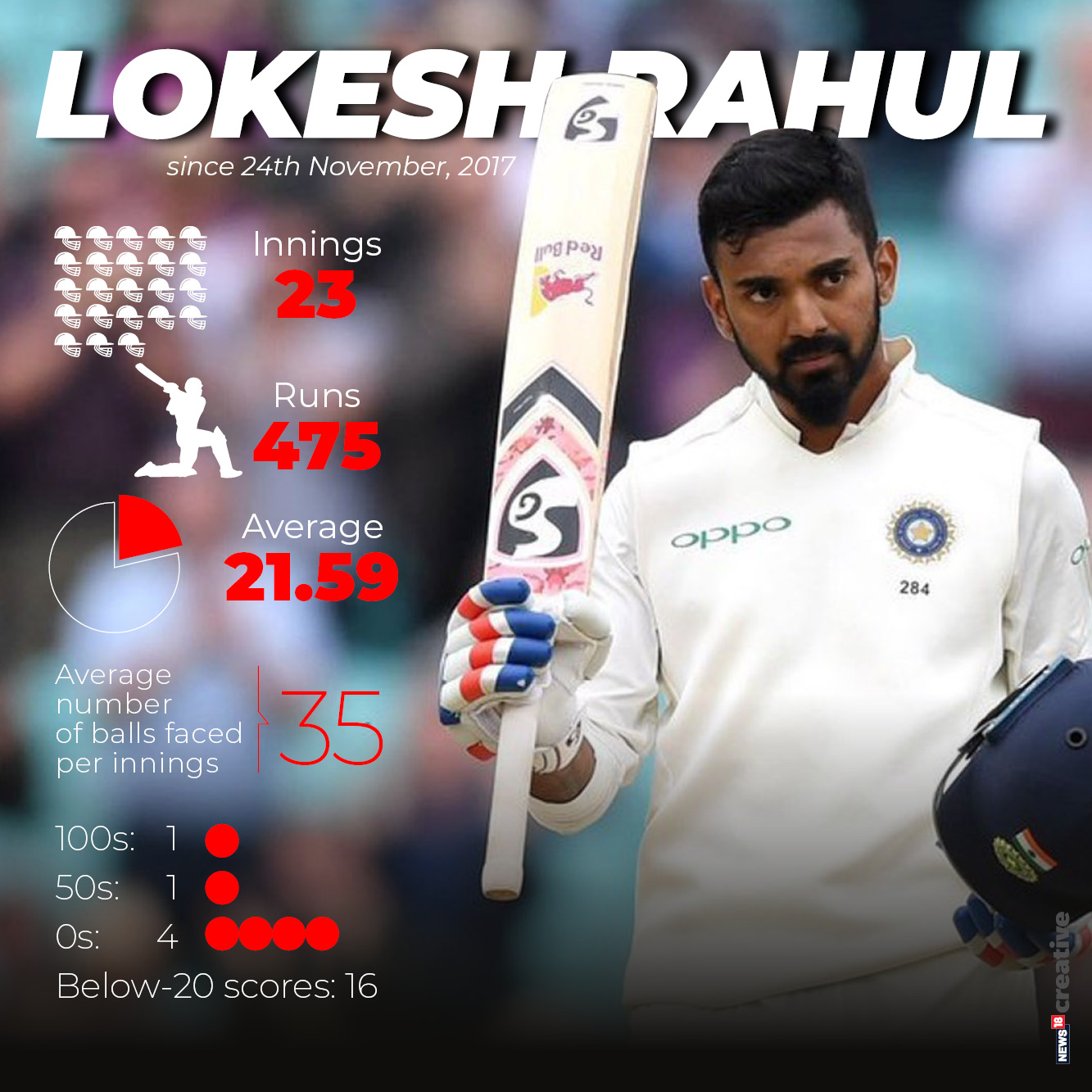 Rahul has scored just 475 runs since November 2017 at an average of 21.59.
On an average, he has faced 35 balls per innings which translates to approximately six overs.
There have been 72 top-middle order batsmen who have batted in at least 8 innings since the 24th of November, 2017. Rahul's average places him at Number 63 on this list. It is not only the lowest amongst all specialist Indian batsmen but also lower than Hardik Pandya's. He has also faced the lowest number of balls per innings amongst all Indian batsmen – even lower than Pandya!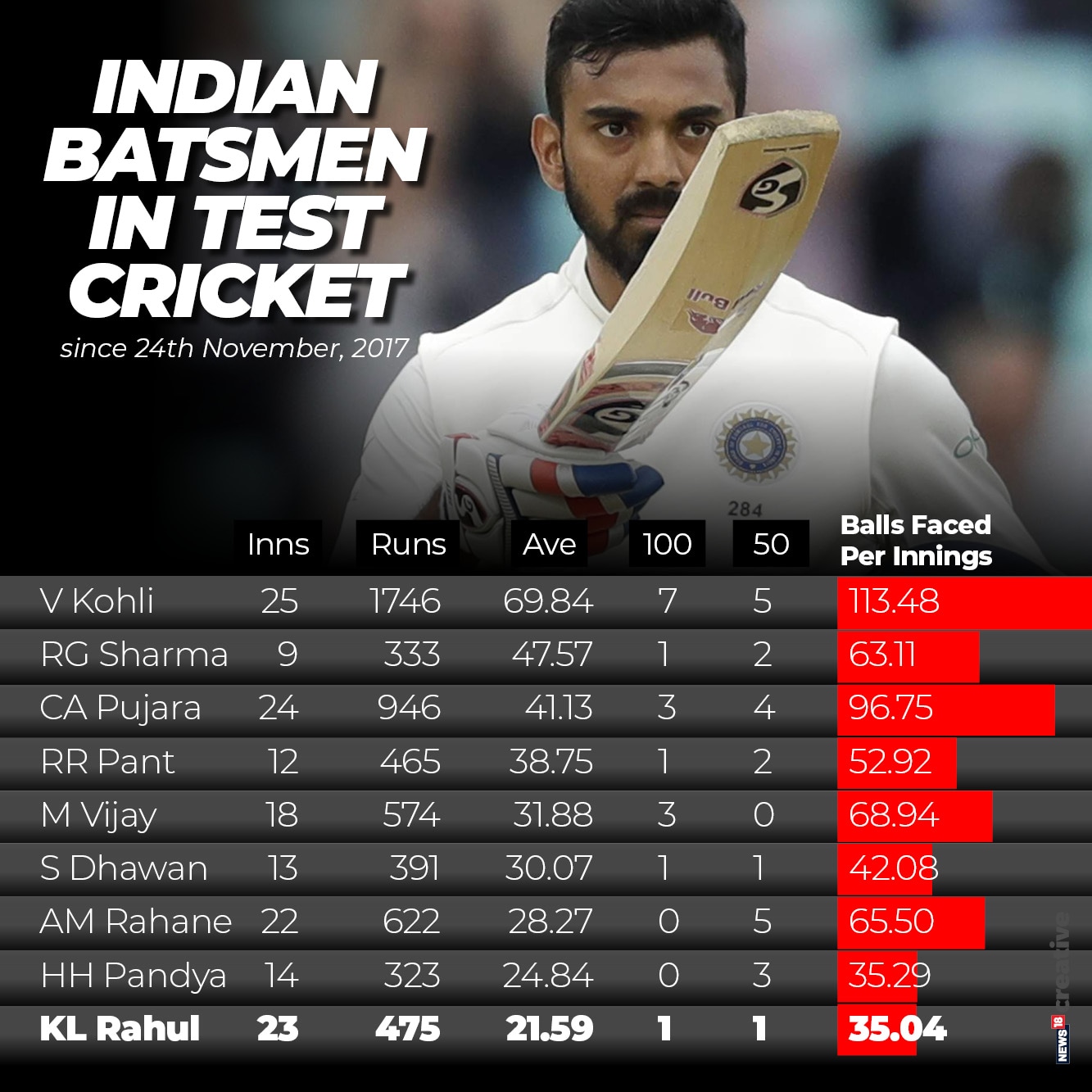 It gets worse. Rahul's below-20 scores are the maximum for any of the 147 top-middle order batsmen who have played in this period. He is followed by Alastair Cook (14), Dhananjaya de Silva (14) and Kraigg Brathwaite (13).
Rahul has a weak defense and is playing too many shorts – he appears, at times, to be in limited overs mode while playing in whites for India and this has been his undoing. He is not occupying the crease for any length of time. He has faced 806 balls in this period – places him at Number 45 amongst the 72 batsmen (min. 8 innings). In fact, he is amongst the lowest five in terms of balls faced per innings (35). Only Ambris (30), De Kock (31), Tamim (33) and Kieran Powell (34) have faced lower number of balls per innings than Rahul in this period.
In terms of minutes batted per innings, Rahul has occupied the crease for 56 minutes in every innings – not nearly enough for a top-order batsman.
If we only consider opening batsmen who have batted in at least 8 innings since 24th November, 2017, Rahul's average of 21.55 (he has opened in 19 out of 23 innings in this period) places him at Number 18. Only Bangladesh and Windies openers have fared worse - Tamim, Kayes, Devon Smith, Powell and Liton Das.
Even in terms of balls faced per innings, Rahul – 35 – is amongst the bottom four.
This also means that Rahul is getting out within an hour of the start of the Indian innings, putting immense pressure on Pujara and Kohli who are being exposed to the new ball more often than not.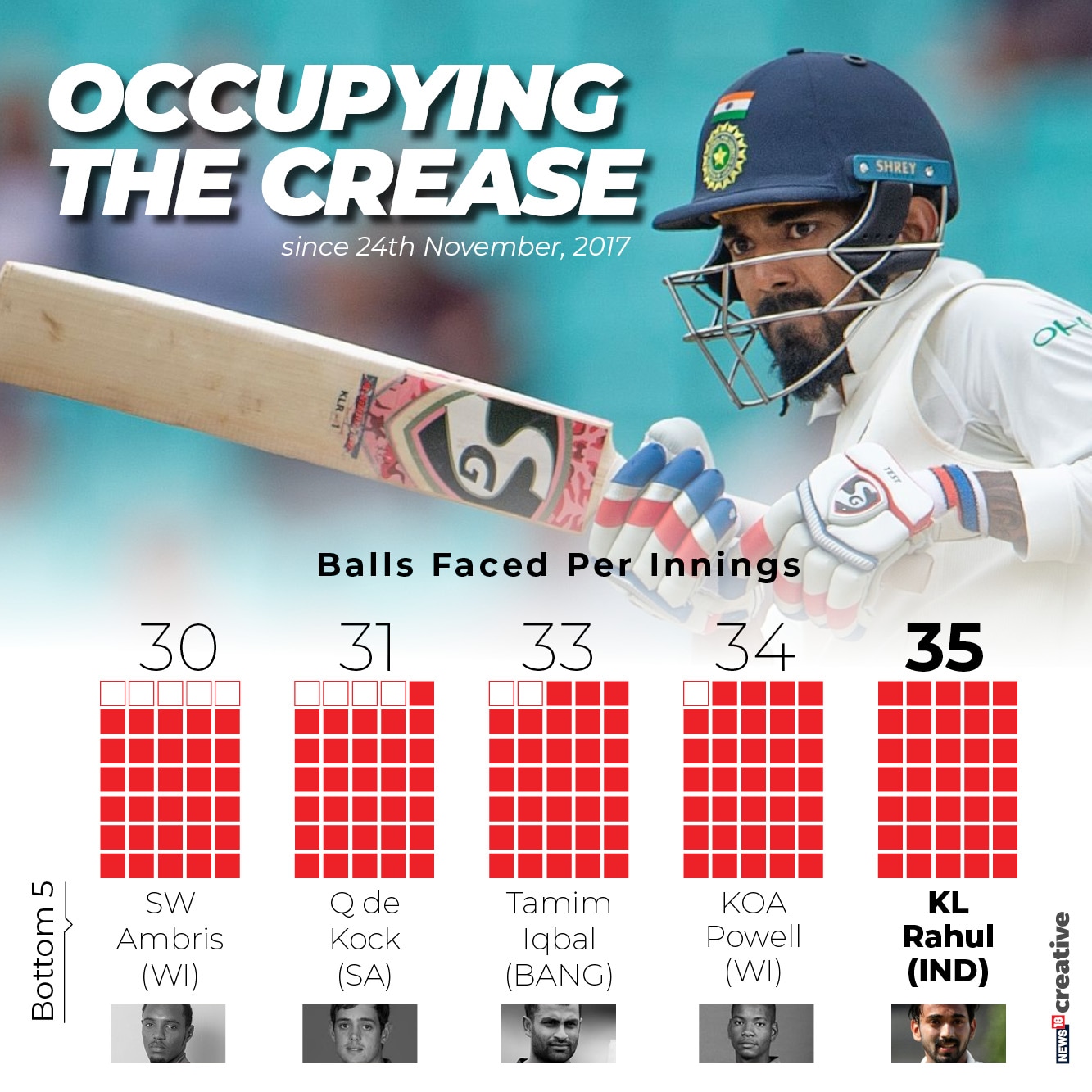 If we remove the Oval hundred and the fifty against Afghanistan, then Rahul has scored 272 runs in the remaining 21 innings at an abysmal average of 13.6.
Only Bairstow (5) has more ducks than Rahul (4) in this time-frame (Powell also has 4 ducks).
Rahul has been bowled 10 times, leg-before-wicket on 4 occasions and out caught the remaining 8 times he has been dismissed in this period. More recently, he has been susceptible to the in-coming delivery and has been found caught at the crease and dismissed leg-before-wicket or been cleaned up with the in-swinger – this was the case in both the innings at Perth.
In the first innings he was castled by a Hazlewood yorker which came in and then shaped away – Rahul did not move his feet and was caught at the crease. In the second innings, Starc got one to shape in and Rahul played-on attempting to leave the ball.
Rahul has now been 'bowled' or 'lbw' in 11 of his last 13 Test dismissals. In particular, he has been bowled on seven occasions.
Rahul has a tendency to play too many shots too early in his innings and tends to be flashy around the off-stump. His defense has often been exposed and questions are now being asked about his temperament too. Add to this his problems against the in-coming deliveries explains the high number of 'bowled' dismissals.
He appears to have forgotten the art of leaving the balls outside the off-stump – crucial for success for an opener in SENA countries.
Right-arm fast bowlers have been his nemesis and have accounted for Rahul's wicket 18 times - out of his last 22 dismissals (since November 2017).
Rahul has scored just 381 runs in 18 innings at an average of 22.41 opening for India in 2018. Amongst all openers who have at least batted in 8 innings in a calendar year, Rahul's average places him at Number 701.
This means in terms of average by an opener in any calendar year, Rahul's performance as an opener in 2018 ranks at 701 (out of 832 such performances).
20 scores of below 40 in his last 23 innings.
It remains to be seen if Rahul's long rope will be extended and he will walk out to open the Indian innings in Melbourne.