India vs Australia | Fellow Left-Arm Wrist Spinners Relish Kuldeep's Sydney Sparkle
As India celebrated a historic series win in Sydney, one man would have had a quiet smile to himself for the contribution he made in the Test match.
Updated: January 7, 2019, 1:27 PM IST
As India celebrated a historic series win in Sydney, one man would have had a quiet smile to himself for the contribution he made in the Test match. Kuldeep Yadav has been a regular fixture in Team India's limited-overs squad but in the longer format, his appearances have been rather sporadic since making his Test debut in Dharamshala against Australia in 2017.
With a wealth of spin bowling resources at the moment available to India at the moment, the left-arm wrist spinner from Kanpur grabbed the one that came along at Sydney in the absence of the injured R Ashwin. His second five-wicket haul in Test cricket ensured Australia were forced to follow on and only escaped defeat due to rain and bad light.
Left-arm wrist spinners are a rare commodity and watching Kuldeep in action has impressed other practitioners of the craft such as Paul Adams of South Africa and Australia's own Brad Hogg.
"His (Kuldeep's) development has been fantastic," Hogg told CricketNext from Perth. "He bowled as best as he probably could in this Test match. The pitch wasn't conducive to his bowling but he still got value for what he was producing. That's the value of mystery spinners, if you have got variety you are going to succeed.
Picture Credit: Instagram/ Kolkata Knight Riders
"Leg-spin bowling is a hard art, if you have been given a gift and you need to utilize it by honing your skills. It's about training hard, also about the mental aptitude. Kuldeep's definitely got the talent, it's about what he is got in his heart and his mind to succeed. We'll have to see how well he adapts to the situations as he has got the tools to succeed."
Hogg, who also turned out for Kolkata Knight Riders in the past and was Kuldeep's teammate at the franchise met him during the second Test in Perth, simply to exchange notes on their craft and track his younger colleague's progress.
"I love watching him play and succeed. It was a privilege to meet him over a cup of coffee when he was here in Perth. We had a bit of a chat. Just to see someone with same craft as yourself succeed, even if it's against your own country feels great. I am very happy and proud for him," Hogg said.
Adams was another left-arm wrist spinner who left an impact during his playing days, taking 134 wickets in his 45-Test career. Former English skipper Mike Gatting, in fact, referred to him as a 'frog in a blender' for his unique action. He too has been observing Kuldeep's progress closely.
"Mystery spinner reference for Kuldeep is more for rarity — there are not many of them around. There are very few left-arm wrist spinners that have played Test cricket, even lesser currently in first-class. So when you find one that is taking wickets it's a rare gem. Batsmen don't face them everyday in the nets, angles and deliveries are all different, so that's where mystery comes around," Adams told CricketNext from Cape Town.
"Kuldeep has been really great for India when he gets the opportunity. Last time I did an interview about Kuldeep, we spoke about his ODI prowess. The more he plays in Tests, the better he will get. He's got good skill and just needs opportunity to play. Good thing is that he is young and it's important to keep him nurtured for Test cricket in future."
On the challenges faced by a left-arm wrist spinner in the longer format, Adams said, "It's all about choosing your stock delivery to control the game and building pressure. In limited overs, batsmen are under pressure to score runs but that's not the case in Tests. They can wait for bad balls, it's matter of being patient and understanding when the batsmen are not picking you and how you going to outfox them."
Meanwhile, Kuldeep's childhood coach Kapil Pandey revealed how his ward has been improving, especially when playing with the red ball.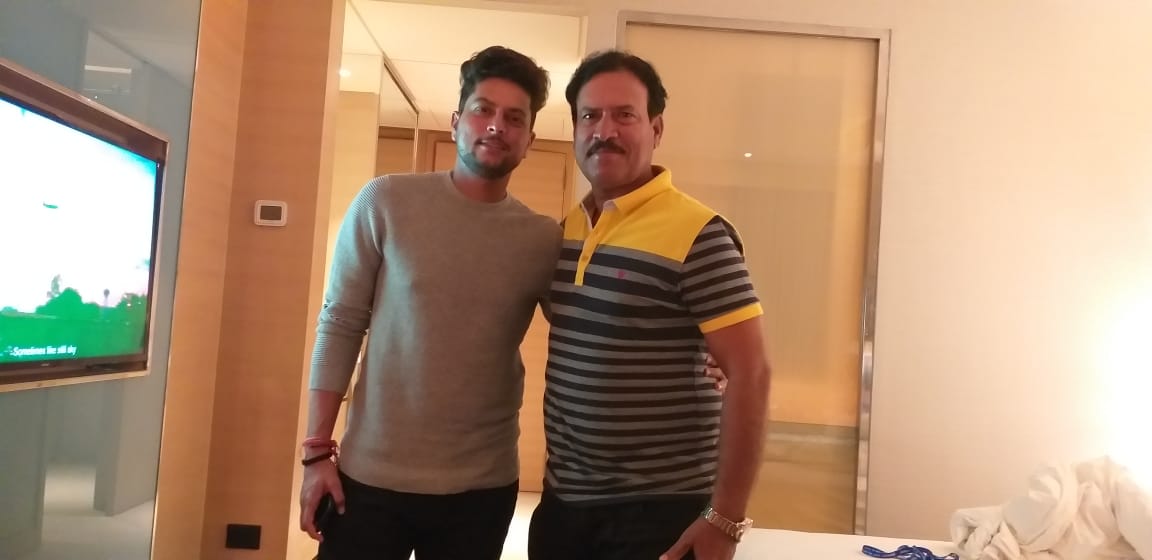 Kuldeep Yadav with his coach Kapil Pandey
"Kuldeep has got very few opportunities to play Tests and whatever he has played, he has performed. He was getting fewer chances with both (Ravichandran) Ashwin and (Ravindra) Jadeja also part of the squad. After ODIs, when he comes back we both make a plan how to train for the longer format. We work on his flight and pivot at the bowling crease with less focus on quicker balls," Pandey told CricketNext.
"To prepare for four-day matches, Kuldeep bowls at least 20 overs in training. In 3 days before England tour, he bowled 60 overs, to focus on bowling at the same spot. We concentrate on his stock delivery a lot — once that is working, then we can work on the variations."
On his preparations for the Australian tour, Pandey said, "Spin, length and rotation — these are the three aspects that we worked on. We also focused on improving his drift. He came and trained at the Rovers ground in Kanpur for 4-5 days before going to Australia."
With the ODI series starting in a few days, Kuldeep will be India's leading spin bowling weapon, having enjoyed a lot of success in the format over the last year and a half. And surely, with this performance in Sydney, the next time an Indian Test XI is being assembled, the 24-year old will make a strong case for inclusion.
---
---
Team Rankings
Rank
Team
Points
Rating
1
Australia
3028
116
2
New Zealand
2406
115
3
India
3085
114
4
England
4326
106
5
Sri Lanka
2454
91
FULL Ranking
Rank
Team
Points
Rating
1
England
5405
123
2
India
5819
119
3
New Zealand
3716
116
4
Australia
3941
109
5
South Africa
3345
108
FULL Ranking
Rank
Team
Points
Rating
1
Australia
6047
275
2
England
5959
271
3
India
9319
266
4
Pakistan
6824
262
5
South Africa
4380
258
FULL Ranking