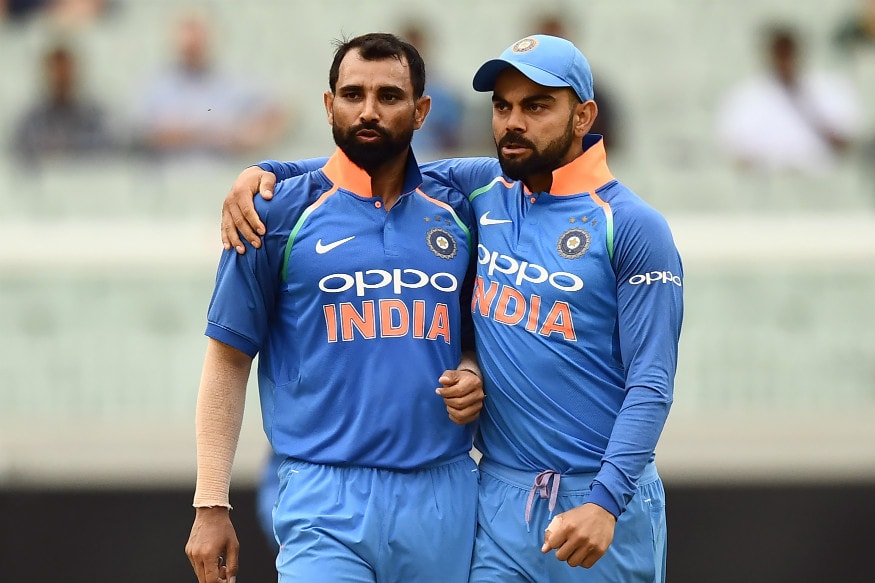 Indian Skipper Virat Kohli believes that a "fitter and hungrier" than ever before Mohammad Shami is a great sign for India heading into World Cup in a few months from now. Shami was one of the stars for India in their comfortable win over Australia in the first ODI of their five-match series, taking two wickets for 44 runs.
Since making his way back into the 50-over format this year, the fast bowler has made every opportunity count, bagging 15 wickets from eight matches.
"It's brilliant the way Shami has come into the white-ball set up," Kohli said at the post-match presentation. "I have never seen him so lean before. The way he got Maxwell out on 40-odd with a beautiful ball was just amazing. He looks a lot fitter and hungry for wickets.
"Going into the World Cup that's a great sign for us and I hope he can show the same hunger when the tournament begins."
For his part, the 29-year-old credited the work he has put in his fitness — after an injury layoff — for the run of success he has enjoyed of late.
"This year has been one where I have worked really hard on my fitness," he said after the match. "We (team) enjoy our training and you get to the see the results on the field. I hope that we continue to enjoy playing together and performing for the country. When I returned from injuries, I weighed 93kg, and then I realised I needed to lose weight. I thank every one who pushed me, and I have maintained my weight since then.
"I just try to give my best for the team, and I keep taking feedback from the experienced players. I have focused more on my line and length in the last 18 months, and that's worked for me really well."
Shami wasn't the only standout bowler on the day for India, giving Kohli plenty of reason for cheer at the end of the game. While he was pleased with the effort put in by Jadhav and Dhoni, who came together at a tricky stage with India on 99/4, chasing a target of 237 and put together an unbeaten stand of 141 to get India to victory in the 49th over, he credited the bowling unit for ensuring Australia were restricted to a middling total.
"Their (Jadhav and Dhoni) partnership was outstanding, but I think the bowling won the game for us," Kohli said. "Jadeja was amazing too. He bowled 10 overs for less than 35 runs and stuck to the tight lines. He bowled well and set the fields accordingly. To add to that he's a great asset in the field too."
On the other hand, Australia captain Aaron Finch admitted that he was hoping for a higher total after he won the toss and elected to bat first.
"We were about 20 or 30 runs short," Finch said. "Especially after we lost one wicket, we had to take it deeper. But our bowlers did well and continued taking wickets. We tried our best with the ball. I think our quicks are most effective when they are banging the wicket. There were a few plays-and-misses, but that happens against a high-quality side."