Home

»
Cricket Home

»
News

»
India vs Australia: Hanuma Vihari Reveals Extent of Ravichandran Ashwin's Back Issues on Day 5 of Sydney Test
India vs Australia: Hanuma Vihari Reveals Extent of Ravichandran Ashwin's Back Issues on Day 5 of Sydney Test
Hanuma Vihari and Ravichandran Ashwin saw out 259 balls on Day 5 of the Sydney Test to ensure India went into Brisbane with the series still level.
Updated: January 21, 2021, 6:50 PM IST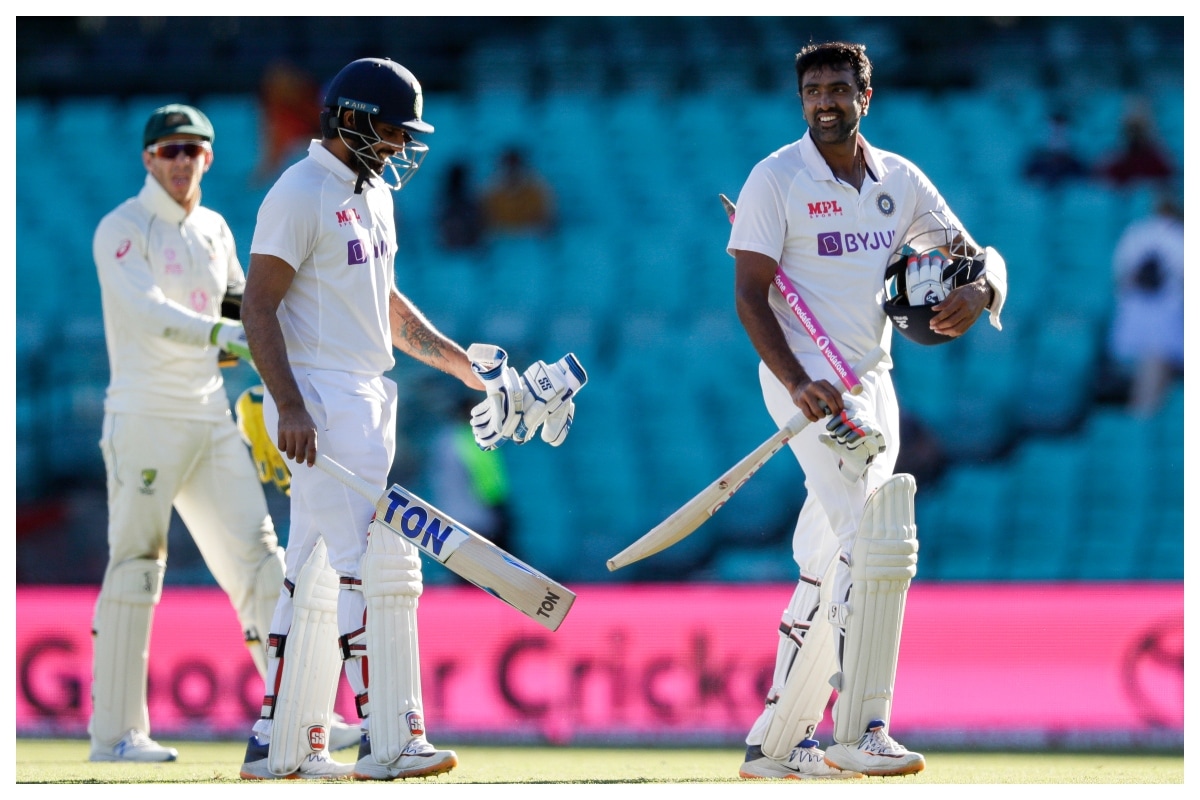 India's draw against Australia in the third Test of the four-match series at Sydney would have been impossible without Hanuma Vihari and Ravichandran Ashwin's heroic stand on Day 5 of the match. Vihari and Ashwin saw out 259 balls to ensure India went into Brisbane with the series still level but it wasn't just about playing out deliveries for the duo. Ashwin was dealing with a back injury while out in the middle while Vihari had tweaked his hamstring and couldn't run at full tilt. Now Vihari has revealed another interesting tidbit about that innings - Ashwin was standing up to bouncers because, due to his back injury, he couldn't duck when a short one was aimed at him.
"Funny thing happened, I asked Ashwin if he could flex his knees a little so that he could bend. And he said 'if I bend my knees, I can't bat because my back is gone'. That's why he was standing up to the bouncers," Vihari told India Today.
BCCI Likely to Allow 50 Percent Crowd Attendance for England Series
"On a serious note, the way he batted out was superb. Because of his spasm, he couldn't sit down, he stood throughout the innings. While he was starting to bat on Day 5, he was always standing in the dressing room as well. So that was his situation and to bat out for 4 hours is a compliment to his grit and determination," he added.
Vihari also revealed how the batting defensively helped him in a situation where he couldn't run or play in an attacking manner while also discussing the way the two of them were speaking in between overs.
Mohammed Siraj Visits Father's Grave Upon Return to Hyderabad
"The only thing that helped us was they bowled a lot of overs. But I wouldn't say they were tired. The close-in fielders don't help as well. You're always under pressure. Only a small mistake and you're gone.
"But like I said, as I was not able to run, I will play as close to the body as possible. I am not looking for runs. So the basics helped there. The technique which I developed over the years helped me. That defensive technique helped me.
"Ashwin was also communicating in different languages, if you could hear. Like he was talking to me in Tamil, Telugu, trying to make sure we survive. It's important to communicate as well.
Big Blow for India - Ravindra Jadeja Ruled Out of Full Test Series Against England
"Sometimes, we are scoring runs, you'll be in your own zone. But when you're looking to survive, that's where the help came. Ash did that brilliantly with all his experience."
---
---
Team Rankings
Rank
Team
Points
Rating
1
Australia
3028
116
2
New Zealand
2406
115
3
India
3085
114
4
England
4326
106
5
Sri Lanka
2454
91
FULL Ranking
Rank
Team
Points
Rating
1
England
5405
123
2
India
6102
117
3
New Zealand
3716
116
4
Australia
4344
111
5
South Africa
3345
108
FULL Ranking
Rank
Team
Points
Rating
1
England
6877
275
2
Australia
6800
272
3
India
10186
268
4
Pakistan
7516
259
5
South Africa
5047
252
FULL Ranking