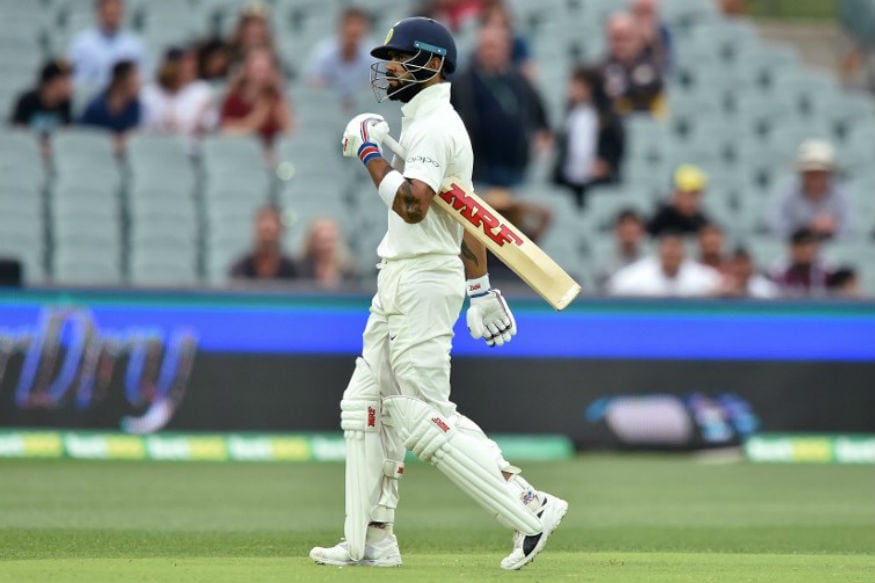 Virat Kohli has scored 1240 runs in 12 Tests (22 innings) in 2018. No batsman has scored more. No one has registered as many hundreds – 5. His average of 56.36 is the fourth-highest in the year (min. 10 innings) after Williamson, Nicholls and Babar Azam.
However, beyond those incredible numbers lies another story worth exploring. When Kohli was dismissed for 17 in the second innings at Perth on Monday, it was his 7th innings (out of 10) below 50 in the second innings of a Test in 2018.
The Indian captain has scored 354 runs in the second innings this year at a less than impressive average of 35.40. He scored a match-winning 103 in the second innings (third innings of the match) in Nottingham. Besides that, he scored a fighting 51 in the series opener at Birmingham even as India fell short by 32 runs chasing 194 in the fourth innings. He again top-scored with 58 in another unsuccessful chase in the fourth-innings at Southampton.
But these apart, Kohli's other scores in the second innings in 2018 have been – 28, 5, 41, 17, 0, 34, 17. Four of these have been in the fourth innings when India have chased a target – not surprisingly, India has lost three of these (Cape Town, Centurion and The Oval and now Perth).
Kohli's fourth-innings' average in 2018 has been an abysmal 26.50 from 6 innings. In fact, he has a good third-innings' average of 48.75 this year (41 in Johannesburg, 34 in Adelaide and 103 in Nottingham all contributed to an Indian win).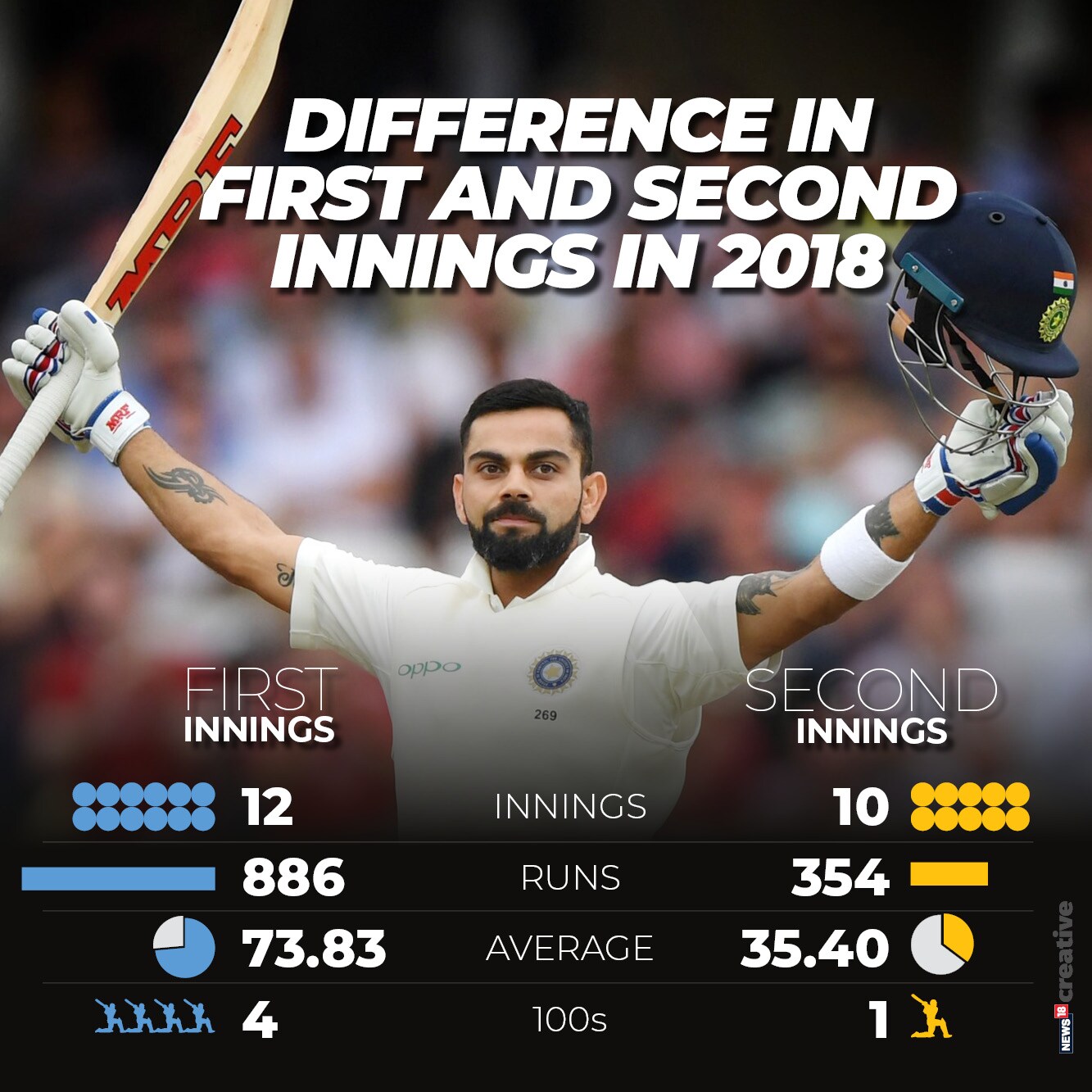 Overall though, Kohli has been unable to replicate his stupendous first-innings' record in the second innings.
Kohli has scored 886 runs at a staggering average of 73.83 in 12 first innings in 2018. This includes 4 hundreds and 2 fifties. Only AB and Williamson have a higher first innings' average during this time-frame.
This means that his average in the second innings in 2018 is less than half of his first innings – that is a staggering difference! Sixteen batsmen have a higher average than Kohli in the second innings in 2018 (minimum innings batted 5 and runs scored 100).
If we compare Kohli to some of his more prominent contemporaries in 2018, we see that only de Villiers fared worse in the second innings.
Kohli's average differential (first innings – second innings) of 38.43 is the third-highest in 2018 only after AB and Mushfiqur Rahim. His percentage drop in average from the first innings to the second innings in 2018 is 52.05 – the 10th highest fall amongst all the 34 batsmen who have batted in at least 5 innings and scored a minimum of 100 runs in both innings in 2018.
Even in terms of average number of balls faced in the second-innings, Kohli (73.3) is way lower than the likes of Khawaja (103.71), Root (97.54), Azam (94.6), Elgar (90.77) and Buttler (77.75) amongst others.
Kohli's average differential is also the second-highest (after AB) amongst all batsmen who have scored at least 500 runs in 2018 (21 such batsmen). While this is also an indicator of his phenomenal run in the first innings, it is equally representative of Kohli's poor second innings' returns.
Kohli has a career first innings average of 62.25 and second innings average of 42.20. That is a differential of 20.05. Let us compare this with some other great Indian batsmen. The difference for Tendulkar is 17.32 (60.1, 42.7), Viswanath is 3.42 (43.27, 39.85), Dravid is 17.29 (59.12, 41.83), Pujara is 21.33 (58.47, 37.14), Azharuddin is 15.48 (50.19, 34.71) and Sehwag is 32.25 (62.5, 30.25).
Gavaskar (50.90, 51.46) and Laxman (44.25, 48.88) belong to the rare category of batsmen who had a higher second-innings' average as compared to their first.
In fact, Kohli's career second-innings' average places him at Number 23 out of the 31 batsmen in Test cricket history who average above 50 overall (minimum 50 Tests).
The third-innings (of a Test match) has been the problem for Kohli. In 32 innings, he has scored 1130 runs at an average of 37.66. Amongst the 128 batsmen in Test history who have scored above 1000 runs in the third-innings, Kohli's average places him at Number 95! That is a poor record for an otherwise outstanding career (his first, second and fourth innings' averages are 51.23, 75.27 and 49.77).
Kohli's third-innings' average places him at Number 13 amongst the 21 Indian batsmen who have at least scored 750 runs (in the third innings).
Interestingly, his fourth-innings' career batting average of 49.77 is the ninth-highest amongst the 54 batsmen who have at least scored 750 runs batting last in a Test.