Jasprit Bumrah spearheaded the Indian pace attack and annihilated the Australian batting line-up with some fast, swinging and accurate bowling on Day 3 of the Boxing Day Test in Melbourne.
Bumrah returned with 6-33 in 15.5 overs and alongwith quality support from Ishant Sharma (1-41 in 13 overs) and Mohammed Shami (1-27 in 10 overs) put India in a commanding position in Melbourne.
The Indian pace trio of Ishant, Bumrah and Shami have so far taken 38 wickets in the series. The Australian pace unit of Hazlewood, Cummins and Starc aggregate 34.
The Indian seamers have bowled with pace and accuracy, with craft and heart, they have been threatening and intimidating. They have been patient and yet relentless.
The Indian fast bowling unit has given the team an extra edge especially on tours to SENA (South Africa, England, New Zealand, Australia) countries. India always had a weak link on previous tours – their collective pace attack - that is not the case anymore.
So how good is this Indian bowling unit? What have they achieved in 2018? How do they stack against their peers from other countries and Indian attacks of yesteryear?
Let us try and dig deeper.
INDIA'S PACE ATTACK IN 2018
India's pacers have combined to aggregate 172 wickets at an average of 23.72 in 2018. No other country's pace-unit has taken more. Their average is better than their counterparts in New Zealand, England and Australia.
It gets better. The Indian pace attack's strike rate of 47.5 is the third-best in 2018 after West Indies (37.3) and South Africa (41). Just for perspective, the corresponding pacers' strike rate for Pakistan is 49.4, England is 56.3, New Zealand is 60.3 and Australia is 64. In the case of West Indies, though Gabriel and Holder have been excellent, one must consider the fact that they have played a majority out of their Tests against Sri Lanka and Bangladesh this year.
The Indian pacers have accounted for 8 fifers in 2018 - joint-highest with West Indies and South Africa, albeit in more matches.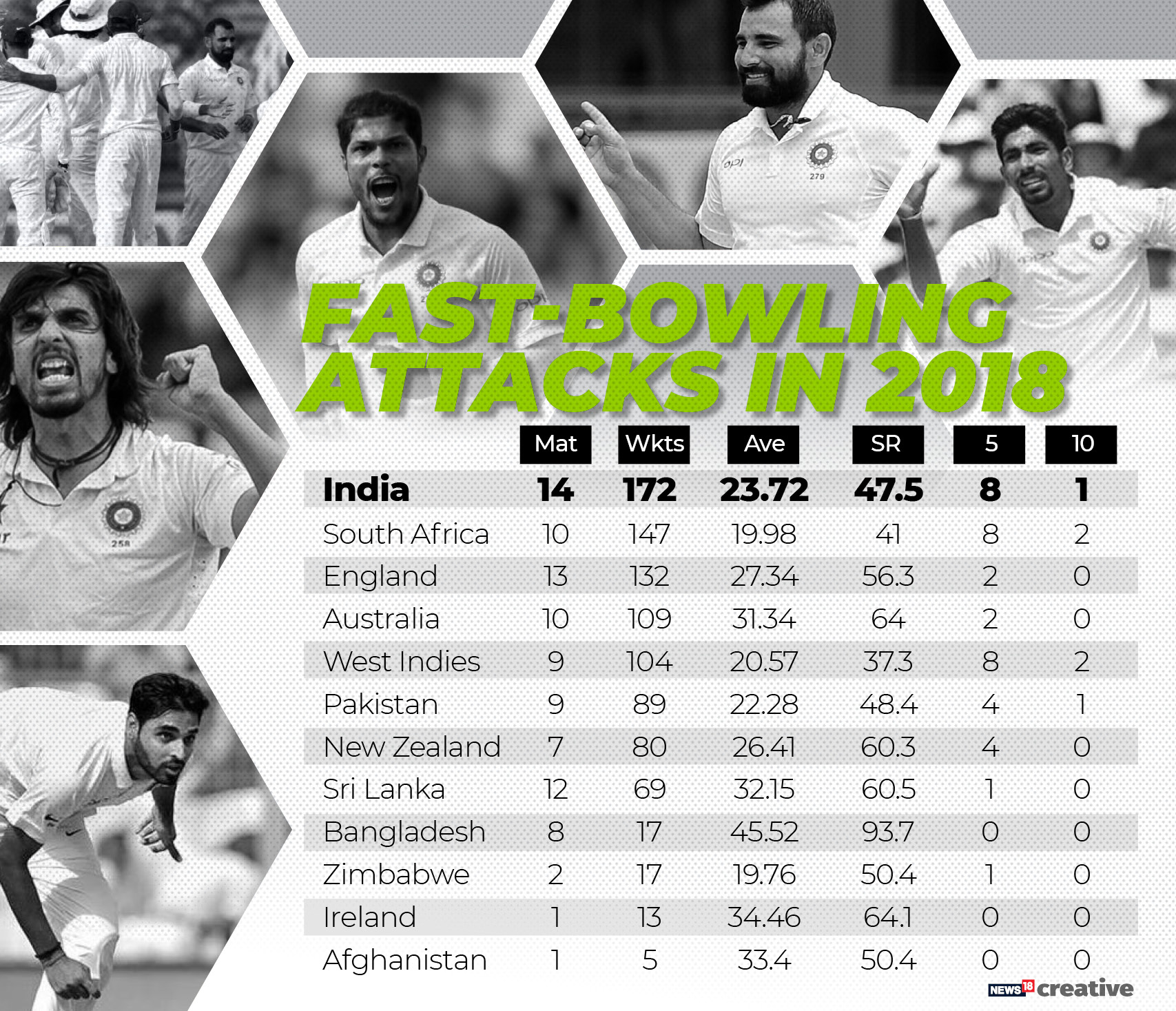 Amongst individual fast bowlers, the three Indian pacers – Shami, Bumrah and Ishant – are amongst the top 10 wicket-takers in 2018. No other country has three bowlers in this list.
Bumrah and Shami are the joint second-highest wicket-takers (after Rabada - 52 wickets) with 45 wickets each in 2018. Bumrah has been particularly outstanding conceding just 21.24 runs per wicket this year.
Ishant has also picked 39 wickets at an impressive average of 21.89 in 2018. Bumrah and Ishant's average in 2018 is better than the likes of Anderson, Boult, Starc and Hazlewood.
India's pace attack has been potent, aggressive and threatening always attacking the batsmen in search of wickets. Not surprisingly,  the trio of Shami (48.3), Ishant (49.3) and Bumrah (48) all have a bowling strike rate of less than 50 in 2018. But what is interesting is that it is Umesh Yadav who has the best bowling  strike rate amongst Indian pacers this year – 38 - this signifies the quality in India's bench-strength.
TOP-ORDER WICKETS AND EARLY BREAKTHROUGHS
Not only have the Indian pacers been amongst the highest wicket-takers for 2018, but they have also taken quality wickets – wickets of top opposition batsmen.
They have accounted for 105 top-middle order wickets in 2018 – the maximum by any pace-bowling unit. South Africa follow with 89 and England with 87 such wickets.
61.05 % of the wickets taken by the Indian pace-battery in 2018 have been of the top-middle order – a high percentage given that they have two great spinners in Ashwin and Jadeja. This shows they have played a pivotal role in dislodging opposition batting lineups.
Ishant's proportion of top-middle order wickets this year is 66.67. This is a higher percentage than Anderson, Morkel, Rabada and Starc amongst others. The corresponding percentage for Shami is 62.22 and Bumrah 55.56.
The Indian pace attack has been brilliant with the new ball in 2018. They have broken the opposition opening partnership before 10 overs on 11 occasions this year. Only England (15) and West Indies (13) have made more such breakthroughs.
RECORD IN SENA COUNTRIES
The Indian pace attack has tallied 151 wickets in SENA countries in 2018 – the highest for any team.
Their average of 24.87 in these countries is better than England's (26.42) and Australia's (29.74).
Their strike rate of 50.1 is lower than New Zealand (53.6), England (54.6) and Australia (60.4).
Bumrah, with 45 wickets, is the leading wicket-taker in SENA in 2018. He has conceded just 21.24 runs per wicket and struck every 8 overs. Shami is third on the list with 43 wickets.
The Indian fast bowlers have accounted for 7 fifers in SENA countries in 2018. Only the South Africans have taken more – 8.
The Indian pace-unit took 61 wickets in England and 50 in South Africa – the highest and third-highest aggregate for Indian pacers in any series in these countries. In fact, no Indian pace attack has taken more than 61 wickets in any series in India's history. This record is in serious threat of being broken in the ongoing series Down Under where the Indian pace battery has already accounted for 40 wickets.
Their combined average of 22.48 and strike rate of 45.9 in South Africa was the best ever for a series by an Indian pace attack in SENA. Their average (28.60) and strike rate (53.6) in England in 2018 was the fifth-best and fourth-best for any series in SENA.
The Indian pace attack currently has a collective bowling average of 22.17 in the current series Down Under - their second-highest for any series in SENA.
Their strike rate of 50.3 thus far is also the third-best they have ever achieved in SENA after South Africa 2017-18 (45.9) and New Zealand 2002-03 (47.8).
INDIA'S BEST PACE ATTACK EVER
The Indian pace bowlers have accounted for 172 wickets at an average of 23.72 and strike rate of 47.5 in 2018. They have taken 8 fifers this year.
In terms of aggregate wickets, the pacers have never taken more wickets in any year in India's Test history.
In terms of strike rate too, 2018 has been the best year (wicket approx. every 8 balls) of the 72 different calendar years India has played Test cricket.
In terms of average (min 4 matches in a year), it was only in 1993 when the pace bowlers averaged lower (23.51) than 2018.
Never before have the Indian pace attack taken 8 fifers in a calendar year.
In terms of wickets per match, it is again 2018, where the Indian trio has been the best, picking, on an average, 12 wickets per match.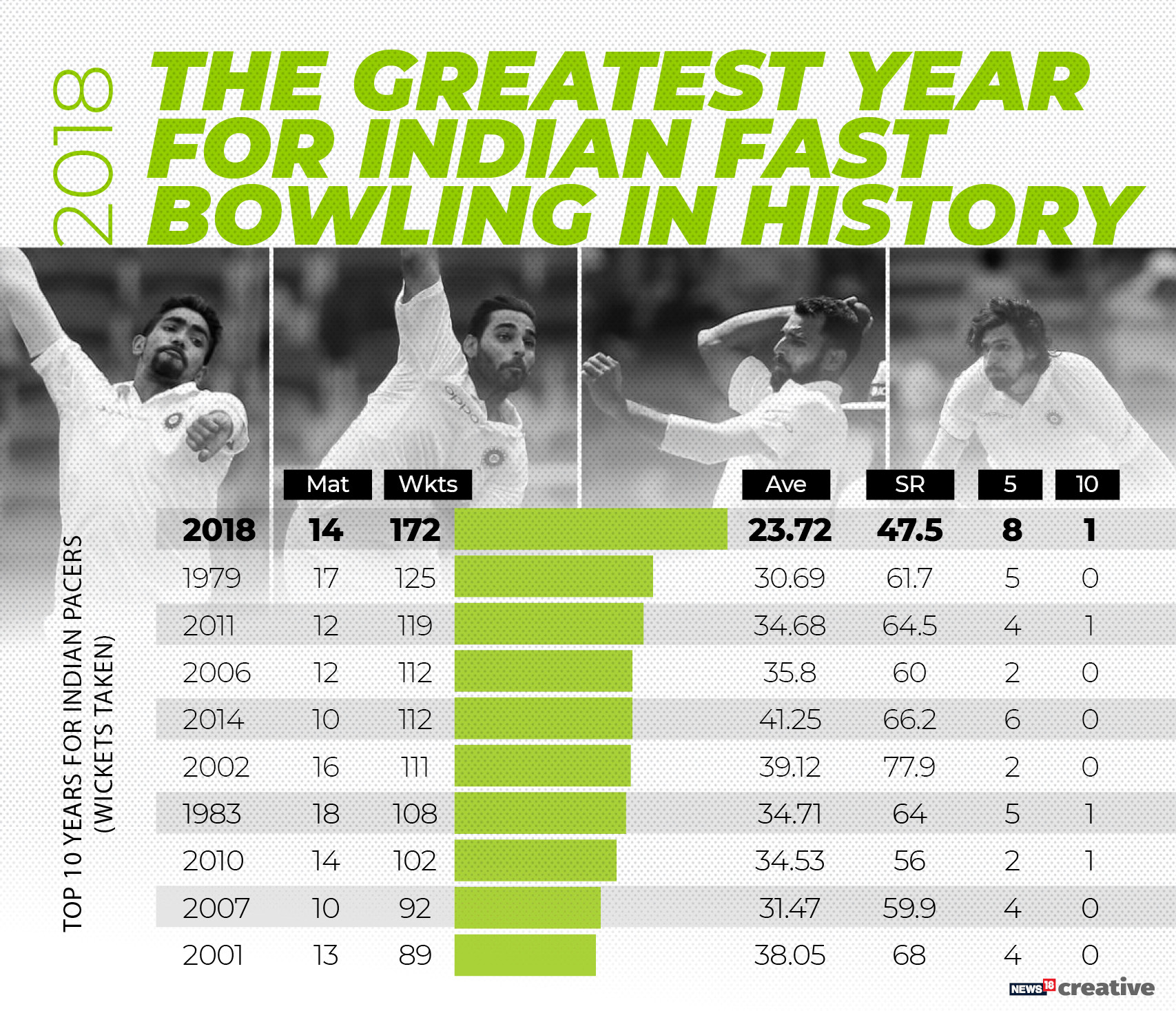 The Indian pace unit has accounted for all 20 opposition wickets only once in the 530 Tests played by the country – against South Africa in Johannesburg in January, 2018. Eight months later in August in Nottingham, they combined to take 19 English wickets in the match – again, a feat, never witnessed in Indian cricketing history.
India has always had talent in batting in abundance. They have had great batting line-ups which have boasted of some all-time greats. Although they have had world class spinners, very seldom have they had a world class fast bowler who could threaten and intimidate. Even when they did, he was a lone ranger who did not have great support - Kapil Dev, Javagal Srinath and Zaheer Khan were all world class but did not have consistent quality from the other end.
That has clearly changed in 2018. They now have three. And that is proving to be the difference.
* Stats updated till the first innings of MCG Test.