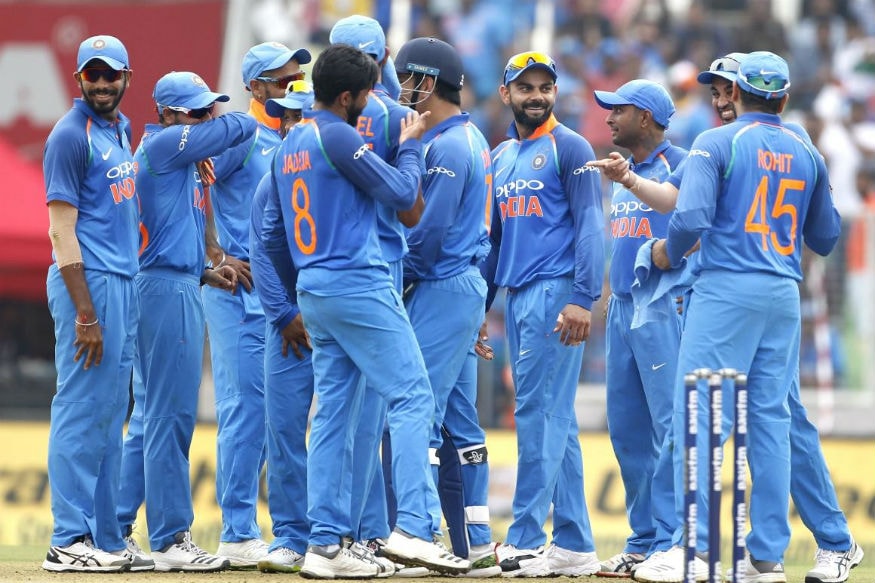 India start their tour of Australia with a three-match T20 series from Wednesday. Since the disappointing end to their 2016 World T20 campaign, where India went down to a rampaging West Indies in the semi-final, India have had a very successful run in T20 cricket.

They have won 24 of the 34 matches they have played in this period (and lost just 9). Their win-loss ratio places them at Number 2 (Afghanistan has the second best win-loss ratio but haven't played the top teams) behind Pakistan amongst all major international teams (who have had an exceptional run having won 29 of the 33 matches they have played in this time-frame).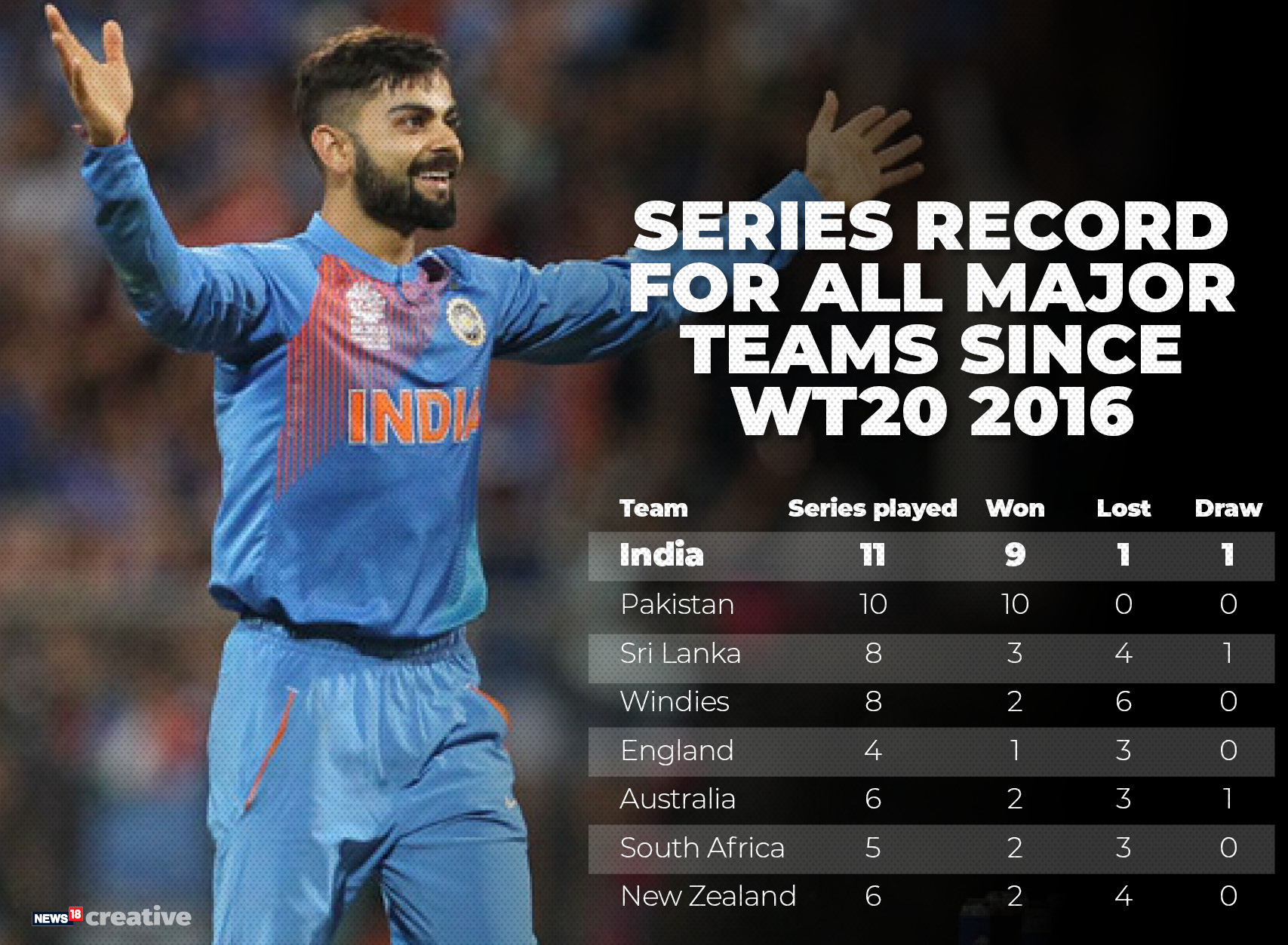 India has taken part in 10 bilateral T20I series since the 2016 World T20. They have won 8 (including series wins in South Africa and England) and lost just one (to West Indies in USA in 2016). They drew with Australia at home (1-1) in 2017. They also won the tri-series in Sri Lanka in early 2018.

The main reason for India's successes has been its formidable batting line-up.

India's Openers Amongst the World's Best

No opening pair has scored more runs, individually and in partnership, than Rohit Sharma and Shikhar Dhawan in this period. Rohit is the leading run-scorer amongst all opening batsman with 915 runs in 26 innings – at an average of 39.78 and a stunning strike rate of 159.13. In fact, only Babar Azam of Pakistan has a higher run aggregate (1031) amongst all T20 batsmen.

No opener has scored more hundreds than Rohit (3). Again, amongst all T20 batsmen in this period, only Colin Munro has also registered three hundreds.

Rohit's 50 sixes and 84 boundaries are also the maximum for any opener in this period.

Such has been his domination that there is a difference of 216 runs between him and the second-highest batsman on runs aggregate in this period – who happens to be Shikhar Dhawan.

Dhawan has scored 699 runs in 21 innings at an average of 34.95 and strike rate of 140.92.

No opening pair has added more runs than Rohit-Dhawan (717) in this time-frame. Only Guptill-Munro have equalled them in the number of hundred-partnerships (3).

Overall, India's openers (which includes the likes of KL Rahul too amongst others) have aggregated 2230 runs in this period – the maximum for any team. Their collective average of 36.55 is second only to Australia (38.82).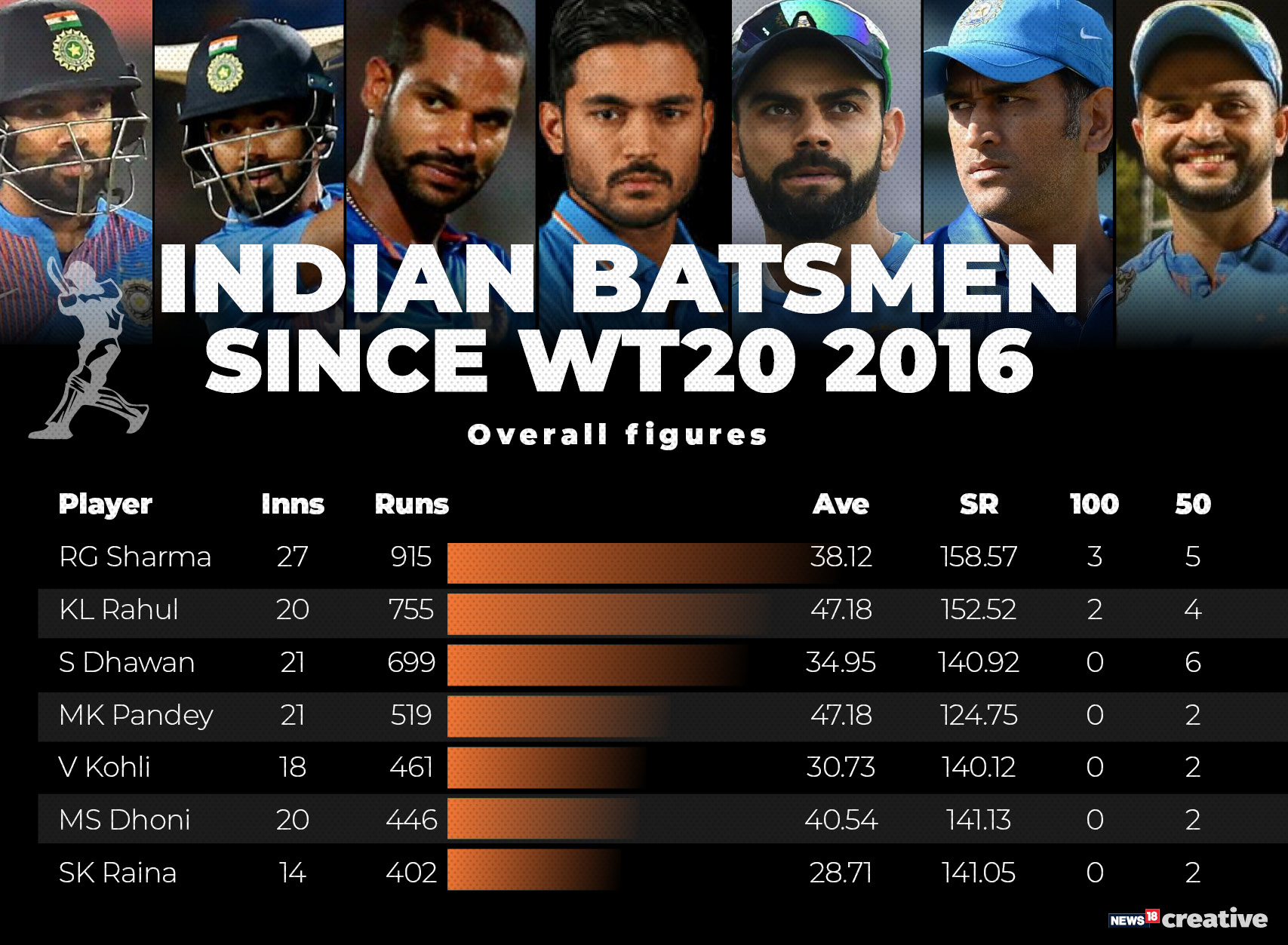 India have been less prolific from Number 3 in this period. Raina has been the highest scorer for India at this position with 320 runs in 11 innings. What stands out is his strike rate – 143.49. Rahul and Kohli have been the other batsmen who have batted in this position. While Kohli hasn't scored heaps of runs, his strike rate of 156.47 is the highest for any one-down batsman in this period (min. 5 innings).

Rahul's unbeaten 101 in just 54 deliveries against England in Manchester was one of the stand-out innings for India in this period.

No team has scored more runs than the Indian middle-order (4-6) – 1926 in this period. No team has averaged more either – 38.52. Only South Africa (152.81) and Pakistan (140.66) have a higher strike rate than the Indian middle-order (137.76).

The presence of players like Kohli, Manish Pandey, Dhoni, Rahul and Hardik has meant that India has been able to up the ante in the middle overs and at the death. No middle-order has hit more boundaries (144) and sixes (74) than India in this period. With the inclusion of Rishabh Pant, things will only get better for India.

Overall, India has three batsmen amongst the ten most prolific run-getters in T20I cricket since World T20, 2016 – Rohit, Rahul and Dhawan (Pakistan is the only other team who also has three).

India is the only country which has four batsmen (Karthik, Rahul, Pandey and Dhoni) in the ten highest batting average list in this period (min. 12 innings).

Amongst the 31 most prolific run-getters in this period, India has as many as 4 batsmen in the top 10 Batting Average * Strike Rate as a percentage list (min. 400 runs) – Rahul (number 4 at 71.96), Rohit (number 8 at 60.44), Pandey (Number 9 at 58.85) and Dhoni (Number 10 at 57.21) – such has been India's dominance in batting in T20 cricket in this period.

Brilliant Chasers

India have been excellent chasers in this period too. They have won 11 (currently on an 8 match winning streak batting second) and lost just 3 (no result in one) of the 15 matches they have played in this period. Only Pakistan has a better record amongst the major nations.

The appetite of the Indian top-order to score big and at a rapid pace are the two mantras for India's considerable success while batting second.

India's batting average of 38.48 chasing is the second-highest only after Pakistan's 40.57. Their strike rate of 137.98 is also the second-best after South Africa's 138.20. When taken cumulatively (average and strike rate), India dominates with a product of 53.09. Pakistan is at number two with 49.74 and are followed by South Africa (36.15) and England (31.95).

India have three tons batting second in this period – two of them accredited to Rahul and one to Sharma. West Indies and Australia have one each (Evin Lewis and Glenn Maxwell).

Such has been the domination of India while chasing that all but one of their wins have come with 5 or more wickets in hand. They have successfully chased targets of 150 plus on 6 occasions. They lost two matches narrowly – by 2 runs and a run and only in one match were they comprehensively beaten (by 40 runs vs New Zealand in Rajkot).

But it's not been all about the batting only.

The bowlers have done their bit too.

Bowler's Twin Weapons – Economy and Wicket-Taking Ability

India's bowling has been a revelation during this period – not only have the bowlers been very restrictive but also attacked the opposition batsmen and picked up heaps of wickets.

Only Australia (6.87) and Pakistan (6.51) have picked more wickets per match, on an average, than India (6.44).

India's wicket-taking prowess can be further gauged by the collective bowling average and strike rate of the team. Cumulatively as a product, India (3.93) is only behind Pakistan (3.39), Australia (3.5) and South Africa (3.58) in this regard and are way better than New Zealand (4.92) and England (6.37).

India's bowlers have accounted for 4-plus wickets in an innings on 9 occasions during this period. South Africa are the second-best with 4 such performances.

The Indian bowlers have also been very restrictive. Their Economy Rate of 7.78 is the second-lowest after Pakistan's 6.87 in this period.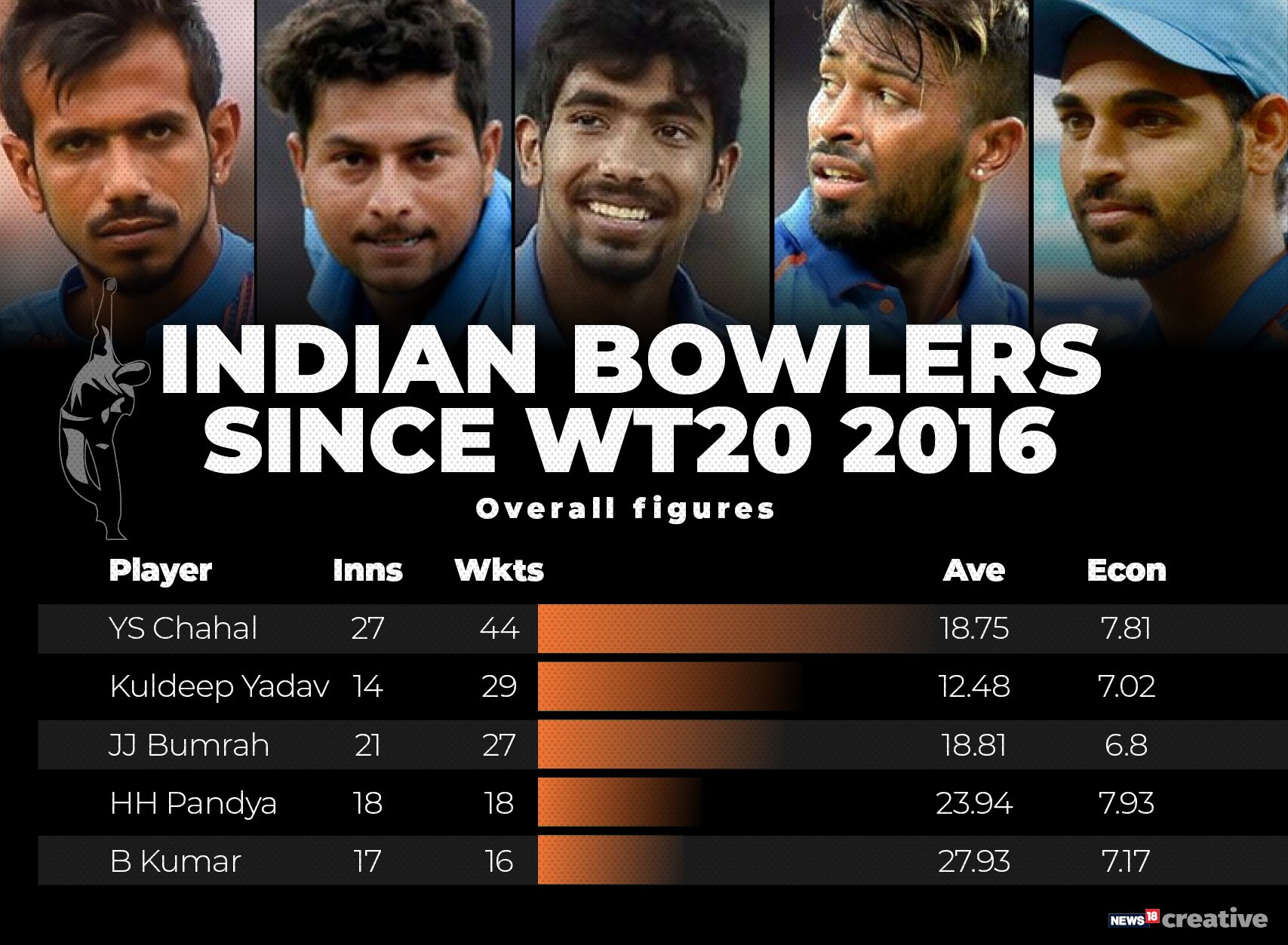 Chahal has been India's stand-out bowler in T20 cricket during this period.

Only Rashid Khan has picked more wickets (45) than Chahal (44) in this time-frame.

Kuldeep Yadav (29) and Bumrah (27) are the other Indian bowlers amongst the ten highest wicket-takers in this period.

Yadav's numbers are particularly impressive. His bowling average (12.48) and strike rate (10.6) are the best in the world in T20 cricket only after Rashid Khan post WT20, 2016.

Bumrah has been India's most restrictive bowler in this period with an economy rate of just 6.80 – given the fact he bowls in the powerplay and at the death – that is exceptional! He is amongst the five most restrictive fast bowlers in the world during this period.

Bhuvneshwar has also been restrictive in this period conceding at a rate of 7.17.

Victory Margins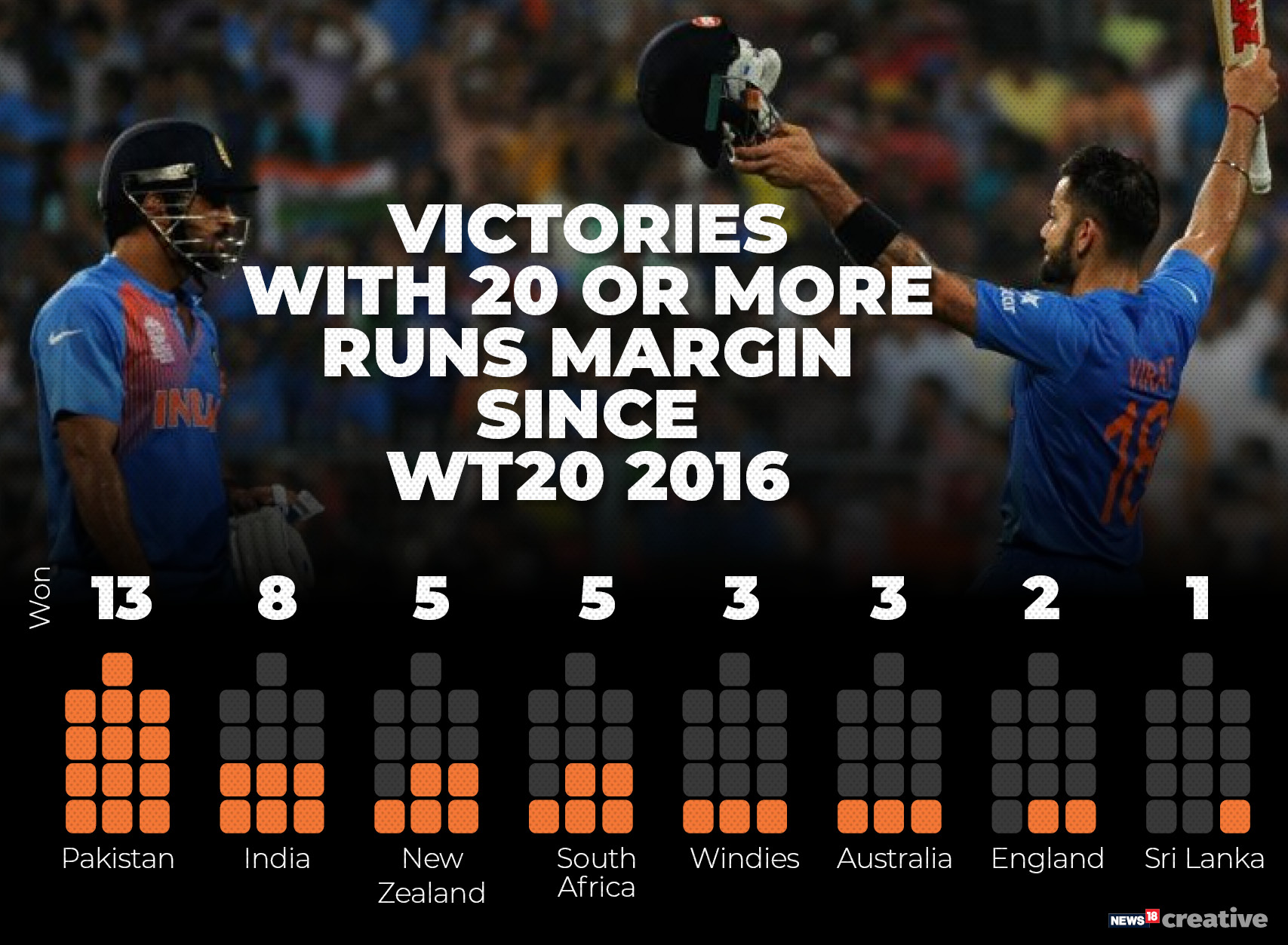 Eight of India's victories in this period have come with a win-margin of 20 or more runs. Only Pakistan has more such wins – 13.

Ten of India's 11 victories while chasing have come with 5 or more wickets still in hand.

While India are at Number two in the ICC Rankings, Australia are at Number four.

India have been in terrific form in T20 cricket in 2018. They have won 13 and lost just 3 matches this year.

Can they end the year on a high against an Australian team that has been struggling of late?

First Published: November 20, 2018, 8:30 AM IST