India vs Australia | In Numbers: Kohli and Rohit Set New Records En-Route Series Win
India registered a comfortable seven wicket win over Australia in the third and decisive ODI at Bengaluru. Here are some of the numbers from the encounter.
Updated: January 19, 2020, 11:02 PM IST
Indian vice-captain Rohit Sharma became the third fastest batsman to reach 9000 ODI runs during the series decider between India and Australia at Bengaluru.
Rohit needed four runs to get to the landmark and the senior India opener got to it in the final ball of the first over of India's innings to sit behind skipper Virat Kohli and South Africa's AB de Villiers.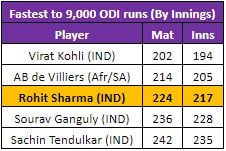 On the other hand, Virat Kohli also became the fastest captain to 5000 ODI runs, beating the likes of Dhoni and Ponting to the record.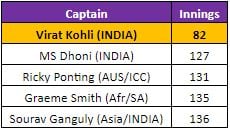 Kohli and Rohit also set the record for the biggest partnership for the second wicket ever at the Chinnaswamy Stadium during the chase, with 135*.

Finally, it was the 3rd consecutive bilateral ODI series win for India since their last series defeat against Australia in 2019 at home. In total, it was the 6th bilateral ODI series win for India against Australia out of 12.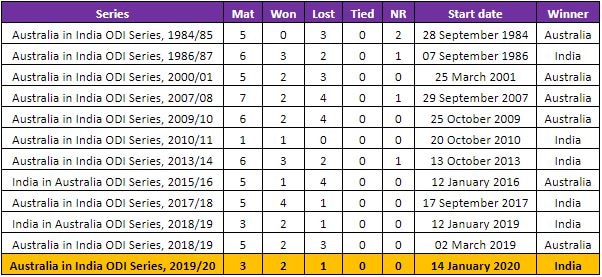 ---
---
Team Rankings
Rank
Team
Points
Rating
1
New Zealand
3198
118
2
Australia
3028
116
3
India
3085
114
4
England
4326
106
5
South Africa
2499
96
FULL Ranking
Rank
Team
Points
Rating
1
England
5405
123
2
India
6102
117
3
New Zealand
3716
116
4
Australia
4344
111
5
South Africa
3345
108
FULL Ranking
Rank
Team
Points
Rating
1
England
6877
275
2
Australia
6800
272
3
India
10186
268
4
Pakistan
7516
259
5
South Africa
5047
252
FULL Ranking