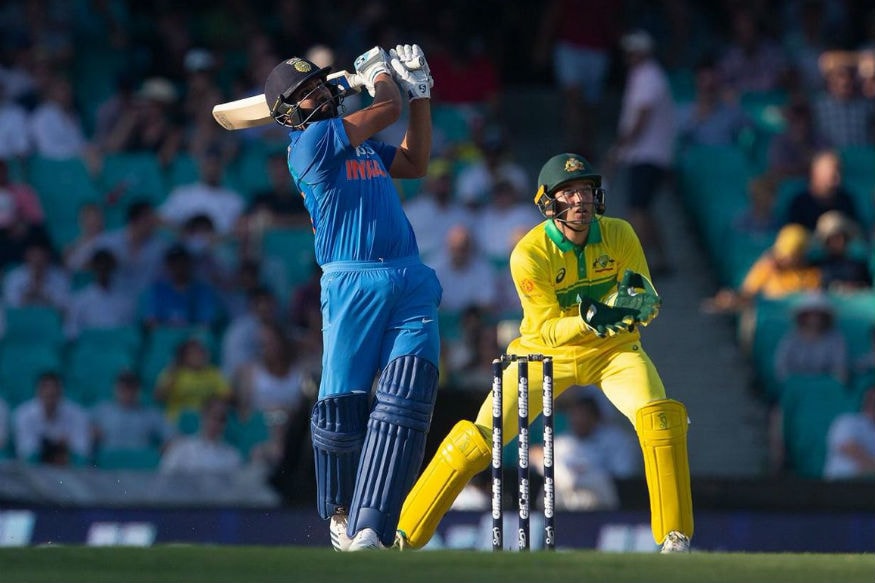 Although he failed in the last game at Melbourne, Rohit Sharma was yet again among the runs in an ODI series. Rohit started the series with a hundred in Sydney and scored 185 runs at an average of 61.66 in the series, placing him second only behind M S Dhoni as India's leading run-getter.

While his Test career may not have stabilized yet, there is little doubt that Rohit is already among the greatest batsmen of all time in ODIs. 7639 runs in 190 innings at an average of 48.04 and strike rate of 88.78, including 22 hundreds and 37 fifties are simply jaw dropping numbers and if you look closely, compare more than favourably with some of the best players in history.

HIGHEST AVERAGE FOR AN OPENER IN ODI HISTORY

Amongst all the 87 batsmen who have scored a minimum of 3000 runs in ODI cricket and average at least 35, Rohit's average places him at Number 8.

His average and strike rate product place him at Number 7 on this list only after Kohli, AB, Buttler, Root, Amla and Dhoni – higher than the likes of Richards, Tendulkar, Hayden and Ponting amongst other batting legends.

Rohit is a six-hitter! He has hit 210 sixes in 190 ODI innings. Only Afridi, Gayle, Jayasuriya and Dhoni have hit more maximums in ODI cricket. But Rohit's frequency of hitting a six (1.11 sixes in every innings) is the highest in the history of the format (amongst the 150 batsmen who have scored 3000 runs in ODI cricket).

His numbers as an opener are even more staggering.

5672 runs in 111 innings at an average of 58.47 and strike rate of 92.96 including 20 hundreds. Rohit has the highest average for an opener in the history of ODI cricket (min. 2000 runs). He is followed by Amla (50.10), Tendulkar (48.29), Lara (46.08) and Dilshan (46.04).

If we consider the product of average and strike rate (and divide it by 100), it is again Rohit who comes out at the top (54.35). There is a difference of almost 10 between him and the second-best, Amla on this count – this shows two things – not only has Rohit scored big runs but also scored them at a very high rate.

His frequency of scoring a hundred (every 5.55 innings) is also the best-ever amongst these 67 openers.




Much like Tendulkar, Rohit batted in the middle-order in the initial part of his ODI career. From his debut in June, 2007 till the end of 2012, Rohit had scored just 1978 runs in 81 innings at an average of 30.43 and strike rate of 77.93. He had managed to register just 2 hundreds and 12 fifties in this time-frame.

Then came the transformation. On the 23rd of January, 2013, Rohit, opening the innings scored 83 in 93 balls against England in the 4th ODI in Mohali.

He became a permanent opener and has never looked back.

ROHIT – THE OPENER


Rohit has opened in 108 out of 109 innings since then. He has amassed 5643 runs at an average of 60.03 and strike rate of 93.39. He has registered 20 hundreds (including three double hundreds) and 25 fifties during this period – this is a stunning record.

Overall, only Virat Kohli has scored more runs and hundreds than Rohit in this time period. Rohit is amongst the four batsmen who average above 60 in this period, behind Kohli, Ross Taylor and AB.




Amongst the 30 openers who have scored a minimum of 1000 runs since 23 January, 2013, Rohit has the maximum average of 60.03. There is a difference of 722 runs between him and the second-highest scoring opener in this period – Dhawan. He has scored 4 hundreds more than Amla – second-highest with 16.

Rohit has been very crucial to India's success in the last six years as his winning average (average when India has won) of 74.07 suggests. It is the highest winning average amongst all openers in this period. 15 of his 20 hundreds have also come when India has won – again the maximum for an opener in a winning cause.

India has won 37 of the 51 matches when Rohit has scored 40 or more opening the innings in an ODI in this time-frame.

Rohit has averaged above 50 in all calendar years since 2013 – i.e. in six consecutive years – such has been his consistency.

He is the only batsman to register three double hundreds in ODI cricket – all post 2013. No other batsman has more than 1. This is a phenomenal achievement given the fact that only 8 double hundreds have been scored in ODI cricket history.

Overall, during his career, Rohit has scored a ton against all major ODI teams and has an exceptional record not only at home but also in Australia and England – showcasing his prowess with the bat, both against pace and spin.

In Australia against the hosts, Rohit has scored 990 runs in just 19 innings at an average of 58.23 and strike rate of 90.99. This includes 4 hundreds. He has the highest average for a visiting batsman against Australia in their own backyard surpassing names like Richards (56.02), Lloyd (50.31) and even Kohli (44.92). Just for perspective and to highlight how difficult an opposition Australia have been at home, Lara averaged 36.69 and Tendulkar 30.83 against them in Australia.

His numbers as an opener in Australia against them are even more staggering – 798 runs in 10 innings at an average of 88.66.

What also stands out about Rohit is his big-match temperament. He has a knack of scoring big and performing in big matches – knockout matches of tournaments and series deciders. In 18 such matches, Rohit has aggregated 974 runs at an average of 60.875 and strike rate of 95.3 – clearly suggesting that Rohit saves his best for the grand stage and delivers under pressure.

DOMINATION IN LAST THREE YEARS




Rohit has been in incredible form in ODI cricket since 2016. He has scored 3072 runs in 53 innings as an opener at an average of 69.81 and strike rate of 98.49. 14 of his 22 career hundreds have come in this time-frame.

Such domination has seldom been witnessed from an opener in ODI cricket.

Tendulkar scored at an average of 55.85 and strike rate of 97.57 between 1998 and 1999. He registered 12 hundreds in this period. He also scored 2786 runs in 56 innings at an average of 59.27 and rate of 88.64 including 9 tons between 2001 and 2003.

More recently, Amla at his peak (between February, 2010 and September, 2012) scored 2368 runs in 39 innings at an average of 65.77 and strike rate of 95.48. He registered 9 hundreds in this time-frame.

Rohit, clearly, has been in a league of his own.

He is currently at the peak of his batting prowess. He is the best opener in the world in both ODI and T20I cricket and will be crucial to India's chances in the upcoming World Cup in England.




First Published: January 19, 2019, 4:09 PM IST