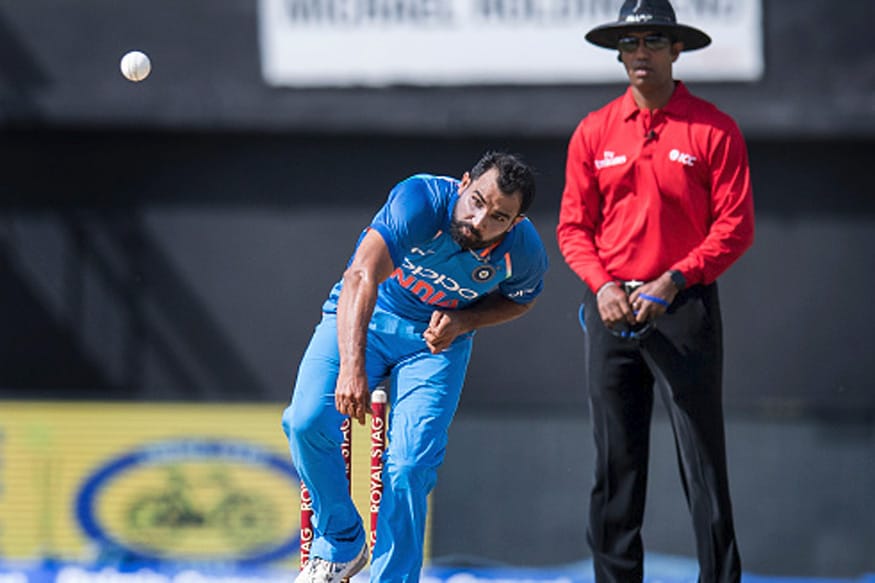 Mohammed Shami has been amongst the leading fast bowlers in the world in Test cricket for the last three years. In fact, with 49 wickets since the 1st of January, 2018, Shami* has been the joint second-highest wicket taker (amongst fast bowlers, along with Bumrah) in red-ball cricket.
While Shami's exploits in Tests have been well-documented and received praise from all and sundry, his performances in ODI cricket have gone unnoticed and not been given their due.
Shami made his ODI debut against Pakistan in Delhi on the 6th of January, 2013 - he bowled four maidens in nine overs conceding just 23 runs. Since then he was a regular in the India ODI set-up till the 2015 World Cup.
He was the leading wicket-taker in the world in ODI cricket from his debut till the end of the World Cup Down Under (29th March 2015). During this period, he aggregated 87 wickets in just 46 innings at an impressive average of 24.89. He picked a wicket, on an average, every 26.9 deliveries.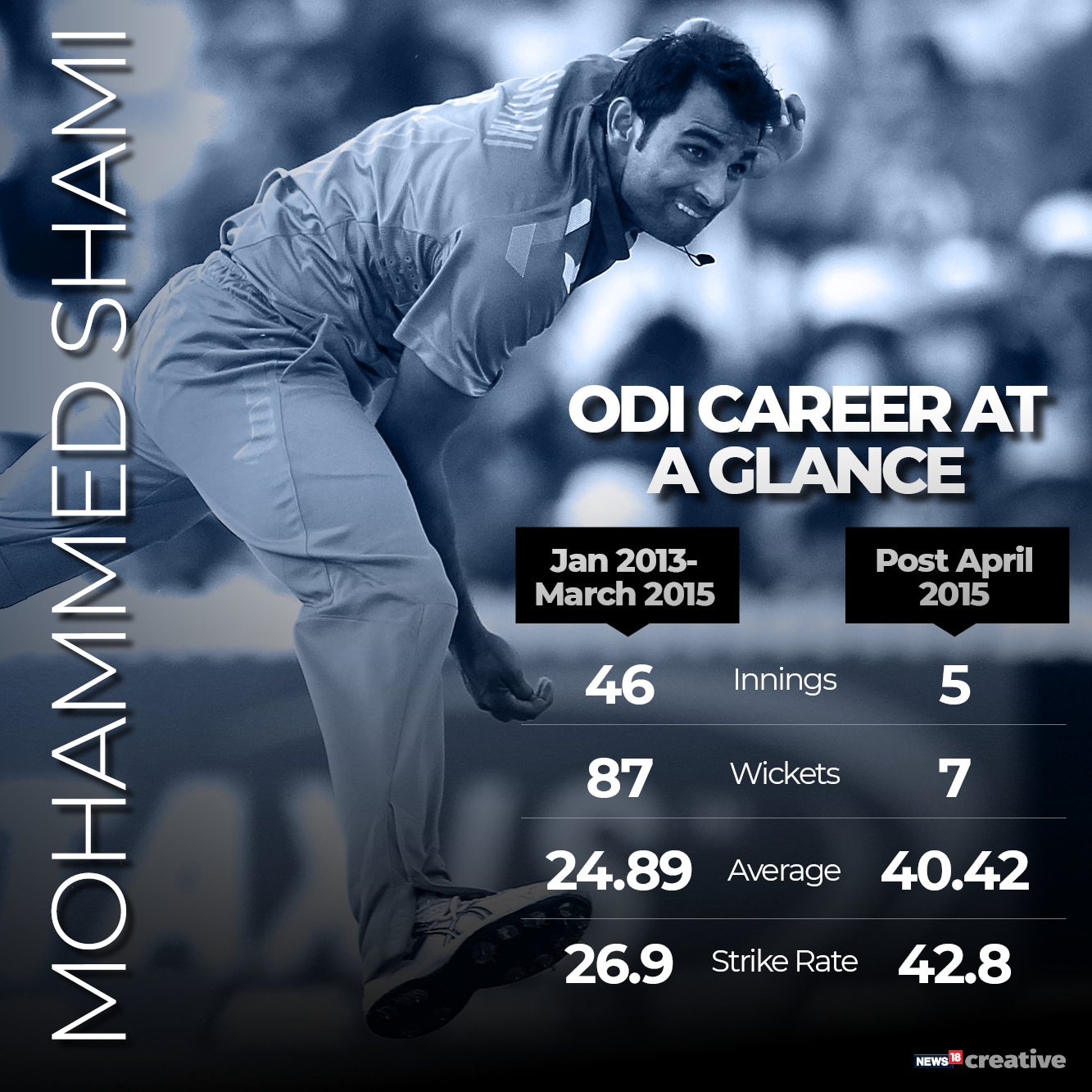 His average placed him amongst the ten-best fast bowlers in the period and was higher than the likes of Morne Morkel, Mohammad Irfan, Junaid Khan and Malinga amongst others.
Shami was a wicket-taker as was evident from his bowling strike rate which was the fourth-highest (amongst pace bowlers; min. 15 innings and 25 wickets) in this period after Starc (22.9), Corey Anderson (23.5) and McClenaghan (26.3).
Only Starc (2.03) and McClenaghan (1.94) averaged more wickets per match than Shami (1.89).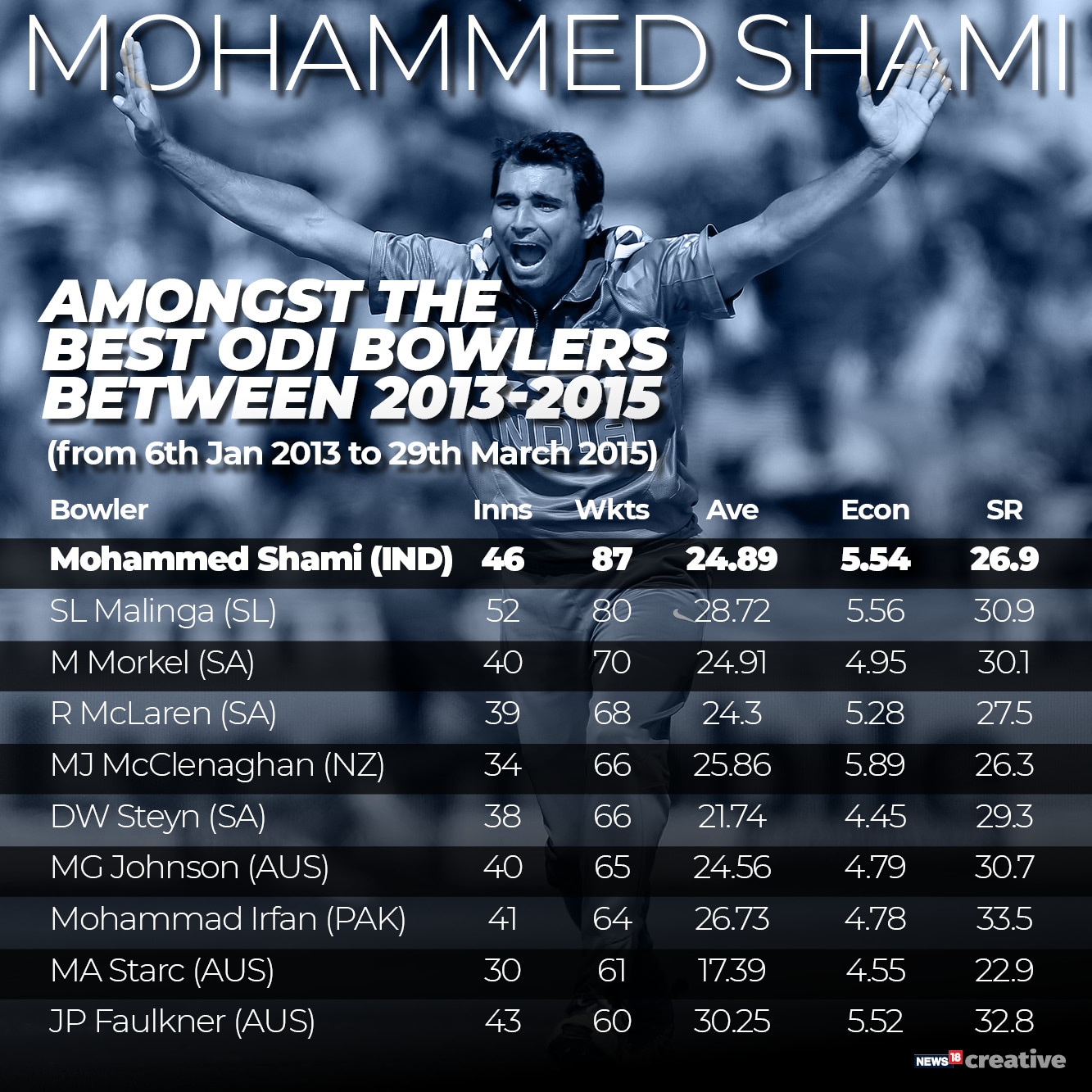 Shami picked 4 or more wickets in an innings on five occasions in this time-frame. Only McClenaghan and Starc (7 times each) did better on this count.
50 of Shami's 87 wickets in this period were top-middle order wickets (numbers 1-5) – that is a significant 57.47%, showcasing the quality of his wickets.
He was also the leading Indian bowler during this period. Not only did he have the highest wickets-tally but also the best average and strike rate amongst all Indian bowlers (min. 15 matches) in this time-frame.
There was a difference of 44 wickets between him and Bhuvneshwar Kumar who bowled in just three fewer innings than Shami (46 compared to 43). That is how good Shami was in this period. And he was that much better than the rest.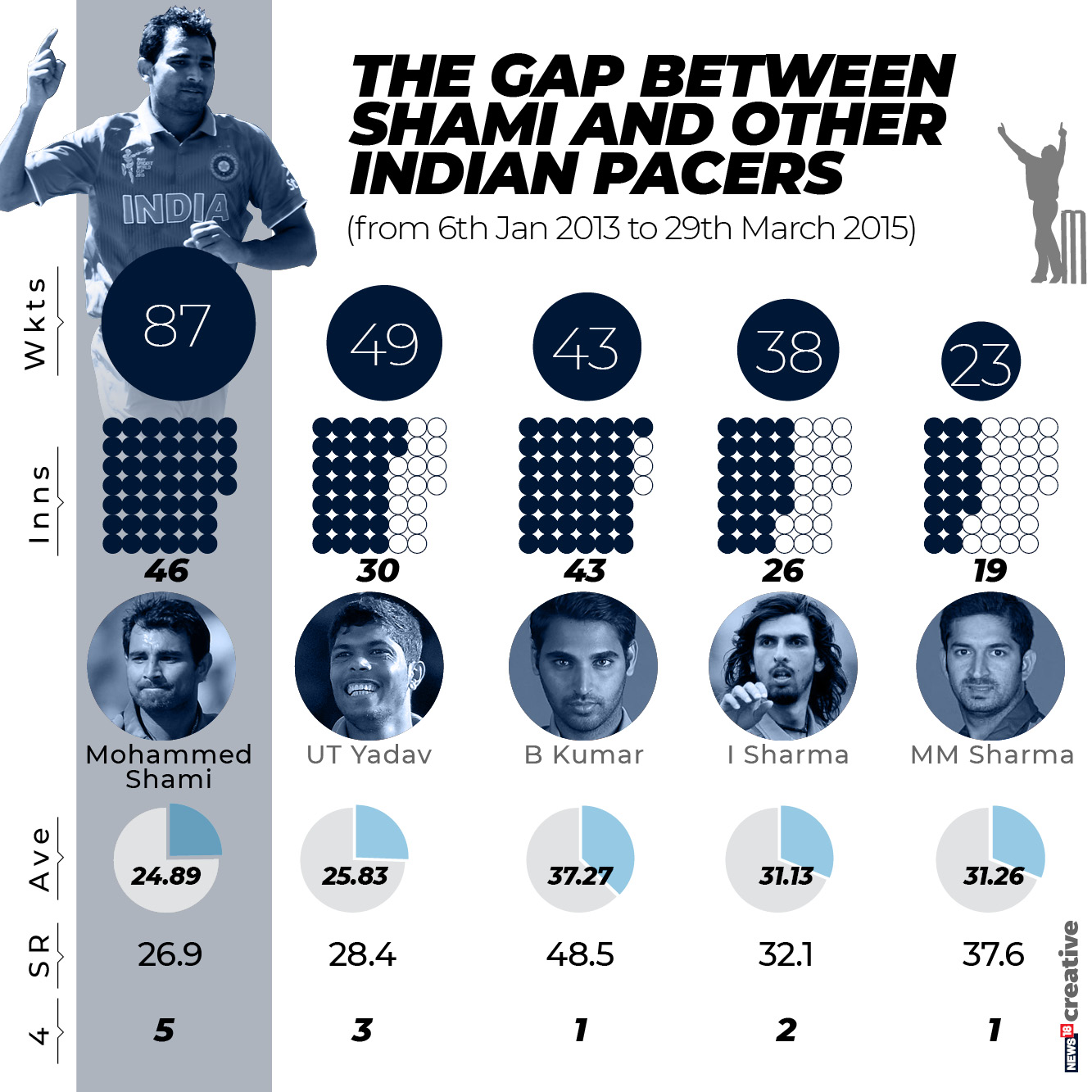 Year-wise, Shami picked 30 wickets in 2013 at 30.06 apiece. He improved to 38 at 22.94 apiece in 2014. His bowling average was at its best in 2015 when he conceded just 20.63 runs per wicket for his 19 wickets.
Shami has an excellent record in SENA. He has picked 47 wickets in just 22 innings at 22.23 apiece.
What is staggering is this. His strike rate of 23.8 in SENA is the best ever for a visiting pace bowler from the subcontinent and West Indies and Zimbabwe (min. 20 wickets) – highlighting his wicket-taking prowess in these conditions.
Just for perspective, Waqar and Akhtar had a strike rate of 29 in SENA, Malinga (31.9), Roberts (34.5) and Akram (35.9).
In terms of wickets per innings, Shami picks, on an average, 2.14 wickets in every match in SENA. This is the second-best wickets per match frequency after Hasan Ali (2.17 wickets per match).
Shami's average in SENA is the fifth-best only after the great West Indian trio of Garner, Roberts and Holding and Madan Lal (a highly under-rated ODI bowler).
This is a mind-boggling record which has completely gone unnoticed.
Shami was the leading wicket-taker in the three bilateral series he played in South Africa (9 wickets at 20.55 apiece), New Zealand (11 wickets at 28.72) and England (8 wickets at 19 piece).
He was also the fourth-highest wicket-taker in the 2015 World Cup – 17 wickets in 7 innings at 17.29 apiece – after Starc and Boult (22 wickets) and Yadav (18 wickets).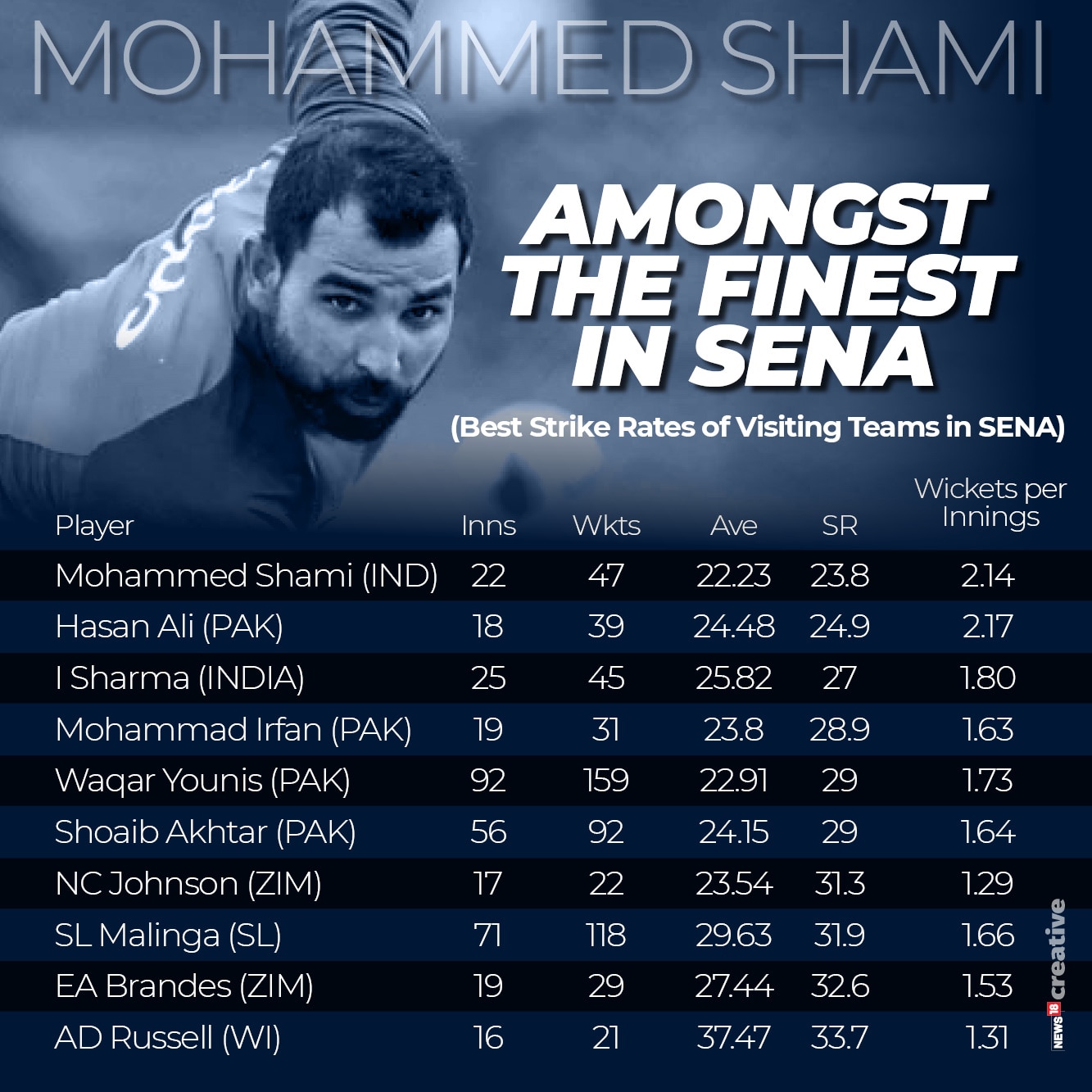 In the light of the above record, it is baffling that Shami has not found a permanent place in the Indian ODI XI. In fact, he has just played 5 ODIs in almost 4 years since the 2015 World Cup. He was out of international cricket for 16 months courtesy a knee injury which he sustained during the tournament. Although he made a comeback into the Test side for the West Indies tour in July 2016, he did not play another ODI till a year later.
Opportunities since have been few and far between (two more ODIs in 2017 and two in 2018). Injuries, personal issues and ignorance by the team management along with the rise of Bumrah and Bhuvneshwar as the preferred fast bowling pair in the format have kept Shami out of reckoning from ODI cricket.
Shami's performance in the Test series in South Africa earned him a spot in the ODI squad but he wasn't given a single game in the six-match series. He has continued to impress in whites for India and after successful tours of England and Australia, has been recalled to the ODI set-up.
Shami has all the skills to be successful in the format and re-ignite his career. He can swing the ball both ways, get the old ball to reverse, has a deceptive bouncer and varies his pace well.
With such variations in his repertoire and a stellar past record in the format, especially in SENA (England would host the World Cup in a few months time), the selectors and the team management would do a disservice to label him as just a 'Test specialist'.
*All numbers before the first ODI in Sydney