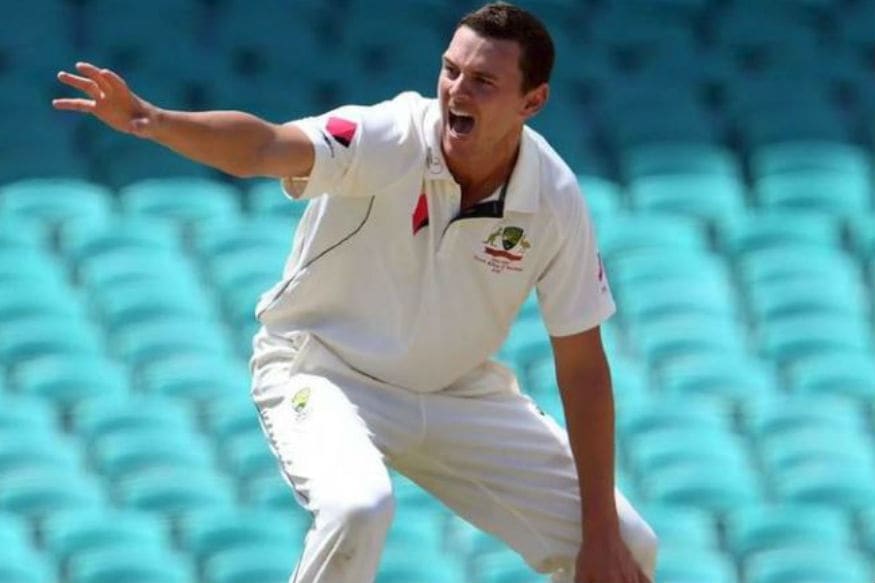 While Mitchell Starc sends thunderbolts from one end and Pat Cummins raises excitement levels with his raw pace, one man in Australia's pace attack lives in their shadows and does not grab the fancy headlines as much as his peers. But make no mistake - he is relentless and as effective if not more.
When young Josh Hazlewood was made joint vice-captain of the Australian side, many questioned his leadership abilities and what he had to offer.
"We also feel the new model provides great balance. There is strong and even representation of both the batting and bowling groups," selector Trevor Hohns had said when naming two vice-captains for the Test side.
"Hazlewood isn't a natural leader. He isn't one to aspire about donning the Test captaincy role later on as he himself admits. But if the Australian bowling group has a leader, it is Hazlewood."
Immaculate and consistent to the point of being nagging, Hazlewood is a hard nut to crack at home. When he made his debut against India four years ago at home, Australia knew they had unearthed a gem who could possibly fill the gaping hole left by Glenn McGrath.
Since his debut, only two fast bowlers - the England pair of James Anderson and Stuart Broad - have more wickets than Hazlewood in Test cricket. The Australian has 159 wickets in 42 matches at an average of 26.66 with six five-wicket hauls. While Starc has bowled just 1193.5 overs in this time frame, Hazlewood has been the workhorse, delivering more than 1500 overs.
But it is his record against the Indian batsmen that would interest the Aussies the most. He has dismissed both Ajinkya Rahane and Cheteshwar Pujara four times each in Test cricket, a trend that began four years back in Brisbane when, on debut, he crushed India's middle-order comprising Pujara, Kohli and Rahane.
Against Rahane in particular, Hazlewood has been mighty effective, dismissing the middle-order batsman every 57th ball, on an average. Murali Vijay has also been a victim of the persistent line and length of Hazlewood. The Tamil Nadu opener has been dismissed by Hazlewood four times in Tests with a strike rate of approximately 65 against him.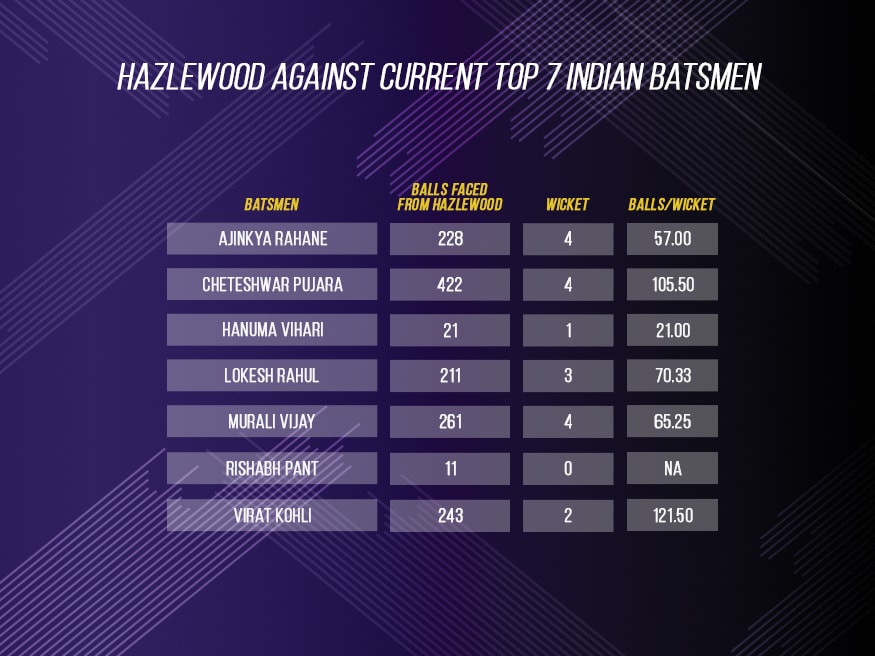 Even KL Rahul has had tough times against the disciplined and persistent seamer and has been dismissed three times in the format against him.
Other than Cheteshwar Pujara (four dismissals with one every 105th ball) and Virat Kohli (two dismissals with a wicket every 122nd ball), Hazlewood hasn't had to toil hard against much of India's other top seven batsmen.
His success against India is well documented. In 9 Tests, the seamer has 29 wickets at an average of 28.68. India is also the only nation against whom he has recorded more than one five-wicket haul in the format. That India have a right-hander heavy top seven further compounds matters. Hazlewood averages a miserly 19.73 per dismissal against right-handers, a number that goes up to 25.20 against southpaws.
His effectiveness against the top order is also evident from data. 116 of his 159 wickets are of batsmen in the top seven. 61 of them are of top three batsmen. In a team where successes are shared by other quality bowlers like Cummins, Starc and Lyon, this speaks volumes of his ability to pick crucial opposition wickets and make inroads in the top order while also highlighting his work load.