2 and 0 and 0 and 20 – another Test match and yet another failure for the Indian opening pair of Murali Vijay and KL Rahul.
The numbers suggest that the duo could soon earn the distinction of the worst opening pair away from home in Test history. Yes – that is how poorly they have fared outside India.
For opening pairs who have batted together at least 10 times away from home, Rahul and Vijay have the third-worst average together - 13.3. Amongst the two opening pairs who have fared worse, the first is from the nineteenth century and the second from Bangladesh at the beginning of the millennium.
Rahul and Vijay have batted together 13 times outside India, returning with a partnership aggregate of 173, with a highest opening-wicket score of 63, which was incidentally in this series at Adelaide – this is their only fifty-plus stand outside home.
They are, by far, the worst opening pair for India outside home. Their away average is the lowest amongst the 15 Indian opening pairs who have batted together in at least 10 innings. In fact, the second-lowest on this list is the pair of Pananmal Punjabi-Pankaj Roy, who had an opening-partnership average of 25.
That is how poor Vijay-Rahul have been outside home for India. Just for perspective, Sidhu-Srikkanth had a partnership away average of 33.18, Gambhir-Sehwag of 42.47, Gavaskar-Srikkanth of 46.53 and Sehwag-Chopra of 58.09.
In this year alone, Vijay and Rahul have registered three "duck" partnerships - twice twice at Lord's in England and once in Australia at Perth - and three other partnerships in single digits. Only once have the pair survived over 10 overs away from home this year - at Adelaide during the half-century stand when they played close to 19 overs.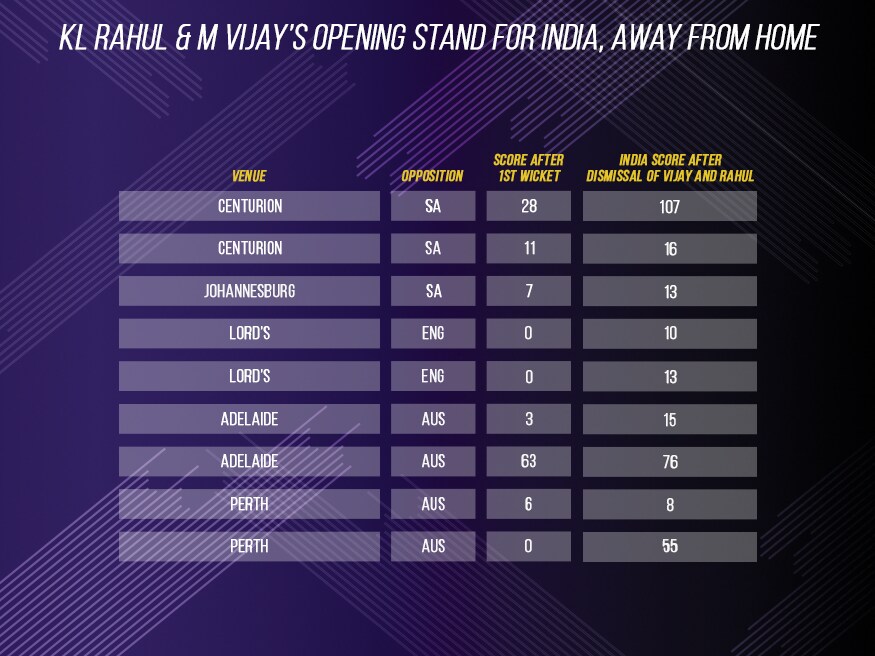 The task of an opener is also to take the sheen off the new ball and play out overs and time – Vijay-Rahul pair has failed to do so. They have, on an average, played out the lowest number of balls per innings away from home (of 29.08) amongst the 43 opening pairs who have batted together at least 10 times since the turn of the millennium.
This basically means that, on an average, India has lost their opening wicket before 5 overs have been completed when Vijay-Rahul have opened.
Vijay, once a lynchpin in India's batting order, is now very tentative at the crease and his manner of dismissals have evoked little confidence.
Among top order (1-3) players with at least 10 innings' in 2018, Vijay has the worst average - 18.8 in 15 innings after scoring 282 runs. Rahul is fourth in the same list with 468 runs in 22 innings at 22.28. Vijay has a balls/dismissal rate of 48.14 this year which is his worst since 2011 (more than 1 Test).
He has also registered three ducks in 2018, his worst in any year in International cricket.
Rahul has been vulnerable to the ball moving in while Vijay has been a sitting duck to anything that swings or seams.
Below is the list of India's opening partnerships this year away from home when Rahul and Vijay have opened and the score when either one of them is dismissed.
Only on three occasions has at least one of them survived after the team score has crossed 50 – this shows the collective failure of the individuals and the partnership.
Out of the nine away partnerships, only once (Adelaide) have the pair batted for more than 10 overs. That is how ordinary they have been.
Time is running out for India. And Vijay-Rahul.