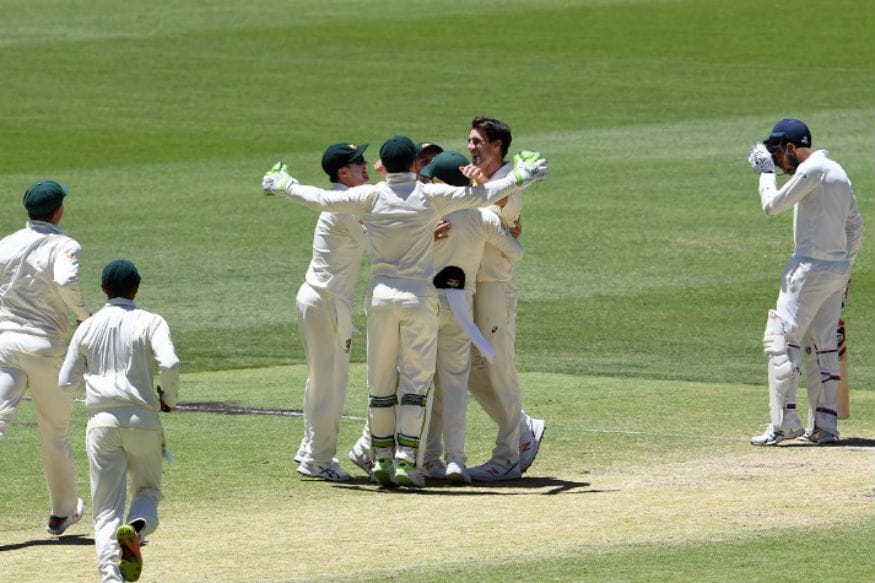 It was always only a matter of time.
Australia didn't take much time to wrap up a series-levelling win on the final day of the second Test in Perth, as they took the remaining five wickets for just 28 runs to finish with a 146-run victory.
India lasted only 14 overs on the final day and were bowled out for 140, with Mitchell Starc and Nathan Lyon ending with three wickets each while Pat Cummins and Josh Hazlewood got two apiece.
India began the day on 112 for 5, still needing 175 runs for an unlikely win. In other words, they needed a miracle given the pitch was spicy, and that their tail was as long as it could be.
The fact that Umesh Yadav had to come in at number 8 says how long India's tail is. As expected, Australia's bowlers came out firing and ran through them.
For India to fight and reduce the margin of defeat, they needed Rishabh Pant and Hanuma Vihari, the last recognised pair, to bat for as long as possible. That didn't happen. Vihari had looked solid on the fourth day but added only four to his overnight tally of 24 when he inside-edged Mitchell Starc off his thigh pad to mid-wicket.
Only one result was possible from that point. Rishabh Pant hung around for a while and got a couple of boundaries, but perished when he tried to slog Nathan Lyon. The mishit went only as far as mid-wicket, where Marcus Harris took a superb catch flying to his left.
Umesh was peppered with some short balls and even hit on the shoulder by Starc, before he popped a return catch. He finished the match with 2 for 139 and 10 runs to his name.
Pat Cummins then wiped out the remaining two wickets in one over. He had Ishant Sharma backing away and nicking to the keeper, before Jasprit Bumrah slogged - more in fear than out of conviction - to hand the bowler a return catch to end proceedings.