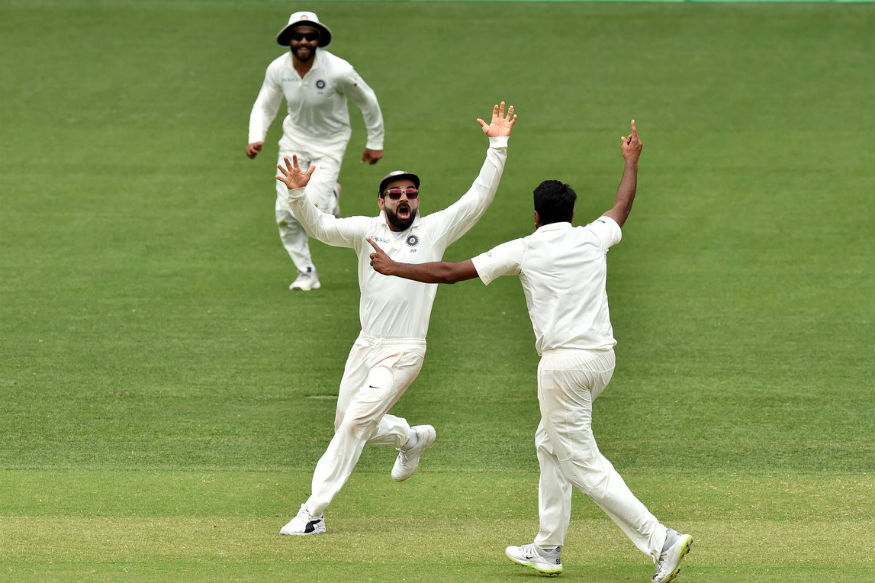 Australia's lower order delayed the inevitable with a spirited batting effort but couldn't prevent India from taking a 1-0 lead in the series with a 31-run win in the first Test in Adelaide.
The hosts resumed the day on 104 for 4 chasing 323, slipped to 187 for 7 but still managed to get to 291 when they were bowled out in what was gradually becoming a tense finish. Pat Cummins (28 off 121), Nathan Lyon (38*) and Mitchell Starc (28 off 44) kept India at bay, but India's persistence with the ball won them the game. Jasprit Bumrah, R Ashwin and Mohammed Shami got three wickets each while Ishant Sharma got one.
Australia needed a big effort from the left-handed duo of Travis Head and Shaun Marsh. The latter was well settled by then, and Head had top-scored in their first innings with 72. That, though, was not to be as Ishant Sharma got Head with a snorter of a bouncer, which the batsman only managed to fend to gully.
The entry of Tim Paine injected some life into the chase, with the Australian captain starting in a positive manner. He used the square cut to good effect and collected some boundaries, while Marsh went past his half-century.
India, however, kept chipping away and were rewarded with Marsh's wicket. Jasprit Bumrah got one to straighten from the around-the-stumps angle, doing just about enough to find Marsh's outside edge for a 166-ball 60.
At 156 for 6, Australia were struggling to survive but there was still some life left in the chase. Pat Cummins survived two reviews for bat-pad decisions in a single over from R Ashwin - one by each team - and battled on. He was steady in defence and high on patience, while Paine, at the other end, was a bit more adventurous and busy. The Australian captain shuffled around in his crease, received blows on his body, but hung on.
The two took Australia to lunch without further damage, leaving Australia with a slight hint with 137 runs to get. Those hopes were dented within two overs after the break, as Paine top-edged an attempted pull off Bumrah to hand Rishabh Pant his tenth catch of the match.
But if India thought they would blow away the tail, they were mistaken. Cummins continued to defend anything that came his way. Mitchell Starc gave him company, throwing his bat around a bit and collecting some runs.
Gradually, the Australians were within 100 runs of victory with three wickets left in the kitty. Ashwin had bowled in excess of 40 overs, was tiring out and hardly troubled the batsmen. But just around the time Australia would have entertained hopes of a win again, Starc threw it away, chasing and edging a wide one from Mohammed Shami for Pant's 11th catch.
Pant could have made it a record 12 soon, but he dropped Nathan Lyon on 7 off Bumrah. Australia were 81 away then, and Lyon kept chipping away at the target with a few streaky shots. However, against the run of play, Cummins had a lapse in concentration after battling it out for so long; he chased a wide one from Bumrah and edged to slip.
Cummins' marathon resistance had ended with Australia 64 away, but there was still one last fight left in the tail. Josh Hazlewood (13) gave Lyon company in a 32-run stand which took Australia closer. But Ashwin, who had bowled 52 overs in the innings, finally broke the stand when he had Hazlewood driving low to second slip. India were as relieved as they were joyous, and celebrated just their sixth Test win on Australian soil.