Australia scored at a rate of above 3.5 in the second innings at the SCG and set India a huge target of 407 to chase in the 4th innings. The Indian openers, Rohit Sharma and Shubman Gill gave the visitors a good start but were both dismissed towards the end of the day's play. India ended Day 4 at 98 for 2 still needing another 309 for victory on Day 5. Or more realistically bat out an entire day to save the Test.
India vs Australia, 3rd Test  Live Score | India vs Australia, 3rd Test  Live Blog
The 4th innings is the most difficult time to bat due to the wear and tear of the pitch and the fatigue set in after the first three innings. It only adds to the challenge when you are facing the best bowling attack in the world in their own backyard and do not have your best batsman in the line-up and also lose an in-form all-rounder due to injury during the match.
Can Rohit Sharma-Shubman Gill Pair End India's Opening Woes in Test Cricket?
There have been 500 instances when a team has been set 350-plus in the 4th innings in Test cricket (not counting the current match in Sydney). It is not surprising then that only 11 times from these 500 has a team successfully chased down the target – that is how difficult it is to bat in the 4th innings. To play out time and overs is hard enough but to also score big runs in the 4th innings to win the match is a monumental task. 126 such matches have been drawn while 363 (almost 73%) have resulted in a loss for the team batting last.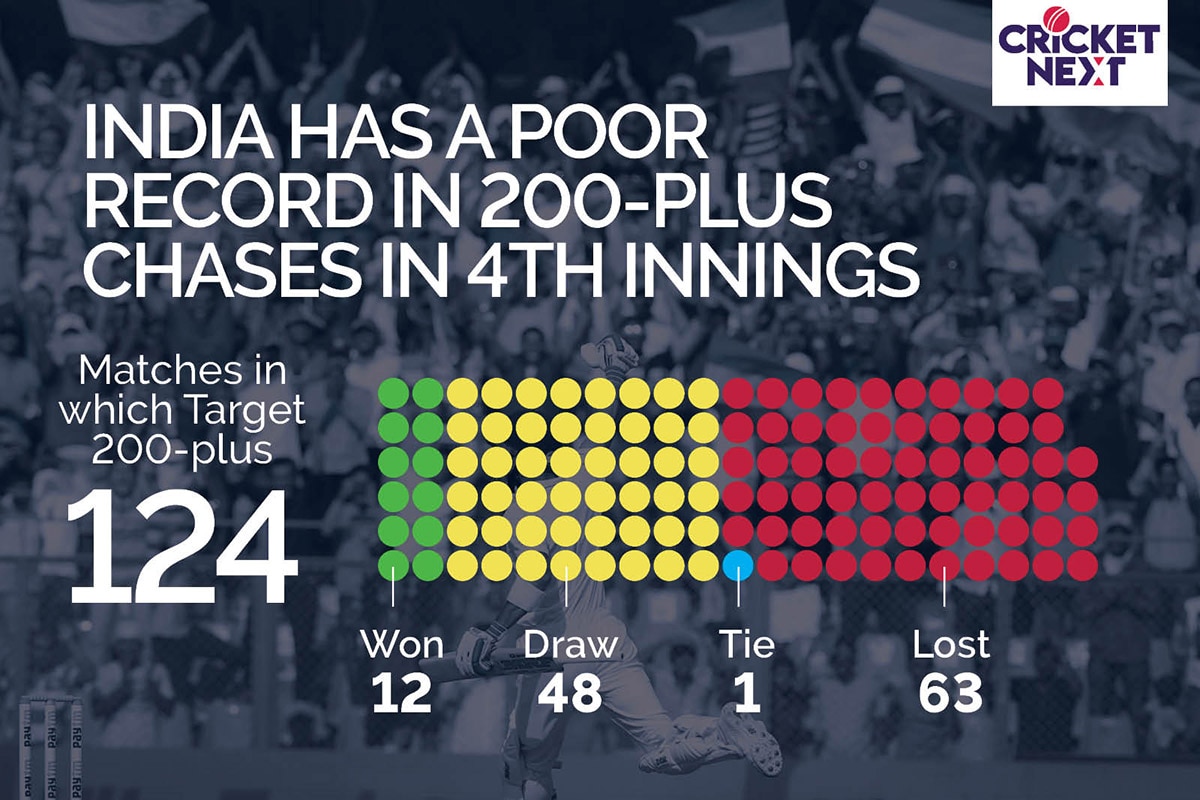 Ramnaresh Sarwan (105) and Shivnarine Chanderpaul (104) put together a hundred-plus stand for the 5th wicket to help West Indies chase down Australia's target of 418 at St John's in 2003 – it is the highest chase in the 4th innings in Test cricket history. There are only three other 400-plus successful chases in the 4th innings. South Africa, riding on a brilliant hundred from skipper, Graeme Smith and another magnificent ton from the great AB de Villiers, chased down 414 with Australia again at the receiving end at the W.A.C.A in Perth in 2008.
Aussies Banking on Nathan Lyon's Heroics for Final Day, Says Coach Justin Langer
India also have their name on the honour's list. Courtesy a splendid hundred from the Little Master, Sunil Gavaskar, 85 from Mohinder Amarnath and 112 from Gundappa Viswanath, India chased down 403 and won by 6 wickets against the mighty West Indies at Port of Spain in Trinidad in 1976. There has been just one other occasion on which India has chased down a 350-plus total in the 4th innings. An attacking 83 off 68 deliveries from Virender Sehwag, 66 from Gautam Gambhir, an unbeaten 103 from Sachin Tendulkar and 85 from Yuvraj Singh helped India chase down England's target of 387 losing just 4 wickets in Chennai in 2008.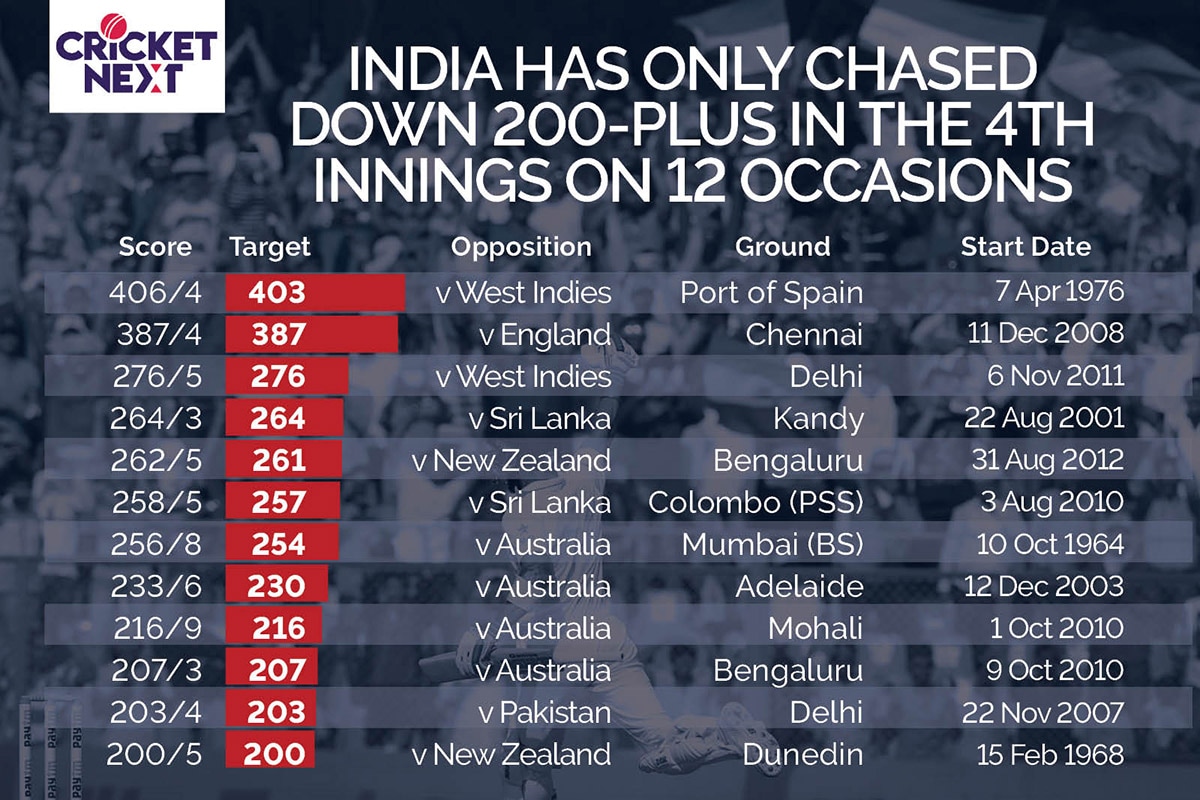 There have been 60 matches in which India has been asked to chase 350-plus in the 4th innings. They have drawn 20 and won just two of these 60 matches and lost on as many as 38 occasions! The last time India saved a Test when set 350-plus in the 4th innings was during the Boxing Day Test at the MCG in 2014. Set a target of 384, India had reached 174 for 6 in 66 overs.
'Aus Crowd Has Spoken About My Religion, Colour and Much More' – Harbhajan Singh
In fact, India has a very poor record batting in the 4th innings, whenever the target has been remotely substantial. They have only chased down 12 200-plus totals in the 4th innings in their Test history. 7 of these 12 victories have been at home and only three outside the subcontinent – Port of Spain (1976), Adelaide (2003) and Dunedin (1968).
Sydney Crowd Tends to Get Nasty; This is Unacceptable-Ravichandran Ashwin
It is India's overall record in the 4th innings that is worrying and does not inspire confidence. They have been set a target of 200-plus (home or away) 124 times in the 4th innings (not including the current SCG Test). India has won just 12 of these matches, drawn 48, tied 1 but lost as many as 63 of these matches. This basically means that India loses a little more than half the number of matches when they need 200 or more in the 4th innings.
The more recent defeats include when, chasing 287, they were bowled out for 151 against South Africa at Centurion in 2018, chasing 208 were dismissed for 135 at Cape Town in the same series, chasing 245 were dismantled for 184 against England in Southampton in the same summer and chasing 287 were routed for 140 at Perth later in the year. India were not able to bat for 70 overs in any of these innings.
With a win almost out of the equation at the SCG, it will be interesting to see on how many occasions in the recent past have India managed to hold on to a draw when chasing 200 or more in the last innings. Since the 1st of January, 2000, this has happened 16 times. However, the maximum number of overs India played out for a draw was 97 against England at Ahmedabad in 2001. The maximum number of overs India batted overseas to draw a match in this time-period is 96.2 against South Africa in Port Elizabeth. Set a target of 395, India ended with 206 for 3 with Deep Dasgupta (63 off 281 balls) and Rahul Dravid (87 off 241 balls) keeping the likes of Pollock, Hayward and Ntini at bay.
The maximum number of overs India has batted in the 4th innings to salvage a draw in Australia post 2000 is 89.5 – set a target of 349 at the SCG in 2015 India ended with 252 for 7. Murali Vijay consumed 165 deliveries for his 80, Rohit Sharma and Virat Kohli played out 90 and 95 deliveries while Ajinkya Rahane remained unbeaten on 38 off 88 deliveries.Of course, the most memorable of such draws for India in their entire Test history came against England at The Oval in 1979. Chasing 438, India batted for 150.5 overs and reached agonizingly close at 429 for 8 before the match ended in a draw. Sunil Gavaskar scored a memorable 221 in the match.
There is only one other occasion in which India batted for more than 100 overs (which they will need to do at the SCG tomorrow) to save a Test when set more than 400 in the 4th innings. India batted for 136 overs against the West Indies at the Eden Gardens in 1948 scoring 325 for 3.
There is also only one instance in their history when India have scored in excess of 400 against Australia in the 4th innings. Chasing 493 at the Adelaide Oval against a Packer-hit Australia in 1978, India, led by half centuries from Amarnath, Vengsarkar, Viswanath and Kirmani fought courageously and gave the home team a real scare before being bowled out for 445 in the 142nd over.
India will have to re-write history at the SCG if they have to save the Test and go to Brisbane with a chance to still win the series.
Get all the IPL news and Cricket Score here