India's win in Adelaide was built on the back of solid team effort with most players in the XI playing their part. Here's the CricketNext verdict on the individual performances in the game that saw India emerging victorious.
Murali Vijay – Rating: 3, Verdict: Poor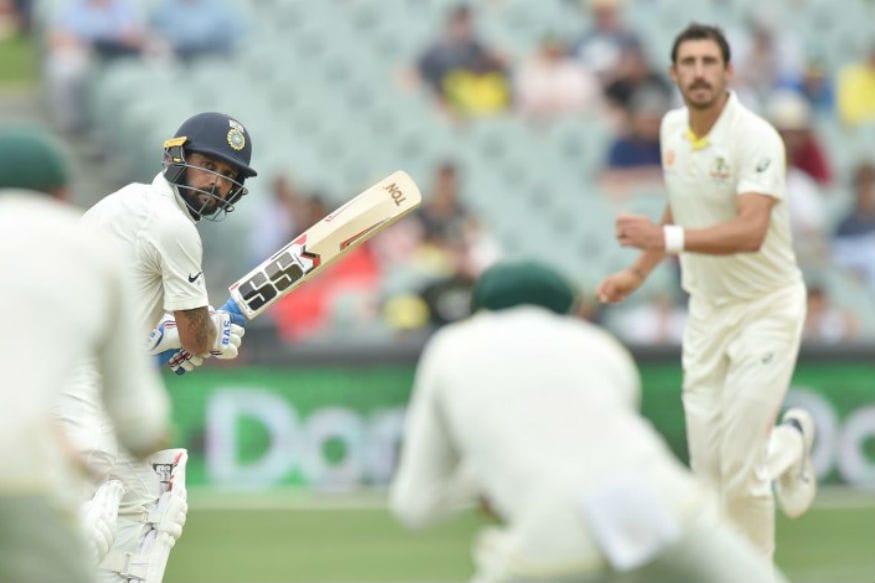 (AFP)
The 34-year-old received a lifeline after Prithvi Shaw was ruled out of the first match due to an ankle injury. Vijay, however, wasted his lifelines with scores of 11 and 18. The right-hander fell to Mitchell Starc in both the innings – edging behind the stumps while going for a flashy drives. He did manage to put up a 63-run opening stand with KL Rahul in the second innings but hardly did anything to cement his place in the XI. Time seems to be running out for Vijay, and maybe it's time for him to revisit an old friend.
KL Rahul – Rating: 4.5, Verdict: Average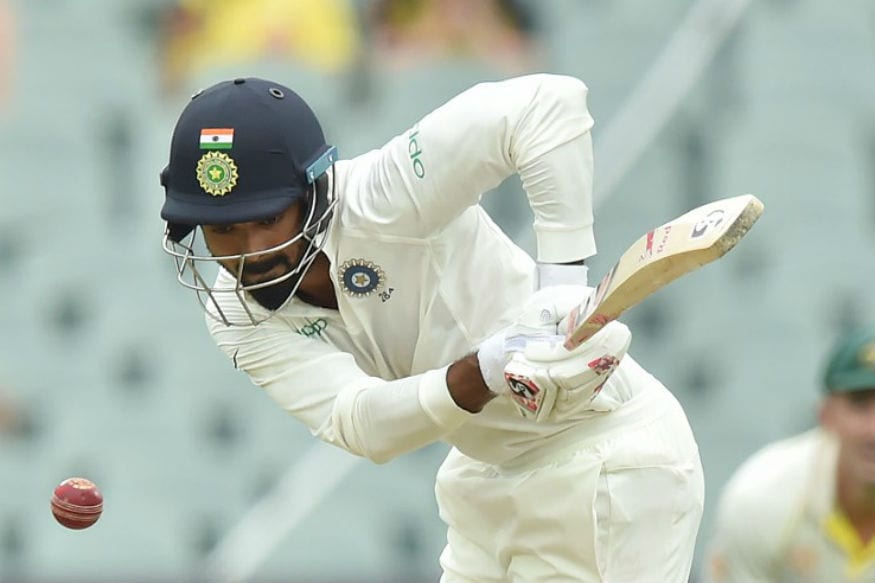 (AFP)
Rahul scored a handy 44 in the second innings but the Karnataka batsman looked far from his best. Like Vijay, he too was dismissed while playing an expansive drive in both the innings. He only managed two runs in the first essay but did play a couple of eye-pleasing shots in the second. Despite struggling, Rahul made sure India didn't lose any wicket after gaining a slight advantage in the first dig. However, the Indian team management will want Rahul to convert these starts into something substantial before they run out of patience.
Cheteshwar Pujara – Rating: 9.5, Verdict: Excellent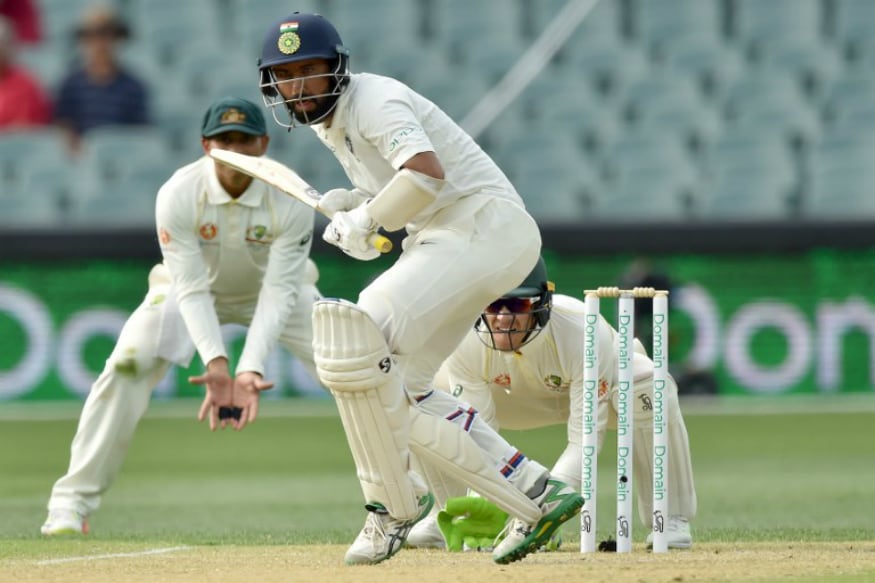 (AFP)
With scores of 123 and 71, Pujara looked in a different league altogether. The No. 3 batsman played 450 deliveries in this match and that tells you about his focus and determination. It was only because of his century India managed to post a decent total in the first innings. He took his time and kept one side intact before finally opening after India lost all of their recognised batsmen. He then followed it up with a gritty fifty in the second essay as well that took his team to a match-winning position. The way he tackled Nathan Lyon by using his feet was one of the major highlights of this Test match. If Pujara can keep his form going throughout the series, it will give India a lot of assurance and solidity.
Virat Kohli – Rating: 5, Verdict: Average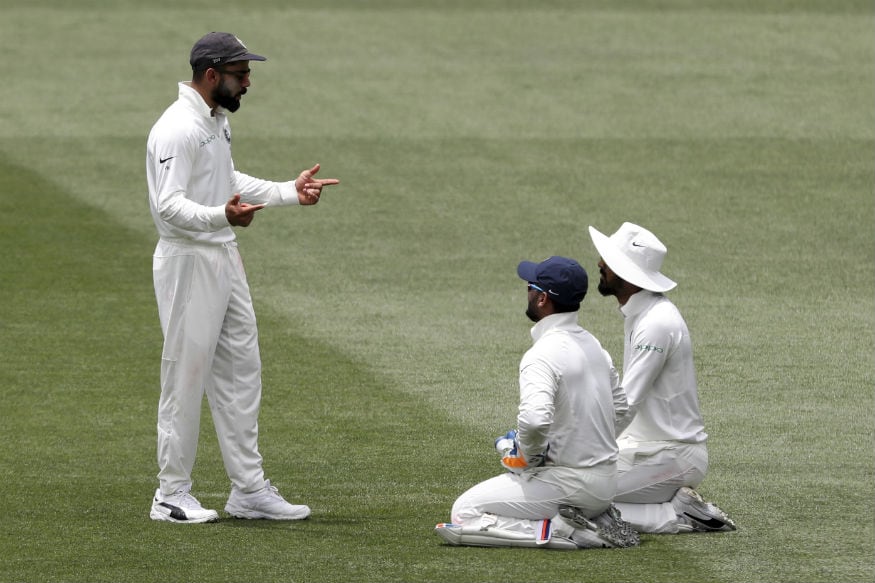 (AP Photo)
The Indian captain was willing to spend time in the middle in the second innings after falling to Pat Cummins for three runs in the first while going for a big drive. Kohli managed 34 runs in the second innings and shared a crucial 71-run stand with Pujara. He surely would have wanted to score more runs but will be delighted with the way his team responded despite him not contributing a lot. He did a pretty good job as captain (+1 for that) and will now want to get back to run-scoring ways in Perth.
Ajinkya Rahane – Rating: 7.5, Verdict: Very Good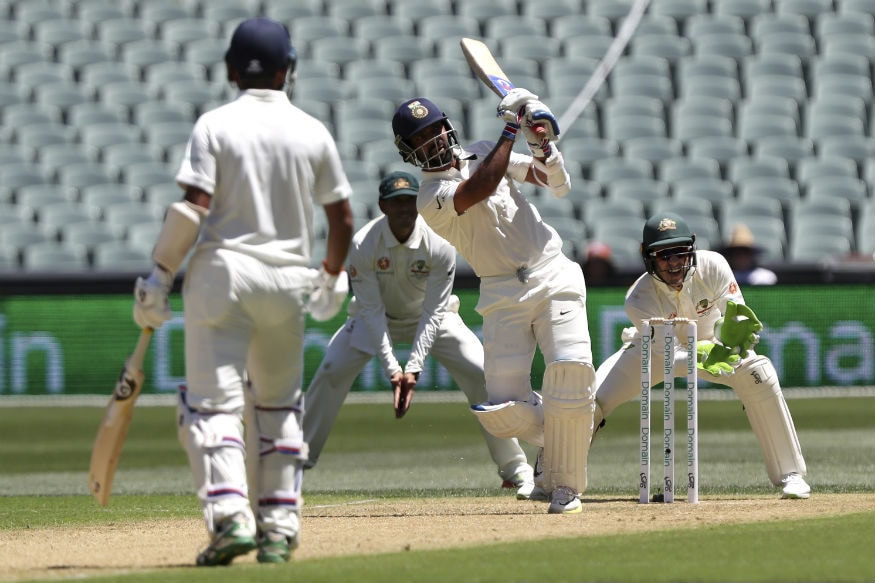 (Twitter)
After getting out to an irresponsible shot in the first innings, Rahane came to his own in the second dig when India needed him the most. The batsman from Mumbai took a leaf out of Pujara's book and crafted his knock beautifully. The 30-year-old hit 70 runs and added 87 runs with Pujara. He didn't go for any needless shots and rather focused on building his innings, and India's lead. If India have to do well throughout this series, they will want this trio – Pujara, Kohli and Rahane – to keep firing.
Rohit Sharma – Rating: 3.5, Verdict: Poor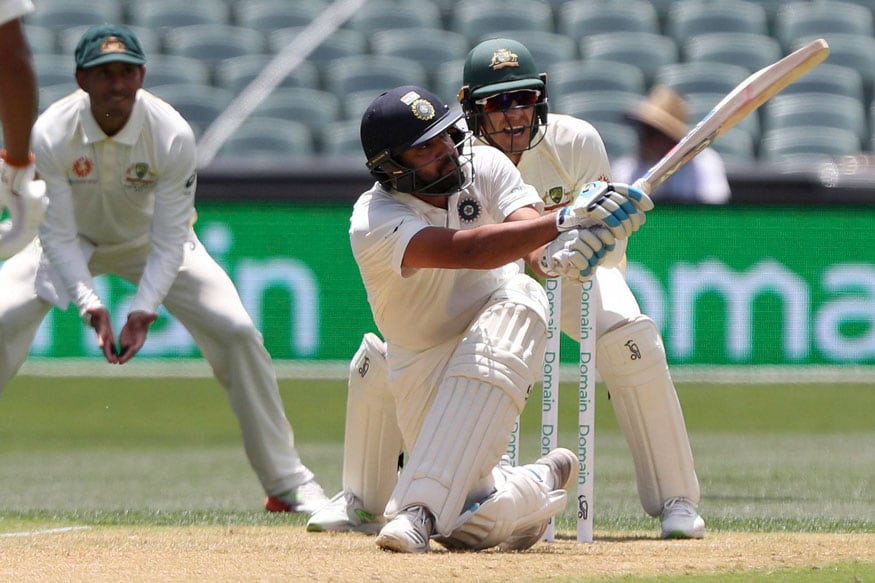 (AP/PTI)
Rohit is a delight to watch when he gets going. His six off Cummins over deep extra cover was unarguably the shot of the match. He then followed it up with two more maximums before falling to Nathan Lyon while playing a reckless shot. He did score 37 in the first innings but could only manage 1 in the second – caught at silly point off Lyon's bowling, again. It looked like Rohit didn't have enough trust in his defence. The onus is now on Rohit to make his every opportunity (probably last) count.
Rishabh Pant – Rating: 5, Verdict: Average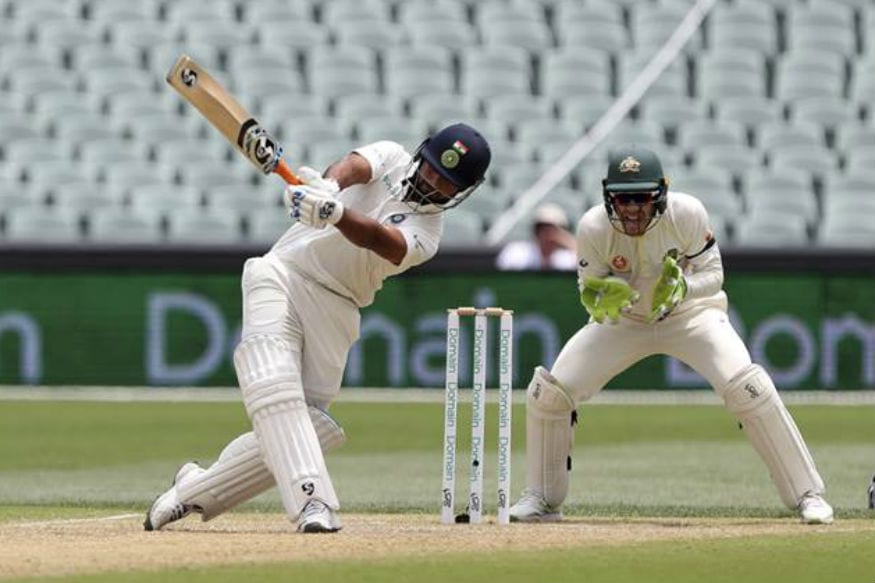 (AP Photo)
The 21-year-old batted with a pretty simple formula – see the ball, hit the ball! He might have only managed scores of 25 and 28, but considering how the match went, those 53 runs proved very crucial for India. Pant fell to Lyon in both the innings and he will have to come up with a proper game plan against the offspinner. It's next to impossible to survive against someone like Lyon with that sort of a batting formula. There will be times in this series when he will have to play out deliveries and that's when he will be really tested. He became the first keeper to effect 11 dismissals in a Test, which shows he had a good time behind the stumps too.
R Ashwin – Rating: 7, Verdict: Good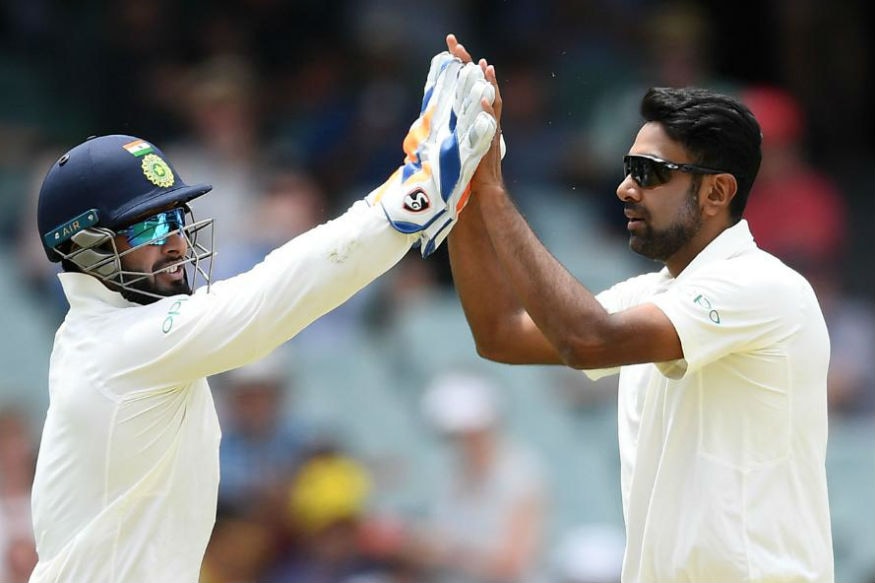 (Twitter/ ICC)
The off-spinner had a wonderful first innings picking up three crucial wickets. He seemed to have adjusted to the pace and conditions well, and got three of the top four in the Australian line-up. Ashwin had a decent time with the bat too, scoring 25 crucial runs in the lower order in the first innings. However, he wasn't as good in the second innings. Ashwin bowled 52.5 overs and got three wickets again, but considering his counterpart Nathan Lyon had got six in his second innings, Ashwin was slightly disappointing. He didn't hit the rough as often as he should have, but still managed to bowl at an economy rate of 1.74.
Ishant Sharma – Rating: 7, Verdict: Good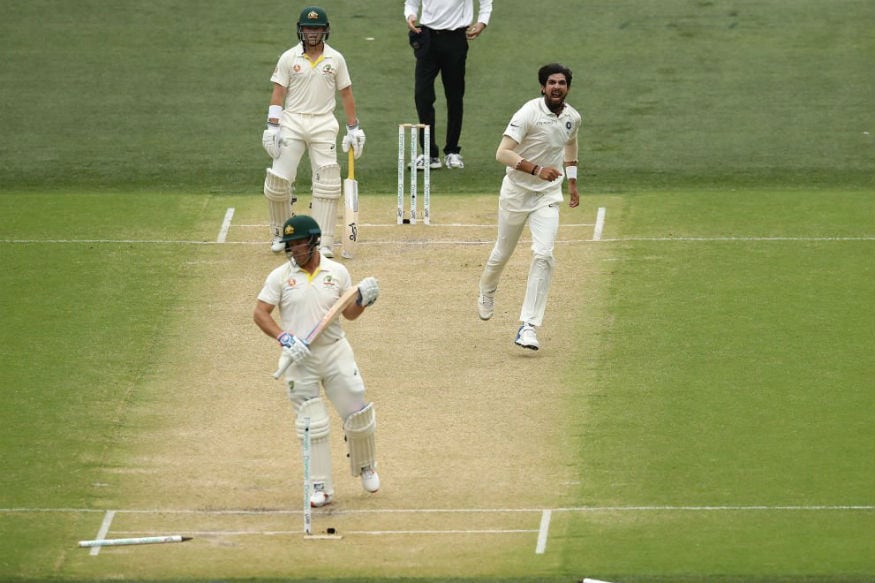 (Twitter/BCCI)
Ishant set the game up for India with the ball when he breached Aaron Finch's defence in the first innings. He managed only two more wickets in the 39 overs he bowled in both innings combined, but did bowl with the control that's expected of a veteran like him. Along with his other pace peers, Ishant exercised the kind of discipline that was needed from the Indian attack. Well, discipline apart from the no-balls! A few more wickets at Perth will help India, though.
Mohammed Shami – Rating: 6, Verdict: Average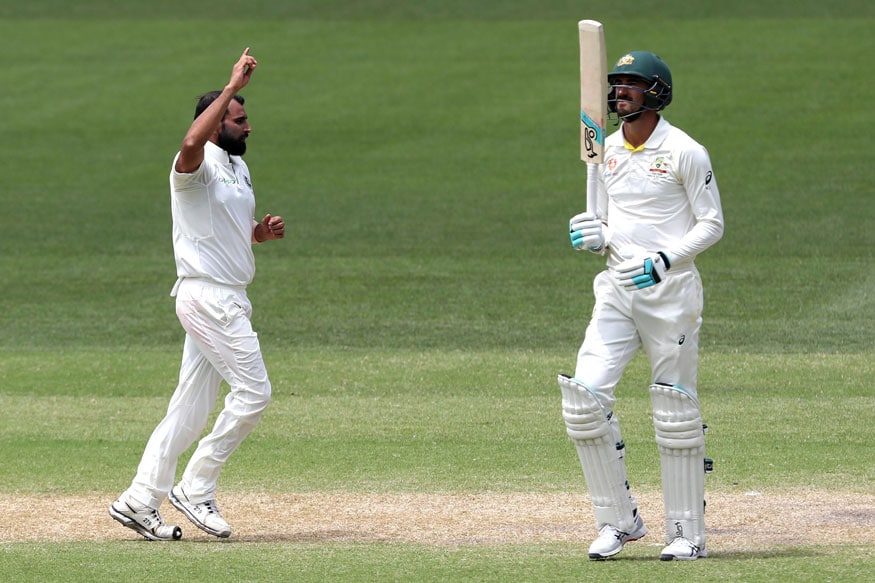 (AP/PTI)
Shami bagged five wickets in the match and was the only Indian bowler with an economy more than three in each innings. It wasn't like he was too expensive, but just a tad more costly than the other Indian bowlers. However, Shami did provide crucial breakthroughs. His wickets of Peter Handscomb and Mitchell Starc came at crucial times, just around the stages where Australia were getting partnerships. He can, however, work on his economy rate in the coming matches.
Jasprit Bumrah – Rating: 8, Verdict: Very Good


(AP/PTI)
The wickets of Shaun Marsh, Tim Paine and Pat Cummins were massive in the context of the game. All three went to Bumrah, who was called on whenever a partnership flourished. And boy, did he respond well. Playing his first Test on Australian soil, Bumrah adjusted to the bounce well and was the quickest of the Indian pacers. He was even quicker than his Australian counterparts at times! With three wickets in each inning, Bumrah was the most successful pacer. Indeed the X-factor in the Indian attack!
PS: The lower order will get more points if they contribute a bit more with the bat!
*Rating chart: Very poor 0-1, Poor 2-4, Average 5-6, Good 7, Very good 8-9, Excellent 10.