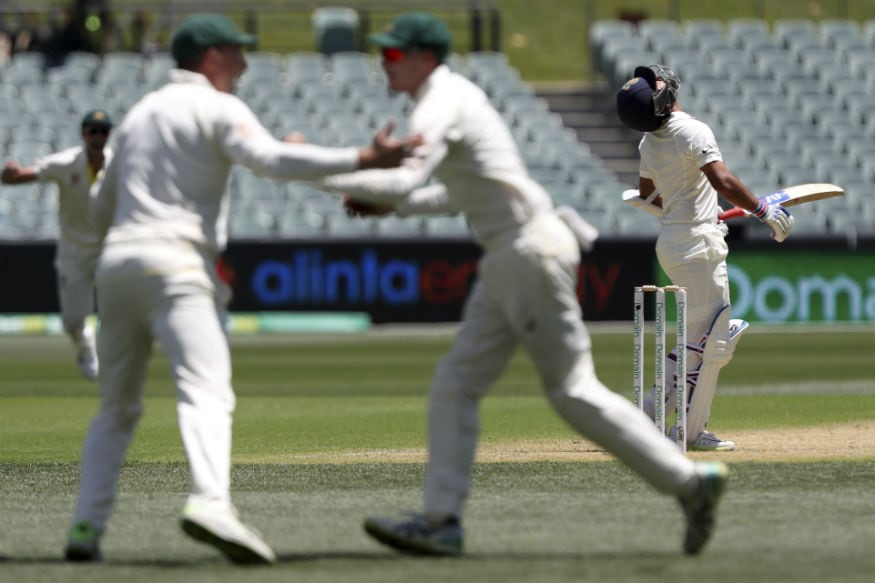 India's top-order crumbled yet again in the first Test of an away series with most of the batsmen gifting their wickets playing extravagant shots in what was a careless and timid display of batsmanship.
Rahul, Vijay, Kohli, Rahane and Rohit – all were victims of their own bravado and lack of discipline.
Rahul, who has been under scrutiny for throwing away his wicket after getting decent starts, chased a wide delivery from Hazlewood and edged it to the slips. He was set up by the Aussie seamer whose first five deliveries in the over were slanting into the batsman. The last one was wide and there to be hit but swung away catching the edge of Rahul's wild blades. While he has been susceptible to the in-swinger in recent times, Rahul has also had the habit of chasing the wide deliveries going for outrageous drives outside the off-stump.
Vijay's weakness outside the off-stump resurfaced as he edged a Starc delivery outside the off-stump to keeper Paine. On his last tour Down Under in 2016-17, all his three dismissals against pace had been edges to the wicket-keeper.
The average opening partnership away from home this year for India is 20.52 – a huge concern for them.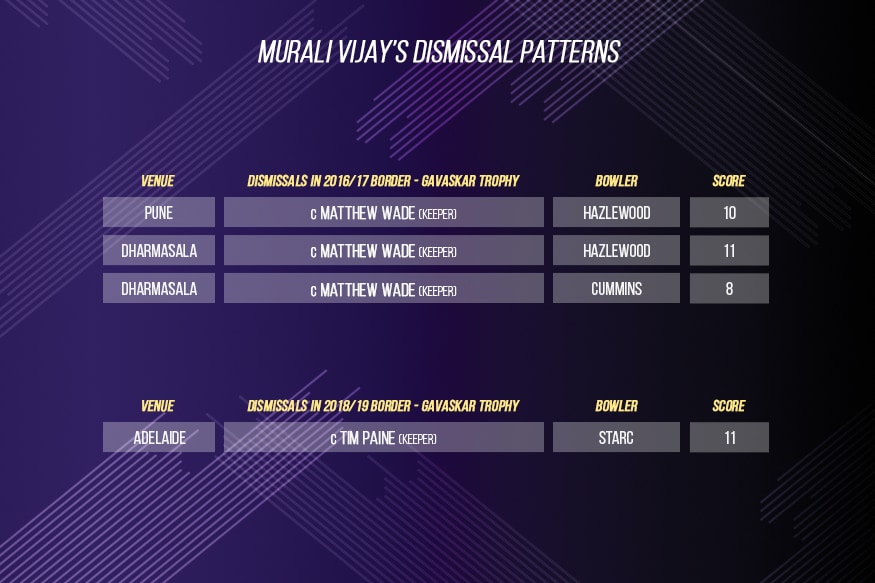 Rahane's away record, which has been modest of late, took a further dent, as he was dismissed chasing a wide one from Hazlewood. Three times on the England tour, Rahane had got out in a similar manner gifting catches behind the stumps – quite worrying for a player of his temperament.
Coming to the big one – the wicket of the Indian skipper – Kohli. Cummins stuck to what worked for Anderson and England in 2014 – a fourth stump line that induced Kohli into the fancy drive but he only managed to edge it to gully where Khawaja took a blinder. Kohli's dismissal brought back memories of his disastrous tour to England in 2014 - hard hands, flashy blade and an edge to gully.
Rohit Sharma looked at ease and the best amongst the Indian top-order before throwing his wicket away wasting a golden opportunity to make a statement and silence his critics. After being almost caught on the boundary off Lyon, he again attempted a hoick but his luck ran out and was caught by Harris well inside the square-leg boundary.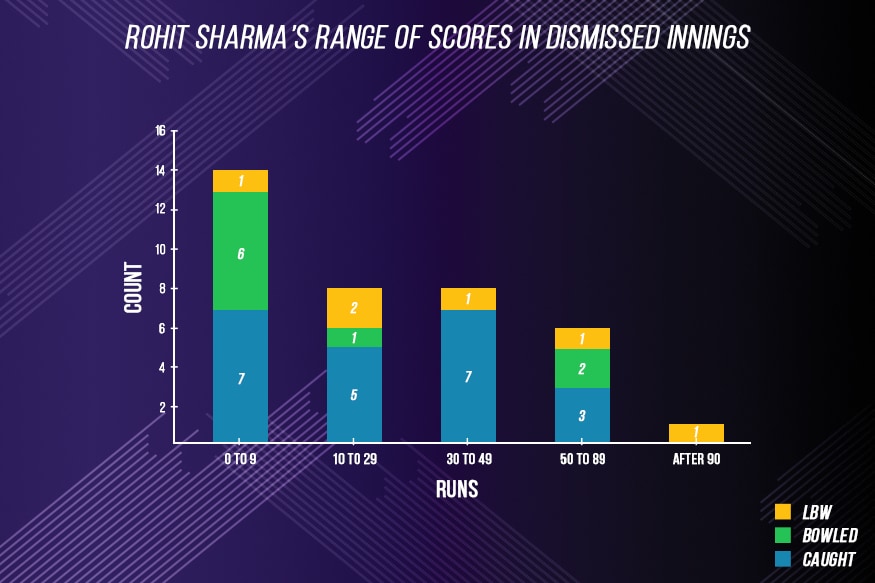 Throwing away starts has become a habit with Rohit. Of his 38 dismissals in Test cricket, 17 have come between the scores of 10 and 49 (44.73%). He has scored over 50 only 12 times which shows that even when he gets starts, Rohit fails to convert them into big scores.
The disturbing pattern of dismissals was perhaps overshadowed by Pujara's fighting hundred but India's top order needs to adapt quickly to the conditions and the pace and nature of the pitches or they'll soon find themselves on the wrong side of the series scoreline.