Sachin Tendulkar first toured Australia in November 1991 when only 18. He had already set stall as the best young batsman in the world, catalysed by his match-saving century against England at Old Trafford a year and a half previously.
It didn't take the baby-faced, curly-haired young man long to capture the imagination of the average Aussie. A glorious unbeaten 148 at the Sydney Cricket Ground was the delicious appetiser before the awe-inspiring main course on a pacy, spite-infested WACA surface, when Tendulkar produced a truly extraordinary 114 with the next best score Kiran More's feisty 43 at No. 10.
The first man to score two Test tons in their country before the age of 20, Tendulkar immediately had the Australians eating out of his hands. His age, demeanour, composure, maturity and, most of all, exhilarating strokeplay, appealed to the hard-nosed Aussies who adopted him as one of their own. He was a universal favourite among connoisseur and layman alike even when he was taking their best apart, the reverence gathering steam as he continued to pile on the runs.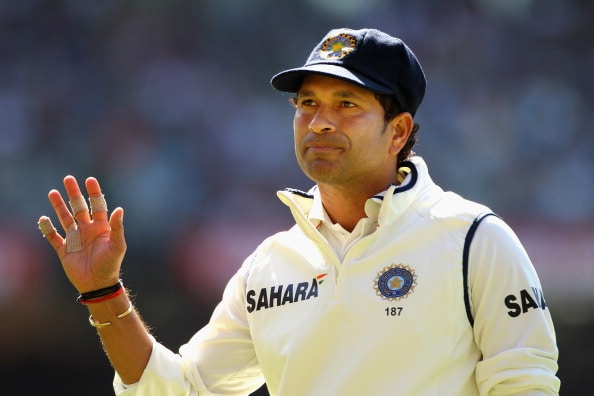 File image of former India cricketer Sachin Tendulkar (Picture Credit: Getty Images)
By the time he was done with Test cricket in Australia, Tendulkar had stacked up 1809 runs in 20 Tests at 53.20, unleashing six hundreds and seven fifties. Each of those centuries was a masterpiece, though none could match the aura of the imperiousness of Perth, when he produced some of the most gorgeous strokes on a track that made Craig McDermott, Merv Hughes, Paul Reiffel and Mike Whitney appear even more than dangerous than they were.
His stunning drives off the back foot, standing tall, taking the ball on top of the bounce and punching with a deadly combination of bottom hand and strong wrists, had even the likes of Riche Benaud oohing and aahing. Tendulkar's wooing of Australia started and ended with that mesmeric 114 at the WACA. From then on, he could have knocked them over with a feather.
Australia have been systematically dismantled by other batsmen of Tendulkar's generation too. Virender Sehwag and Rahul Dravid used contrasting methods to tame successive teams, while VVS Laxman entranced them with his magical presence and silken touch. Even so, Tendulkar was always the first among equals, the undisputed king in a regal line-up of virtuoso willow-wielders.
It was inconceivable that another Indian batsman would match up to Tendulkar's towering status in the eyes of the Australians. And yet, that's exactly what Virat Kohli has managed, thanks to a series of spectacular constructions.
Unlike Tendulkar, who became Australia's blue-eyed boy at the very first time of asking, Kohli has had to bide his time. He travelled here in 2011 accompanied by the image of a brash, petulant, spoilt, ill-tempered young fella who, the locals believed, was more words than deeds. He didn't endear himself by flipping the middle finger to the SCG crowd on that maiden tour, though by the time he left Australia, he had set himself up as one for the future with a brilliant 75 in the next Test in Perth and a path-breaking 116 in Adelaide in the final match of the series.
The Adelaide ton was to trigger an extraordinary sequence that has seen the Indian captain amass five further hundreds in six Tests on Australian soil. Tendulkar needed 16 Tests and 29 innings to score his sixth ton in Australia; Kohli's beautifully sculpted 123 at the Perth Stadium over Saturday and Sunday took him to the same landmark in only his 10th Test and 19th innings. This 123, out of 283, was Kohli at his adaptable best, a fusion of watchful and aggressive, of ordinary and luminous, of fortunate and authoritative, of restraint and hunger and character and stunning resolve in tricky conditions against a gun attack.
His 25th Test century has to go down as one of Kohli's more satisfying ones. In 2014-15, when he uncorked three-figure knocks for fun by stacking up four of them in as many matches, Kohli destroyed Australia with his incandescence. It was his supreme domination, and the obvious intensity, that forced the Australian public to revisit their opinion of him.
By the end of the Adelaide Test, where he stood in as captain for the injured Mahendra Singh Dhoni and came up with twin delights of 115 and 141, open hostility had given way to grudging acceptance of his special skills. By the time the last ball of that four-Test series was sent down, Kohli – by now the skipper in his own right following Dhoni's sudden retirement -- had cemented his status as the golden boy in waiting with 692 runs.
In the four intervening years, Kohli's stock has risen inexorably. He is by a distance the best batsman in the world in every format, has masterminded India's return to the No. 1 Test ranking, and scored attractive runs in all parts of the world, in the most demanding of conditions and against the most potent of attacks. He has batted on a different plane to the rest, untroubled by the bowling and easily resisting the temptation to take things for granted. He is the fittest, the fastest and the most committed within the Indian set-up, fitting the 'leading from the front' cliché to a 'T'.
He has also shown a continued liking for getting into scraps, sometimes on his own, at other times when instigated, and severely polarised opinion when he stopped just short of calling Steve Smith a 'cheat' following the infamous "Brainfade" fiasco in Bangalore last year. Unlike Tendulkar whom the Australians loved to love, they have looked for reasons to hate Kohli but, despite their best efforts, found no success on that front.
At least a couple of cameras during a day's play are devoted to tracking his every move – the Kohli cam, we have started calling them – and he doesn't disappoint the viewers with his snarling and growling, with his use of the lip and with his wide-eyed expressions that he does nothing to camouflage. He makes for a most arresting spectacle from which you can't take your eyes off. Virat Kohli is one addictive persona.
And yet, everything else about him would hold little relevance if Kohli was not the batsman he is today. There is a certain buzz when he is in the middle; the backsides ease closer to the edge of the seats, the hearts start to thud a little faster, the adrenaline rush is more pronounced. As he settles into his guard, the focus in his eyes and the shutting out of the rest of the world are captivating. When he moves into his strokes, the left foot gliding forward, the bat an extension of his lovely hands, the ball an obedient slave to the gentle urgings of his rasping willow, he cuts a dashing, mesmeric, almost otherworldly figure.
Virat Kohli celebrates after scoring his 25th Test century  (Picture credit: Twitter/ICC)
The best of Kohli was on view in Perth over the last two days as he did a Tendulkar, single-handedly battling to retain the profile of Indian batsmanship. This 123 was not his most fluent, most commanding, most controlled, most dominating knock; perhaps, it wouldn't have been that special had it been all this. Between typically wondrous shots, he took blows to limb and body, and was beaten numerous times.
Yet, there was no sign of ego, no 'I will show you' intent. It wasn't until he punched Mitchell Starc through straight mid-off to reach his century that he made a non-cricketing statement. Even that was to indicate non-verbally that he had let his bat do the talking for him!
This was a Tendulkar-like innings, a Capabianca moment, the lone warrior staving off the big bad wolves as the Master did in Perth nearly 27 years back, and in Melbourne in December 1999 when he made 116 and 52 in team totals of 238 and 195 respectively. Numerically, Kohli is the odds-on favourite to leave Tendulkar behind for runs and hundreds in Australia; it won't be blasphemous anymore to suggest that he could also ease ahead of the little big man in the consciousness of the Australian public, who see in Kohli a kindred spirit that they never saw in Tendulkar.