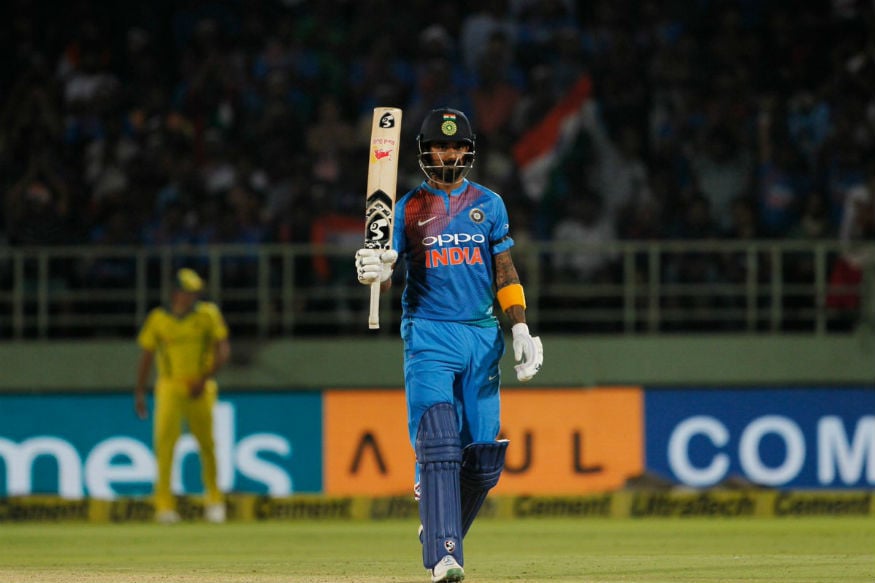 It's been a troubled few months for KL Rahul. The classy right-hand batsman lost his form, and briefly, his place in the Test XI in Australia then waded into trouble with the establishment following his appearance on Koffee With Karan alongside good friend Hardik Pandya.
His on-field travails and off-field tribulations seemed to have taken a toll on the otherwise intelligent, articulate young man. This was a stern test of his character, of his inner mettle.
Because he is such a wonderful talent, the selectors and the Indian team management have walked the extra mile to stick by him. Through thick and thin, they stood by him, willing him to score runs and make the kind of statements his blazing willow has done in the past. Over the last couple of weeks, Rahul has shown that he is well on his way to repaying the faith.
After a relatively quiet time for India A against England Lions in three 50-over games in Thiruvananthapuram towards the end of January, Rahul looks to have rediscovered his mojo. Whether it has anything to do with having been in the company of his illustrious namesake -- Rahul Dravid, the coach of the India A team -- is open to debate.
But, in his last three representative innings, he has stacked up scores of 89 and 81 in first-class outings against the Lions and capped off the sequence with a fluid, languid 50 against Australia in the first of two Twenty20 Internationals, in Visakhapatnam on Sunday (February 24).
In Australia in December and January, Rahul looked out of sorts and a little out of place, his defensive game in somewhat of a shambles. Australia's relentless pace attack of Mitchell Starc, but more notably Josh Hazlewood and Pat Cummins, allowed him little leeway, and he was forced to try to hit his way out of trouble in the second innings of the first Test in Adelaide when he breezed to a chancy 44.
Expectations that he had turned the corner proved unfounded when he backed that up with scores of 2, 0 and 9 in his three remaining Test hits. There are signs now, however, that the diffident, somewhat uncertain, KL Rahul might be a thing of the past.
The timing of the rediscovery of his scoring touch could not have been more opportune. Including the second T20I in Bangalore on Wednesday, India have a mere six international outings left before the World Cup in England and Wales from May to July. Rahul offers Virat Kohli multiple options – he can be the reserve opener behind the established tandem of Rohit Sharma and Shikhar Dhawan, he can also provide a middle-order choice in an emergency.
Additionally, he comes with reasonable experience of keeping wicket – another string to his bow should it come to the crunch – and is a wonderful fielder, the quintessential modern-day all-round cricketer except for the fact that he can't slip in a few tidy overs as well.
But more than from a World Cup selection standpoint, his recent successes, and especially his even half-century on Sunday – which was made on a far greater stage and with millions of eyeballs in attendance compared to the relative anonymity of an India A game – will trigger a massive dose of confidence and feel-good.
Even during his troubled days that, apart from sporadic shows of brilliance, straddled nearly a full year, there was little doubt about his quality. It was always a question of what his mental state was and well as he might deny it, there were enough hints that his wasn't a settled mind.
Now, though, Rahul will feel good about himself, about his cricket, about the fact that he is pulling his weight, about his being able to justify the vote of confidence of his mates in the dressing-room. He most certainly should. Cricket is played as much between the ears as it is out in the middle; unless the battle within the mind is quelled, it is practically impossible to do likewise on the park.
Sunday's innings was the perfect example of what mind over matter can achieve. Rahul began tentatively, scratchily. He was hustled and beaten by Jason Behrendorff in the first over, and played out four straight dot-balls. His fifth ball, from Jhye Richardson, was tucked off his hips without fuss behind square for four.
All of a sudden, like a switch had been turned on, the feet seemed to move better, his body automatically appeared to get into good positions, his beautiful hands reassumed their exalted status of an extension of his willow. The swag didn't resurface until India's fielding dig but long before that, Rahul had most likely exorcised his inner demons.
Now, it is up to him to prove – to himself, more than anyone else, one suspects – that this is no false dawn, that he is back for good, and that he is back good. And that he isn't satisfied with a mere fifty. Perhaps he doesn't realise it, but KL Rahul needs cricket just as much as the sport needs his quantum of beautiful, beautiful runs.