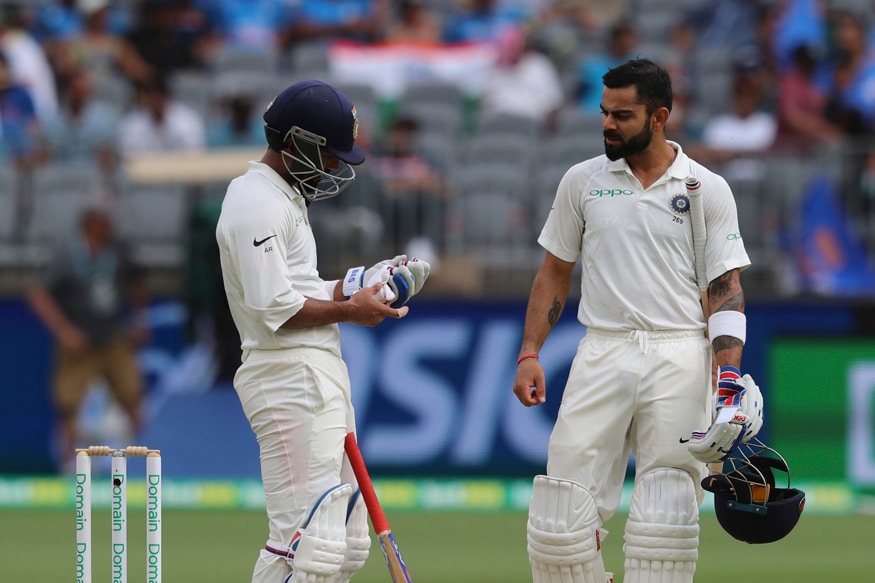 Virat Kohli and Ajinkya Rahane scored unbeaten half-centuries to leave the second Test against Australia in Perth tantalisingly poised at the end of the second day.
India were 172 for 3, trailing Australia by 154 runs with Kohli on 82 and Rahane on 51. India had earlier bowled out Australia for 326 in the morning session, with Ishant bagging four wickets.
Batting in the fourth innings isn't going to get any easier, making India's first innings all the more important. They needed a good start, but got anything but it as they lost both openers with just eight on board. M Vijay missed an in-swinger from Mitchell Starc and fell for a duck, once again pushing at a delivery he should have been defending. KL Rahul then played all over a beauty of a Josh Hazlewood yorker soon after lunch.
At 8 for 2, India needed either a counter-attack or a stubborn resistance. They got a bit of both in the form of Kohli and Cheteshwar Pujara. Kohli got off the blocks quickly, driving Hazlewood for three fours in an over. Pujara was being Pujara, just defending and dead-batting and leaving alone balls in old-fashioned manner.
Kohli raced to 18 off 10, but he slowed down with the arrival of Nathan Lyon. The off-spinner was as tight as he could be, and choked the run flow. It allowed the pacers to attack relentlessly from the other end. India scored only 23 runs in a 20-over period at one stage. They didn't hit a boundary for 22 straight overs.
Kohli did chase a few balls outside off, but fortunately for India, didn't edge. Apart from the odd flashy shots, he and Pujara were largely solid and took India to tea without any further damage.
Pujara fell in a rather soft manner post tea when he gloved Mitchell Starc down leg-side to wicketkeeper Tim Paine after a 103-ball 24. The 74-run partnership had been broken after 33 overs, but India were still in a spot of bother at 82 for 3.
The arrival of Rahane changed the momentum a little and gave the innings an impetus. He took on the bowling almost immediately, pulling and upper-cutting the pacers for boundaries. Rahane also slashed Starc over the third man boundary for six, but was also fortunate to not edge a few wild slashes away from his body.
Rahane's first 22 balls produced 23 runs, and then he settled down. Moving on to the second stage of his innings, he was a bit more cautious but kept the runs coming with the odd boundary. It allowed Kohli to be a bit more brisk too, the Indian captain getting past his half-century slashing Cummins for a boundary.
Rahane moved through his 40s to the 50-run mark with two beautiful shots off Hazlewood. He first played a lovely straight drive which forced Hazlewood to go short.
Once the bowler did that, he upper-cut to the third man fence. The vice-captain and captain stayed on till the end - just what India would have wanted given they have a long tail.
Earlier, Australia stretched their score from 277 for 6 to 326 with Paine and Cummins gradually increasing India's frustration. The duo batted out the first hour without damage, while India for some reason didn't start with Jasprit Bumrah, the best bowler on the first day. With the score on 310, Umesh Yadav finally broke the 69-run stand with a peach of a delivery that bowled Cummins.
Bumrah trapped Paine lbw two balls later, after which Ishant Sharma got the last two wickets to end with a four-wicket haul.