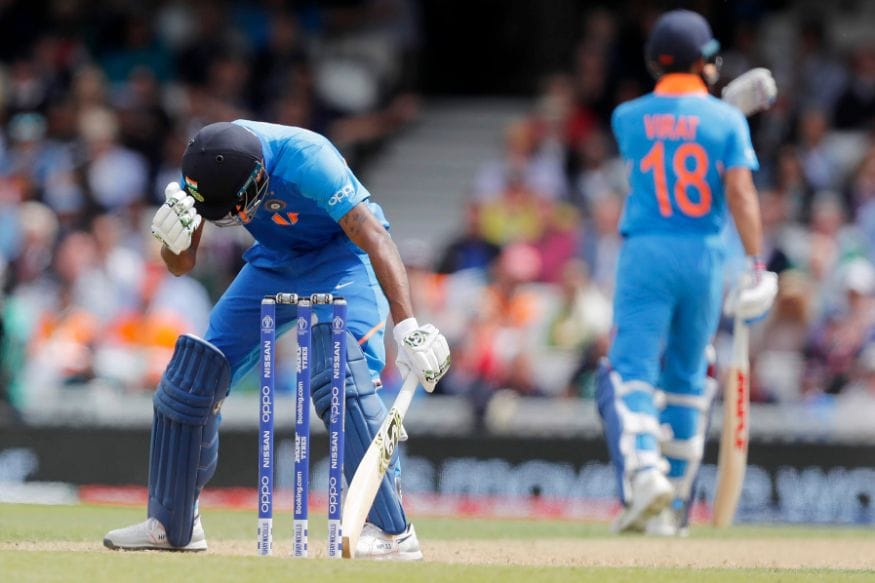 India have a template on how they approach One-Day International batting. They rarely go bang-bang from Ball 1 to Ball 300. They go in blank, watch how Rohit Sharma and Shikhar Dhawan start. That determined Virat Kohli's approach. They then see how they are placed after they've lost two of the top three. If one of them bats through, they accelerate. If not, they would settle for middling to competitive totals.
It's a template India are proud of. Their batting coach Sanjay Bangar said their ability to score runs without risks make them unique. You can hardly imagine India going nuts from the outset, but no team barring England has scored more 300s than India in the last four years.
The template was on full display on Sunday's World Cup game against Australia at the Oval. Dhawan and Rohit put on their 16th century opening stand. Only Sourav Ganguly and Sachin Tendulkar have more century stands (21) opening in ODIs. The approach stuck to template too. Rohit took his time - he scored his first boundary only off his 30th ball. Dhawan began cautiously but gathered pace and stayed around run a ball. India scored only 22 runs in the first seven overs.
Throughout the Rohit-Dhawan stand, there was a bit of cat-and-mouse game between the batsmen and Australia. Aaron Finch realised quickly that India were not going to risk taking on Mitchell Starc and Pat Cummins early. Neither was there swing or seam, so Starc bowled just three overs in his first spell for eight runs.
However, Dhawan targeted Nathan Coulter-Nile early on, plundering 31 runs in his first spell. Coultner-Nile seemed confused with his plans. One minute, he would bring third man in and bowl wide allowing Dhawan to carve through. He would then change to a barrage of short balls which Rohit would put away for six.
It forced Australia to get back Starc earlier than they'd have liked, but India once again showed him respect. By 21 overs, Australia had finished 10 off Starc and Cummins. India had plenty of overs from others to feast on.
Feast they did, but not immediately. They did that gradually, in their own style. 59 runs between overs 21 and 30. 66 runs between overs 31 and 40. And then, the blast: 116 in the last 10.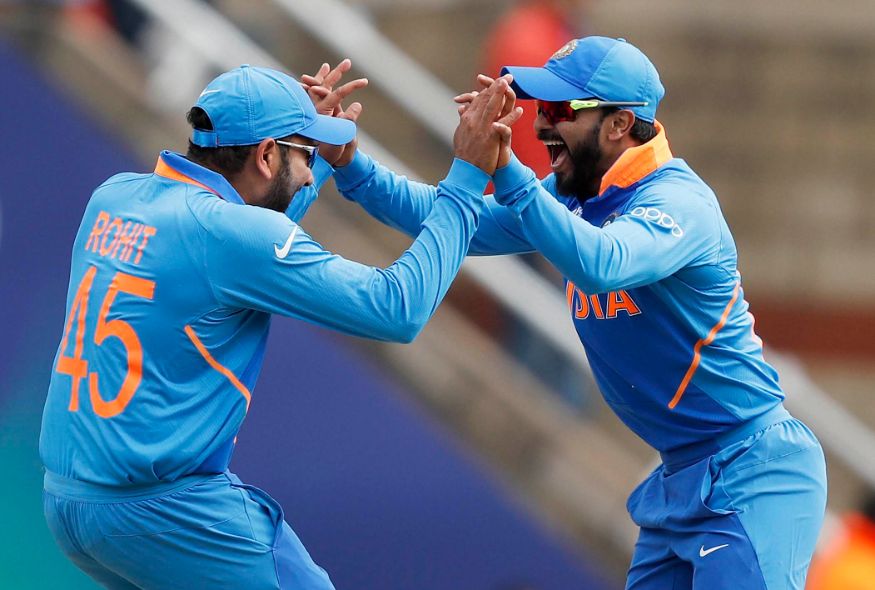 Rohit Sharma and Kedar Jadhav celebrate a dismissal during the Cricket World Cup match between India and Australia at the Oval in London. (Image: AP)
Sometimes, 300s aren't enough. Templates need to be broken. At this very ground two years back, India scored 321 for 6 against Sri Lanka in a Champions Trophy game, with Dhawan scoring a ton and Rohit and MS Dhoni making half-centuries. Sri Lanka chased it down with eight balls to spare.
After Sunday's win, Kohli referred to that game as one of the reasons for Pandya's promotion. It showed India learnt from the past and were ready to break patterns.
The last phase is when India went out of template. Till the 40th over, India had scored only one six. In the last 10, they added seven more. It began with Dhawan's exit; his stellar ton gave India the perfect platform but his dismissal in the 37th over was not the worst thing to happen for India. They took the game on, sending Hardik Pandya at No. 4. It was only the sixth time he was batting in that position.
Pandya was dropped first ball by Alex Carey, and soon made Australia pay with a 27-ball 48. It was an innings straight out of his IPL book. He passed on the baton to Dhoni, who too hit around for a 14-ball 27. The out-of-template finish was the difference between the two sides in the end.
Through all this, there was an almost surrepticious knock from Kohli. He walked in with a typically audacious body language - something that was missing in the game against South Africa. He middled everything almost immediately, and yet played second fiddle throughout. First to Dhawan, then to Pandya and Dhoni.
Kohli knew he had to stick around till the end despite the strong start. On numerous occasions while batting first in the last few years, India have collapsed after the last of the top three's dismissal despite good starts.
Some of them:
vs South Africa in Johannesburg: 206/2 in 35 overs to 289/7 in 50.
vs South Africa in Port Elizabeth: 236/3 in 43rd over to 274/7 in 50.
vs England in Leeds: 156/3 in 30 overs to 256/8 in 50.
vs Hong Kong in Dubai: 240/2 in 40.3 overs to 285/7 in 50.
Kohli ensured it wouldn't happen again, by sticking to India's template approach. That he stuck to the template till the end allowed others to go away from it.