A batting all-rounder in the IPL and domestic cricket, and a bowling all-rounder for India. That's Krunal Pandya's identical yet subtly differing roles in T20 cricket in the domestic and international arenas.

After impressing in domestic cricket and IPL for close to three years that increasingly led to voices for his inclusion in the senior side, Krunal made his international debut against Windies in the first T20I in November last year.

There was a possibility then that Krunal's inclusion in T20Is could have been a gateway to the One-Day International side, particularly with India testing options in the middle order. A left-arm spinner and a left-handed middle order batsman sound like a perfect combination, but the selectors have since made it obvious he's not in reckoning for an ODI spot in the short run. Krunal has not once made it to the ODI squad; even when his brother Hardik was ruled out of the Australia ODIs, it was Ravindra Jadeja who replaced him as the all-rounder in the squad.

Yet, India have given Krunal a consistent run in the T20I format. He has played all of India's 10 T20Is since his debut, including six in Australia and New Zealand. In the last two series, India have made some T20I selections with the ODI World Cup in mind. They've done that without disturbing Krunal's spot.

But are India utilising his all-round potential? Not completely, yet.

Krunal has batted only five times in ten matches for India. He hasn't batted in any position other than No. 7 or 8. India have found it hard to slot him up in an order that has Rohit Sharma, Shikhar Dhawan, Virat Kohli, Rishabh Pant, MS Dhoni and Dinesh Karthik. Krunal is yet to set the stage on fire, and has only 70 runs with a highest of 26*.

Krunal's role is slightly different at Mumbai Indians and Baroda, where he's more of a floater used according to situations. Of the 33 times he has batted in the IPL, 20 have been in Numbers 5 or 6. He has also been promoted to No. 3 once, and he repaid the faith by smashing 86 off 37 against Delhi Daredevils. Naturally, the combinations in IPL allow a player like Krunal to bat up the order, but through his time with the Mumbai franchise, he has shown he can adapt to multiple situations and conditions.




He has rescued them out of trouble when needed - like in the IPL 2017 final when he made 47 after Mumbai were 41 for 3 - and also added the quick finishing touches multiple times.

In fact, Krunal has an incredible ability to begin on fifth gear - something not many Indian middle-order batsmen can do. He has the fifth best strike-rate in the first 10 balls of an innings in IPL (among batsmen who have faced a minimum of 200 balls). He's the only Indian in the top five of the list. No Dhoni, no Pant, no Rohit.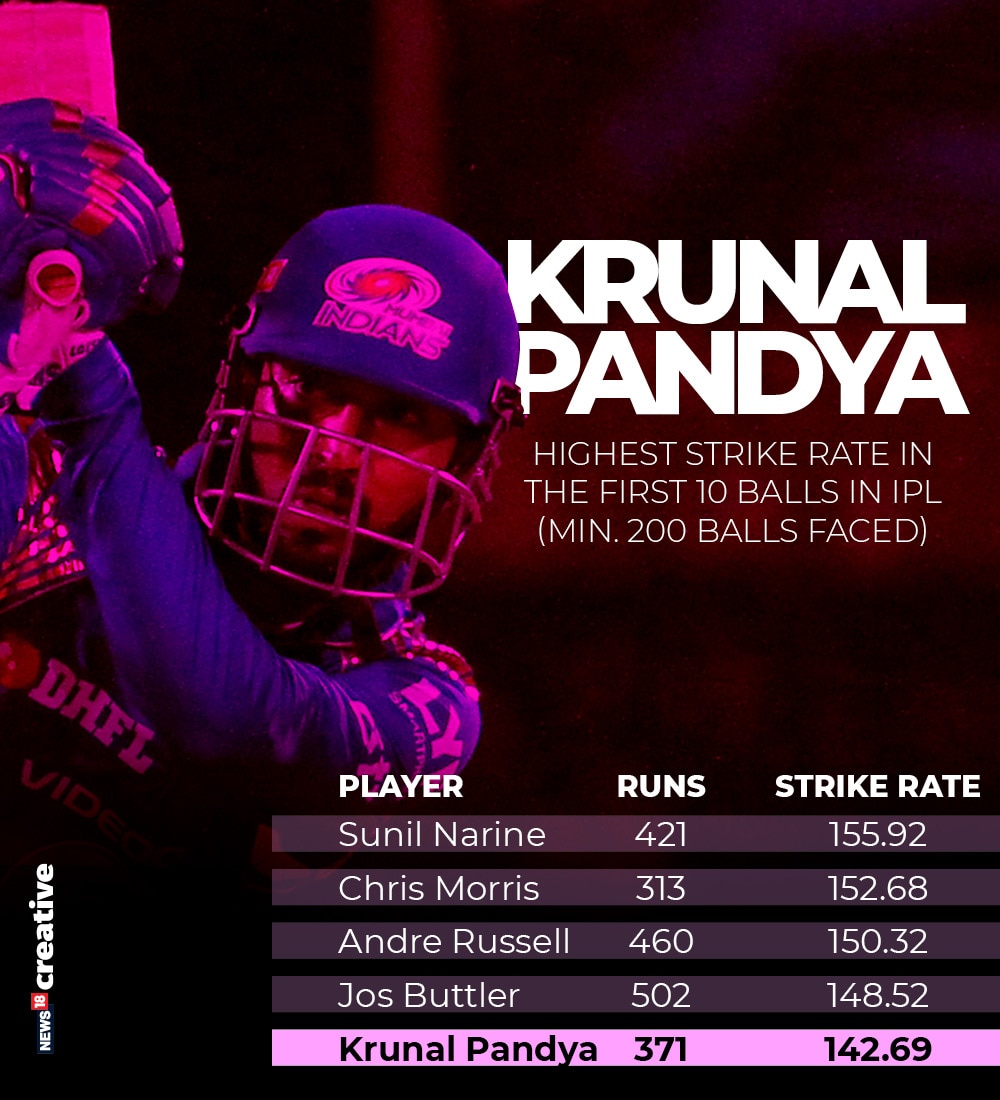 "I am not thinking about where I want to bat. I am just focused on what is in my hands whether I bat at No. 7, 8, 4 or 5 irrespective of the situation," Krunal said ahead of the second T20I against Australia in Bangalore. "I want to contribute to the team with both bat and ball. I'm not thinking about the batting order."

India could perhaps use Krunal the batsman better, but they're no doubt using Krunal's bowling to the maximum. Krunal has had his ups and downs with the ball, but he has completed his quota in each of his 10 matches.

In other words, Krunal is a frontline spinner for India although he's often only the sixth bowling option for Mumbai.

Krunal has bowled in 37 innings in the IPL, out of which he has completed his quota in only 18 innings. His average economy in those 18 games is just 6.54. His overall T20 economy is 7.20. Not once has he conceded more than 36 runs when he has bowled his quota of four overs in IPL.

Krunal has conceded 40 or more in three of his 10 T20Is, and between 36 and 40 in two others. That's five costly spells in ten matches, but Krunal has still managed to get his captains' faith because he has bounced back after every poor outing. Spells of 0 for 40 and 0 for 55 against Windies in Chennai and Australia in Brisbane respectively were followed by 1 for 26 in Melbourne and a Player of the Match 4 for 36 in Sydney. The 1 for 37 in Wellington was followed by another Player of the Match 3 for 28 in Auckland. The 0 for 54 in the final T20I of the New Zealand tour, in Hamilton, was followed by 1 for 17 in Visakhapatnam against Australia.

A bit more consistency there could have perhaps helped his World Cup chances, but Krunal himself says he isn't thinking too much about it. His time could come after the World Cup, by which time his T20 skills could be utilised to the hilt too.

*Stats till first T20 vs Australia

First Published: February 27, 2019, 6:41 AM IST