Sydney: When the going is good, every breath you take is a fruitful one and every move you make pays dividends. Even as Australia have floundered to find personnel to fill the gaps in their batting line-up, their bowlers have sagged under the heavy burden of the overs they have had to send down, India have managed to bring in new players as and when required and watch them succeed.
When a situation arose where both opening batsmen had to be left out, India called up Mayank Agarwal, handing him a Test debut on the big occasion that is the Boxing Day Test, and he fired instantly. When India chose to play only four specialist bowlers in the final Test, sitting on a 2-1 lead, and R Ashwin was ruled out when he failed to pass a fitness test, Kuldeep Yadav was given a go.
Australia produce more left-arm wrist spinners, on average, than any other country, so you would think their batsmen would find this breed of bowler less novel than players from some other countries. The very fact that Kuldeep is the first of his kind to play international cricket for India is an indication of how rare a breed the left-arm wrist spinner is back home.
In fact, when Kuldeep switched from attempting to bowl medium-pace (his first cricketing idol was Wasim Akram) to spin, on the advice of his coach, the 13-year-old instinctively sent down wrist spin. Slightly flummoxed, the coach had to resort to watching videos of Shane Warne online and then use that transposed to left-handedness when teaching his ward.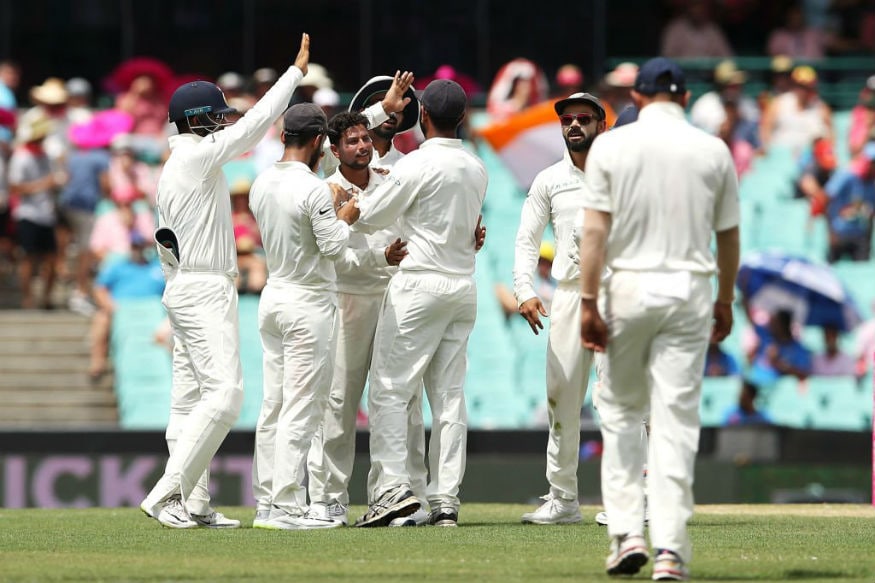 Kuldeep Yadav celebrates a wicket with teammates. (Image: Twitter/BCCI)
On the third day of the Sydney Test, with India having piled on the runs and a storm threatening to lash the SCG at any moment, Kuldeep set to work. The web he spun — and Sydneysiders will be only too familiar with how dangerous these can be, given the abundance of spiders such as the Funnel Web in the region — caught out more than one Australian batsman.
While Kuldeep did his job efficiently, he will be the first to admit that he was helped along. Usman Khawaja, not trusting his defence enough against Kuldeep, jumped down the track to try and slog over midwicket, but the ball dipped on him, he failed to get to the pitch and found the fielder inside the circle.
With the tea break around the corner, the wind picking up and skies getting overcast, Travis Head decided to take on Kuldeep. Advancing down the pitch, Head took the ball on the full, but his drive went off the toe of his bat and straight into the bowler's hands.
Kuldeep had his third of the day, perhaps the wicket that would have given him most satisfaction, when he tormented Tim Paine no end before castling him. Paine, who was clearly not picking the left-armer from the hand, lived dangerously, trying to read the turn off the pitch. When he attempted a big drive to a ball that was full, and played down the wrong line, it spun through the gate to peg back his leg stump.
When rain brought an early stop to the day's play, Kuldeep had figures of 24-6-71-3. The runs he conceded were largely irrelevant, with Australia reaching only 236 for 6, still trailing India by 386 runs.
What would have been a cause for celebration within the Indian camp was the manner in which captain and Kuldeep combined. Despite having not used the left-arm wrist spinner too much in long-form cricket, Kohli set good close-in fields, constantly changing the angles where batsmen may look to work the singles to rotate the strike and keep the scoreboard ticking over. Kuldeep responded well to these subtle shifts varying his line of attack and getting the rewards.
This Indian think-tank have long believed that Kuldeep is an excellent attacking option in Tests and the only reason he has not played more is that, like others who bowl the same style, tend to leak runs when they don't get it right. This makes him a bit of a risk to play as a lone spinner, but with Ravindra Jadeja around to dry up one end, Kuldeep could toss the ball up to his heart's content and attack as much as he wanted. Unleashed on Australia, even on a pitch that was not wearing as quickly as early indications showed, Kuldeep justified the faith reposed in him.
More performances of this kind, especially overseas, whenever he gets the chance, will go a long way in giving captain and coach the confidence to play him even when other spin support is lacking, when the time comes.