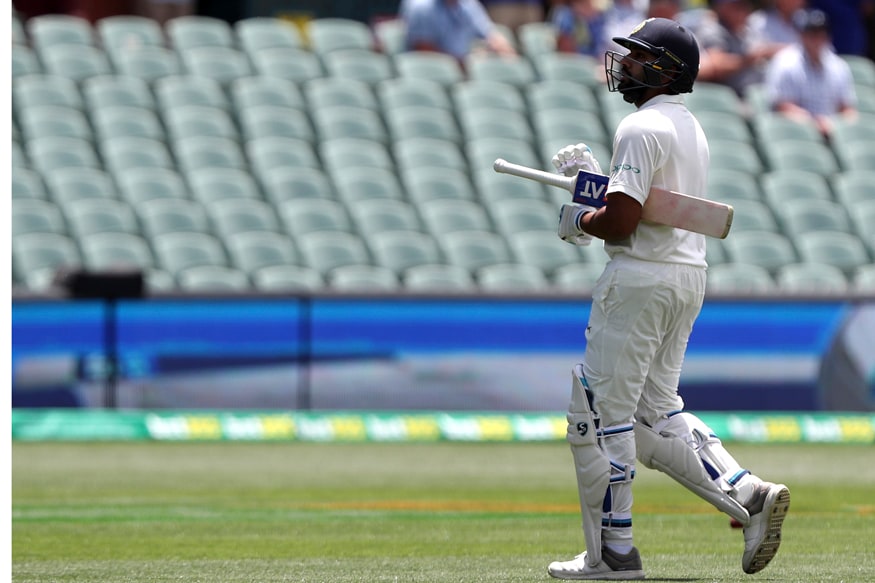 Rohit Sharma played the shot of the match when he lofted Pat Cummins effortlessly over deep extra cover in the first innings for six.
He also played the worst shot of the match, though there were several contenders for that, when he slogged Nathan Lyon wildly to be caught at deep square-leg in the same innings.
That, in short, sums up Rohit's Test. And maybe even his Test career.
Look great in patches, but also ugly just around the time when he seems set for a big one. It's why he hasn't been able to seal his spot in the format, despite being 11 years into international cricket and averaging over 54 in first-class cricket.
The Adelaide Test was a great chance to change that perception. He came into the match with plenty of question marks around him. Why was he selected in the squad when he hadn't played first-class cricket for a year? Why was he picked in the XI ahead of Hanuma Vihari, who hadn't done much wrong in the only Test he played? And could offer a fifth bowling option to the skipper.
For a brief while, it looked like the questions would be answered in typically elegant style by Rohit. He walked in with the side tottering at 41 for 4 on the first day. If ever there was an acid test, it was this.
Rohit seemed to grab the opportunity and got rolling quickly. He was composed, and yet not over-defensive. When Cummins banged it short, he even hooked for a six. Along with a steady Cheteshwar Pujara, he added 45 for the fifth wicket to put India on track somewhat, before playing a reckless hoick to be dismissed. It was an ill-advised shot especially considering he had been fortunate with a similar shot the previous ball, which had sailed for a six off the top edge.
The second innings presented Rohit with an opportunity to play a bit more of his natural game. He walked in with India already having a lead of 249, but lasted only six balls. Unsure whether to stay in the crease or come down the track to Lyon, he ended up taking a couple of steps and lobbed a catch to silly point.
Yet, is it right to be harshly critical of Rohit? An overall average under 39 and only three hundreds in 26 Tests is below par for a middle-order batsman of his talent – to use a clichéd term. But a closer look suggests Rohit has been fairly unlucky with uncontrollables over the last couple of years.
Rohit seemed to have finally cracked the Test code during the home seasons in 2016 and 2017. In three Tests against New Zealand in 2016, he had scores of 35, 68*, 2, 82 and 51*. Just when he seemed to have found consistency – the missing link in his Test batting – he was sidelined with injury. He returned to the format after more than a year, and seemed to extend the consistency with scores of 102*, 65 and 50* against Sri Lanka.
Rohit's Test career had finally seemed on the right track, but just two Tests later, it was back to square one.
Rohit was picked over Ajinkya Rahane for the first two Tests in South Africa, which turned public scrutiny against him higher. He had scores of 11, 10, 10 and 47 in the four innings; not great, but it wasn't like the others (barring one Mr. Virat Kohli) was scoring a mountain of runs. The 47, in Centurion, was the highest score of the Indian innings.
Yet, Rohit was dropped from the squad after the series, cutting short his comeback ambitions. He stayed out for the England tour; his game for overseas conditions was considered dodgy.
Not much time later, his backfoot play – as chief selector MSK Prasad explained – earned Rohit a sudden recall for the Australia tour, although he had not played a single first-class game since the South Africa tour.
One Test into the latest comeback, Rohit has done a bit of everything he has done in his Test career so far: shown promise, and also thrown it away. But now that India have backed him, it's perhaps only fair to give him an extended run, unlike the last occasion in South Africa.