India have only one One-Day International left before the World Cup, but their experiments with the batting order haven't stopped yet.
The latest in the find-the-right-balance for the World Cup came on Sunday in Mohali against Australia when India tried KL Rahul at No. 3. It might have just been a case of giving Rahul some game-time. Or, it might not. For Ravi Shastri had recently suggested India would be open to the idea of batting Kohli at No. 4 in the World Cup.
Shastri's argument was that India would be much stronger if the top three - Rohit Sharma, Shikhar Dhawan and Kohli - were separated, particularly in conditions that could offer help to fast bowlers. In such situations, the likes of KL Rahul or Ambati Rayudu could be promoted to No. 3, so that India don't lose their best batsmen early - as was the case in a couple of games in Australia and New Zealand recently.
Changing the batting position of the best batsman in the side just ahead of a World Cup isn't perhaps the best of ideas. Remember Greg Chappell pushing Sachin Tendulkar to No. 4 in the World Cup 2007? The difference between then and now is that Kohli isn't averse to the idea.
"If that's the requirement of the team at a particular stage in the game or before a particular game, I'm more than happy to do it. I've batted a lot of times at No. 4, so I don't necessarily need to try it out because I've done that a lot of times in the past," he said ahead of the first ODI of the series.
"My games don't change from No. 3 to No. 4 because the template is quite similar. In any given situation, I back myself to play the game that I know. If the team wants it at any stage, I'm more than happy to do it."
Kohli is no stranger to the position. In 38 innings at No. 4, he has 1751 runs at an average of 56.48 with seven 100s and eight 50s. Kohli at four could solve many problems for India on paper. However, despite these stunning numbers, there's no doubt that his best position is No. 3. His numbers in that position need no repeating.
More importantly, the last time Kohli batted at No. 4 before this game was in October 2015.
India could be feeling the necessity to continue their pursuit for the ideal No. 4 because of Ambati Rayudu's inconsistency. In 14 innings at the position, Rayudu did score a 73 and 100 v Windies, and a 90 against New Zealand, but there have also been seven dismissals below 25. Scores of 13, 18 and 2 in the three games of this series has forced India to try out other options.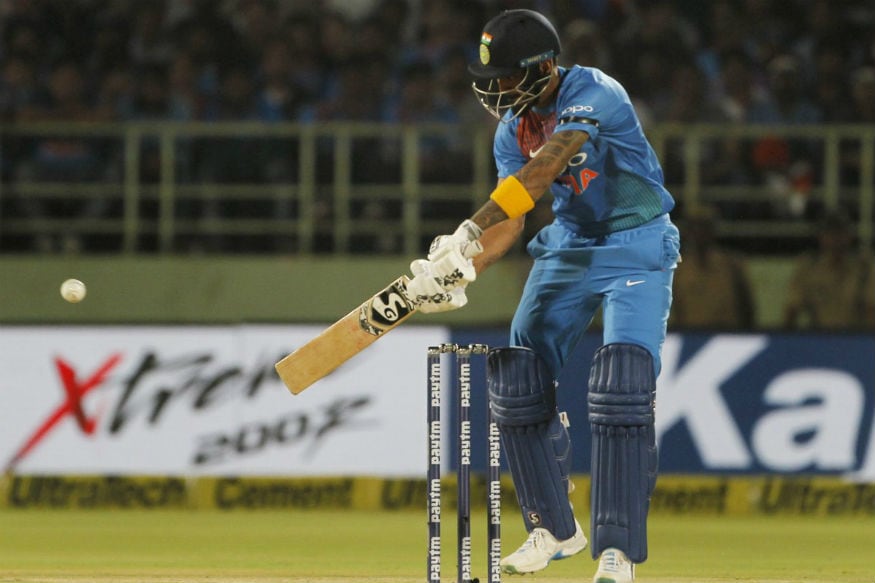 (Image: Twitter/BCCI)
In the process, India also drifted away from their policy of using Rahul strictly as a back-up opener. India did try Rahul at No. 4 in England last year but have since refrained from using the option, instead going with Rayudu and Dinesh Karthik. The only time Rahul featured in the 11 after the England tour was as an opener in an Asia Cup game against Afghanistan when Dhawan and Rohit were rested.
India's reluctance to use Rahul outside the opening slots was understandable, given he has hardly tasted success as a non-opener. In six innings from No. 3 to No. 5, Rahul has just 63 runs with Sunday's 26 being the highest. Rayudu's inconsistency and the necessity to give Rahul some game time means India are once again open to the option of playing Rahul in the middle order.
India could have played Rahul as an opener in Mohali but Dhawan and Rohit needed some runs under the belt after a few failures. Both got just that - Dhawan scoring 143 and Rohit 95 in an opening stand of 193. The openers' form - especially Dhawan's- was a big box ticked before the World Cup, but it also meant India couldn't take away much from the Rahul at 3 and Kohli at 4 experiments.
Rahul walked in with only 19 overs left in the innings and made 26 off 31 with one four. Kohli had even fewer, coming in in the 38th over and departing two overs later. Pant, who has got only two games to show his skills before the selectors finalise the second keeper's spot, did what he's known for - scoring a quick 36 with four fours and a six. Vijay Shankar then did his chances no harm with a 15-ball 26 from No. 7.
India have one more game before the World Cup to try out different combinations. Whether it's a good idea to experiment with Rahul at 3 and Kohli at 4 with such limited time remains to be seen.