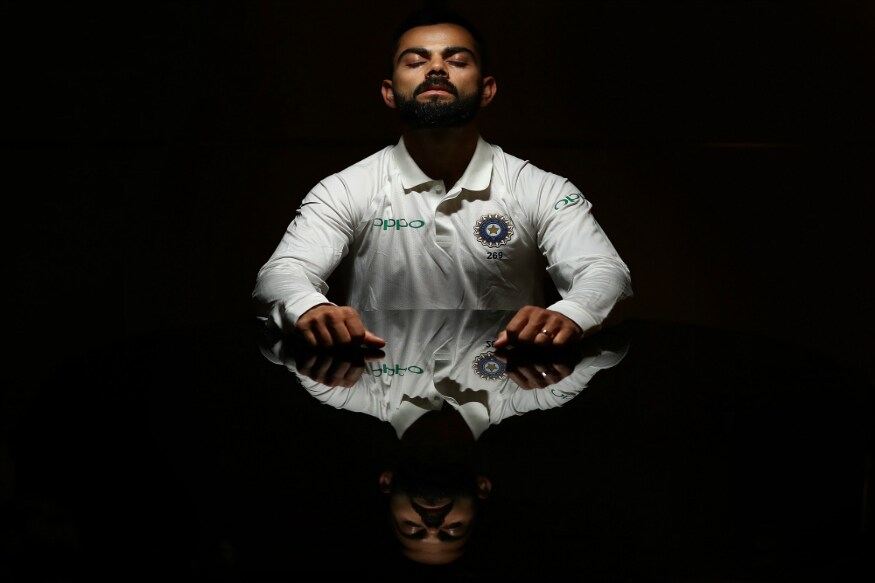 If you've been living under a rock and just about tuned in to the cricket in Australia over the last week or so, you can be forgiven for thinking Australia are going to face 11 Virat Kohlis over four Tests.
The live telecast of the match will start at 5:30 AM on December 6 (Thursday). The match can be seen live on the Sony Newtork and live streaming will be available on SonyLiv. You can also follow our live blog for ball-by-ball updates and analysis on cricketnext.com.
Kohli is just everywhere. Fox Cricket, the broadcasters of the Border-Gavaskar Test series in Australia, ran a promo exclusively focusing on 'King' Kohli in Australia.
'The king is coming,' it said. 'The first Indian captain to win a Test series in Australia?,' it wondered.
Kohli's face is splashed across all newspapers. Even a video of Kohli batting in the nets has gone viral on social media.
Former Australian pacers like Jason Gillespie and Ryan Harris have words of advice on how to get Kohli out. Ricky Ponting - a big bully with the bat in his playing days - says Kohli shouldn't be allowed to bully Australia in their own backyard. Such is the aura around the India captain as the sides get set to clash on Thursday (December 6) in Adelaide.
In normal circumstances, the very same Australian media would be out targeting Kohli & co, trying to play mind games against the visitors. If not for the events in South Africa earlier this year, the build-up could have been a lot different. It would have been about Kohli v Steve Smith, like it was in 2014 and even in 2017 in India. Kohli had a tremendous tour last time around scoring four centuries, but it was Smith's runs that clinched the series for Australia. Smith even led Australia to a win in Pune with a century.
Without Smith, and David Warner, Australian cricket finds itself in such a situation that there are doubts over who the favourites are ahead of the series. Hardly has a visiting team started favourites ahead of a series in Australia, across any format. Even if some don't consider India as the favourites, there's no doubt that they start on par with the hosts. This, despite India losing in England and South Africa over the last year, in itself is extraordinary.
Australia haven't won a series in any format since the sandpaper-gate, barring the one-off T20I against UAE. Worse, they aren't sure about their brand of cricket. Michael Clarke reckons they won't win s**t without their aggression. Justin Langer and Tim Paine have stood firm by their 'elite' values.
All this makes it India's best chance to win a Test series in Australia. But it will be anything but easy for Australia have their best bowlers back. Mitchell Starc, Josh Hazlewood, Pat Cummins form an attack that could well compensate for the lack of big names in the batting. Add Nathan Lyon to it, and you've got one of the best all-round attacks in today's cricket.
Much of the talk is around India's bowling too. They have picked Jasprit Bumrah, Ishant Sharma & Mohammed Shami to do the seam duties and Ashwin as the lone spinner. Ishant is on his fourth tour and has the height that can generate bounce. Shami has pace and accuracy and Bumrah is the x-factor. The choice in the spin department was slightly easier, given Australia have six left-handed batsmen in the line-up, Ashwin got the nod.
Given both sides have strong bowling attacks, the series could well be decided by how the batsmen perform. India's batting let them down against England, where they lost 1-4. Barring Kohli, and to some extent Cheteshwar Pujara, none of the other batsmen can claim to be in form. M Vijay will be under pressure making a comeback. KL Rahul will be under pressure of poor form.
Ajinkya Rahane will have to step up and be the glue in the middle order, like he did wonderfully in the last tour down under. The series will also show if Rishabh Pant can step up to the big level, and if Rohit Sharma can revive his Test career. Firstly, though, it remains to be seen if he gets into the side ahead of Hanuma Vihari.
Meanwhile, Australia have struggled to fill in for Smith and Warner. They've got new faces at the top with uncapped Marcus Harris, and the recently Test capped Aaron Finch. Peter Handscomb is making a comeback. Travis Head is yet to play a Test at home.
Much of the batting responsibility, thus, lies on Usman Khawaja and Shaun Marsh, along with captain Paine and all-rounder Mitchell Marsh. If they can do just about enough to give their bowlers a chance, they might change the pre-series perceptions.
The last Test series between the two sides – in India in 2017 - was acrimonious and yet competitive with India winning 2-1. How this one pans out, on both counts, will be interesting to watch.