India vs Australia | Magnificent Pujara Gives India Ascendancy on Opening Day at Sydney
Pujara scored his third century of the series to lead India's dominant batting display on the first day of the fourth and final Test in Sydney against Australia.
Updated: January 3, 2019, 1:53 PM IST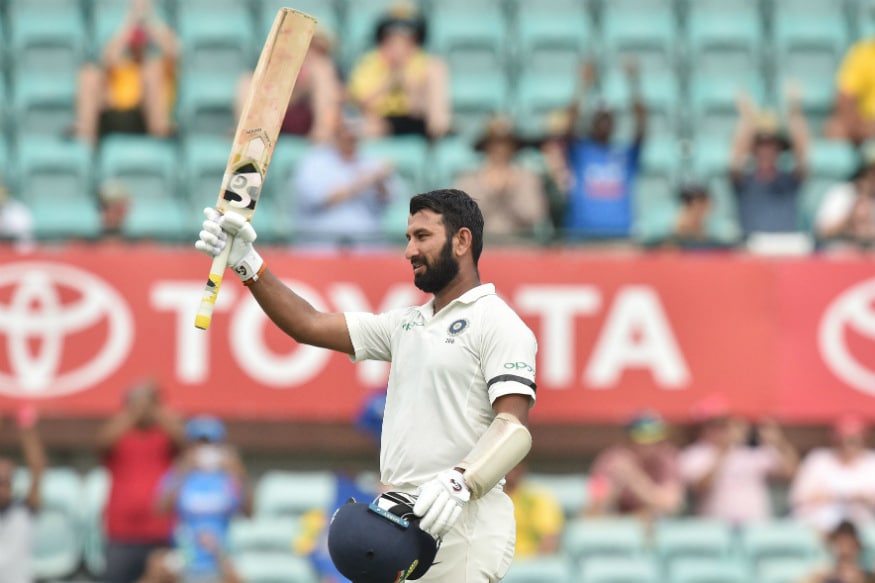 The rock has now turned run machine. Cheteshwar Pujara scored his third century of the series to lead India's dominant batting display on the first day of the fourth and final Test in Sydney against Australia.
Pujara remained unbeaten on 130 and had Hanuma Vihari for company on 39 as India ended the first day on 303 for 4. The platform was set by Mayank Agarwal, who scored 77 off 112 balls. Josh Hazlewood bagged two wickets while the other bowlers struggled on an unhelpful pitch. There wasn't much turn or seam movement, although there was good bounce and carry.
India won a crucial toss and opted to bat first. It was a massive advantage, but India started off in a now familiar fashion, with KL Rahul nicking Josh Hazlewood to first slip in the second over. Rahul returned to the XI after being dropped for the previous Test, but there was no change in form.
At 10 for 1, it was familiar territory for Pujara. He settled in, while Agarwal piled on the runs at the other end. Agarwal was confident, driving anything full and in his zone through the off-side. India took the first session, going to lunch at 69 for 1.
The scoring rate improved in the second session, with Agarwal opening up a bit further. Australia's pacers switched to a short-ball strategy against Agarwal, but he still punched and occasionally pulled to collect runs. He took the attack to Lyon, smashing him for a straight six down the ground as the partnership crossed 100 off 179 balls.
Agarwal cruised into the 70s, and a maiden Test century was there for the taking. However, he threw it away, trying to attack Lyon again. One ball after he had stepped out to hit Lyon for a straight six, Agarwal tried an encore, only to mishit to long-on.
In walked Kohli, with a solid platform at 126 for 2. His first scoring shot of the year was a gorgeous cover drive off Hazlewood, and he settled in nicely along with Pujara. India went to tea at 177 for 2, the session run-rate improving to 3.86 after the first session's 2.88.
India were dented immediately after the break when Kohli was strangled down the leg-side by Hazlewood, falling in a rather soft manner. Just like the captain, his deputy Ajinkya Rahane too got a start but perished to a brute of a bouncer from Mitchell Starc which he edged behind.
Pujara, though, kept going. He showed that he can be versatile too; his knock wasn't all about block-block-block. Yes, he was steady and stubborn in defence but was also quick to punish the loose ones. He got plenty of those from part-time legspinner Marnus Labuschagne, who bowled multiple long-hops which were smashed to the boundary. One such four helped him past his half-century.
Pujara was also brilliant against Lyon, often using his feet to on-drive for boundaries. He got to his century flicking Starc to the deep square-leg rope.
Australia would have hoped for a few quick strikes with the second new ball, but Vihari ensured that wouldn't happen. He was freeflowing in stroke-play, and used the pace to good effect cutting and punching on the up. He did get a few short balls from Pat Cummins, but survived those to ensure India finished on top.
---
---
Team Rankings
Rank
Team
Points
Rating
1
New Zealand
3198
118
2
India
3765
118
3
Australia
3498
113
4
England
4326
106
5
South Africa
2499
96
FULL Ranking
Rank
Team
Points
Rating
1
England
5405
123
2
India
6102
117
3
New Zealand
3716
116
4
Australia
4344
111
5
South Africa
3345
108
FULL Ranking
Rank
Team
Points
Rating
1
England
6877
275
2
Australia
6800
272
3
India
10186
268
4
Pakistan
7516
259
5
South Africa
5047
252
FULL Ranking