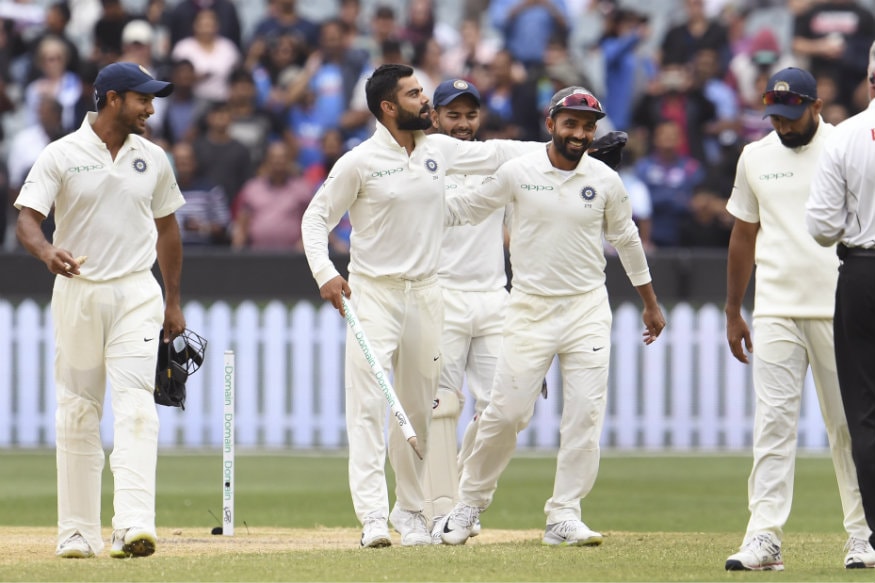 India showed great resolve and grit to bounce back from the defeat in Perth and score a convincing 137-run victory in the third Test at Melbourne Cricket Ground. With the win, India have not only ensured that they will go to Sydney knowing they cannot lose the series but also having retained the Border-Gavaskar trophy irrespective of the result at the SCG.
Not just the win, Virat Kohli will be pleased will be pleased with the team's collective effort in achieving the result. Quite often, especially in overseas wins, individual brilliance has played a major role but this victory was a combined effort where almost every player made a key contribution.
Here is Cricketnext's report card of the Melbourne Test.
Hanuma Vihari - Rating 5, Verdict: Average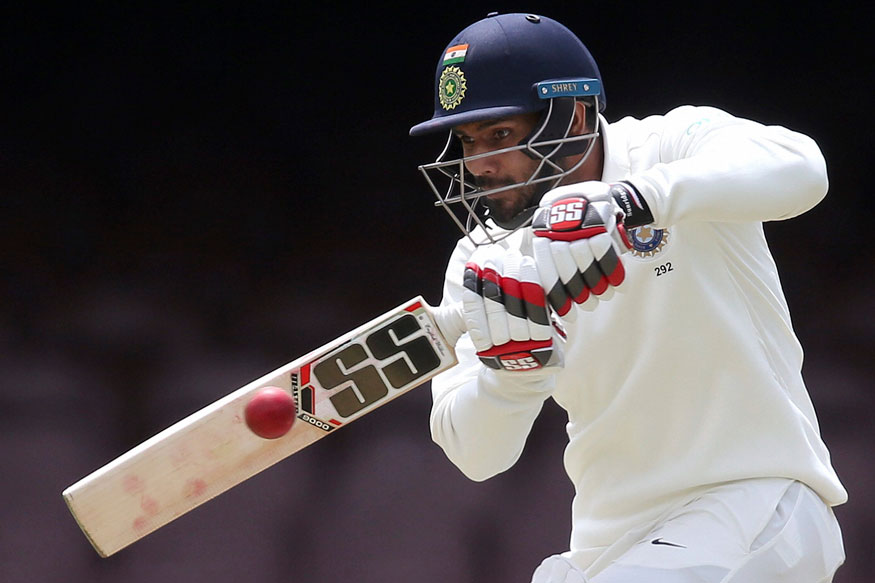 Scores of 8 and 13 are certainly not ideal for an opener in Test cricket. It's perhaps just about enough to be categorised under 'poor', but circumstances make Vihari's effort slightly better, and thus earn him a promotion to 'average'.
Firstly, Vihari is a makeshift opener. He had to don the role only because M Vijay and KL Rahul were so poor in the first two Tests. Secondly, Vihari played as many as 66 balls for his eight runs in the first innings. It meant India lost their first wicket only in the 19th over, which set the perfect platform for a 400+ total. Yes, the pitch was much different to the ones in Adelaide and Perth, but it was still a welcome change for the Indian batsmen to get a solid platform at the top.
Mayank Agarwal - Rating 8, Verdict: Very good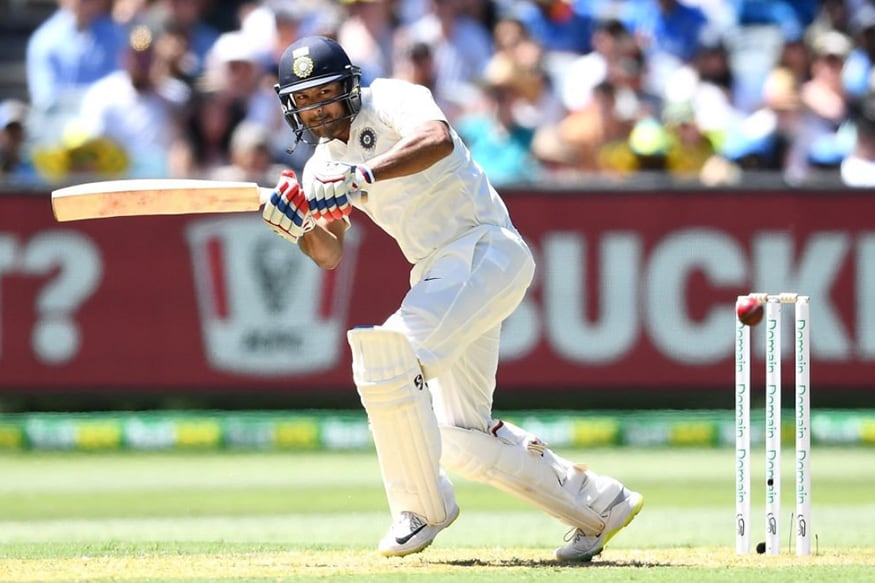 Image Credit: Twitter/BCCI
A debut in Melbourne is perhaps one of the toughest of jobs for an Indian batsman, especially an opener. That too, coming at such a crucial juncture in series with the teams level at 1-1 after two games. Agarwal, though, aced the challenge. He had been knocking on the selection doors for quite a while, and was flown in just before the Test after the poor performances of Rahul and Vijay. He's not only barged in, but also ensured he's here to stay, at least for a while.
Agarwal scored 76 off 161 in the first innings, and looked assured against pace and spin. He was positive, and also solid in defence. He would have got a lot more had he not been strangled down leg side by Pat Cummins. Agarwal played a key knock in the second innings as well, scoring 42 in India's 106 for 8 declared. India were 44 for 5 at one stage with Vihari, Kohli, Pujara, Rahane and Rohit falling cheaply, but Agarwal battled on, before being undone by Cummins again.
Cheteshwar Pujara - Rating 8, Verdict - Very good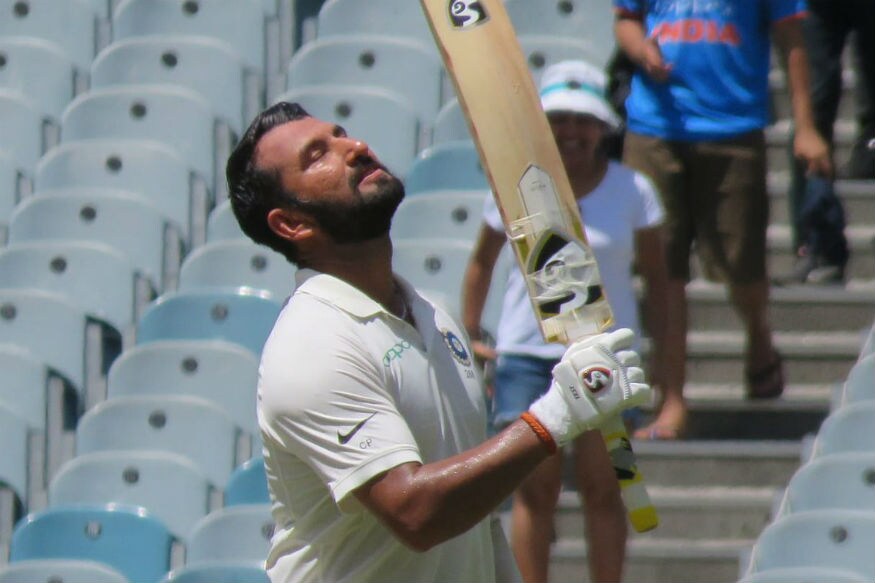 Pujara after his century (@BCCI)
Ricky Ponting wondered if Pujara's slow batting would cost India the Test match. Quite clearly, that wasn't the case. Pujara took 319 balls for his 106, but it was the time in the middle as much as the volume of runs that brought about Australia's downfall. Pujara was steady in defence and unshakeable in patience. He played only the balls that had to be played. He defended, defended and defended everything that was straight. He left alone almost everything that was out of his zone. His century, along with Virat Kohli's 82, helped India past 400 in the first innings.
The aspects of batting that Pujara exhibited through the innings was precisely what Australia lacked. They were impatient, they played rash strokes, they lost wickets trying to force the pace on a pitch that just didn't suit strokeplay. Australia paid the price, while Pujara ran away with the accolades once again.
Virat Kohli - Rating 7, Verdict - Good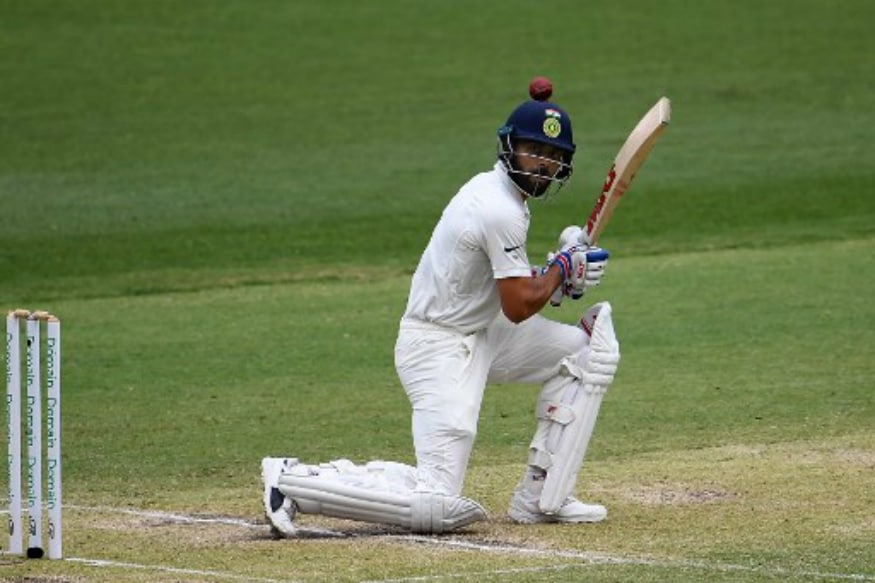 (AFP)
A score of 82 from 204 balls, battling a back niggle. Kohli was just doing Kohli things in the first innings. Had he not upper-cut Mitchell Starc to third man in a rather soft manner, he would have had yet another century in Australia.
Kohli showed again that he can bat according to situations and conditions. The pitch demanded that Kohli show patience, and he did just that. Along with Pujara, he ground the Australian attack, ensuring they stay on the field for close to two days. His effort with the bat played a big part in ensuring he will be holding up the Border-Gavaskar Trophy soon.
Ajinkya Rahane - Rating 5, Verdict - Average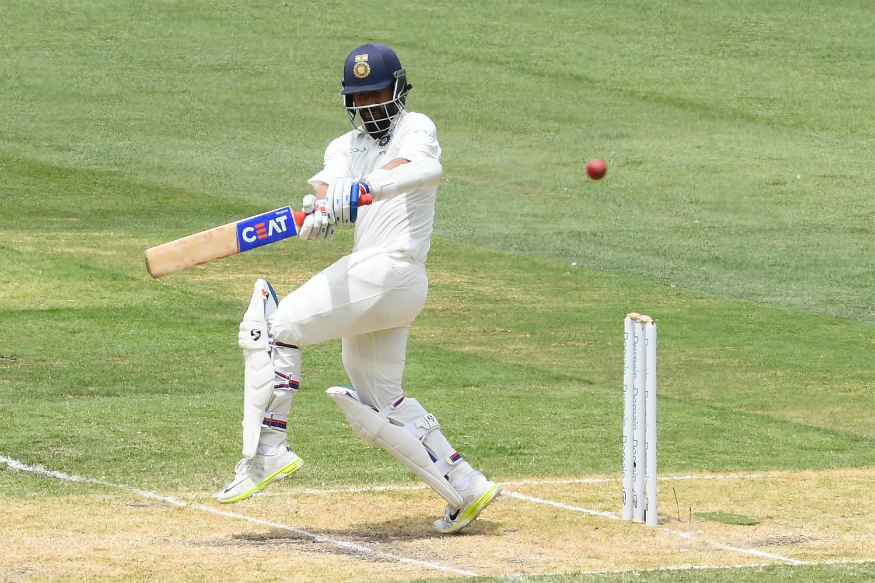 Before the Test started, Rahane said he isn't far from scoring a century or maybe even a double. Looks like he'll have to wait a bit longer. Scores of 34 and 1 aren't exactly what he'd have liked. To be fair, he did get an unplayable ball from Nathan Lyon that stayed low to get him lbw in the first innings. He was caught by the keeper down leg side off Cummins in the second. He'll walk away from the Test feeling rather unlucky, but he needs to get a big one soon to regain his confidence.
India will need him badly if and when law of averages catches up with Pujara and Kohli.
Rohit Sharma - Rating 7, Verdict - Good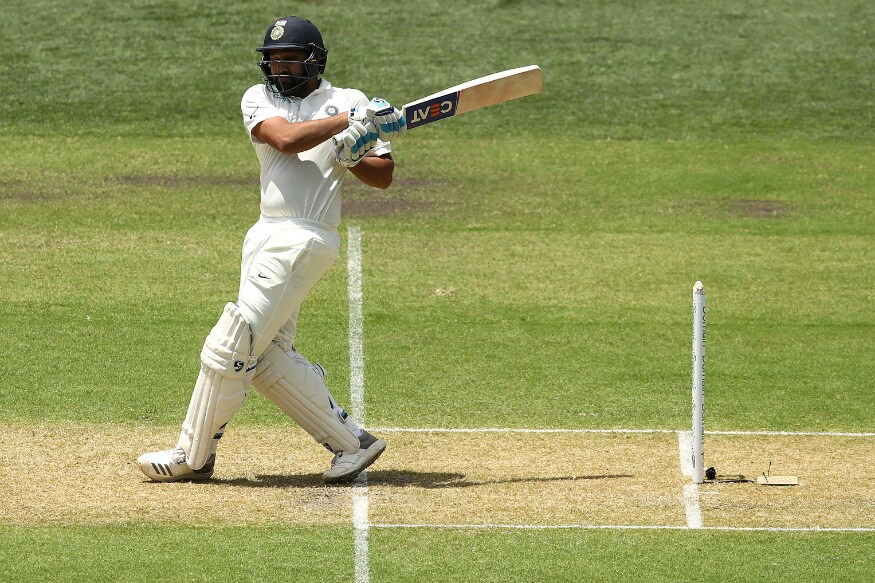 Rohit scored an unbeaten 63 in the first innings, but was fortunate to be dropped by Peter Siddle off Lyon in the 20s. Apart from that blip, Rohit looked comfortable on a good batting pitch and might have made some more quick runs had he got some more time before the declaration. He managed only 5 in the second innings, but has probably done enough to hold on to his place for now. Let's not say anything for sure though, given Kohli's ability to surprise us with selections.
PS: Bonus point for suggesting the slower ball to Jasprit Bumrah to dismiss Shaun Marsh!
Rishabh Pant - Rating 6, Verdict - Average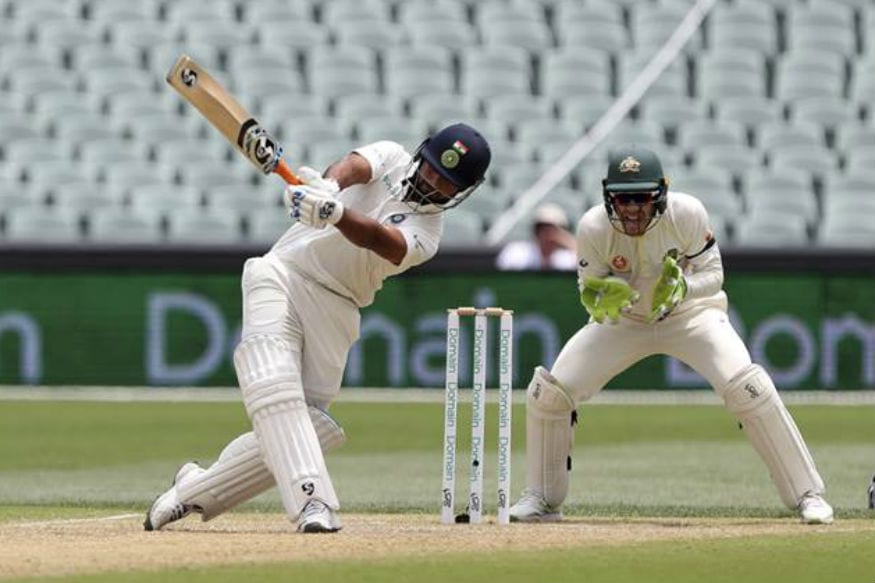 (AP Photo)
Pant is fast becoming the batsman who throws his bat around, gets attractive 30s, and perishes. He'll perhaps change or improve on that with time, but for now, it's doing the job for the Indian side. Pant got 39 in the first innings, after being dropped early by Cummins off Lyon in the deep. His 33 off 43 helped India past 100 in the second innings when they were in the middle of a collapse.
Pant has also been safe behind the stumps; his dismissals tally of 20 in the series is the most by an Indian wicketkeeper within three Tests of a series. Also, bonus points for the banter with Tim Paine!
Ravindra Jadeja - Rating 7, Verdict - Good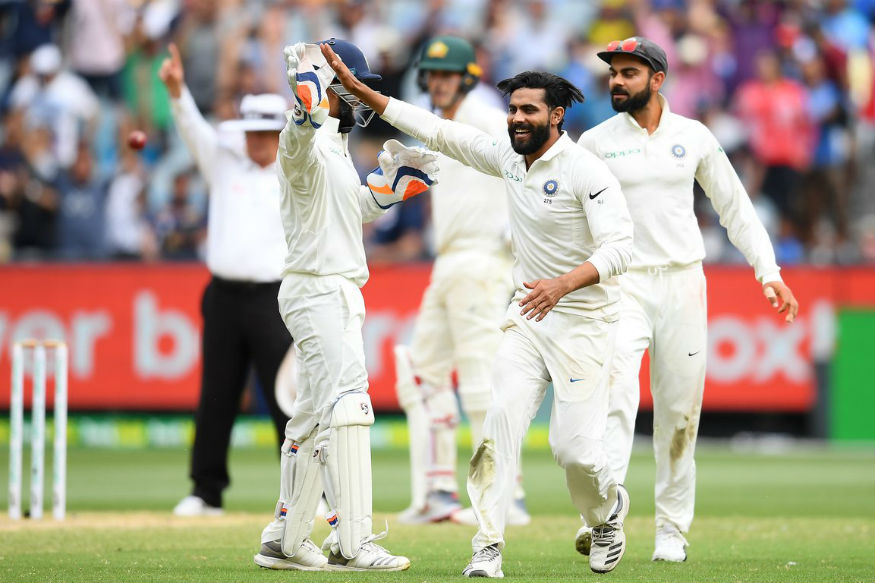 (Twitter/ ICC)
First Test in Australia. Coming in for an injured R Ashwin. Returning 2 for 45 at an economy of 1.8 in the first innings. Picking up three wickets in the second to bowl India to victory. Jadeja did everything that was asked of him in the game. His performance has perhaps given India a good headache to have - who will they pick if Ashwin is fit for Sydney? Or will they play both? That's a topic for another day. For now, India will be glad with Jadeja's performance. But India will need a bit more from him with the bat though; scores of 4 and 5 isn't ideal.
Mohammed Shami - Rating 6, Verdict - Average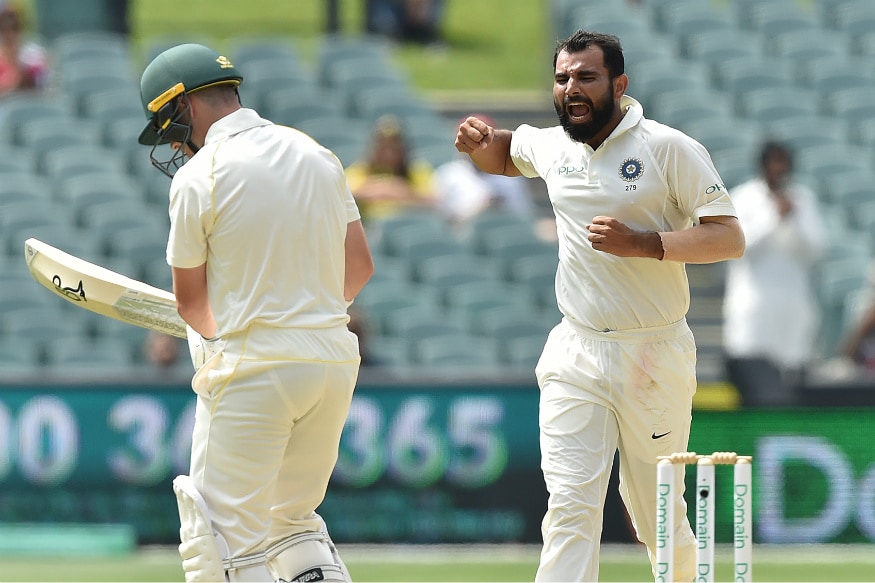 Shami has generally bowled with a lot of heart this series but hasn't always got the wickets to show for his efforts. With Bumrah and Ishant maintaining their own, the Bengal fast bowler once again bowled well but was a lot more inconsistent, especially in the second innings where he went at 3.38 runs an over although he did pick up two wickets. Shami's USP is to bowl up to the batsmen with an upright seam and extract any movement from the surface. However, at MCG he was a bit short and ended up being negated rather easily.
Ishant Sharma - Rating 7, Verdict - Good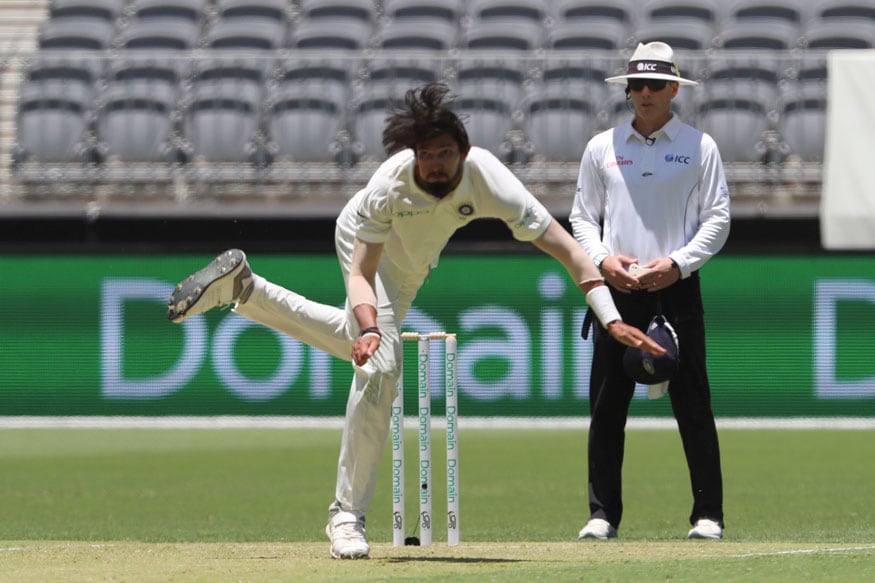 (Image: AP)
Ishant has been a revelation ever since he has gotten his seam position upright and decided to bowl the fuller length much more consistently. He has looked a different bowler altogether, getting the ball to move around and cause batsmen a lot more problems than what he did earlier. Often partnering with Bumrah he has made sure to things tight from one end and even if not picking wickets has not given too much away.
Jasprit Bumrah - Rating 9, Verdict - Very Good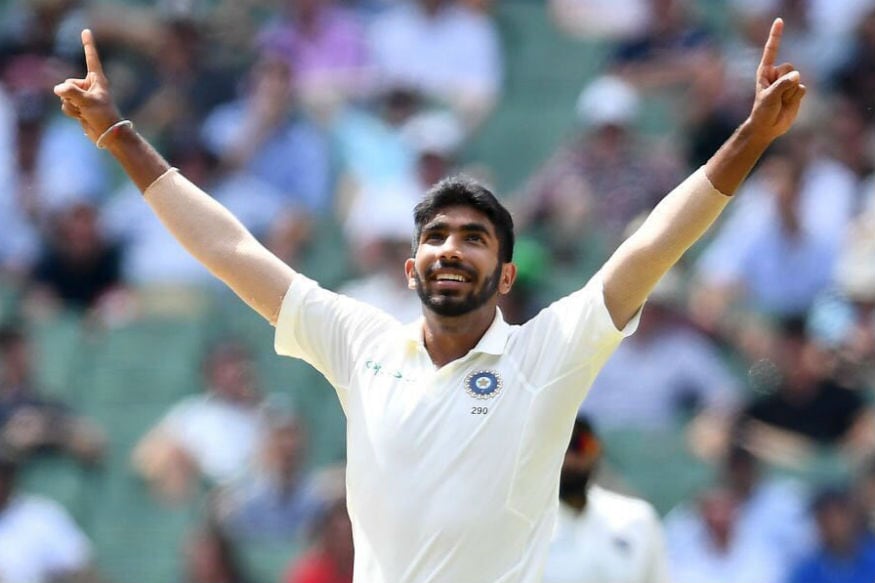 Can we give Bumrah a perfect 10? Well, he gets as close as possible. Bumrah should have had more wickets than he got in the first two Tests; he has been the best Indian bowler on display through the series, but it was only in Melbourne where it all turned into wickets. Bumrah was quick, sharp and intelligent, bagging 6 for 33 in the first innings and then following it up with another three-fer in the second. Every time he came on, Australia's batsmen seemed in trouble on a pitch that wasn't even the quickest in the series. His ball to Shaun Marsh in the first innings was just a work of brilliance.
*Rating chart: Very poor 0-1, Poor 2-4, Average 5-6, Good 7, Very good 8-9, Excellent 10.