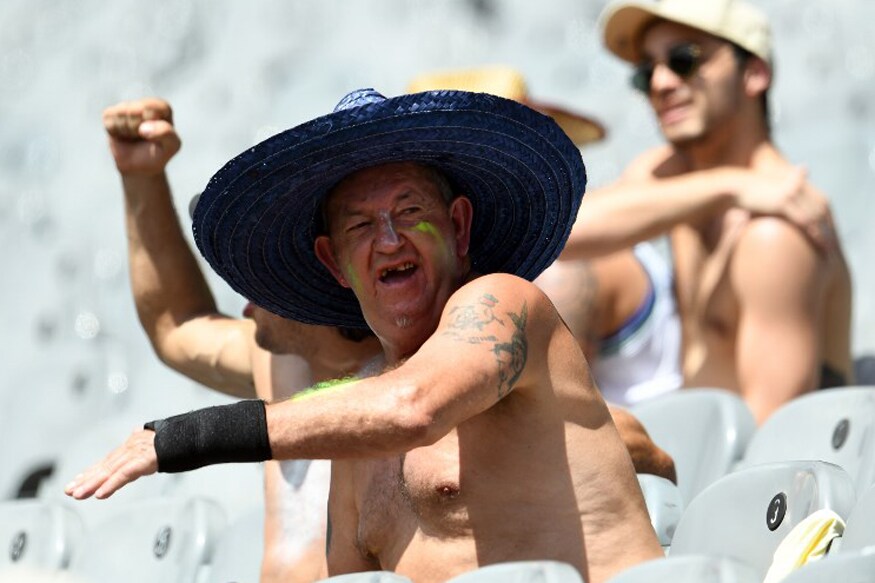 Spectators in MCG's famous Bay 13 stand have been formally warned by Cricket Australia to curb racially motivated chants, after complaints were made against them during the ongoing Boxing Day Test match.
The chants were predominantly "show your visa," led by Australian supporters over the first two days of the Test, leading to a warning being issued by Cricket Australia towards spectators in the lower tier of the great Southern Stand that the entire section would be ejected if the chants did not stop.
"Victoria Police and stadium security are monitoring the behaviour of the crowd in that section of the stadium," a CA spokesperson said. "Have had several discussions with those fans in that bay to remind them about appropriate crowd behaviour, as per venue entry terms and conditions."
Chants such as "Kohli's a w*****r" were also reported by sections of the crowd, but were not deemed worthy of a formal warning. Chants about opposition players have been a feature of the MCG's atmosphere over a number of years, and these specific chants were seen being more in line with that.
But it wasn't just Kohli who was the subject of boos and chants, but also Australian players such as Mitchell Marsh who came in to the team to replace Peter Handscomb. His teammate Travis head came to Marsh's defence, saying, "I don't think it's great. Obviously we've seen it with Kohli as well but for Mitch, who worked his bum off today, I thought he bowled exceptionally well. I thought he created pressure in tough conditions and fought really hard. I don't think any Australian cricketer in Australia deserves to be booed.
"I understand the Victorian crowd, Petey obviously missing out, but I think it's pretty poor for Mitchy to cop that."
Cricket Australia's detailed ticket and entry conditions clearly state, "I will not engage in any conduct (whether through the use of language, gestures or otherwise) which is likely to offend, insult, humiliate, intimidate, threaten, disparage or vilify any other person (including any player, match official, other official or other patron) on the basis of their gender, race, religion, culture, colour, sexual orientation, descent or national or ethnic origin.
If I fail to comply with this condition, I may be refused admission to, or evicted from, the Venue by any Authorised Person without refund or compensation of any kind; and I must deliver up any and all Tickets that I have in my possession at the request of an Authorised Person. In addition, I acknowledge that the failure to comply with this condition may result in the imposition of other sanctions (such as being banned from the Venue in the future) and possible further action including criminal prosecution."