"Neither the chief selector nor any other person spoke to me in England after I was dropped from the third Test. I did have a conversation with the members of the team management in England and that's it." – Indian opener Murali Vijay told the Mumbai Mirror shortly after he was dumped from the Test squad.
An aggrieved Vijay racked up scores of 56, 100, 85, 80 and 2 in the three first-class matches he played for Essex in the County Championship. He was promptly recalled to the Test squad but after a disastrous 2018 for India where his average has stooped down to 21.18, there were doubts regarding his place in the final XI ahead of either Prithvi Shaw or KL Rahul.
An untimely injury to Shaw, who twisted his ankle during the warm-up game, has put Vijay back in the reckoning and he celebrated it with a century in the second innings, moving from 74 to 100 in the space of just six balls. Vijay has been a trusted opener for India in Test cricket ever since his debut. Even with Shikhar Dhawan and KL Rahul constantly stealing the limelight off him, Vijay has quietly piled on the runs and has been one of India's most reliable players in overseas Tests.
What particularly makes Vijay an enticing pick is his record in SENA (South Africa, England, New Zealand and Australia) countries. Among the current Indian squad members, Vijay has the third-most number of runs – 1236 at 32.52 – in these countries after Virat Kohli and Ajinkya Rahane (2491 and 1383 respectively).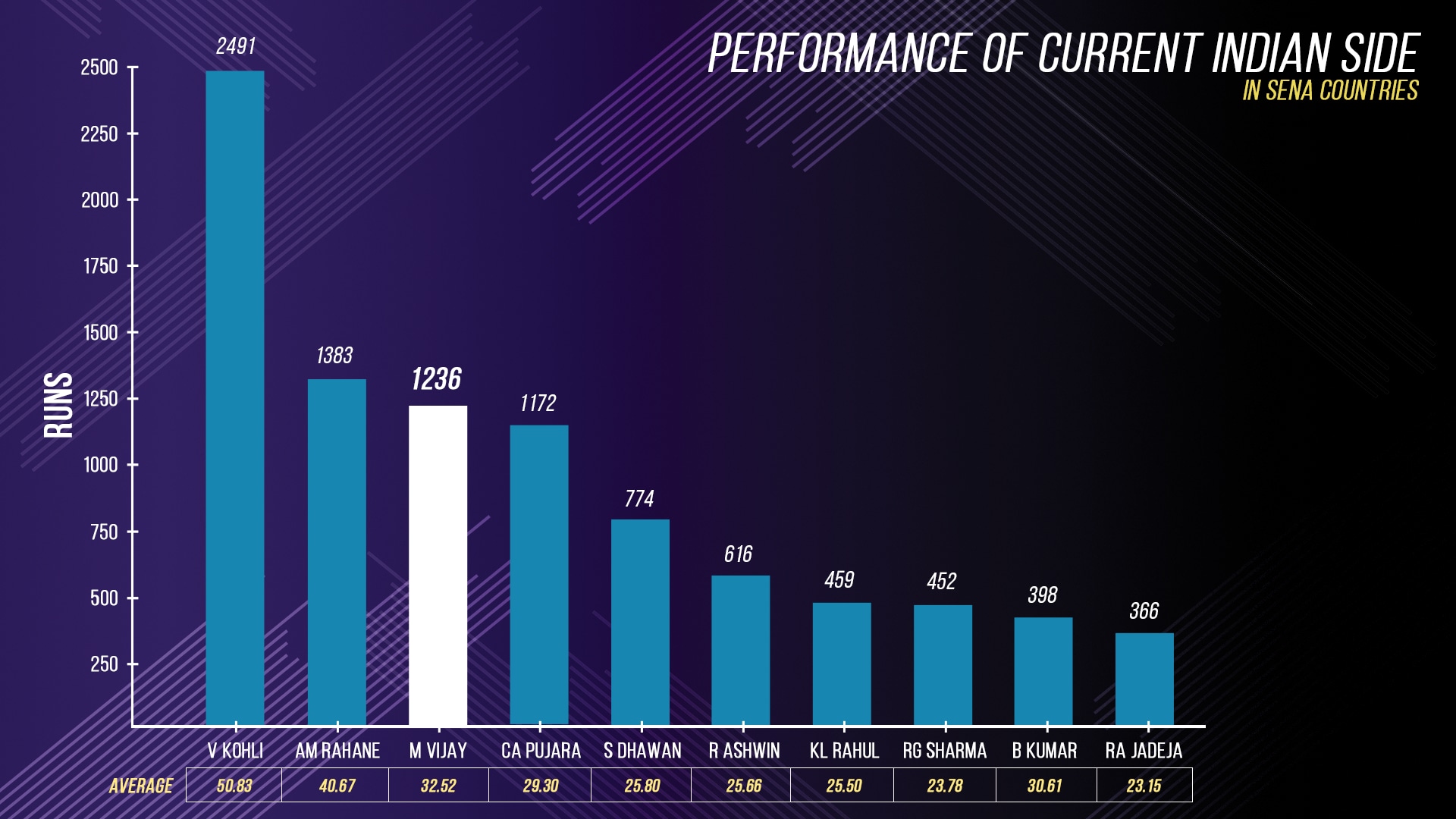 The job of an opener in these countries where batting is more of an arduous task than in the subcontinent is to take the sheen off the new ball aside from setting a platform for the middle-order. Vijay has been successful in this, seeing off 2946 deliveries, more than that of Rahane and one ball less than Pujara. the second best in this regard.
The monk-like demeanour he displays in these bowler-friendly conditions has been quintessential to India's performances in SENA countries of late. In fact, since 2010, no opener from Asia has faced more balls or scored more runs than Vijay. He remains the only Asian opener with more than 1000 runs in SENA countries since 2010. This is a remarkable feat which also highlights how difficult it is for openers from Asian countries in these conditions.
Karunaratne, Dhawan and Azhar Ali have also done reasonably well but Vijay is head and shoulders above the remaining Asian counterparts in this regard, facing over 1000 balls more than the next best, Karunaratne.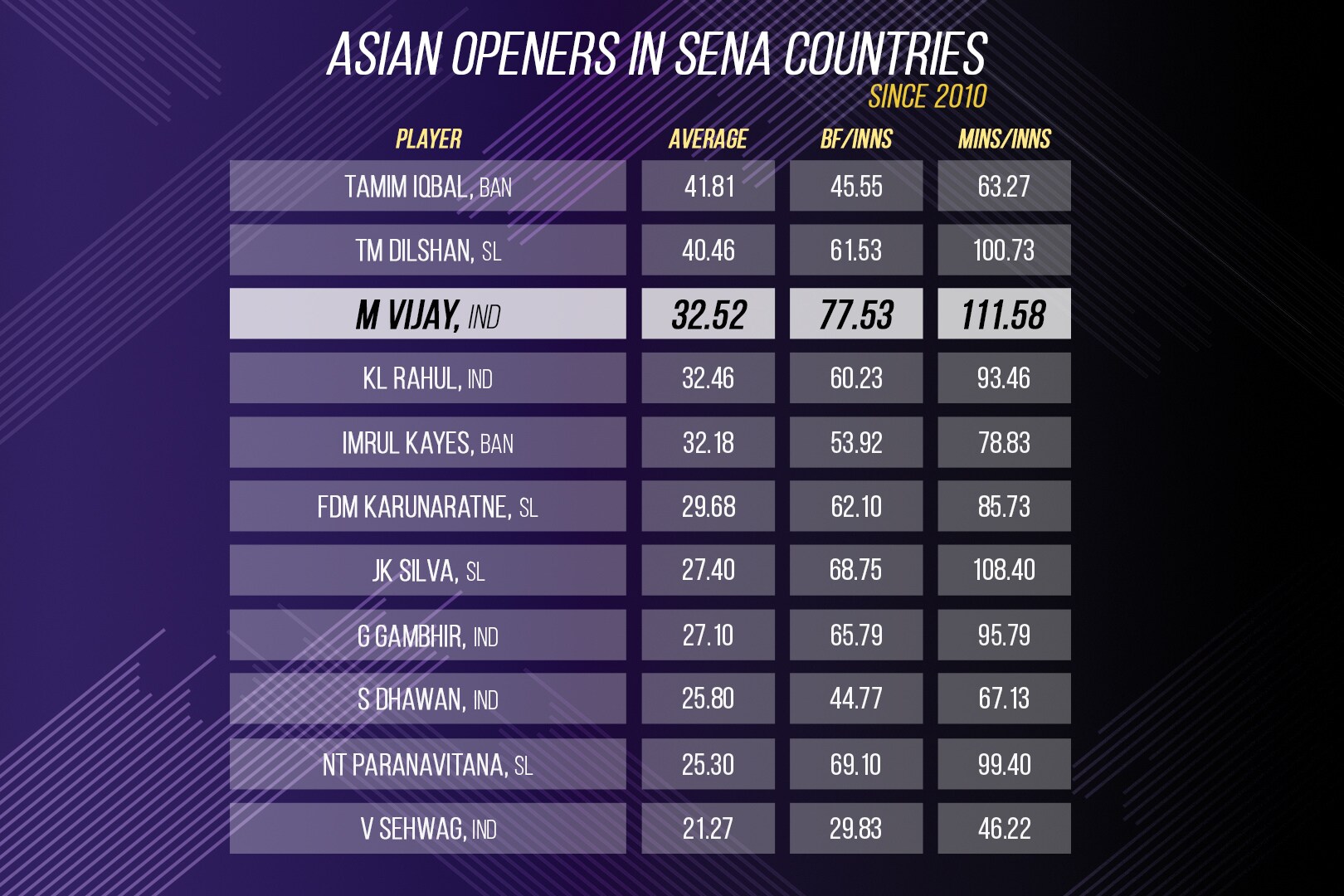 In terms of balls/innings, Vijay still comes out on top with an average of nearly 78 balls per innings with no other Asian opener having faced over 70. Vijay has also spent the most time at the crease per innings for openers – an average of close to two hours every innings with the only other two Asian openers to have more than 100 minutes on an average in SENA countries in this time frame being the Sri Lankan pair of Tilakaratne Dilshan and Kaushal Silva. This basically means that Vijay, on an average, plays out the opening session for India against the new ball.
Bangladesh's Tamim Iqbal tops the averages with Dilshan and Vijay following him. A shoddy couple of early seasons in his career affects Vijay's averages which has since shot up. In 2014 he averaged particularly well in most SENA tours.
Australia, in particular, has been a happy hunting ground for Vijay who has a good overall record against them.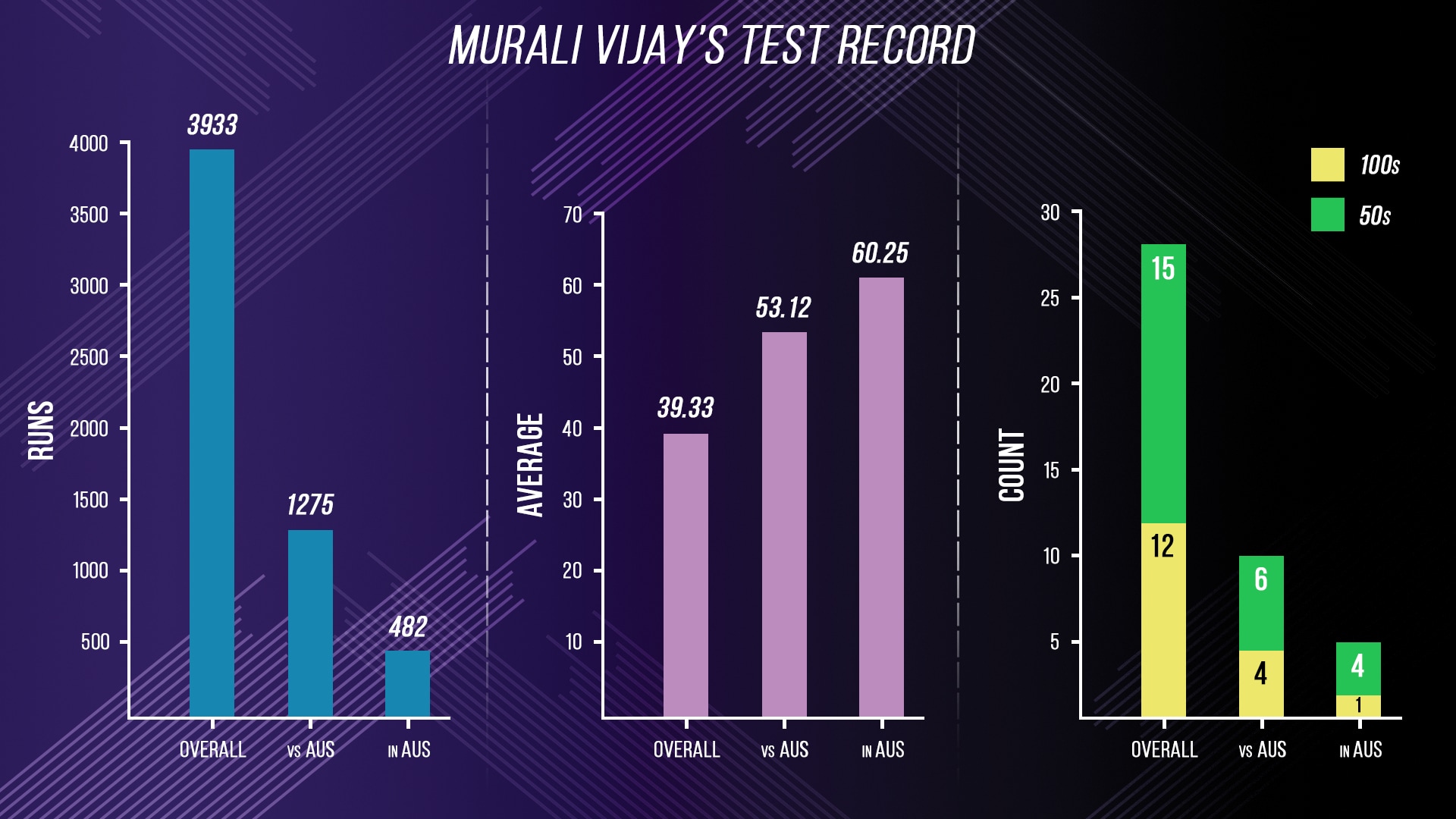 His highest Test score has come against Australia (that in India) and 10 of his 27 scores above 50 in the longest format have come against them. This includes four hundreds and six half-centuries with five of them coming in Australia where in 2014 he enjoyed a fabulous tour.
The opener averages 60.25 in the country and loved the ball coming onto the bat – the extra bounce and pace of the seamers suiting his style of play. In four Tests on India's last tour, Vijay made a hundred and four half-centuries and was one of the better Indian batsmen on display.
Little has changed in terms of surfaces in the country. Vijay's 2018 could be poor but the run of low scores have come in England and South Africa where batsmen from both sides found the going tough. It is ridiculous to write off one of India's best overseas performers in the last few years on the basis of just two tours where the bowlers completely dominated. This Australian tour and the opportunity to walk out at Adelaide as India's no.1 opener should hopefully bring out the best in Vijay who is always up for a challenge.