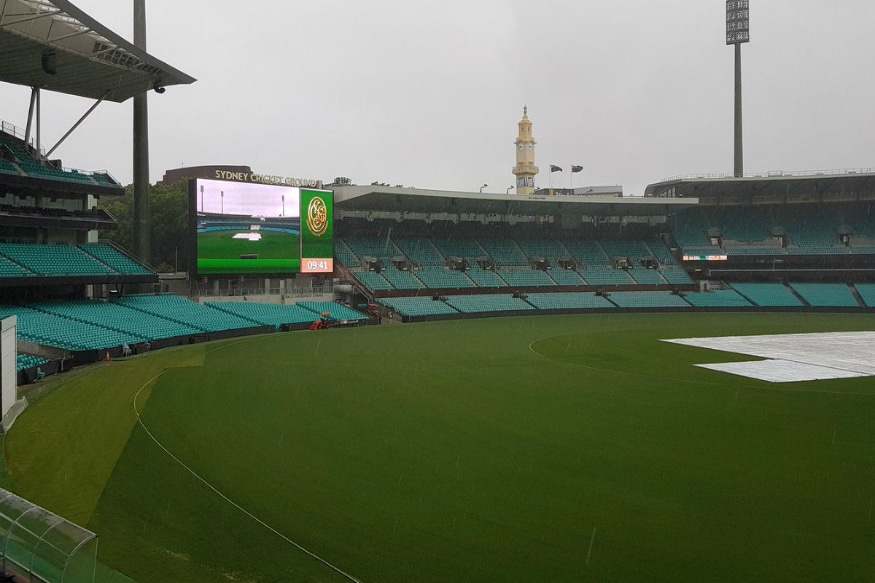 Max Bryant: 0
Aaron Hardie: 0
Jonathan Merlo: 0
Param Uppal: 2
Jackson Coleman: 2
Jake Carder: 4
Daniel Fallins: 4
David Grant: 4
Harry Nielsen: 7
D'Arcy Short: 9
Harry Conway: 12
Sam Whiteman: 50
Wondering what this list is? This is the Cricket Australia XI 12-member squad, along with the number of first-class matches they've played. This it the side that India will play in their only warm-up match ahead of the four-Test series against Australia. To put things in perspective, the least experienced Test player in the Indian side - Hanuma Vihari - has played 66 first-class matches. Prithvi Shaw has played 17. Short is the only player in the CA XI to have played international cricket. He has played only the limited-overs formats.
To make things worse, the first day has been washed out by rain. The second day is also likely to be affected as the forecast is for scattered showers. The match isn't a first-class encounter, players are unlikely to go full throttle. In short, India's only preparatory match before the Test series could be a glorified net session against a weak opposition.
This isn't the first time India are in this situation either. Owing to their cramped schedule, they've found it tough to fit in proper warm-up matches. They cancelled their practice match before the South Africa tour, instead opting to have nets among themselves. In England earlier this year, India cut short their four-day warm-up match against Essex to three days. They had a gap of 14 days between the end of the limited-overs series and the beginning of the first Test. Yet, they fitted in just one match, which too was reduced to a three-day affair.
Virat Kohli's men lost both the series, with their preparations coming under the scanner. Kohli defended his side's decision then, saying it was pointless wasting time if the opposition isn't good enough.
"Lot of people talk about tour games but where are those tour games happening and against what quality of bowling are very important questions to be asked," Kohli had told Michael Holding in an interview for Sky Sports during the tour of England. "Because if you don't get the preparation you need before a Test series, then it is actually not utilised well. Time is not utilised well if you don't get the quality of opposition that you will face in Test cricket."
Make no mistake, it's not just an Indian issue. Teams all over are using this 'strategy'; every country realises that packed international calendar makes it difficult for visiting teams to play multiple warm-up matches, and deny them the best exposure in the only opportunity. The most recent case was Pakistan fielding a side without a single spinner against Australia before the Test series in UAE. Pakistan ended winning the three-match series 2-0.
This isn't a guarantee for success either. India themselves have done the same. Remember 2012, when India fielded a side without a spinner against the visiting English side? The series ended with England winning 2-1, Monty Panesar and Graeme Swann spinning a web around the Indians.
Whether it's right or wrong, ethical or otherwise, is up for debate. Why should a cricket board help the opposition beat their own side? But then, won't this create a never-ending loop?
The need of the hour, as Rahul Dravid pointed out in an interview with CricketNext earlier in the year, though is for co-operation among cricket boards.
"Ideally, they should. They should be playing that and it should be planned," said Dravid when asked if India should play two warm-up matches before overseas Tests. "And it is not an Indian issue, I think it is a world game issue. I remember Trevor Bayliss taking about it last time the Ashes were held. I think they had a similar problem in Australia, where because of the kind of schedules and the reluctance, I think of first-class teams now to put their best players out for visiting teams than in the past, because first-class teams are playing more cricket now.
"I mean I benefited a lot from it in my career, playing solid first-class games when I first started and when we went on tours it was a done thing that you practice and you play first-class cricket. It seems to happen less and less nowadays and not only for India, it is less and less for any country. But, definitely something India needs to look into talking from an Indian perspective. But, even other teams need to co-operate on their behalf.
"For, example if Australia can guarantee India two solid practice games when we go there, we should be able to do the same for them when they come here. So, like anything else, it has to be reciprocal and we have to work with other boards because nobody wants to see one-sided overseas results, you want to see close, exciting Test matches."
These are the same boards that have come together to improve their 'A' sides with regular tours. Until they do the same for Test cricket's sake, these warm-up matches, as they are now, will indeed be pointless.