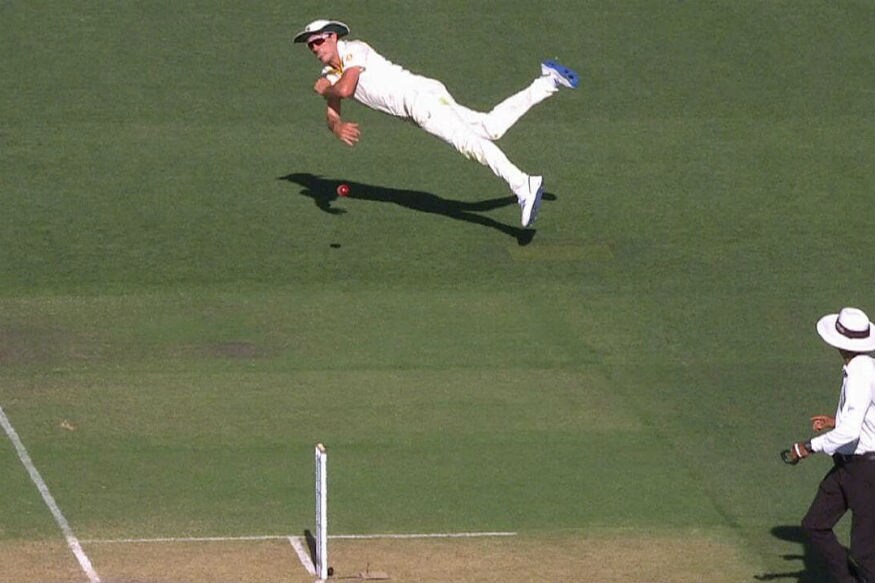 It took a spectacular bit of fielding from Pat Cummins to remove India batsman Cheteshwar Pujara on Day 1 of the first Test between India and Australia at Adelaide on Thursday.
Pujara had brought up his century and was looking to motor on but was run out thanks to an athletic effort from Cummins, made all the more spectacular by the fact that the pacer had bowled 19 overs by that point.
Unreal. This is simply stunning from @patcummins30, especially after sending down 19 rapid overs on a blazing hot Adelaide day!#AUSvIND | @Toyota_Aus pic.twitter.com/APvK1GYBRd

— cricket.com.au (@cricketcomau) December 6, 2018
The nature of his throw – picking up and releasing the ball in a singular motion while diving – actually led to the Major League Baseball's official website running an article on how the Australian quick would be a good fit for the sport.
The article states that Cummins' effort in the field "translates almost perfectly to baseball" and calls him a "potential future MLB third baseman".
For the uninitiated, a third baseman is the baseball player whose job it is to defend the area nearest to third base — the third of four bases a baserunner needs to touch in succession in order to score a run.
The third baseman usually requires good reflexes in reacting to batted balls as he is often the closest infielder to the batter.
This position also requires a strong and accurate arm as the third baseman often makes long throws to first base.
Australia legend Shane Warne joked on Fox Cricket before the start of play that MLB's potential interest in Cummins could cause some trouble for Cricket Australia in the future.
Cummins is currently in negotiations with Cricket Australia for a long-term deal after former high performance manager Pat Howard offered Cummins a one-year deal before he was dismissed.
"That might add a few extra zeros onto the end of his next contract. That might make it hard for Cricket Australia," said Warne.
Adam Gilchrist, who is commentating for Fox Cricket, was effusive in his praise for the effort. "That should not be allowed! A fast bowler who's bowled 20 overs, in the last two minutes of the day, what an athlete!"
"What a way to finish for the Australians. That'll have their tails up. What an inspirational run-out by Pat Cummins.
"That's the best run-out ever! I'm calling it, I'm calling it early!"