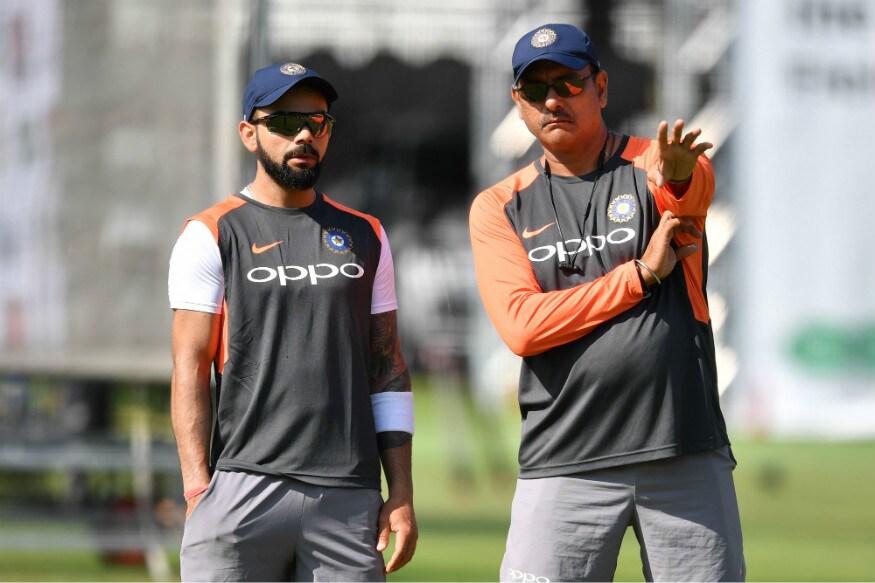 India Head coach Ravi Shastri believes Virat Kohli has come back as a more mature player than he was when India visited Australian shores four years back in 2014-15.
"He is a professional, he has matured now," Shastri said in Brisbane where India are preparing for the first T20 of the tour on Wednesday. "What you saw of him four years ago, he has played all around the globe since then, he has captained the side. That alone comes with a tag of responsibility, which has fit well on his shoulders and he has fit extremely well, and he will not put his put his foot off the pedal now."
The last time Kohli was in Australia, he amassed 692 runs in four Tests with four centuries and a half-century at an average of 86.50. He has since then reigned supreme in all formats of the game scoring in all parts of the world. He is by far India's leading run-scorer in Tests and ODIs in 2018 and has done equally well in the 20-over format despite not playing too many games.
Shastri said that Kohli loved coming to Australia especially because the pitches suited his style of play and he was confident the India captain will do well yet again.
"Kohli loves coming to Australia, he is passionate, about the game, the pitches here suit his style of play and once you have done well in this part of the world you will always want to come out and play well again," he said.
"I think it is a great place to play cricket, they play hard, the public, the sporting public really appreciates the tough cricket. It does not matter which sides wins or loses as long as there is competition, I know the people love it. Whether it is the media, whether it is the people watching it on television or at the ground."
Although India kickstart their Australian tour with three T20Is, the focus has already shifted to the four-match Test series that follows. The Indians have never won a Test series in Australia in 11 attempts, having lost 8 and drawn 3.
However, battle-hardened after a gruelling series against South Africa and England this year where they come up short 2-1 and 4-1 respectively, Shastri was confident India will change history this time around despite not having a good record when travelling overseas.
"I think just seeing the way they have played over the last 4-5 years, also the way they played last time they came to Australia (gives confidence)," said Shastri.
"Nucleus of the team is pretty much the same so if you look experience wise they have a gained a lot touring over the last four years. They have learnt from the mistakes in the earlier tours.
"The endeavour is to get better when you go overseas. When you look at teams that travel now around the world, I have said that before and I repeat it again, there aren't too many sides. Australia did it for a while in the 90s, turn of the century, South Africa did it for a while but other than them two if you look at the last five or six years you tell me which team has travelled well so why pick on India?"
The one thing that will stand India in good stead is their bowling attack which after a long time looks potent to grab 20 wickets needed to win a Test. While the visitors will miss the services of all-rounder Hardik Pandya who is down with injury, in Bhuvneshwar Kumar, Jasprit Bumrah, Ishant Sharma and Mohammad Shami, India possess genuine wicket-takers in their lineup.
"I think they (bowlers) should enjoy bowling on these pitches if they are the pitches that we have seen in the past," said Shastri. "It is important that we stay fit as a unit because that is when you can get the best out of them.
"One player that we will really miss is Hardik Pandya, who has had an injury because he gives that balance to the side which allows you to play that extra bowler. Now we will have to think twice. Hopefully, he will get fit soon and the fast bowlers do well, then we might not miss him."
Australia's form has nosedived ever since the nation was rocked with the ball-tampering scandal in March this year which saw three of their prominent players being handed bans. Despite a weakened unit, Shastri said that it would foolish to underestimate the Australians, especially in their own backyard.
"I think once you have a sporting culture in you, you will always have that. And I always believe no team is weak at home. We might not have three or four players not playing when a team comes to India but God forbid if anyone says it is a weak Indian team because you will be surprised," quipped Shastri.
"So, similarly, we are going to put out our best foot forward and focus on our game."
Shastri also deemed Australia's new friendly approach as irrelevant insisting that on-field aggression has often been overhyped. Citing the example of Glenn McGrath and Shane Warne, the 56-year-old said that at the end of the day, it was the "cricket that talked."
"I don't care if a McGrath or a Warne said something or didn't say something. They would have still taken wickets," reiterated Shastri. "It is as simple as that. If you are good at what you do and if you can do it consistently, it doesn't matter which side you are playing for that cricketer will do well and so will the team."