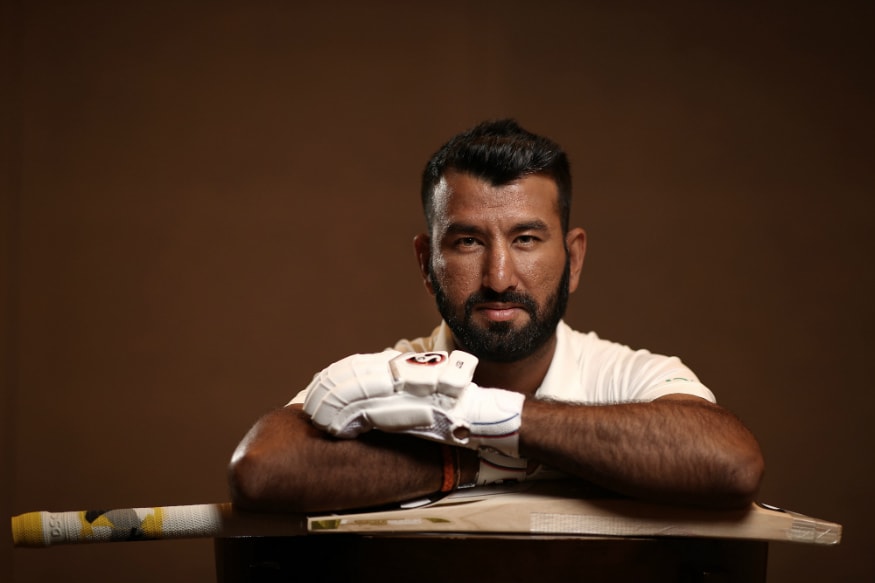 Cheteshwar Pujara was the stand-out batsman of the series as he conquered the Australian bowling attack with some gritty old-fashioned Test-match batting. Not only was he the highest-run scorer but also spent the maximum time at the crease and faced the highest number of deliveries in the series.
He displayed monumental patience and along with a relentless temperament resisted whatever the Australian bowling attack threw at him in the middle.
He averaged a whopping 74.43 per innings in the series – a little over 34 runs per innings more than Kohli. His aggregate of 521 runs was more than a fourth (25.7%) of the total runs scored by India in the series.
Pujara's aggregate in the series is the third-highest by an Indian batsman in any series Down Under after Kohli (692 in 2014) and Dravid (619 in 2003).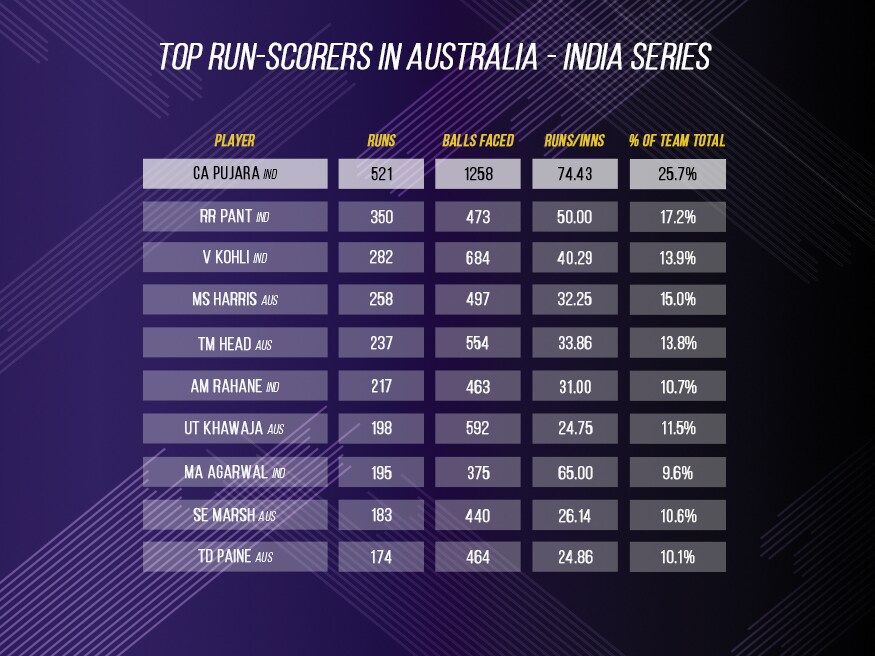 Pujara also occupied the crease for significant periods of time and consequently consumed a lot of deliveries – 1258. On an average, he faced approximately 180 balls per innings in the series, ie 30 overs – that is absolutely outstanding!
Pujara broke the record for facing the maximum number of deliveries in a series (four or less Tests) by a visiting batsman Down Under.
After being dropped for the Edgbaston Test, Pujara has made 895 runs at an average of 55.93 including four tons and two half-centuries. He has also faced 2155 balls in this period in 17 innings, a balls/innings value of 126.76 – a mind-boggling achievement.
In the Adelaide Test, Pujara made 123 in India's team total of 250 in the first innings. The rest of the batsmen averaged a shocking 12.7.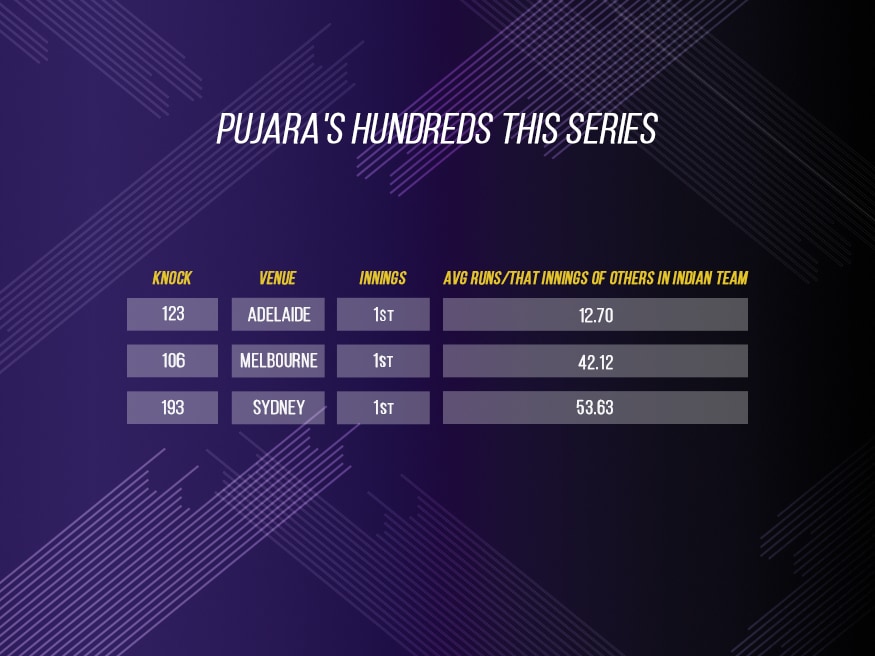 At MCG in the Boxing Day Test match, Pujara made 106, again in the first innings, with his mates combined to average 42.12. At Sydney, he was the fulcrum around which the Indian batting revolved and as they amassed 622, Pujara made 193, missing out on a double ton by a whisker. The other Indian batsmen averaged 53.63 in the innings. This suggests that Pujara scored tough runs for India – when the chips were down and others struggled he put his hands up and delivered.
Only Kohli with 4 hundreds in 2014 has scored more tons in a series Down Under than Pujara for any batsman from the subcontinent. Gavaskar also scored 3 in 1977.