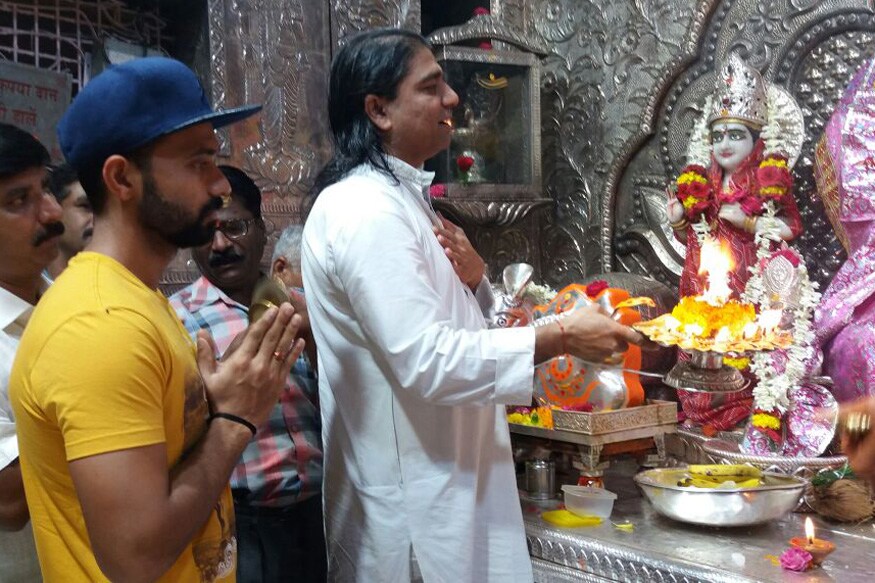 Indore: As team India reached Indore alongside visiting Australia for the third ODI on Friday evening, middle-order batsman Ajinkya Rahane sought blessings from lord Ganesha at famous Khajrana temple on Saturday.
An ardent devotee of the Khajrana Ganesh temple, Rahane, who in the past has paid visits to temple whenever the team was in the city, took part in the prayers and also sought blessings from the deity. His teammate, Rohit Sharma, another regular at the temple, however could not come this time.
Interestingly the elephant-headed god carries a special connect to cricket as the Khajrana Ganesh is known as 'Super Selector' as in the past several cricketers have visited the shrine and afterwards also found a spot in the nation squad.
However amid arrival of young talent including Manish Pandey, Kedar Jadhav and others, Rahane is also finding it hard to keep his place intact in the playing XI for a while. However at Indore, his place seems certain among laying XI, courtesy his well-compiled half century in the Kolkata ODI.
Among other Gautam Gambhir, Rohit Sharma, S Sreesanth and Suresh Raina are devotees of this temple.
Meanwhile always known to be a high scoring venue, Holkar stadium pitch is once again expected to aide the side which bats first and puts the opponent under pressure through spinners in the second innings, said pitch curator Samandar Singh Chauhan.
Spelling out some good news for the rookies, Yuzvendra Chahal and Kuldeep Yadav , Chauhan said that wrist spinners are expected to exploit conditions at Holkar pitch more than anyone else.
Leading by 2-0, Team India has the chance to wrap up the 5-match series by winning the ODI at Indore.
Having played four ODIs at the venue, India has managed to win all of them, two against England (2006 & 2008), one each against West Indies (2011) and South Africa (2015. This includes Virender Sehwag's blistering knock of 219 against West Indies in 2011. At second cricketing venue—Nehru Stadium-India and Australia have one played one match each.
Besides, master blaster Sachin Tendulkar had achieved prominent feat of 10,000 runs in ODI at Indore in 2001 but at Nehru Stadium, hitting 139 off 125 balls against Australia.
Former skipper MS Dhoni's inspiring 92 run innings despite all odds against South Africa in 2015 is also fresh in the memories of the cricket fans.
For Team India coach, Indore also special holds special place as he had hit his first ever century in ODI in 1984 at Nehru Stadium against Aussies.