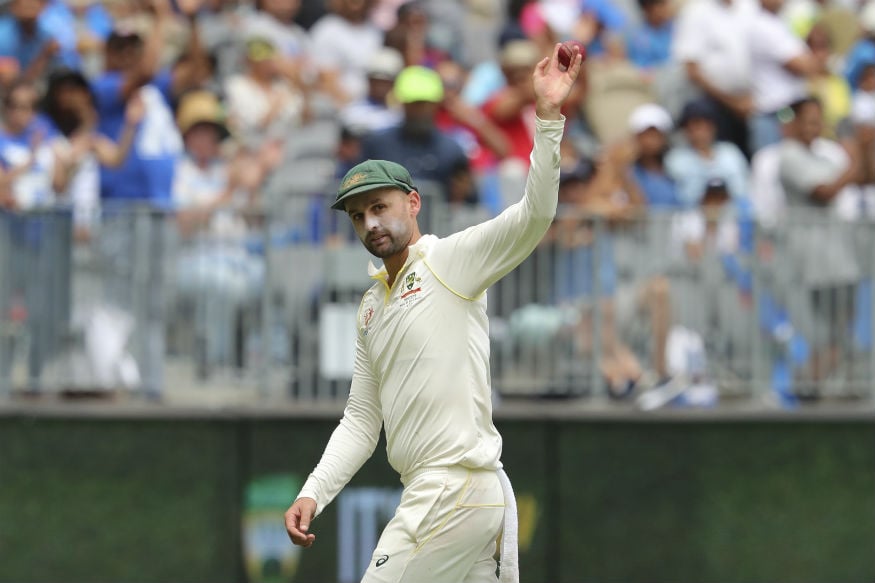 Nathan Lyon has dismissed Virat Kohli seven times in Test cricket.
For the record, Shane Warne has dismissed Sachin Tendulkar just thrice in Test cricket despite playing 12 Tests against him. Lyon, on the other hand, has bowled just 668 balls at Kohli to dismiss him on seven occasions.
Kohli, though, isn't the only Indian batsman he has a wood over, neither is he the Indian batsman that the off-spinner has dismissed most number of times. This dubious record is shared by two other prominent names in India's middle-order- Cheteshwar Pujara and Ajinkya Rahane.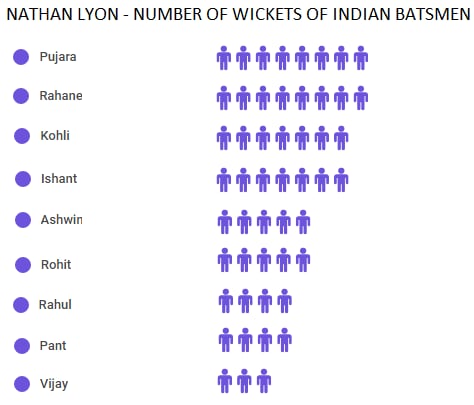 Lyon is no Shane Warne, but when it comes to flummoxing the wristy Indian batsmen who are adept against spin, the off-spinner has a knack or two. He has an edge over most of India's top-order batsmen evident from the number of times he has knocked them over in Tests.
Yet, the 'GOAT' bestowed upon him in jest is something he is justifying time and again.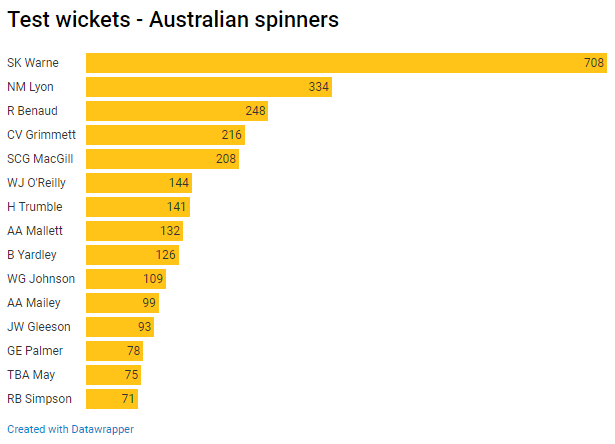 There are some big names in the list above yet Lyon sits pretty at No.2 – again a reflection of the magnitude of impact he has had for Australia in Test cricket. Two standout moments in the field for Lyon from the Ashes – a stupendous return catch to dismiss Moeen Ali and a spectacular run-out to catch James Vince short – reflects the kind of confidence he is bubbling with.
Lyon is grossly underrated in an era where spinners thrive on dusty bowls tailor-made for them. Since his debut in Test cricket, only two spinners have more wickets than Lyon – Rangana Herath and Ravichandran Ashwin both of whom play majority of their games on sub-continental wickets.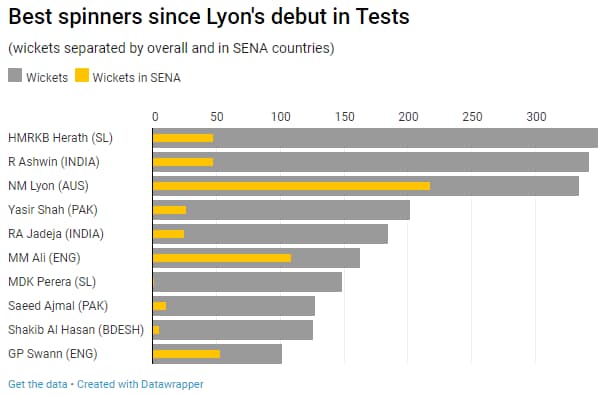 Lyon has 334 wickets in Tests, eclipsed in the mentioned time frame only by the two spinners who have 342 and 349 apiece, not a lot greater than the Aussie tweaker. That a majority of Lyon's wickets have come in SENA countries which are traditionally fast-bowling friendly is evidence of how good he is.
Lyon has 214 of his 334 wickets in SENA countries. That only two spinners – Moeen Ali being the other with 109 wickets – have more than 100 wickets in these nations in this time period points at Lyon's efficiency irrespective of conditions.
While off-spinners generally have more success against southpaws, Lyon's wickets have a ratio of 212:122 with the majority being right-handers. This could be owing to the fact that he generates extra bounce off the surface and brings the leg-side fielders more into play than most off-spinners.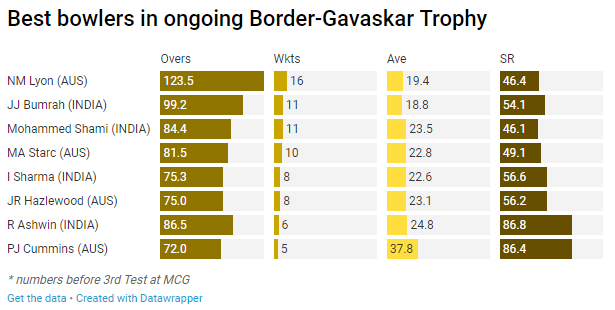 In the ongoing series, out of Lyon's 16 wickets, 12 are right-handers. All of the four other wickets are that of Rishabh Pant, India's only left-handed batsman in the playing XI. His tally of 16 wickets is five higher than the next best in the series. They have also come at a stunning average of 19.4, the second best in the list and a strike rate of 46.4, which is just pipped by Mohammed Shami.
He is the only bowler across both teams to bowl more than 100 overs in the series, a whopping 123.5. The workhorse in the side, Lyon has ensured that he eases the workload on Australia's three quicks. He has switched between the containing role and the attacking role and the results are there to be seen in the wickets column.
In terms of impact, Lyon has a two five-plus wicket hauls in the series already, one each at Adelaide and Perth.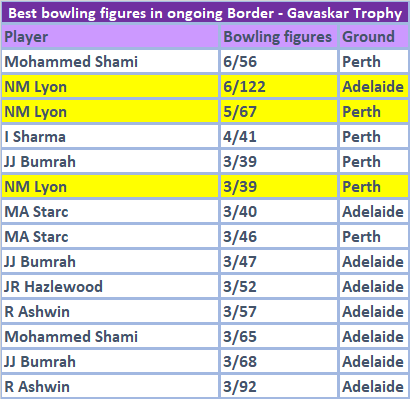 Of the six best innings hauls in the series so far, Lyon owns three and we aren't yet in Melbourne or Sydney where spinners are believed to play a bigger role. His 6/122 and 5/67 were crucial in pegging back the visitors and his timely breakthroughs at Perth earned him the Man of the Match award.
At Perth, when the Virat Kohli – Ajinkya Rahane stand was blossoming in the first essay, Paine turned to Lyon for the first over of day 3. The off-spinner promptly removed the fiery Rahane who had counter-attacked his way to a bullish half-century on day 2. It was a decisive moment in the Test as the Indian innings derailed from thereafter.
His impact can further be judged by analysing his wicket-taking capabilities in the last few series Australia have played.

He topped the wicket-taking charts in a series for Australia three times in the last six series before the ongoing Border – Gavaskar Trophy. He has taken more than 10 wickets in each of these six series. He finished joint-third in the home Ashes series with 21 wickets while in South Africa he was the second best Australian bowler with 16 wickets.
Lyon's consistency and success over the cream of India's batting pose worrying signs for the visitors who came prepared to handle the pace barrage.
The GOAT has surprised one and all!