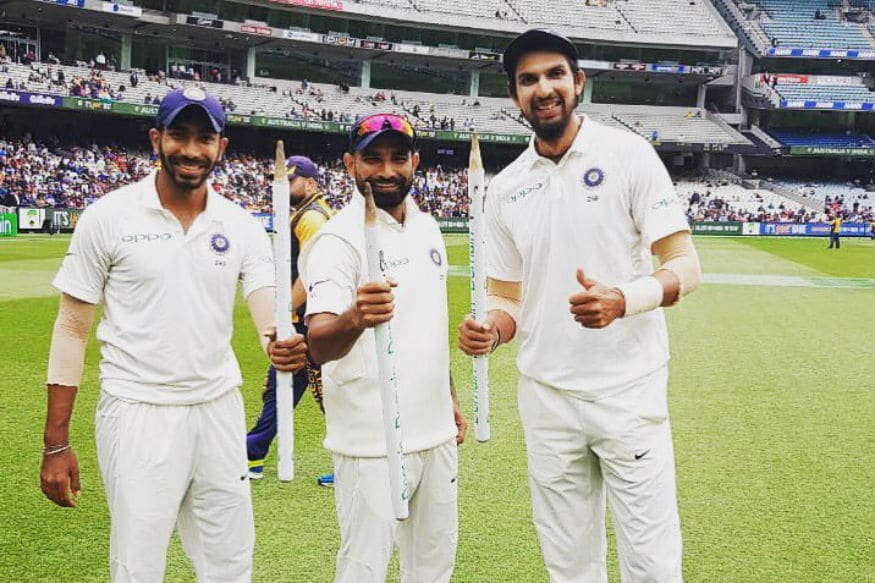 Ricky Ponting made over 13,000 Test runs but many Indian cricket fans remember the one ball when he scored nothing.

On the second day of the Boxing Day Test in 1999, Javagal Srinath let loose a short ball. It was short and leapt off the pitch. Ponting, of course, dealt with bouncers like they were mosquitoes to be swatted away. On the front foot, he was ready to pull it into the stands. A metaphorical slap across the bowler's face. Except this ball, clocked at 135 kmph by the television cameras, flew off the bat's top-edge and crashed into his helmet.

Srinath took a few steps towards Ponting, as if to check on his well-being. A gentle check to make sure everything was okay. He was met with a fury he may have scarcely expected: a helmeted Ponting waving a bat at his face and telling him to "go back and effing bowl". Who had hit whom again? The victim had turned hostile. The aggressor was lost for words.

Sermon delivered, Ponting removed his helmet to check for a cut or gash. Srinath took four wickets in that innings. None are imprinted as vividly in the memory as this bouncer.




From the Wisden report on India's 1967-68 tour to Australia:

They arrived with obvious shortcomings for Australian conditions, primarily the complete absence of fast bowling.

From the Wisden report on India's 1977-78 tour to Australia:

Of the Indian bowlers, the three seamers, Madan Lal, Mohinder Amarnath, and Ghavri, all bowled well at times, but India suffered from not having a single bowler of anything approaching genuine pace.

From the Wisden report on India's 1980-81 tour to Australia:

Kapil Dev []… as a bowler[]… lived up to expectations. But the rest of the team's seam bowling was mediocre.

From the Wisden report on India's 1999-00 tour to Australia:

India took early wickets in every innings of the Test matches – Australia's highest opening stand was nine – but never managed to restrict the home side's first innings to under 400, which was a clear reflection of their meager bowling resources.

On Sunday, at the MCG, Ishant Sharma, Mohammad Shami and Jasprit Bumrah rounded off their annus mirabilis with 130 wickets in Test matches away from home. They equalled the record of Garner/Holding/Marshall, which was set in 1984. No other fast-bowling trio has taken more in a calendar year. Not Morkel-Ntini-Steyn. Not Ambrose-Marshall-Walsh. Not Morkel-Philander Steyn.

Pause for a moment and read that again.

Three Indian fast bowlers.

Not medium-fast.

Not fast-medium.

Not fastish medium.

No such apologies.

Just fast. Full stop.

The most potent four-letter word in cricket. An f-word too.

F. A. S. T.

One-hundred-and-forty-five kilometres per hour fast.

Clatter-the-helmet fast. Keep-coming-at-you-till-you-lose-your-balance fast. Get-into-your-headspace fast. Can't-take-your-eyes-off-the-ball fast. Not-sure-when-one-can-relax fast.

Marcus Harris has been clanged twice on the helmet in this series. It is safe to assume he has never once considered asking Bumrah to go back and bowl. In the first innings in Melbourne, he had two fielders placed close-in on the leg-side, waiting for a popped-up catch. Harris tried to pull himself out of trouble. All he managed was to balloon a top edge to fine leg.

India spelled out their plan to Aaron Finch by stationing Mayank Agarwal at short midwicket. Finch would have known that at some point, he would get one straight and full. Still, he couldn't resist whipping one airily. And Agarwal held a terrific catch.

Shaun Marsh had one Bumrah over to survive before lunch. The first five balls were fast, fast, fast, fast, fast. He had to get his bat down quickly to keep out ball two. The fourth came with late away-swing. Why not try a slower yorker, suggested Rohit Sharma, from mid-off. Bumrah liked the idea. He felt Marsh was perhaps going at everything with hard hands. The rest is a work of art. So good that it ought to be framed and displayed at the MCG. Watch it. Re-watch it. Slow it down if you must. It gets better on every viewing.




Seeing what India's pace bowlers have achieved this year might have disconcerted some Srinath-era fans. Back then, a bowler rumoured to hitting 140kph would have stopped the presses. Newspapers would have commissioned profiles. There would be quotes from Dennis Lillee and Frank Tyson. Someone would talk of "twitch muscles". Maybe he's the next Kapil Dev?

This desperate hunt for the saviour did nobody any good. The bowlers selected were bound to fall short of expectations – often spectacularly so. At which point they were duly jettisoned for another bright prospect… who was soon to be the next fall guy.

Atul Wassan had a spirited start to his Test career… until Ian Smith smashed him for 24 runs in one over. Wassan played just one more Test, his international career done at 22. Abey Kurivilla and Robin Singh were not picked when they were at their fastest. When finally chosen, they were criticized for being medium-pace. Dodda Ganesh was picked too early. When he started bagging wickets by the bucketful in domestic cricket, he was ignored.

Remember David Johnson? One South African commentator was so amused that he chuckled, during the Durban Test in 1996: Johnson, running in fast, but his bowling… not so fast.

Of course, you remember Manoj Prabhakar. A once-terrific pacer reduced to bowling off-spin by Sanath Jayasuriya and Romesh Kaluwitharana in a World Cup ODI in Delhi in 1996.

Barely had Paras Mhambrey finished his opening spell in Test cricket when Geoffrey Boycott announced that his grandmum could hit him with a rhubarb. Then there was Debasis Mohanty and Harvinder Singh: near-unplayable on some days in Toronto but eminently hittable when conditions didn't suit them.

During the 1996 World Cup, Michael Holding was asked for his assessment of India's fast bowlers. His response: "Fast?"


Picture Credit: AP

The same Michael Holding. Earlier this year. In an interview to the Hindustan Times:

"This is an outstanding Indian pace attack. I can go beyond, to the early 1970s, and certainly this is the best bowling attack India have had. Fast bowlers are very, very important. Everybody knows when you have three-four fast bowlers, good fast bowlers, not just people who take a long run up, they can win Test matches."

Few joys can match the sporting joys you experience when you are ten or twelve. Those are innocent days. You take it all in with wide-eyed wonder. You lose sleep over matches, idolize your heroes, and dream of impossible scenarios. The players are larger than life. Their feats give you a high unmatched.

When it comes to India and fast bowling, 2018 is the year we are all ten or twelve. Our first real sighting of a pack of terrific pace bowlers. Pulling off Test wins across four continents. Charging in day in, day out. Swinging the new ball, swinging the old ball. Keeping batsmen on their toes. Rushing them, fooling them, taunting them. From here on, every fast-bowling trio will have to match up to these three. Our Jasprit. Our Shami. Our Ishant.

And much like Holding, Marshall and Garner – the trio whose record they have equalled – these three have gone about their job with no fuss. No mouthing off. No rude send-offs. No theatrics. No over-the-top celebrations. Just high-quality fast bowling.

Enjoy them, celebrate them, watch them soar. For any Indian cricket fan over 30 will tell you: it's been a long time coming.

First Published: December 31, 2018, 7:56 AM IST