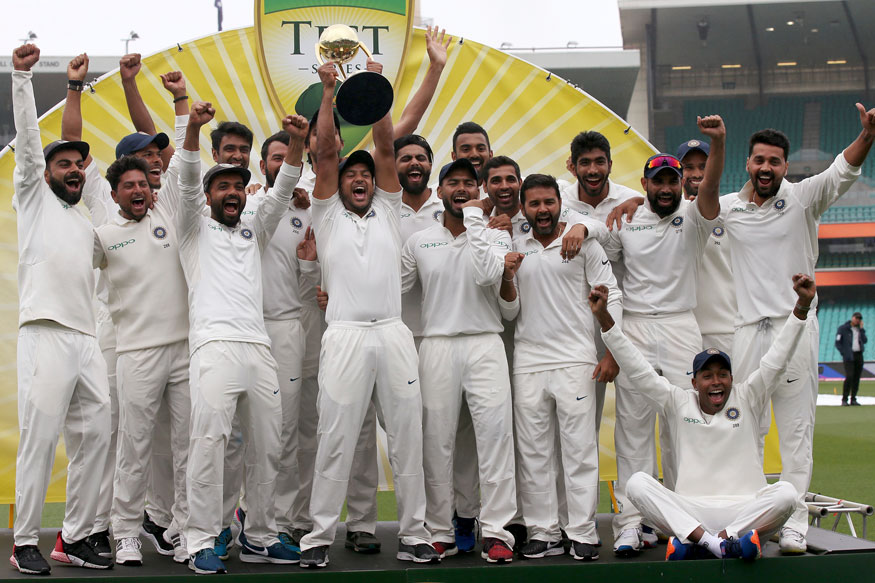 India have won a Test series in Australia.
Eight words. Never uttered before this day.
Just so that one can hear them again:
India. Have. Won. A. Test. Series. In. Australia.
Four years after 0-2.
Seven years after 0-4.
Eleven years after 1-2.
Fifteen years after 1-1.
Nineteen years after 0-3.
Twenty-seven years after 0-4.
Thirty-three years after 0-0, when thunderstorms in Melbourne and Sydney thwarted Kapil Dev's team in their bid to win a first Test series in Australia…
… India watched the rain on the final day of the fourth Test in Sydney in 2019. Ravi Shastri, of course, will remember 1985-86. Perhaps he had a quiet chuckle at the karmic reversal at series end.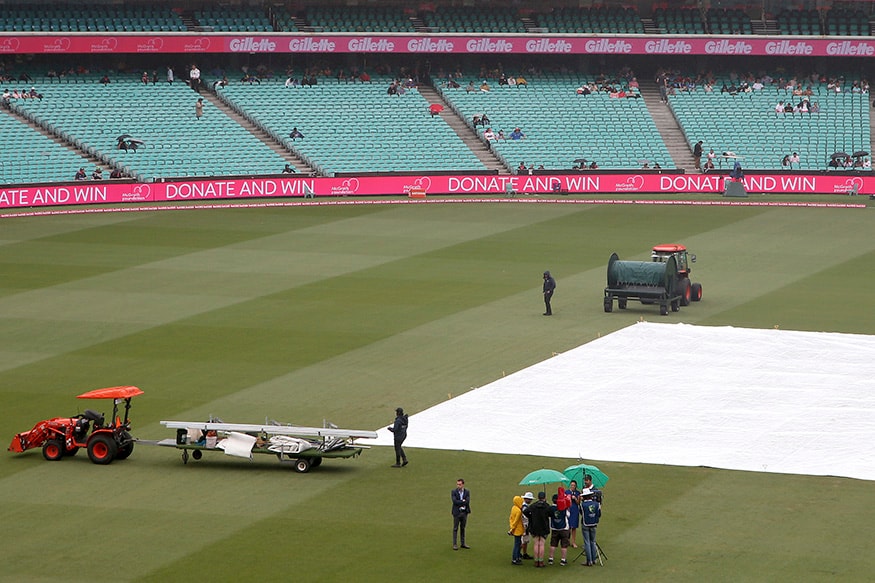 (AP Photo/Rick Rycroft)
This is a terrific achievement for several reasons.
One: For a team that has been slammed for playing too few practice games in South Africa and England – and not acclimatising themselves to foreign conditions – India have controlled three of the four Tests despite playing a solitary warm-up match. (With first-choice opener Prithvi Shaw suffering an injury during that game, India can make a case that his loss far outweighed the gains in that fixture.)
Two: India won the first Test in the series – an unprecedented feat in Australia. They had come close on their previous tour – in another tense Adelaide Test – but couldn't close out the run-chase.
Three: Not only did India get Australia to follow-on in a Test at home for the first time in 31 years – they were in a position to do so two matches in a row. Australia started the Melbourne Test with the series at 1-1. They didn't win a single session thereafter.
Four: India won the series without Prithvi Shaw and Hardik Pandya: vital to their three previous Test wins. They managed just fine on flat pitches without R Ashwin. And a cricketer as skilled as Bhuvaneshwar Kumar sat out all Tests; so spoilt is the team for pace-bowling options.
Mayank Agarwal finished a Ranji Trophy match in Surat on December 17, flew to Melbourne, walked in to the coliseum that is the MCG on Boxing Day, and cracked an assured 76 on debut. No warm-up game, no chance to familiarise himself with the conditions. No problem.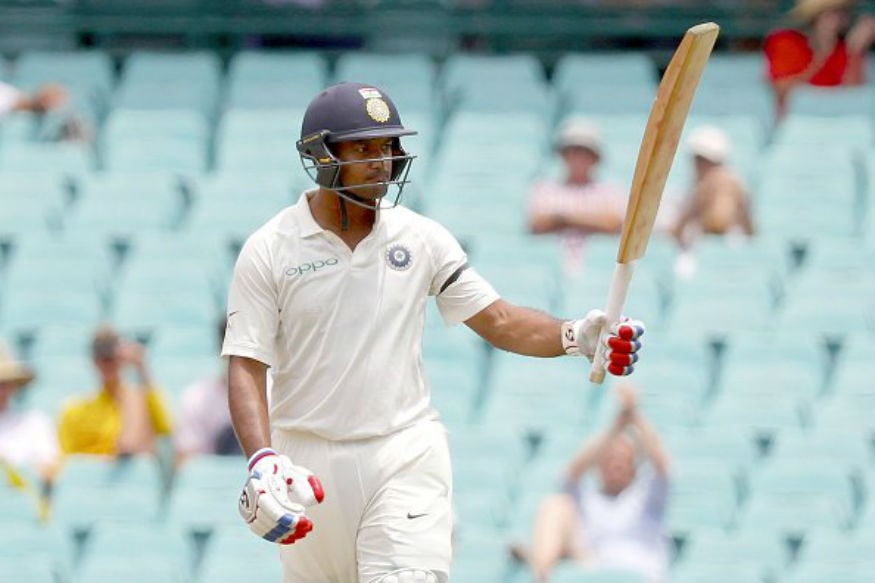 (Image: Twitter/ICC)
Yes, Australia were depleted. Who knows what might have happened if Steve Smith and David Warner were in the side. Still, it is churlish to point to their absence and diminish India's achievement. Hardly a series goes by without some vital absences. When England regained the Ashes in 2005, Glenn McGrath missed two Tests. When India drew 1-1 in Australia in 2003-04, McGrath and Shane Warne missed the series. When Australia won in India for the first time in 35 years – in 2004 – Sachin Tendulkar missed two Tests. When Australia toured India in 2001, Anil Kumble was injured… only for a 20-year-old off-spinner, with eight Tests under his belt, to take an astonishing 32 wickets in three Tests.
India went to Australia in 1977-78 and took on a side heavily depleted by the World Series. They lost 3-2. India's opponents in 1985-86 were still reeling from the retirements of Greg Chappell, Dennis Lillee and Rod Marsh. Still, they held on for a 0-0 draw.
Virat Kohli's side only needed to worry about who was playing, not who they could have played. They out-bowled Australia's vaunted attack and batted them out of sight in the final two Tests. A score-line of 3-1 may have been a fair indication of the chasm between the sides. Even 4-0 was not out of bounds.
At the presentation ceremony, Kohli mentioned the World Cup win in 2011 and the emotions that had swirled. But he admitted he hadn't felt it back then. Australia, on the other hand, he had visited thrice. He knew what it took. He knew what this means.
This is true for those watching, too. Some victories you witness. Others you understand. Others burrow into your head and set off a switch. Memories gush forth. They lend the moment layers of significance.
(Image: AP)
Thoughts of those quiet mornings before dawn, tuning the radio or television, shaking one's head at the score. The consolation at each act of individual brilliance. Names and venues, names and venues. Patil in Adelaide. Chandra in Melbourne. Kapil in Melbourne. Azhar in Adelaide. Tendulkar in Sydney, then Perth, then Melbourne. A banner in 2008 that read "Sachin Cricket Ground". Laxman in Sydney, then Adelaide, then Sydney. Dravid in Adelaide. Sehwag in Melbourne. Kohli in Adelaide. Kohli in Adelaide. Famous wins here and there. Oh-so-close draws. The endless wait for a series win.
Throughout the time, a sense of indignation. Gavaskar's walk-off; Kapil's quizzical stare at the umpires; Tendulkar's shoulder-before-wicket; Bucknor part 1; Bucknor parts 2, 3, 4; Michael Clarke standing his ground after edging to slip…
So much baggage. All set aside for now.
This team promises so much more. Kohli, Rahane, Jadeja and Ishant are 30. Pujara will soon be 31. Shami is 28. Agarwal is 27. Rahul is 26. Bumrah is 25. Unlike the previous generation of Indian cricketers – who grew up in the time of West Indian dominance in the '80s – these men would have watched Australia in their impressionable years.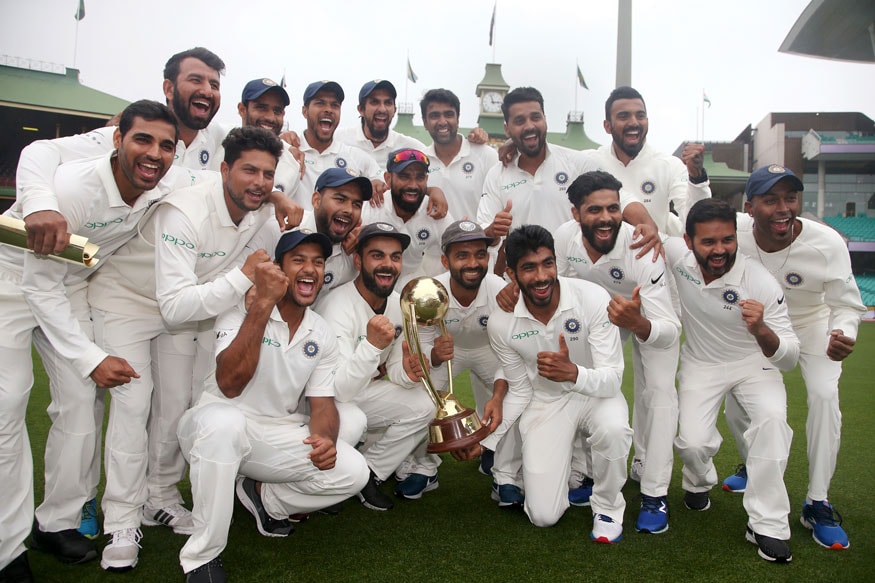 (Image: AP)
Like many Indians who grew up in the '90s, they perhaps watched the Waughs and imitated Warne and McGrath in gully cricket. They may have heard stories of Australia's single-minded pursuit of excellence. Of the emu and kangaroo on the coat of arms.
As Indian teams struggled to win in West Indies, England and South Africa, Australia won everywhere. They chased 369. They beat South Africa in South Africa. They thumped England for practice. They obsessed over winning in India.
Now Kohli aims for India to do the same. He has called this victory not an end but a "stepping stone". The last one year has shown what this side is capable of. They have been good on some days, very good on others and exceptional off and on. They have been beaten but rarely flattened. Lord's was an exception. Cape Town, Edgbaston and Southampton were narrow defeats that turned out to be series-defining.
The next few years will tell us much. It could take us into uncharted territory. For the first time ever, a very good Indian side could turn into a great one.