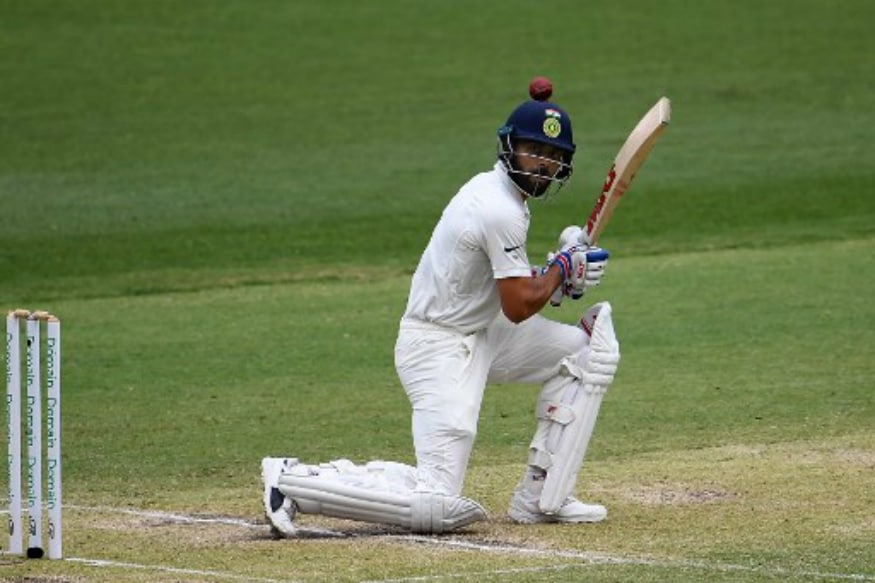 Sometimes, it is not what you see but what you feel.
The shock you experience when a fast, swinging yorker beats an opener. The clear, deathly sound of the stumps rattling. The dumbfounded expression on the batsman's face. A confirmation that this is a nasty time to bat.
That hopeless feeling that bubbles up to the surface. Two down with close to nothing on the board. An extra-long tail to contend with. A batsman with a lone Test to his name at No. 6. A pyromaniac at No.7. A sense of déjà vu washes over. An inner voice says: 'here we go again'.
The flutter you sense when he rushes in, pumping his legs, shadow-practising his straight-drives. The sense of urgency that finds its way all the way from Perth, across the airwaves into your living room. The purposefulness that fills your television monitor. The confidence with which the first ball is stoutly defended. You see it all. Mostly you feel it.
The scoreboard shows 8 for 2.
Perhaps you don't know exactly what you are feeling. But you know some of the components. Tension is ever-present. Hopefulness, obviously, for which sports fan is not hopeful? A sense of fatalism perhaps. Which in turn leads to helplessness, for as a fan you have no control of anything that happens there. You may delude yourself into sitting on one corner of the sofa or standing on your teapoy but that is a charade. Deep down, you know you have zero part to play in this battle between bat and ball.
But, of course, you matter. It is you who feels the magical fluttering inside you when the second ball – a checked on-drive of such pristine grace – races away to the boundary rope. It is your eyes that widen, your mouth that opens. It is you who waits for the replay, to confirm the truth.
People often ask if you watched the game. This assumes that only the eyes are involved in the consumption of cricket matches. Which you know is false. You listen to games. You react to moments. You slap our hands against your forehead. You curse. You post thoughts on social media. You argue, you rant, you re-argue. Often, you do everything apart from watching the game. You are taking it in. You are eating it, drinking it and digesting it. You are burping it. Silently, the game seeps into your system.
There are times when your eyes can't keep pace with your mind. It is the tenth over. You have just seen an on-drive of shimmering brilliance, and before the ball can reach the boundary you are off your seat. Something special is going on. You wish you had some time to process it. Next ball: a shimmering off-drive. The sweetest of tocks off the bat. Leaning into the shot. The bat doesn't require a mighty flourish. With a great batsman, minimal movement can result in maximal wonder. It is so subtle it raises gooseflesh. You know you have felt this rush before. You don't know exactly when. But you know the exact feeling. You understand its momentousness.
(File photo): A fan entering the ground to take a picture with Kohli. AFP
The next ball is patted back to the bowler. Thank goodness. You might have not been able to handle another luminous drive… except it is here… in the very next ball… flicked-whipped-wristed through midwicket. A work of art on a cricket field. Bisecting the fielders at midwicket and mid-on. Both of them start to run after the ball. Surely both know that this holy offering is meant for the gods beyond the boundary. You could scream your lungs out. Except it would create a domestic squabble.
You are ten again. You are eighteen again. You are twenty-six again. These three fours have kicked in so many memories. Your team is in a precarious position in a crucial away Test against a quality bowling attack– on a pitch that appears nasty for batting. Just the moment for this counter-attack to open up delicious possibilities. A cameo to beat all cameos? An immortal fifty? A once-in-a-lifetime century? A smattering of fours that you will remember fifteen, twenty, thirty years from now?
Anything is possible. Thoughts rush through your mind. A flash of electricity fills your insides. Your eyes are transfixed on the vibrant green and white. You raise the volume by two notches. Something is happening far away. Something is happening within you too. It is a sensation you wish to hold on to. To savour. To grasp. But you know it will soon slip away. Into another realm. Only to reappear when something this special happens again.