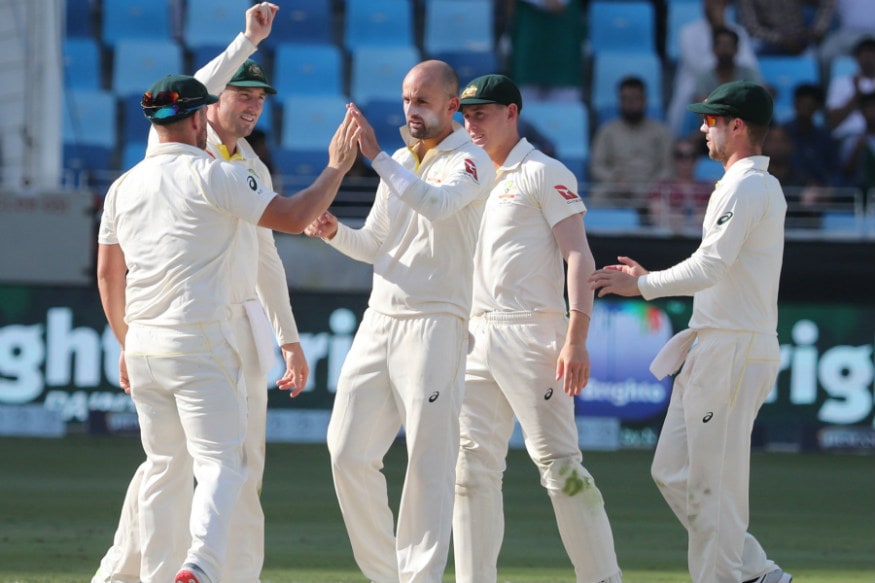 Tests: 138 | Runs: 12,562 | Average: 53.91.
This is what Australia would be missing as they commence their four-match Test series against India in Adelaide in December.
The batting without Warner and Smith would be at half strength – that is how great the Australian opener and captain were in the last few years.
But do they still have the firepower to dominate the Indian attack? And how do their fast bowlers and spinners compare to their Indian counterparts?
Let us try and dig deeper.
The Openers
Aaron Finch and Marcus Harris:
Finch has played just two Tests but already gave glimpses of his talent and potential in the format. He has scores of 62, 49, 39 and 31 in his four Test innings – while he has looked good and solid and got starts, he hasn't been able to convert them into big scores.
With no Warner and Smith, Australia would look to him to get the big scores at the top. He also has the potential to take the Indian bowling apart as his strike rate in T20 and ODI cricket suggests. Finch has been Australia's leading run-getter in T20 and ODI cricket in 2018 and amongst the best batsman in the world in the limited overs formats, and he would be desperate to prove himself in the longest format as well.
Though Finch has a career average of 36.58 in first-class cricket with just 7 hundreds in 79 matches, he has improved his numbers tremendously over the last few years. In fact, from mid-2014 to his Test debut against Pakistan in Dubai in October, 2018, Finch amassed 2260 runs at an impressive average of 44.31 in first-class cricket.
Marcus Harris will make his debut against India. He has been the highest scorer in Sheffield Shield cricket over the last two summers. Though he averages just 35.55 in 67 first-class matches, he has had a tremendous run of late. Since the end of 2015-16, he has scored 1951 runs in 44 innings at an average of 47.58 with 5 hundreds. Harris is the second-highest run-getter in the ongoing Sheffield Shield season, aggregating 437 runs in six innings – this includes a career-best unbeaten 250.
The Australians do lack international experience at the top. Just for perspective, the Indian openers (Rahul, Vijay and Shaw) have a collective experience of 92 Tests and 6018 runs.
The Middle-Order


Usman Khawaja, Shaun Marsh, Peter Handscomb and Travis Head
Khawaja is the most experienced batsman in Australia's line-up – with 35 Tests.
He has a career average of 43.83 with 7 hundreds – his frequency of a hundred every 5 Tests is impressive. He is the highest scorer (821 in 22 innings) for Australia in Test cricket since January, 2017 after Smith and Warner. He has had an excellent 2018 with two hundreds and three fifties in seven Tests. If fit, he will be the pivot of the Australian batting line-up in the middle order.
Shaun Marsh has not played to his potential in Test cricket. He has scored 2082 runs in 34 Tests at an average of 35.28. With an average of less than 30 since 2017, Marsh would be desperate to transform his successes in ODI cricket to red-ball cricket as well. He has been in good form for Western Australia with a hundred against South Australia and an 80 and 98 against Tasmania in the ongoing Sheffield Shield.
Handscomb has played just one Test in 2018 and would be looking to cement a place in the middle-order. He started his career with a bang but has since tapered off. He has been having a decent run for Victoria in List A and first-class cricket in the last couple of months with a century against South Australia in Melbourne. Overall, he averages a healthy 43.63 in 13 Tests.


Head, who also made his debut against Pakistan in Dubai a couple of months back, has had an excellent year in first-class cricket. He has registered four fifties in his last five first-class matches. A dangerous hard-hitting limited overs batsman, Head has the ability to change the situation of the match in a session or two.
Although the Australian middle-order has the potential, there is no comparison with the Indian middle-order.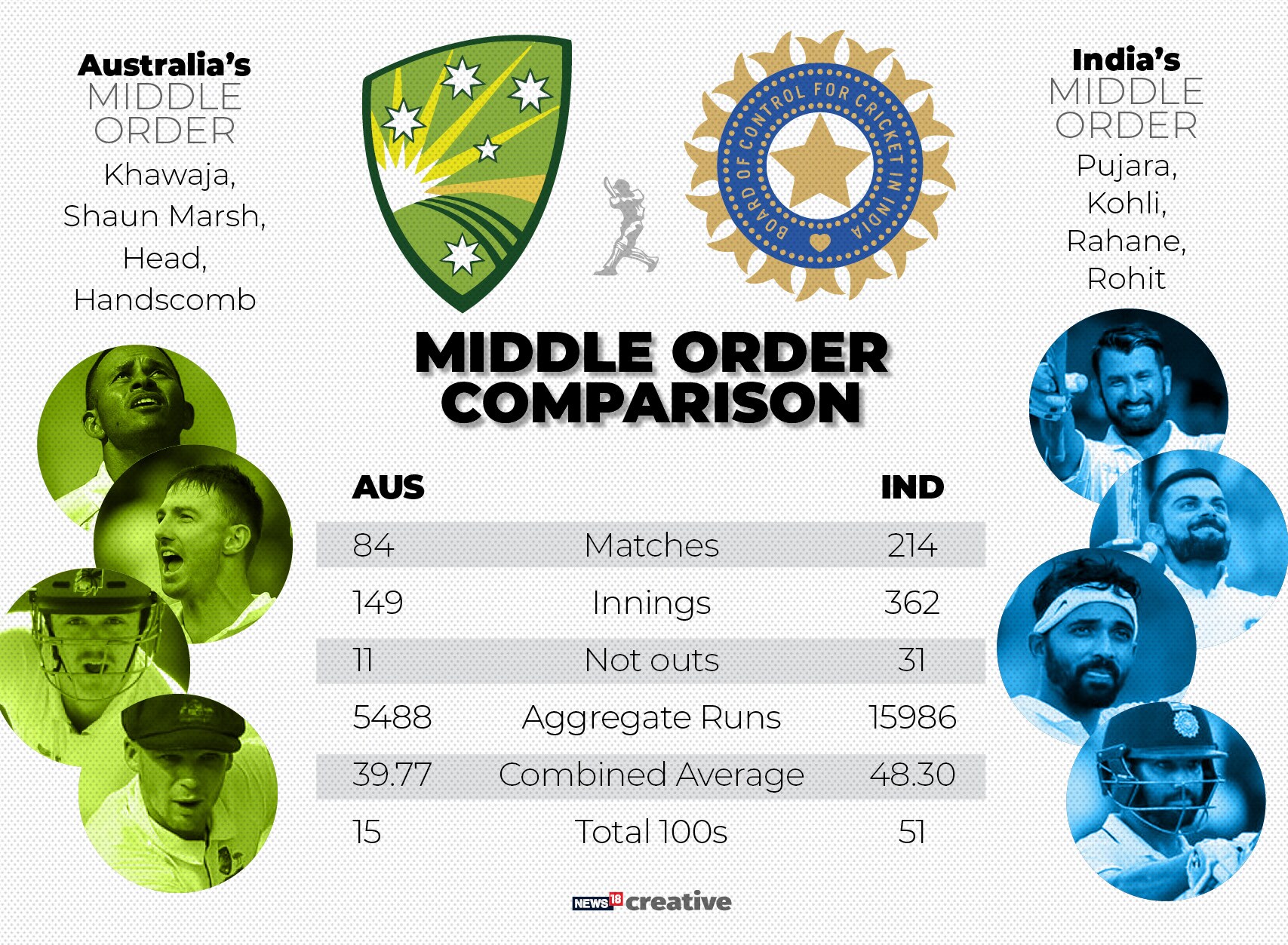 The Lower-Order
Tim Paine and Mitchell Marsh:
Paine plays the dual role of captain while standing behind the stumps for Australia in Test cricket. He is also a very consistent batsman in the lower order as his career average of 38.25 in 15 Tests suggests. Only Bairstow, Kock and Sarfraz have aggregated more from Number 7 in Test cricket since the beginning of 2017. Paine's average of 53.5 is also the highest for the position in this period (for a min. of 4 Tests).
Mitchell Marsh is yet to realize his full potential in Test cricket – both with the bat and ball. His batting average of 26.08 and bowling average of 42.45 – are both well below the standard expected of an all-rounder of his ability and quality. He has been in excellent form with the bat in first-class cricket of late scoring three hundreds in his last four matches.



The Fast Bowlers


Pat Cummins, Josh Hazlewood, Mitchell Starc, Peter Siddle and Chris Tremain:
The first three are arguably the most formidable fast bowling trio in world cricket today. Cummins is Australia's leading wicket-taking paceman since January, 2017 with 59 wickets in 13 Tests. His average (24.66) and strike rate (50.1) also make him the most dangerous amongst Australia's pace battery. He has been in scintillating form in 2018 with 30 wickets in 5 Tests.
Hazlewood, known for his consistent line and length and often compared to Glenn McGrath for his accuracy, has picked 151 wickets in his 40-match career at an average of 26.84 and strike rate of 57.3. Not surprising, his economy rate of 2.68 is amongst the best in the last couple of years.
Starc is the leading strike bowler in the line-up who will try and do a Mitchell-Johnson to India. He has a tally of 186 wickets in just 45 Tests at a strike rate of 50.2 – the best for an Australian bowler in Test history (and the 8th best overall; for a minimum of 100 wickets and 40 Tests).
Siddle has picked 214 wickets in 64 Tests at an average of 30.28. He hasn't played a lot of Test cricket lately – just two Tests in 2018 (and none in 2017). He made a comeback for the Tests against Pakistan after an excellent summer for Essex. He will be the backup pacer in the squad.
Chris Tremain breaks into the squad on the back of a stupendous first-class record – 200 wickets in 50 matches at a bowling average of 23.31 and strike rate of 44.9. The tall fast bowler has picked five-wickets in an innings three times and one four-wicket haul in his last four first-class matches. Known for his express pace, he was the highest wicket-taker of the Sheffield Shield last summer with 51 wickets at an average of 21.07.
Though Australia hold the edge in fast bowling, the Indian speedsters are not far behind. While the career records of the Australian trio are superior to their Indian counterparts, the latter have been in better form in the last couple of years.
Bhuvneshwar and Umesh have the best bowling averages (of 20.66 and 24.40) amongst all Indian and Australian pacemen since January 2017. It is again Bhuvneshwar, Umesh and Shami who have been more threatening wicket-takers in this period – with strike rates of 43.8, 44.4 and 46.8 respectively (Cummins – 50.1, Starc – 55.7 and Hazlewood – 65.4).



Lyon almost as good as Ashwin and Jadeja
Lyon has picked 318 wickets in 80 Tests at an average of 32.21 and strike rate of 63.1
While Jadeja (185 wickets in 39 Tests at 23.5) and Ashwin (336 wickets in 64 Tests at 25.44) have better records overall, it must be noted that they have played a majority of their matches on spin-friendly pitches in India.
Only Ashwin (179) has taken more wickets than Lyon (149) amongst spinners in the last three years. The Australian off-spinner has a good record against India having picked 64 wickets in 14 Tests against them. Lyon has been in exceptional form since 2017. He is the leading wicket-taker amongst spinners with 95 wickets in 34 bowling innings. He has taken five fifers in this period.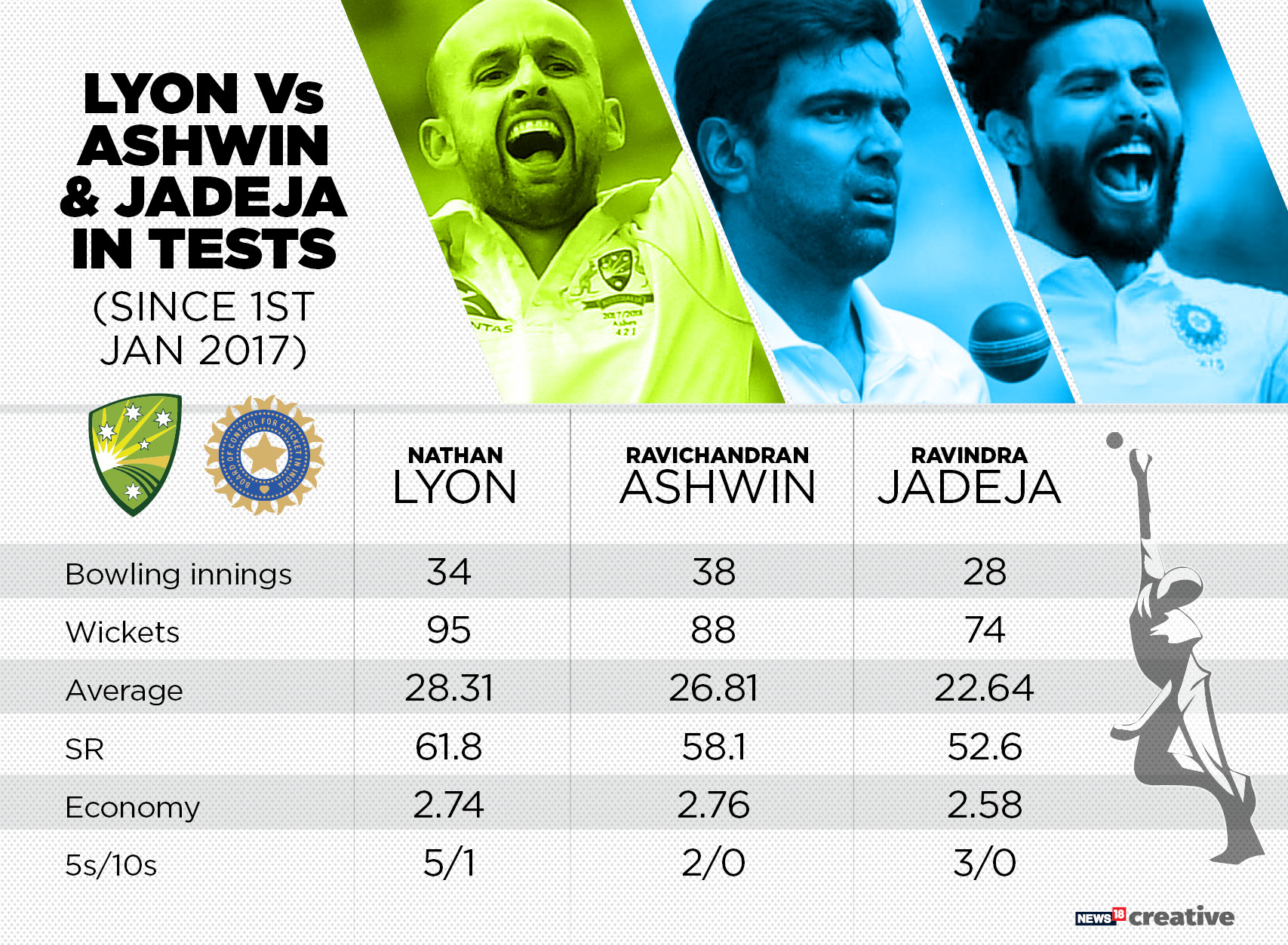 Australia lack the experience and the pedigree in batting but they have enough talent and proven skill in their bowling arsenal to cause serious damage. Plus, they have the home-advantage and crowd support.
Though Australia have gone down in ODI cricket since the World Cup 2015, their record in Test cricket has been consistent and good. They have the third-best win-loss ratio (won 29 Tests and lost 18) after India and New Zealand in the last five years. They have been rather formidable at home having lost just one series to South Africa in 2016 (and have won six) during this period.
They will do everything to keep that record intact.